Primeira Liga: Old masters, new pretenders and rising stars
The beginning of the 2019/20 Primeira Liga has been characterised by the unexpected rise of FC Famalicão. But despite its fantastic start, we do not see this tiny club retaining top spot for long: for one thing, they are conceding 16.4 shots per match, more than any other team in the league. In this report, we also present our provisional Top-11 selection for the Primeira Liga and focus on two of the most promising young talents: Benfica centre-backs Ruben Dias (22) and Ferro (22).
---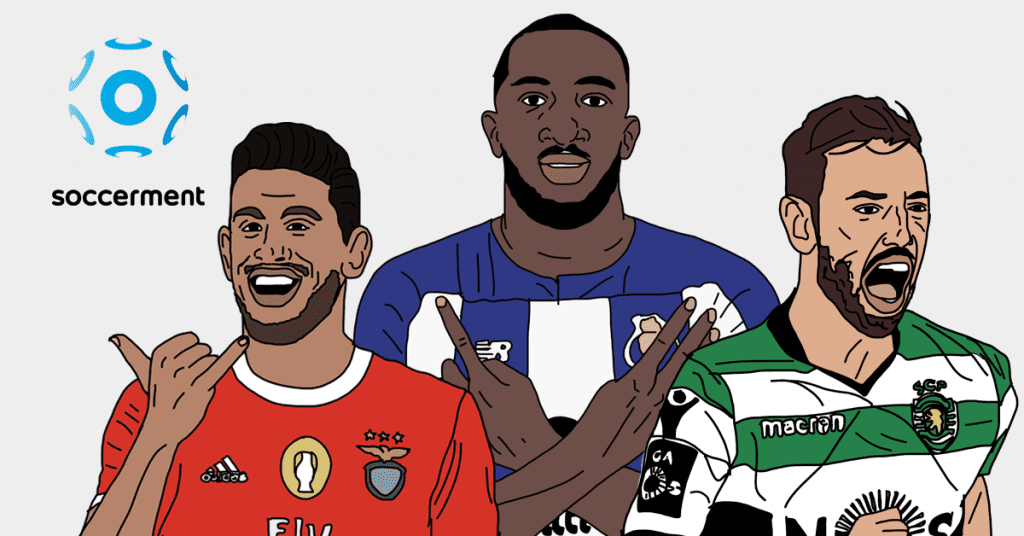 ---
Will the trinity be dethroned?
The international break comes as an opportunity to sum up the highlights of this first part of the season. In this in-depth analysis, we go through all the main trends and surprises in the Portuguese Primeira Liga (PPL).
Before the start of the season, everybody was expecting – as always – to see Benfica, FC Porto and Sporting CP forge ahead in the table, leaving their opponents far behind. This wasn't exactly a bold prediction considering that, between them, these teams have won 83 of the 85 Primeira Liga championships from 1934 to 2019.
Moreover, according to Transfermarkt, the total economic value of the squads of Portuguese football's three oligarchs accounts for more than two-thirds of the league's aggregate total. This historic and economic dominance seems to leave no room for Leicester-esque fairy tales in the Primeira Liga.
---
---
---
But does the league table reflect the values shown in the above charts? Believe it or not, the league leaders are newly promoted FC Famalicão, with six wins and a draw in seven matches. But what about the oligarchs? Benfica and FC Porto are just one point behind, with Sporting CP lagging behind in 7th, with only 11 points from 7 matches.
Focus on: FC Famaliçao
FC Famalicão: the club
Futebol Clube de Famalicão was founded on August 21, 1934 in Vila Nova de Famalicão, a town of 140,000 inhabitants in the north of Portugal. The club enjoyed its best period of success in the 1990s, when the Famalicenses played in the Primeira Liga for four consecutive years, from 1990 to 1994. A quarter of a century later they reached second place in the Segunda Liga in 2019, and here they are today at the top of PPL.
Famalicão's road to success began in summer 2018, when the Israeli multimillionaire Idan Opher acquired 51% of the club's capital. In September 2019, the club announced that Opher had purchased another 34% of its shares through his investment fund Quantum Pacific Group. The new owner left the club in the hands of Portuguese managers: Miguel Ribeiro has been appointed president and the coach is debutant Joao Pedro Sousa, Marco Silva's vice-coach at Everton last season. Interestingly, in sporting management and talent scouting the club now works with Gestifute International, which is of course owned by Jorge Mendes. We also note that Mr Opher owns 32% of Spanish giants Atlético de Madrid. Spanish newspaper AS recently dubbed him the new "King Midas" – which certainly bodes well for Famalicão.
Is Famalicão's performance sustainable?
In order to determine whether Famalicão are likely to be able to retain their current position, we compare their performance stats to those of the other Portuguese teams.
If we look at offensive statistics, we see that FC Famalicão has the joint best attack in the division, together with FC Porto and Benfica, with 16 goals. Delving deeper into the numbers, we see that counter-attacks (4/16 goals) are Famalicão's best route to goal; while 3/16 goals came from set pieces, the second most in the division after FC Porto. Putting aside two penalties and one own-goal, we note that only 6 of the 16 goals Famalicão had scored at the time of writing were from open play, compared to 9 for Benfica, 8 for Braga and Sporting FC, and 7 for FC Porto.
Famalicão's overall pass accuracy, is surprisingly close to the Portuguese oligarchs' (80.3%), while its shot accuracy is even more impressive: 38.9%, compared to Benfica's 26.3% and Sporting's 30.5%. Only FC Porto and Tondela have done better so far (40% and 39.7% respectively).
---
---
But what about defensive stats? FC Famalicão currently has the sixth best defence in the Primeira Liga, with just seven goals conceded. But look closer at the defensive numbers, and it emerges that the team from Vila Nova concedes 16.4 shots per game on average, the highest rate in the championship so far. This is remarkable for a team occupying the top spot in a football league.
---
---
Consequently, the number of saves is high as well: 21 total saves in seven matches, of which 13 were from shots taken inside the penalty area (the third highest number in the division after Tondela and Santa Clara with 16 and 15 respectively). Readers will not be surprised to find out then that, according to our models, FC Famalicão's second best performer (after striker Fabio Martins, 4 goals) is the goalkeeper, Rafael Defendi, who has a SPR of 43 and a saves ratio of 76%, against 67.5% for the average goalkeeper.
---
---
Famalicão's U-23: Nehuèn Perez (19), Anderson Silva (21).
Nehuén Perez was born in Hurlingham, Argentina, on June 24, 2000. He is a center back, 184cm tall, and is right footed. He grew up in the youth system of Argentinos Juniors, before Atlético Madrid's scouts set their sights on him. Los Colchoneros payed €500,000 for him in the summer of 2018, letting him remain at Argentinos Juniors for last season. This summer he finally arrived to Europe, before being sent by Atleti on a season-long loan to Famalicão. Despite this being Nehuén's first season in Europe his numbers are already remarkable: he is the 10th best 19-year-old in the entire Soccerment database (SPR of 43). He displays a 'Defensive Index' of 68 (vs. an average of 38 for centre backs). Particularly impressive are his tackle success ratio (73.3%, vs. an average of 64% for centre backs), and his recoveries per game (5.43 vs. 4.62).
---
Anderson Oliveira Silva is a Brazilian forward born in 1997 (he turns 22 in November). Silva arrived from Brazil to Famalicão in the summer of 2017 and his worth to the club was confirmed after he helped them win promotion to the Primeira Liga, and was rewarded with a new five-year contract. Along with Fabio Martins, he has scored 4 goals for FC Famalicão so far this season. However, unlike his teammate, Silva has not been a regular, playing only 115 minutes in seven matches (which is why his spider chart is not available at the moment), and scoring all four goals in the last 10 minutes of matches against Belenenses (2), CD das Aves and Santa Clara. Coach Joao Sousa is yet to name him in a starting XI instead bringing him off the bench, always taking the place of former West Ham U-23 striker Toni Martinez. Will Anderson Silva be able to keep up these impressive statistics for long? It's difficult to say, but he is definitely doing his best to change his coach's mind and claim a slot in Famalicão's starting XI.
---
---
Top 11 in the Primeira Liga
Let's have a look at the Portuguese Primeira Liga Soccerment Top 11.
---
---
Some players are well-known internationally (they all appear in our featured image!) , such as midfielders Bruno Fernandes (Sporting CP) and Pizzi (Benfica), or striker Marega (FC Porto).
Fernandes, Pizzi and Marega have been showing some of the best offensive productions in the league, displayed in the chart below as the mix of chances created and shots taken per 90 minutes (click on the chart to see all the names and stats).
---
---
But what about the others? In goal, Marco (Santa Clara), according to our models, currently has the best goalkeeping stats in our database of 14 leagues. In 7 matches he has made 3.6 saves per match, while goalkeepers in Europe are currently averaging 2.8 saves per match, on average. Marco's saves ratio currently stands at 86.2% vs. a 67.5% average for the goalkeepers in the 14 leagues we cover.
---
---
Patrick, Santa Clara's right wing-back, shows good technique and offensive inclinations (1.86 chances created per 90 minutes). While on the left, we have Benfica's Grimaldo, a Spanish 24-year-old left-back.
Filipe Augusto (26), a Brazilian central midfielder who plays for Rio Ave, has already transformed three penalties and assisted one goal. He has a SPR of 44.
Ze Luis from Cape Verde is the Primeira Liga's joint-top scorer with Pizzi: 6 goals and a 60.9% shot accuracy make him an extremely interesting player: couple him with Moussa Marega (4 goals and 2 assists), and FC Porto seem to have huge offensive potential this season. Finally, Davidson is a 28 year-old Brazilian winger playing for Vitoria Guimaraes, he can boast 2 goals and 1 assist in 382 minutes played so far.
Top 11: Focus on the centre-backs Dias and Ferro
SL Benfica is the most represented team in our PPL Top 11 selection, with four players. In particular, they can rely on the top two centre backs in the league, Ruben Dias and Ferro, both of whom are U-23.
Ruben Dias has shown impressive statistics so far. He has the highest SPR in the whole league, excluding goalkeepers, and the 14th best SPR among the centre backs included in our database. Right footed, Dias has excellent defending statistics, such as 6.57 recoveries P90 and a 75% tackle success ratio. However, what makes his profile noteworthy is the passing statistics: with 29 passes in the opposition half P90 (with a 82.4% accuracy), his profile corresponds to the ideal modern centre back. Ruben Dias is confirming this year last season's outstanding performance and we expect to see him in the Primeira Liga Top 11 in June. He has already collected 14 caps for the Portuguese national team, making his debut at the age of 21.
Ferro has a general SPR of 51, and his characteristics complement his teammate Ruben Dias'. Ferro is taller (191 cm) and shows better performance in heading, with an aerial success ratio of 64.4% vs. Dias' 55.2%. He has similar numbers in the defensive index, but he mostly prefers to leave build-up duties to his teammate Dias. It seems that together is when these two promising youngsters express themselves best. Would either be as effective if their partnership were to be broken up?
---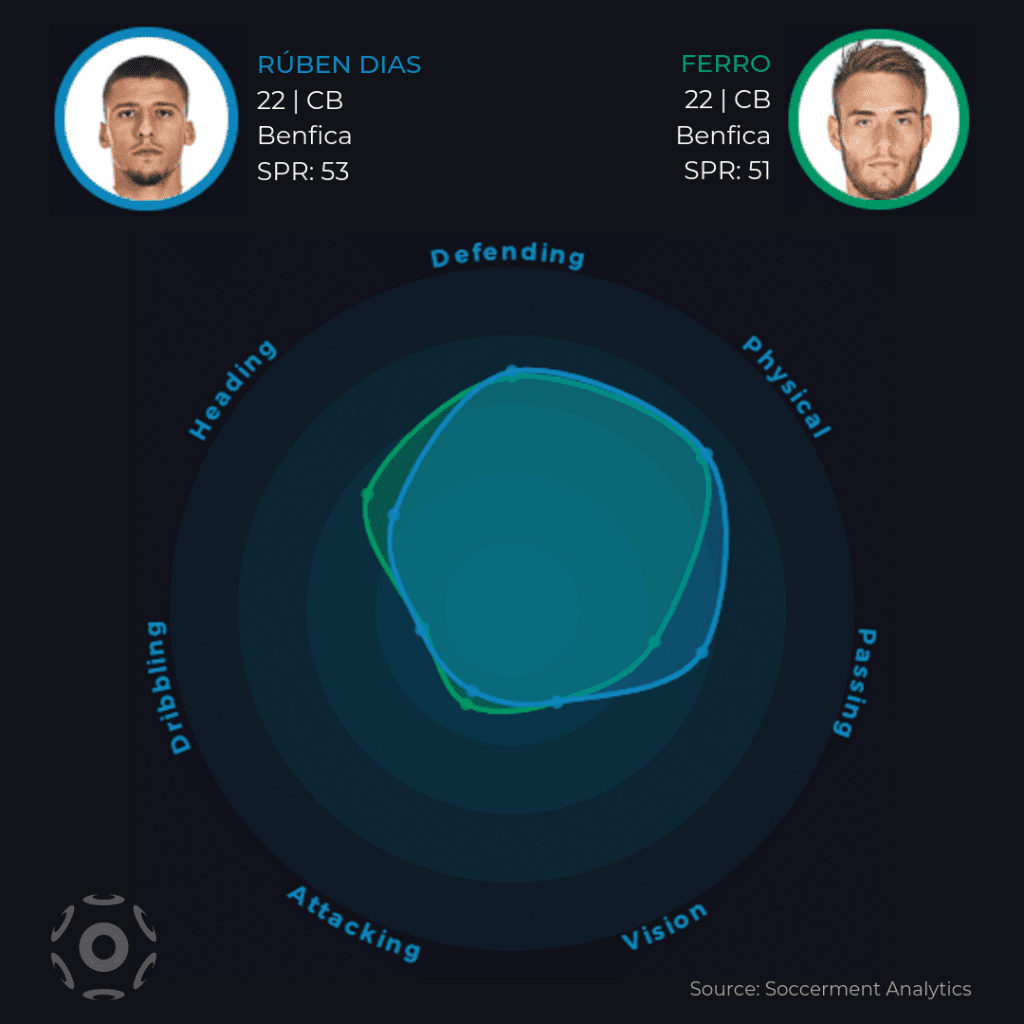 ---
---
Conclusions
Attention from across Europe is focusing on the Primeira Liga at the moment, as the early success of Famalicão boosts its profile in the national and international media.
According to our statistical analysis, we are unlikely to find them at the top of the league this spring, mostly due to their weak defensive performance, which for now has been offset by extraordinary offensive statistics. However, the economic and managerial potential of the club should not be underestimated: the partnership with Gestifute and possible new investment by the ownership could give rise to a new contender for the Portuguese championship: Benfica, FC Porto and Sporting CP, you have been warned.
---