The Bundesliga is back: A statistical recap
The German Bundesliga will be the first top European league to restart after football was suspended across the continent due to the coronavirus. In spite of a difficult start, Bayern Munich lead the table and have shown the best performances overall, both as a team and individually: Robert Lewandowski tops our SPR ranking, with Serge Gnabry and Thiago also in the top five. With so many wonderkids to keep an eye on – Sancho, Haaland and Havertz to name but three – we can't wait to watch the German top flight again.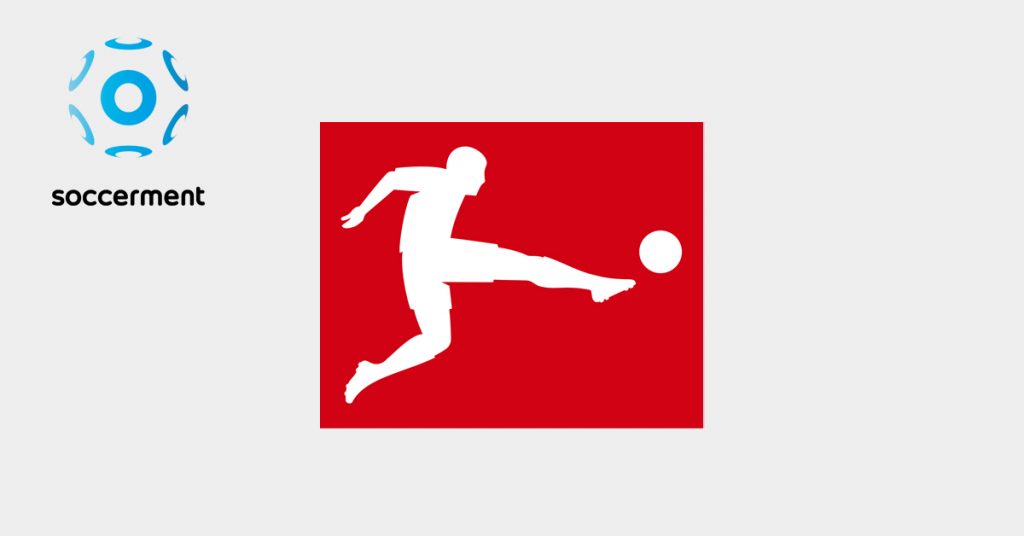 ---
First league to resume
Germany's top flight is set to return on Saturday 16th May, the first top league in Europe to resume playing after the suspensions due to the coronavirus pandemic.
Portugal's Primeira Liga should be the second big league to resume on 30 May, while the Turkish Süper Lig and the Spanish La Liga are set to restart on 12th June. The Italian Serie A and the English Premier League would be the last big leagues to resume, from mid-June onwards.
Of the leagues we cover, those in France (Ligue 1 and Ligue 2), the Netherlands (Eredivisie) and Belgium (Jupiler Pro League) have been cancelled. In Ligue 1, PSG were proclaimed champions of France, while in the Jupiler Pro League, Club Brugge were declared Belgian champions. In the Netherlands, no league champion was named, but Ajax were acknowledged as first-ranked (on goal difference) and therefore will directly reach the Champions League's group stages next season, while second-ranked AZ will need to go through the preliminary rounds.
Below is a table with the expected resumption dates.
Source: Soccerment Research
Bundesliga table
Here are the full details of Bundesliga's table.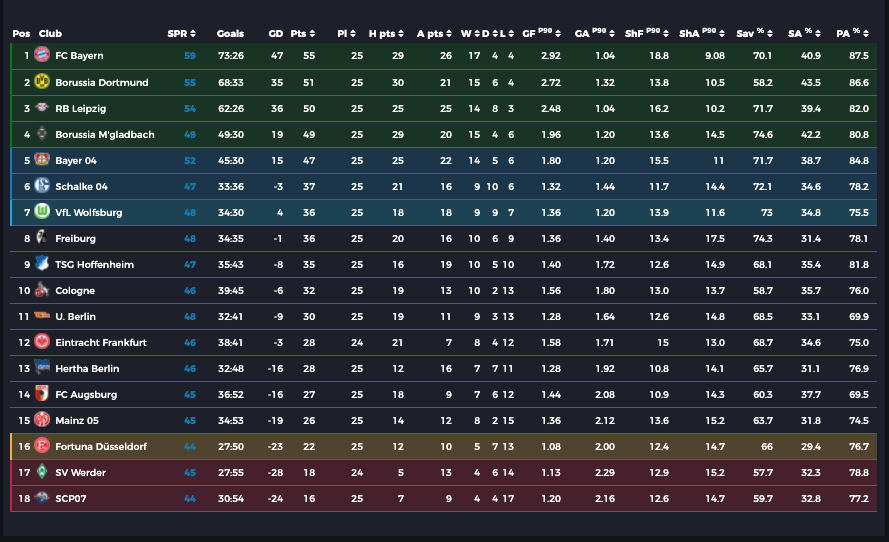 All teams in the Bundesliga have played 25 games, apart from Werder Bremen and Eintracht Frankfurt, who need to recover a match that was cancelled due to the postponement of Frankfurt's UEFA Europa League match.
Bayern Munich leads the table with 55 points, followed by Borussia Dortmund (51) and RB Leipzig (50).
In the table, what we highlight in blue is the Soccerment Performance Rating ('SPR') assigned to each team. The SPR is the proprietary algorithm that we use to measure performances. In the Bundesliga, the table ranking almost perfectly matches the SPR ranking. But there is one exception: according to our models, Bayer Leverkusen (SPR of 52) deserve to be ahead of Borussia Monchengladbach (SPR of 49). Here below is our Instagram post (6th March) highlighting Gladbach as among the teams with better results than that suggested by their Soccerment Performance Rating. Interestingly, Bayern Munich is one of the teams in Europe to gather fewer points than (probably) deserved.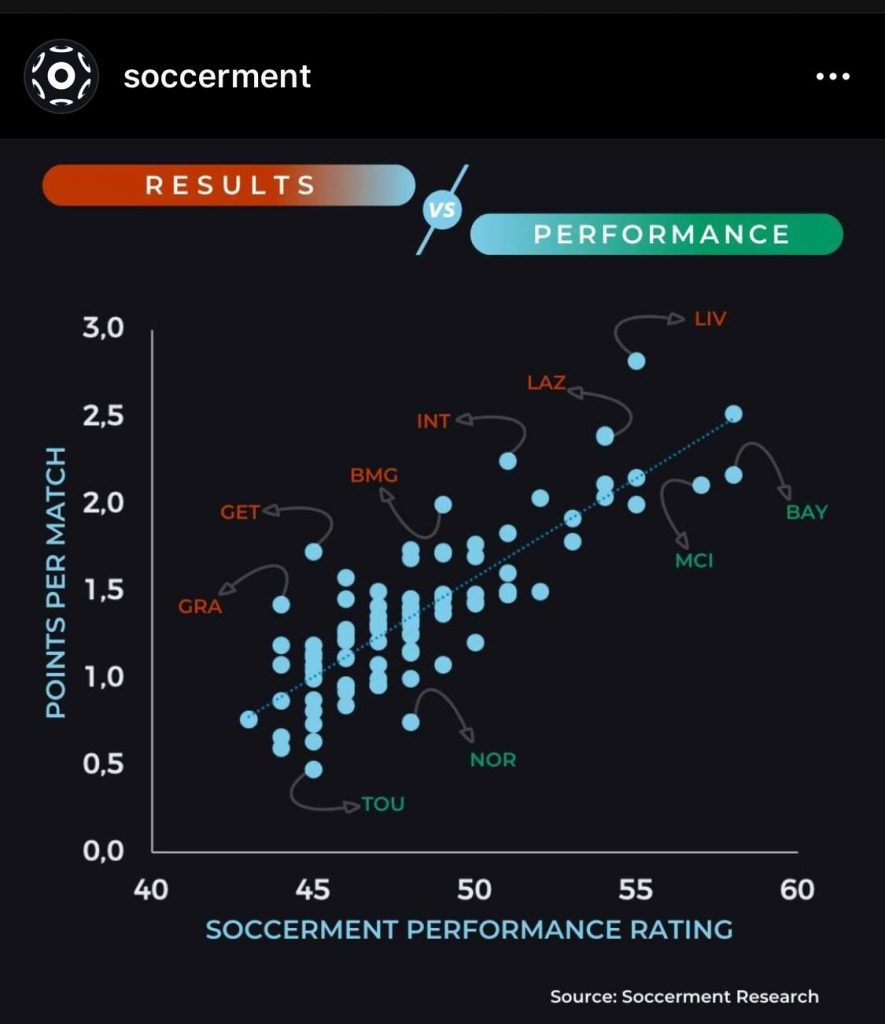 Rankings: Teams
After an initial struggle, which led to the departure of Niko Kovac as manager in early November, Bayern Munich were able to fight back to the top of the Bundesliga under coach Hansi Flick who, at the beginning of April, extended his contract with the Bavarians until 2023.
As shown in the table above, Bayern Munich shows the best weighted average SPR in the Bundesliga, at 59.
A quick look at the rankings shows that Bayern Munich has scored the most goals (73) and has taken the most shots (469). They are also the team with the highest number of shots on target (192), despite showing only the third-highest shooting accuracy (40.9%). Bayern also top the ranking on, inter alia, the number of successful dribbles (385), passes (16483), passing accuracy (87.5%) and possession (67%).
Click here or on the picture below to access all the data.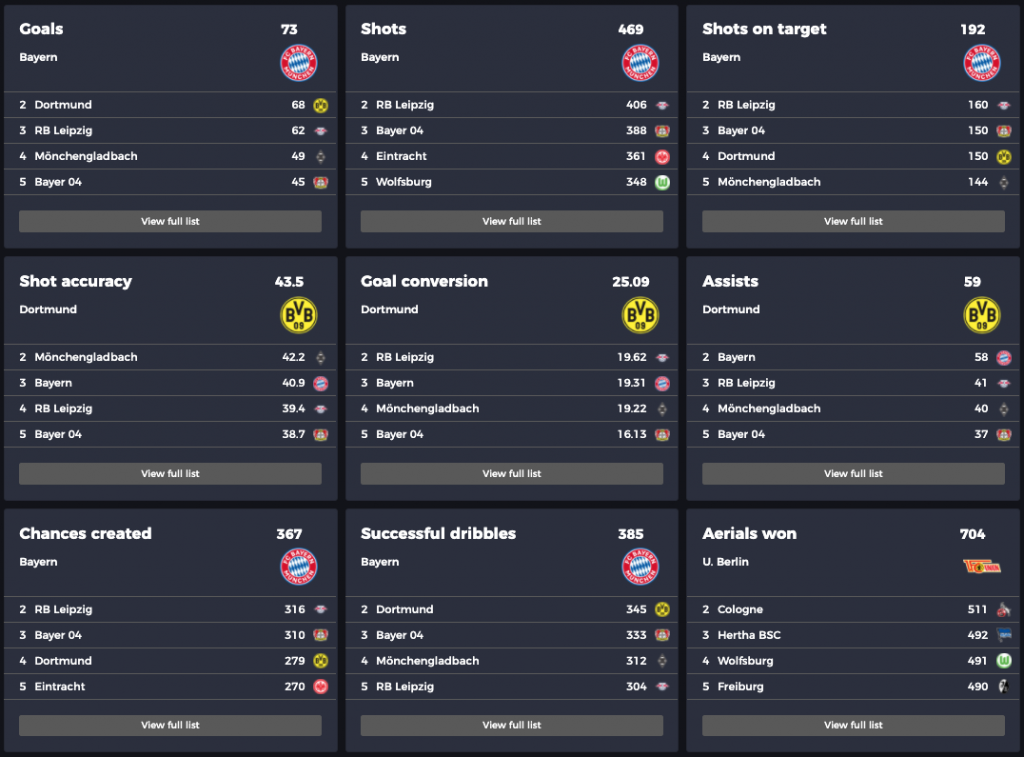 Interested in football stats? Sign up for free to Soccerment Analytics and start analysing football players, teams and leagues through intuitive data visualisation and innovative performance indicators.
Rankings: Players
Robert Lewandowski is at the top of the scorers ranking with 25 goals, and he also tops the Soccerment Performance Rating ranking, with 75.
The top assister is the "Raumdeuter" Thomas Müller, with 16 assists already in his pocket.
Number one on through balls? Jadon Sancho, who quite surprisingly is "only" fifth on the number of successful dribbles, while Thiago Alcantara is currently first, with 67 completed dribbles.
On the number of aerials won, there doesn't seem to be any competition, with Union Berlin's Sebastian Andersson leading with 194 successful aerial duels, with the second (Weghorst) well behind on 96.
For all the other detailed stats, click here or on the pictures below.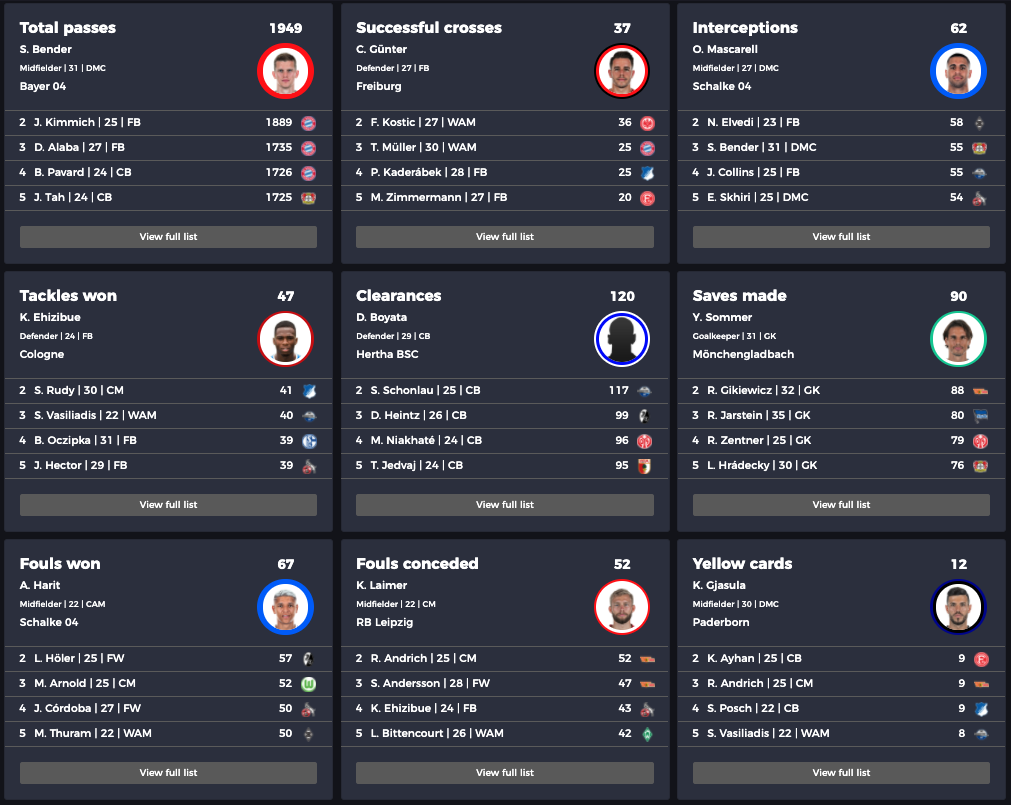 Top 11 before the suspension
Below is our algorithmically-selected Top 11 for the Bundesliga 2019/20, which is dominated by Bayern Munich players (6 players out of 11).
The defence is composed of all Bayern Munich players (Neuer, Kimmich, Pavard and Alaba) but one, Hummels. In midfield, Thiago Alcantara is currently rated as the best player (SPR of 62), followed by Dortmund's Witsel (SPR of 56) and Leverkusen's Sven Bender (SPR of 55).
The three forwards are Lewandowski, Red Bull Leipzig's Timo Werner (SPR of 71) and Borussia Dortmund's Sancho (SPR of 66)
Running to resume? Look at their stamina
We have analysed the Bundesliga's stats on the distance covered by every player this season. We narrow the dataset to the players who have covered at least 250km.
The player who tops our ranking, once playing time is considered, is Cologne's defensive midfielder Ellyes Skhiri, only slightly ahead of Bayern Munich's Joshua Kimmich.
https://www.instagram.com/p/B-e9Z2LjHbD
Ellyes Skhiri is a 24-year-old Tunisian defensive midfielder, who joined Cologne last summer from Montpellier, where he has developed through the youth ranks (he was born and raised in France to parents of Tunisian descent).
In the 2019/20 season, Skhiri has played 23 matches, with a total of 1,949 minutes. He has scored 1 goal and provided 3 assists. He has attempted 971 passes in total, with passing accuracy of 86%.
Second-ranked is Joshua Kimmich, with 12.60km per 90 minutes. He has actually covered the highest amount of kilometres in the Bundesliga (293.6 km), but over a much higher playing time than Skhiri (2,097 vs. 1,949).
Third, we have Paderborn's Greek winger Sebastian Vasiliadis, with 11.9 kilometres per 90 minutes: 279.9 kilometres in total, over 2,110 minutes played.
---
Interested in football stats? Sign up for free to Soccerment Analytics and start analysing football players, teams and leagues through intuitive data visualisation and innovative performance indicators.
Best way to stay in touch? Like our Facebook page and follow us on Instagram and Twitter.
For any query, suggestion or comment, you could send us an email: research@soccerment.com.
---