Continental comparisons in the World Cup
Europe and America lead on many of the build-up metrics we look at, such as the number of passes, pass accuracy and the percentage of key passes on total. Asian teams' main problem seems to be shot accuracy (15% vs 29% average). African nations could count on a superior average top speed.
---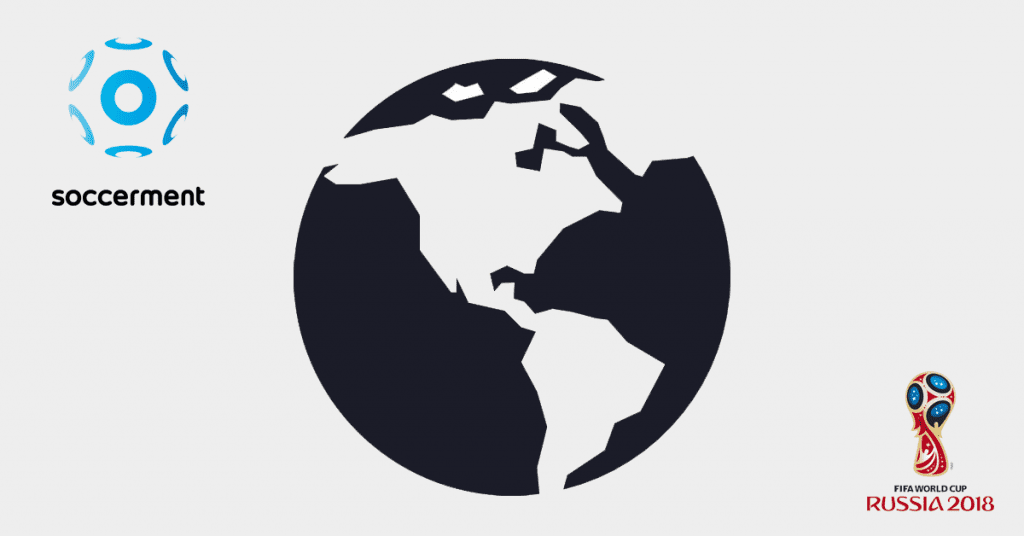 ---
Intro: Why and how continental comparisons
This article is the first of a series of posts dedicated to analysing continental differences of playing styles at the World Cup. We will conduct similar analyses again in the later stages of the competition when, a higher amount of available data, will allow us to have more defined views.
We went through this analysis to better understand the inevitably different playing styles of the nations present at 'Russia 2018'. Instead of displaying the country-specific data though, we decided to aggregate the stats by continent and came to some interesting conclusions, which become particularly helpful for assessing the potential (or ex-post) performances in matches with football teams coming from different continents.
Out of the 32 nations participating at 'Russia 2018', 14 are from Europe, 8 from America and 5 from both Asia and Africa. We included Australia within the Asian continent, simply because they played the qualifiers within the Asian Football Confederation (AFC).
Build-ups: Head-to-head between Europe and America
After the first round of matches of the group stage, it is interesting to note that the average number of passes is exactly the same in Europe as in America: 473. Interestingly, Europe includes both the nation with highest and the one with the lowest amount of passes so far recorded in the competition: Spain (759) and Iceland (209).
On the number of passes, African nations are left behind, with less than 400 passes per match, 12% below the overall tournament average (454).
American nations display the highest pass accuracy, at >82%, while European teams have <81% on average. The highest pass accuracy at the national level was however recorded by Spain (92%). The lowest was Iran's (58%).
---
---
When it comes to passing styles, notably American nations go for short passes (less than 25 yards) more often than in other continents: 87% of total passes are short vs <86% average. Asian and African nations prefer longer pass options (short passes representing 83% and 84% of total passes, respectively). The nation going for short passes the most is Argentina (>95%), Iran the least (<71%). This clearly explains their respective pass accuracy.
American nations recorded the highest number of key passes (passes leading to a shot), as a percentage of total passes: 2.3% vs 1.9%. Mexico leads the way on this front, thanks to their effective counter-attacking strategy against Germany in the first match. On the other hand, one pass of Saudi Arabia was translated into a shot only 0.7% of the times.
---
---
Creation of numerical superiority: South-American skills in display
Brazilians are famous for their "ginga", but South Americans are generally renowned for their football skills and creativity. The average number of attempted dribbles per match confirms the Americans as the ones most willing to embark in one vs one's: 19 vs 16 average. However, Asian teams have so far shown the highest precision when dribbling: 63% success rate vs 60% average.
Nigerians attempted 28 dribbles against Croatia, more than any other team in the first round, including Brazil (26 vs Switzerland).
---
---
More shots and higher accuracy in Europe and America
As a result of their better build-ups, European and American teams are able to shoot more often and from better positions than in the other continents. The American nations took 15 shots on average in the first match, while Europeans had a better accuracy: 35% vs 29% average.
Asian teams would really need to improve their finalisation skills, apparently: on average they shot 8 times per match with their shot accuracy being half of the overall average, at 15%.
---
---
European stamina and African top speed
Who runs the most and who does the least? Who is the fastest of them all?
When it comes to stamina, European teams overall seem better trained, as they were able to run 106 kilometres, i.e. 1 km more than the average. In the 5-0 win against Saudi Arabia (the World Cup's inaugural match), Russia really impressed on this front, putting together 118 kilometres in total. This looks like a key characteristic of the Russian team, which was able to run for more than 115 km also in their second match against Egypt. It will be interesting to see whether the Russians will be able to sustain these levels as they progress in the competition.
Someone says that, when down a man, football teams are able to multiply their mental and physical resources and, often, play even better than when they have 11 players.
We are not sure about that. Controlling the space is vital and, down a man, a team cannot cover the pitch as well as a team which displays 11 players. Unsurprisingly, the team showing the lowest amount of running distance in the first match was Colombia (93 km), down a man from the very start vs Japan, due to Sanchez' red card. Japan won 2-1.
Regarding speed, let's start from the fastest run of the World Cup so far: Cristiano Ronaldo (see our post 'Cristiano Ronaldo and the World Cup') against Spain was able to reach 33.98 km/h. We need to bear in mind that he is 33 years old. Impressive.
The continent showing the highest average top speed is Africa (28.3 km/h), while Asian teams have so far displayed the lowest (27.7 km/h). The fastest team was Morocco (29.8 km/h), while the slowest was Egypt (26.5 km/h). Remember, however, that Mohamed Salah did not play in the first match against Uruguay. In the second match vs Russia, Egypt's average top speed improved to 27.5 km/h as Salah (although not in good shape, due to the injury occurred in the Champions League final) registered a top speed of 31.97 km/h.
In our next post, you will see a very in-depth analysis on how speed affects the various KPIs. Stay tuned and enjoy the World Cup!
---
---
Credits: We sourced the data for this analysis from WhoScored.com and FIFA.com.
For any suggestion, comment or query, do not hesitate to email us: research@soccerment.com.
---