DTWE – Preview | Chapter 2: The Battle Of Milan, Bayer Leverkusen's Trial By Fire & More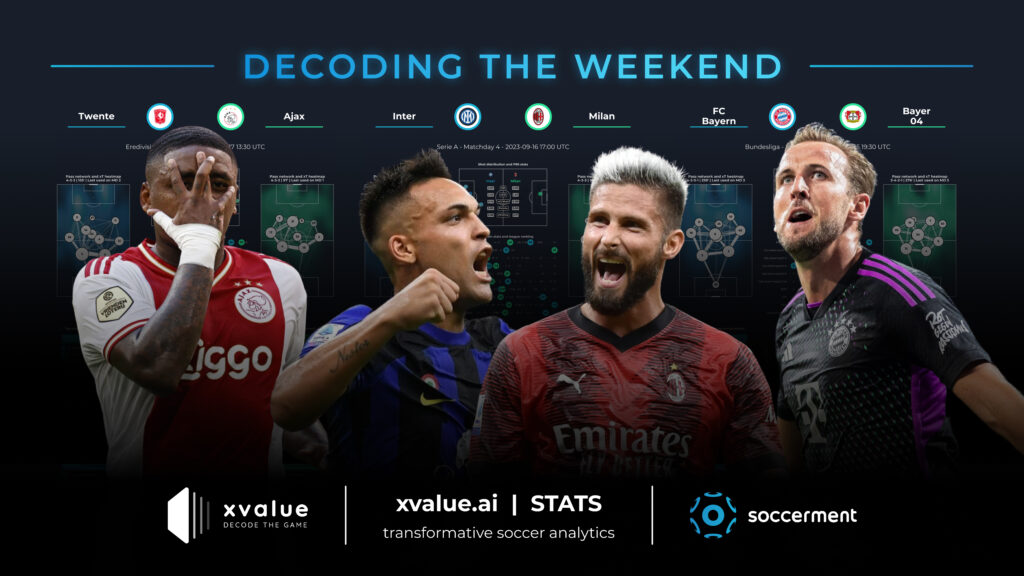 After a brief international break, club football is back on the menu this weekend. Using data and insights from our analytics platform, xvalue.ai, we have picked out three massive matches to watch out for.
🇮🇹 Serie A: Inter vs. Milan
Serie A is back with a bang as we've got a couple of big games to look forward to including Juventus vs. Lazio, but nothing could possibly trump the Milan derby.
We took a look at Milan's fantastic start to the season in our last column, but their city rivals ought not to be ignored either. Inter are not only on top of the standings but also lead the way in the Expected Points table. They have arguably looked even more fantastic in their three matches, in which they have scored eight goals without response.
The Nerazzurri have also been a joy to watch in possession as their 3-5-2 system has really clicked. The wide centre-backs have offered great ball progression, the midfield trio has dominated proceedings, the wing-backs have really threatened down both flanks and Marcus Thuram already seems to be forging a nice partnership with Lautaro Martínez up front. All of this has contributed to what is by far the best attack in the very early stages of the season.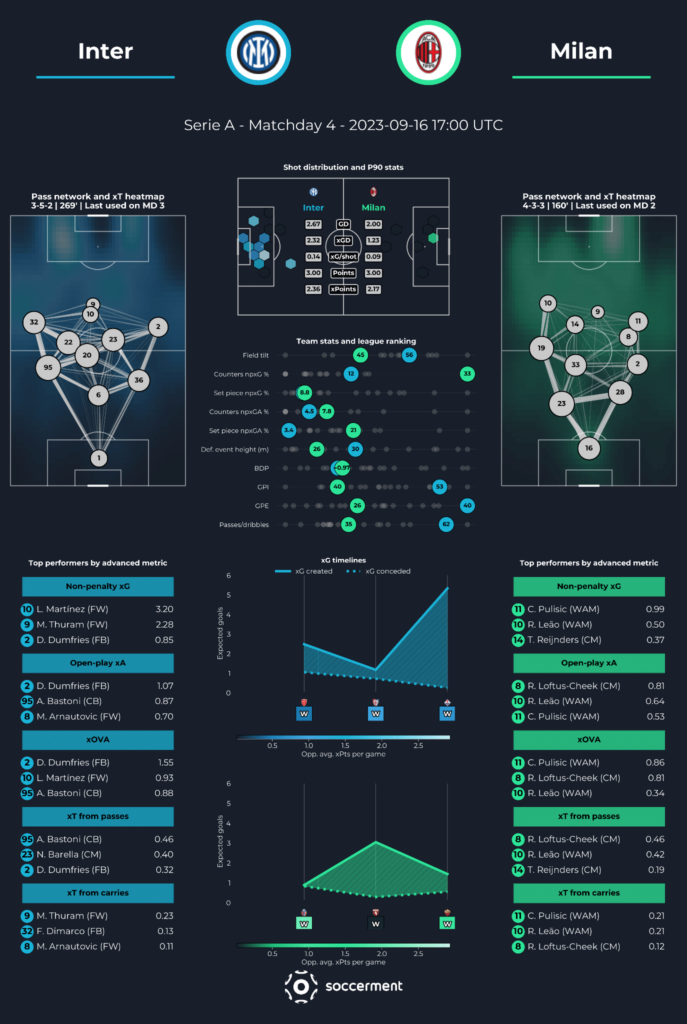 Key Stats:
Field Tilt: 56% – 45%
npxG P90: 2.73 – 1.01
npxG from counters (%): 12 – 33
npxGA P90: 0.68 – 0.56
Takeaway: Very early on in the season, Inter look more possession-based and much more threatening in open play whereas Milan seemed slightly more defensively solid and much more counterattacking. We should be in for a cracking derby.
🇩🇪 Bundesliga: Bayern Munich vs. Bayer Leverkusen
This weekend's Topspiel in the Bundesliga is on Friday night, when defending champions Bayern Munich will take on the much-hyped contenders Bayer Leverkusen.
We too hopped on board the B04 hypetrain as early as one game in after their opening-day win over RB Leipzig, after which they have only gotten more formidable. They really seem to be firing on all cylinders as they went on to score eight goals in their next two games, with each of their attackers getting on the scoresheet.
Xabi Alonso's side clearly have the best attack in the league early doors, so the aspect that should come under more scrutiny this weekend is their defence. Although Bayern Munich have not gotten off to the best of starts this season, they have remained as defensively solid as ever, whereas Leverkusen seem to have some gaps at times.
We should be in for an equally intriguing and entertaining match.
Key Stats:
npxG P90: 2.44 – 3.04
npxG/shot: 0.11 – 0.15
npxGA P90: 0.60 – 1.17
npxGA/shot: 0.08 – 0.11
Takeaway: Bayer Leverkusen's fully firing attack should seriously test Bayern's sturdy defence.
🇳🇱 Eredivisie: FC Twente vs. Ajax
Missing out on the title as well as Champions League qualification last season was a very poor outcome for Ajax, but things do not seem to have improved for them over the summer.
The record Dutch champions have won just one of their three matches so far, disappointingly dropping points against Excelsior and Fortuna Sittard. Maurice Steijn's side have been able to dominate possession as expected but they've really struggled to get the attacking players involved as much as they'd like. The departure of Mohamed Kudus (#20) definitely does not help in that regard.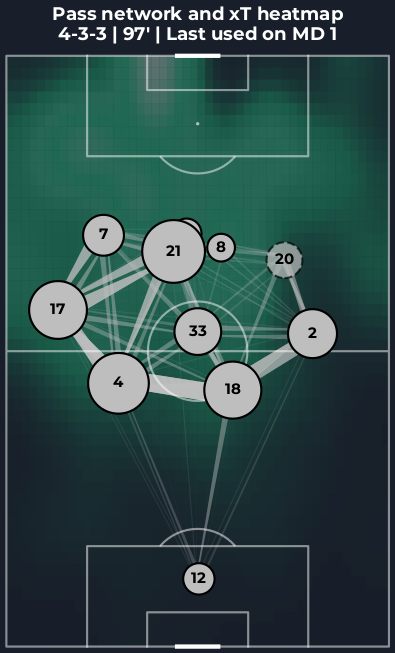 The pressure is once again building on what is now a very youthful team, so they really need to win their first match back from the international break. FC Twente will be no pushovers, though, as they are among the frontrunners in the early table with three wins for three under new head coach Joseph Oosting, who will look to build on the European qualification achieved by Ron Jans.
Key Stats:
Field Tilt: 63% – 67%
xGD P90: 1.21 – 1.77
Open-play xG P90: 1.88 – 2.24
xPoints P90: 2.23 – 2.06
Takeaway: Although Ajax have not been as bad as the table might currently suggest, they don't look anywhere near their dominant best either.
—
Unlock Insights with xvalue
Are you keen on diving deeper into match reports and gleaning invaluable insights from xvalue? As an exclusive offer for our readers, we are thrilled to provide you with an opportunity to elevate your football analysis experience. Use the code DECODETHEWEEKEND at checkout and enjoy a 25% discount on yearly subscriptions at xvalue.
Don't miss out on this chance to get unparalleled insights and enhance your understanding of the beautiful game.
—
About the Author: Neel Shelat
Neel Shelat is a self-styled missionary of the religion of football. With an unwavering passion for the game, he spreads the word about football from all corners of the world through in-depth features, profiles, analyses, and podcasts. Over the span of three years, Neel has established himself as a prominent freelance journalist and analyst. His insightful contributions have graced platforms like Al Jazeera, Forbes Sports, among many others. If you wish to stay updated with his latest insights and thoughts, you can follow him on Twitter at @ShelatNeel.
This series of articles is a collaborative effort between Neel Shelat, Soccerment Research, and the xvalue Team.

---