The evolution of Bruno Fernandes
Today's Supertaça against Benfica could represent a farewell match for Sporting CP's Bruno Fernandes. In the 2018/19 Primeira Liga, Bruno Fernandes captained the Leões to the third place, displaying outstanding performances: playing as an attacking midfielder, he was directly involved in 46% of Sporting CP's goals (7th in Europe and 1st among midfielders, on that metric). In this analysis, we show how his stats have continuously improved over the past few years. However, the non-penalty xG outperformance of the last season looks hardly repeatable.
---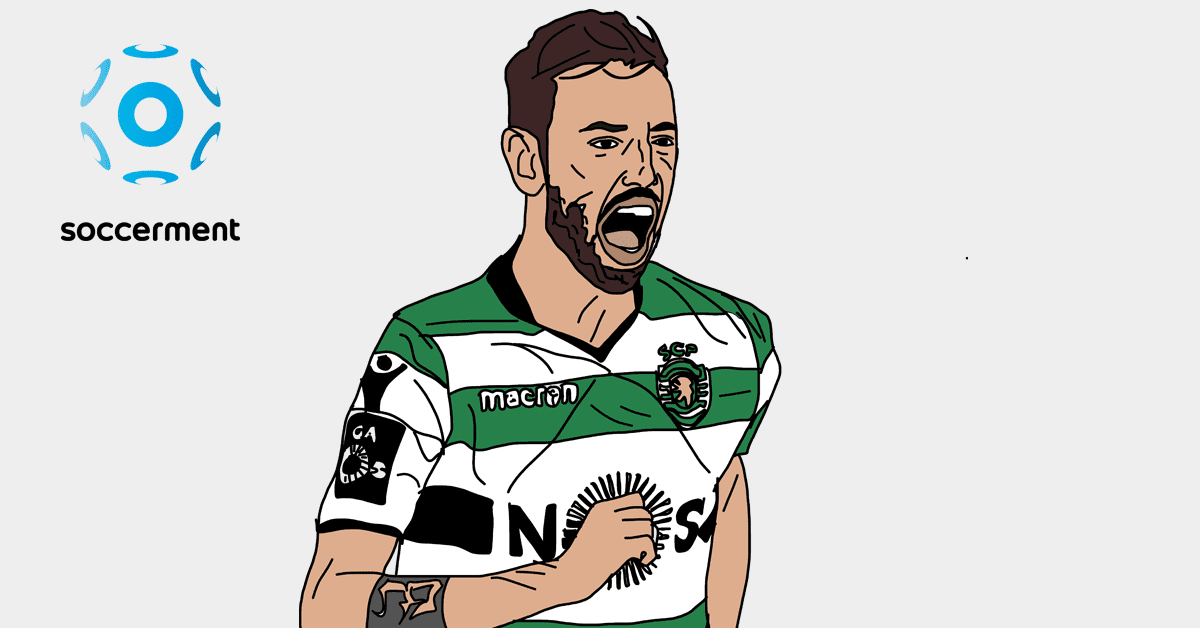 ---
Valuation: From €8.5m to €70m in two years
Bruno Fernandes was born on 8 September 1994, in Maia, 11 kilometres north of Porto. At 10 years of age, he joined the academy of the Porto-based Boavista Futebol Clube.
In 2012, a few days before his 18th birthday, Fernandes moved to Italy, joining Serie B's Novara. After one season (23 appearances and 4 goals), he signed for Serie A's Udinese, where he remained for three years, before moving to Sampdoria.
In June 2017, after one (somewhat uninspiring) spell, Sampdoria sold Bruno Fernandes to Sporting CP, for a fee of €8.5m plus add-ons of €0.5m. The Italian club, however, retained the rights on a 10% cut on any future capital gain that Sporting would make by selling the player. Therefore, if Bruno Fernandes joins Manchester United as rumoured (or Tottenham, or Real Madrid), for a fee reportedly worth roughly €70m, Sampdoria would cash in a fee of around €6m.
But how did the transfer value of Bruno Fernandes increase eightfold in two years?
Well, it has mainly to do with what happened during the last season: in the Primeira Liga, Bruno Fernandes scored 20 goals (of which 6 penalties) and provided 13 assists, captaining Sporting CP to reach the Primeira Liga's third place. In total, Fernandes played 2942 minutes in 33 appearances in the league.
One of the deadliest midfielders in Europe during the 2018/19 season
The performance of Bruno Fernandes last year was indeed remarkable. Not many players in Europe were more influential than him. The sum of his goals and assists amounted to 33 in the Premeira Liga, i.e. 46% of Sporting's total goals (72).
We calculate that, among the players having been directly involved with at least 20 goals, only six players showed a higher influence (Exhibit 1 below): Fabio Quagliarella (Sampdoria), Lionel Messi (Barcelona), A. El Khayati (ADO Den Haag), Eden Hazard (Chelsea), Iago Aspas (Celta) and Nicolas Pepe (Lille). Notably, these footballers play in more advanced positions, most of them are forwards.
---
---
When restricting the analysis to the midfielders, Bruno Fernandes' performance becomes relatively even more outstanding.
In the following charts (Exhibit 2), we display the data about 760 midfielders: all the midfielders of the tier 1 and tier 2 leagues of England, Spain, Italy, Germany and France, plus the tier 1 leagues of Portugal, Netherlands, Belgium and Turkey. The dataset comprises only the midfielders having played more than 1,000 minutes and having produced more than 1 goal and 1 assist.
Bruno Fernandes, based on the 2018/19 stats, comes out as one of the most dangerous attacking midfielders in Europe, owing to the high volume of shots he was able to take and the chances he was able to prepare for his teammates.
---
---
Furthermore, last year his finishing stats were top-notch: a shot accuracy of 46% led him to print a non-penalty goal conversion ratio of more than 12% (the percentage of non-penalty goals on the total shots taken).
---
---
Bruno Fernandes vs the average "CAM"
If we compare the 'spider chart' of Bruno Fernandes to the average Central Attacking Midfielder ('CAM') in Europe, the difference of the recurrent output (key successful events per 90 minutes) is evident.
Here below, some snapshots taken from our analytics platform. Our models foresee a 'Soccerment Performance Rating' (SPR) of 57, second-highest in the Primeira Liga, third-highest among Portuguese players, 8th Central Attacking Midfielder and 106th overall player in our database (14 leagues in total).
---
---
From the various charts, we can appreciate how the performance of Bruno Fernandes was significantly better than average.
In particular, we would focus on the following key stats:
Chances created per 90 minutes: 3.18 vs 1.63
Total shots per 90 minutes: 3.67 vs 1.95
Shots on target per 90 minutes: 1.68 vs 0.68
Shot accuracy: 46% vs 34.1%
Non-penalty goal conversion rate: 12% vs 9%
Accurate passes in the opposition half P90: 28.7 vs 20.4
Recoveries: 6.0 vs 5.4
For the following stats, on the contrary, Bruno Fernandes was either in line or below average:
Through balls per 90 minutes: 0.21 vs 0.21
Successful dribbles per 90 mins: 0.95 vs 1.28
Pass accuracy: 75.1% vs 78.9%
To access all the stats for Bruno Fernandes and the other Primeira Liga players, click here to sign up for free and then subscribe for €0.99 per month. Cancel anytime. Some of the leagues are on a subscription-only mode (Primeira Liga, Eredivise, Süper Lig and Jupiler PL), while the top 5 leagues are mostly free.
---
---
The evolution of Bruno Fernandes
In the Exhibit 5 below, we display the evolution of the key attacking stats of Bruno Fernandes over the past six years. The trends are clearly positive.
A better spatial awareness and an increased ability to receive the ball between the lines were key in this evolution, in our view
For example, the stats show a marked improvement in both the quantity and the quality of the shooting production: the number of shots taken every 90 minutes as well as the shot accuracy went from an average of 2.5 between 2013/14 and 2015/16 to 3.3 from 2016/17 to 2018/19.
---
---
In those same periods, the shot accuracy of Bruno Fernandes was 30% and 40%, respectively, which resulted into goal conversion ratios (excluding penalties) of 6.8% in 2013-2016 and of 10.6% in 2016-2019.
---
---
How will Sporting CP cope with his departure?
As aforementioned, the contribution of Bruno Fernandes to his team's results was simply outstanding last year.
As we display in Exhibit 7 below, he created 26% of the chances and scored 28% of the team's goals, from 27% of the total shots on target. He was directly involved in 33 goals (20 goals and 13 assists), representing 46% of Sporting's goals in the league (72).
---
---
As a comparison, if we look at the top 5 leagues and add the Portuguese Primeira Liga, the Eredivisie, the Belgian Jupiler PL and the Turkish Super Lig, only Messi was more influential than Bruno Fernandes last year.
It will be very interesting to see how Sporting CP will cope in the Primeira Liga without Bruno Fernandes this season. Will the signing of Vietto be enough?
Next stop, Manchester? Will the improvement continue?
Whilst Tottenham and Real Madrid are reportedly also interested in Bruno Fernandes, Ole Gunnar Solskjær's Manchester United seems ahead in the race for the Portuguese midfielder.
The 4-2-3-1 formation that Solskjær should use this year is a system which Bruno Fernandes is comfortable with: last season he mostly played as a central attacking midfielder in Marcel Keizer's 4-2-3-1 line-up. Pochettino's Tottenham often adopts that formation as well.
However, regardless of the tactical schemes, adjusting to a new league often proves difficult. As Christoph Biermann writes in his book 'Football Hackers: The Science and Art of a Data Revolution', "the recurring question that surrounds the movement of players across international borders is the portability of their performance levels".
Furthermore, in Bruno Fernandes' case, the non-penalty goal conversion (>12%) last year was way ahead of the 'xG per shot' measure, if we exclude penalties. According to the Wyscout data, Bruno Fernandes totalled Expected Goals of 12.29 in the Primeira Liga. The figure, as far as we understand, includes penalties. We thus calculate a non-penalty xG per shot of 0.07. Normally, such an outperformance (>0.12 non-penalty goal conversion vs 0.07 non-penalty xG per shot) is hardly sustainable.
---
---
What is your view? Do you believe that in the Premier League, or in La Liga, Bruno Fernandes would perform as well as in the Primeira Liga?
---
Best way to stay in touch? Like our Facebook page or follow us on Twitter.
For any query, suggestion or comment, you could send us an email: research@soccerment.com.
If you like our "iconic" images, you should check out this Instagram account: iconic_cool_people.
---