Khvicha Kvaratskhelia: Tactical and statistical analysis
Few players have managed such a scintillating and devastating impact in their Serie A debut season as Khvicha Kvaratskhelia. The Georgian is exceeding expectations thanks to his flair and eye-catching plays on the left wing. He is successfully filling the void of talented left wingers such as Insigne, Mertens and Lavezzi.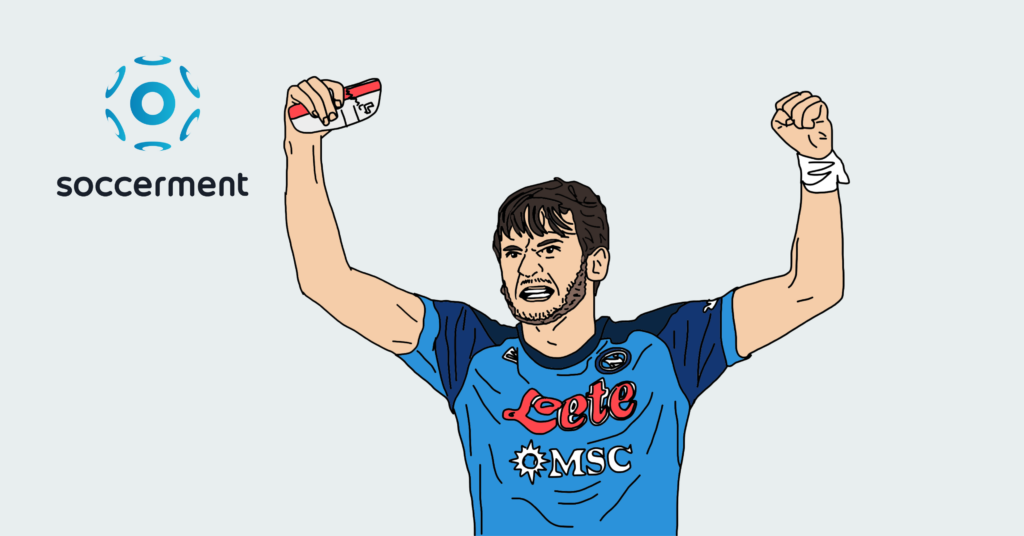 ---
Biography
Georgian sensation
Khvicha Kvaratskhelia was born in Tbilisi on the 12th of February 2001. In love with football from a very young age, he started to play the Beautiful Game in Georgia with Dinamo Tbilisi where he continued to develop until 2018, when he joined Rustavi. After one season, he was acquired on loan by Lokomotiv Moscow. At the end of his 6 month spell in Moscow, he was transferred to Rubin Kazan for a reported fee of €600,000.
Curiously, his father Bardi managed Rustavi for 6 matches at the start of 2019 but never got to play his son, Khvicha, given his move to Russia. In Kazan, Kvhicha started to attract the interest of top scouts across Europe (Juventus, Napoli and Tottenham have been interested in the player for some time), as confirmed in a recent interview made by transfer expert Fabrizio Romano to Christian Emile (an agent who was helping Kvaratskhelia at the time). The agent stated that despite his talent, scouts from top clubs weren't ready to make the investment on a player coming from the Russian league which hadn't had too many successful cases of players moving to the top 5 leagues.
Following the start of the conflict between Russia and Ukraine, Kvaratskhelia moved back to Georgia to play for Dinamo Batumi who acquired his services for a reported fee of €8m. After a short and successful stint, he was contacted by Napoli once again who completed the deal for his signature for a reported fee of €10m.
If his first game for Napoli against Verona wasn't enough to catch the eye, Kvaratskhelia debuted at the Diego Armando Maradona stadium in scintillating fashion with this incredible brace:
---
---
Such an impact has obviously starstruck the emotional Neapolitan fanbase which hasn't hesitated to give him its maximum support. In a recent interview, Kvaratskhelia stated that he appreciated the beauty of the city and the passion of the fans towards the team meaning he has quickly acknowlodged the city he was moving to and is finding a positive connection to the environment which surrounds him.
At the international level, Kvaratskhelia made his debut for the Georgian national team on the 7th of June 2019 and has since collected 19 caps and scored 10 goals.
---
Kvaratskhelia's playing style
Cluster: One-to-one Explorer
A quick look at Kvaratskhelia's polar chart gives a clear indication of the versatility of his skillset as well as the amount of offensive production he is able to guarantee on the pitch. He ranks among the very best of his cluster with regards to open-play xA, xOVA and xT, a testament to his creativity. Furthermore, he also produces a high volumes of scoring chances, as measured by a high value of non-penalty xG, which he is able to finish with great skill, as suggested by his xG outperformance.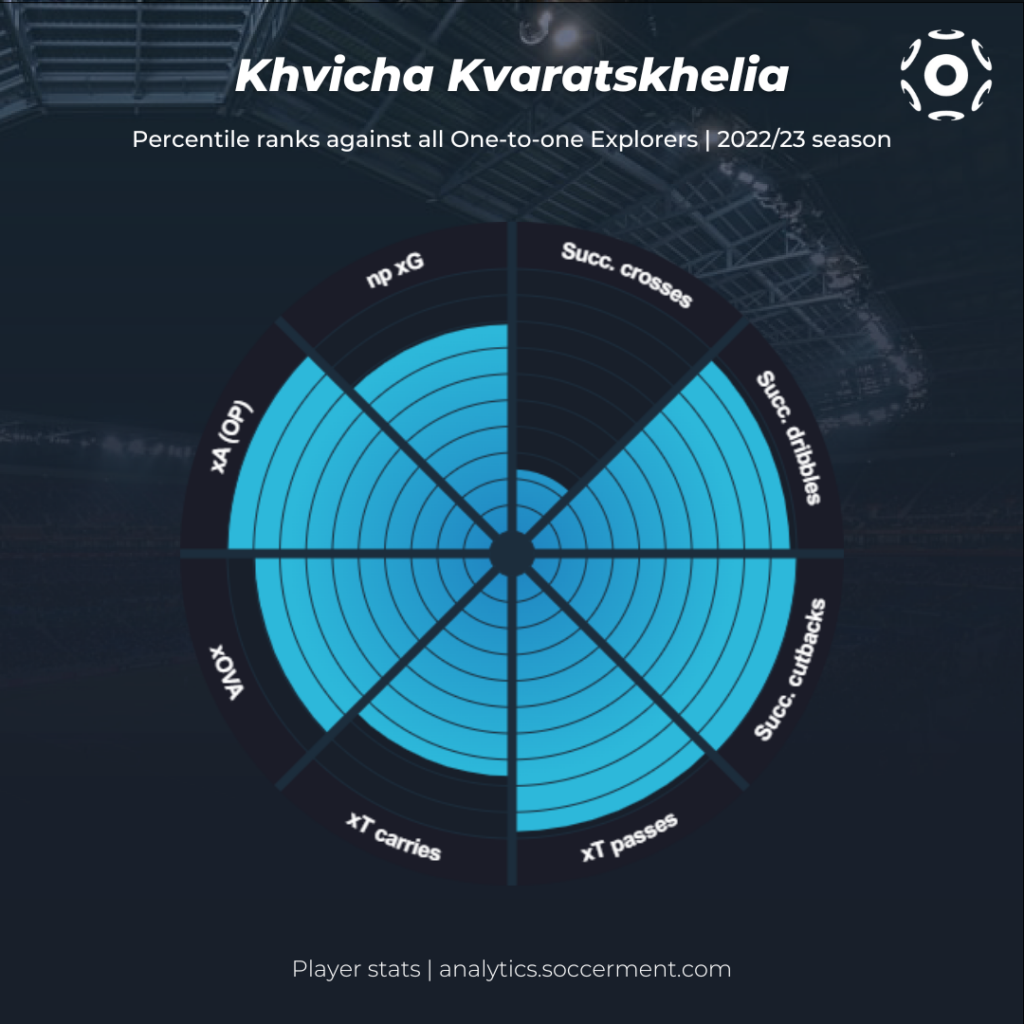 ---
Kvaratskhelia is a rapid and skillful winger who excels not just in dribbling but also in shooting and in chance creation. On top of his athletic and technical skills, the Georgian always seems very focused and ready to pounce at the first chance he gets. His drive and competitive spirit are coupled with humility and a strong aptitude towards self-improvement. In this sense, Spalletti has already publicly praised his efforts.
Clearly, he is a player who isn't afraid to take risks. His ability in beating his man, especially during offensive transitions, puts him among the players with the most dribbles completed (albeit with many attempts and a relatively low success rate). However, his many failed attempts are justified by the high value of attacking actions created from his completed dribbles.
In the spider chart below, we show how Kvaratskhelia is in the top 1% percentile on open play Expected Assists per 90 minutes, in the top 2% percentile on Expected Threat from passes per 90 minutes, top 6% percentile on Expected Threat from carries P90 and top 7% percentile on Non-penalty Expected Goals P90.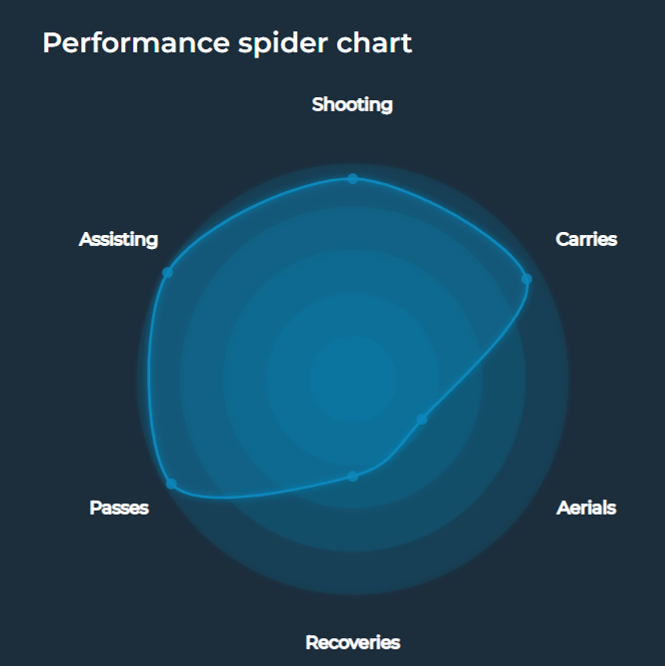 ---
The Georgian is equally able in attacking a low-block through dribbling and passing combinations with his teammates (i.e. goal against Ajax in the UCL) as he is in directly attacking the space behind the opposition's defensive line during transitions. His speed and spatial awareness allow him to perfectly time his runs.
Against Sassuolo, the Georgian's ability to attack the space behind the opposition's defensive line was at full display: first, he roams on the offensive front and when he sees space he bursts on the right and places a well-timed cutback for Osimhen. Not much later, he times his run to perfection in order to receive the ball in a one-on-one situation and slots the ball in the back of the net thanks to a composed finish.
---
---
As we can see in his heatmap, Kvartskhelia has been able to consistently enter the box (7.4 touches in the opp. box P90) from the edge of the area in order to perform deadly cutbacks (one of the pass types with highest conversion rate, as opposed to crosses). So, considering that he ranks among the highest for cutbacks and among the lowest for regular crosses among his cluster, we find yet another reason why the Georgian can be such a threat in the final third.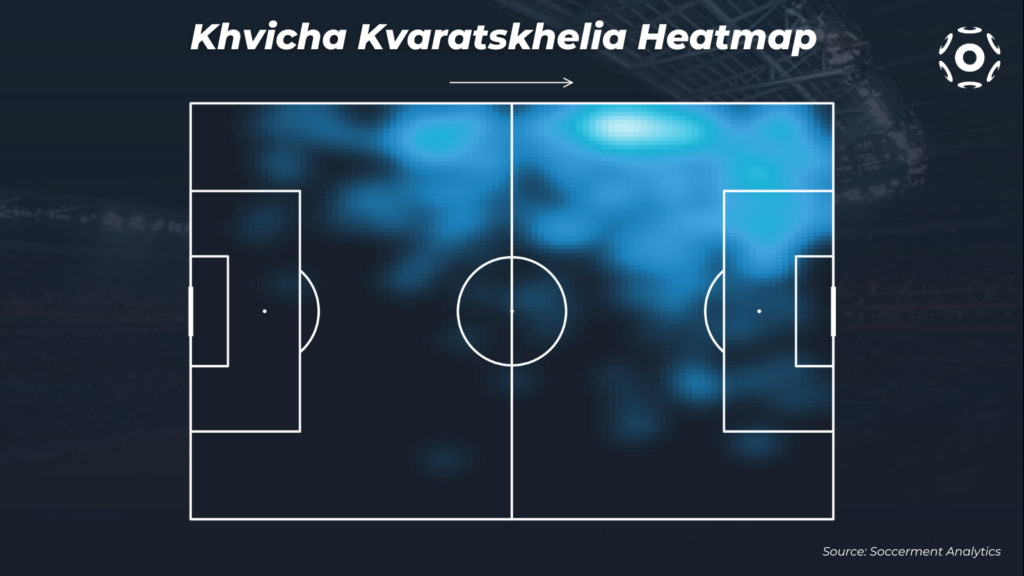 ---
With his arrival to the Serie A, he is being coached and trained to improve his defensive phase as well. Tactics and defensive work are always strongly considered by Italian coaching staff, who demand more from their players in comparison to coaches in other leagues.
---
Physical attributes
Speed and agility are two important physical attributes which Kvaratskhelia leverages to create valuable opportunities, both while taking on opponents and while attacking the space behind the opposition's defensive line.
On top of his speed, his height (183 cm) enables him to contest aerial duels and resist tackles from opponents. We have seen examples of this in his debut goal against Hellas Verona as well as in their most recent win against Sassuolo, where he assisted Osimhen's first goal. However, while he has proven to be capable of performing in the air, this isn't certainly his main task: he has contested just 0.31 aerial duels P90 since his arrival in the Serie A, with a 66.7% success ratio.
---
Technical attributes
Among the many arrows in Kvaratskhelia's quiver is his close ball control which allows him to attempt and complete many dribbles (5.96 attempts P90). His technique particularly stands out when running at full speed, where he often manages to take defenders by surprise through quick turns. Khvicha is also able to put great flair into his plays through body faints, and stepovers, however, he does so with the purpose of gaining an advantage over his opponents. So, even if his dribbling success ratio is low (32.8%) it is justified by two tactical reasons:
Given his abilities, he has become a key player for Napoli in transitions. When Napoli struggle to evade pressure (especially in the absence of Osimhen) he is a viable option to get out of tight situations where the attack is outnumbered.
He is often also the go-to player when facing tight and compact low-block defences. His ability to create chances out of thin air in a various ways often leaves defenders unable to predict his next move. Therefore, even if he may fail many dribbles he attempts, when he does manage to complete one the potential reward is much greater.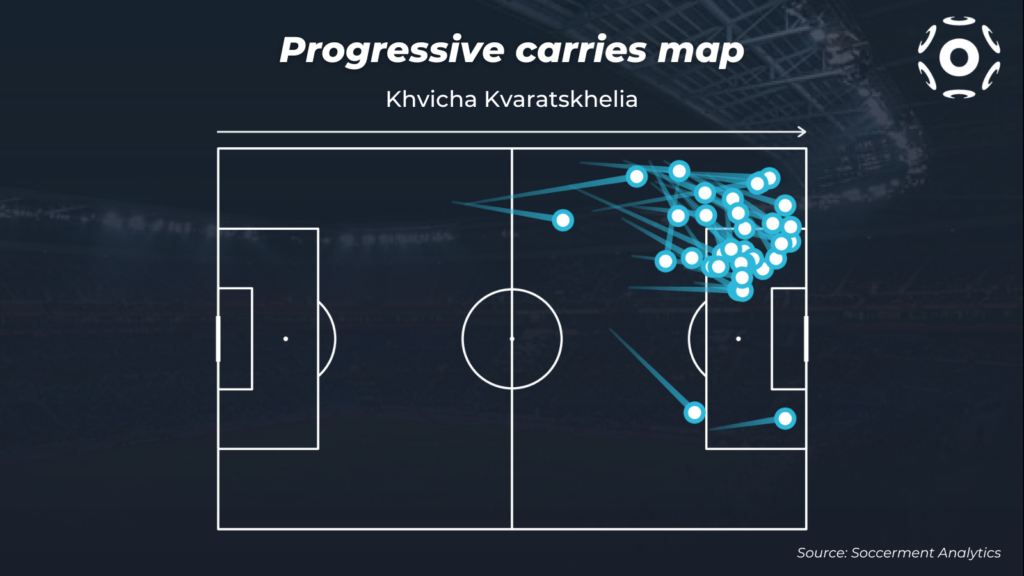 ---
Shooting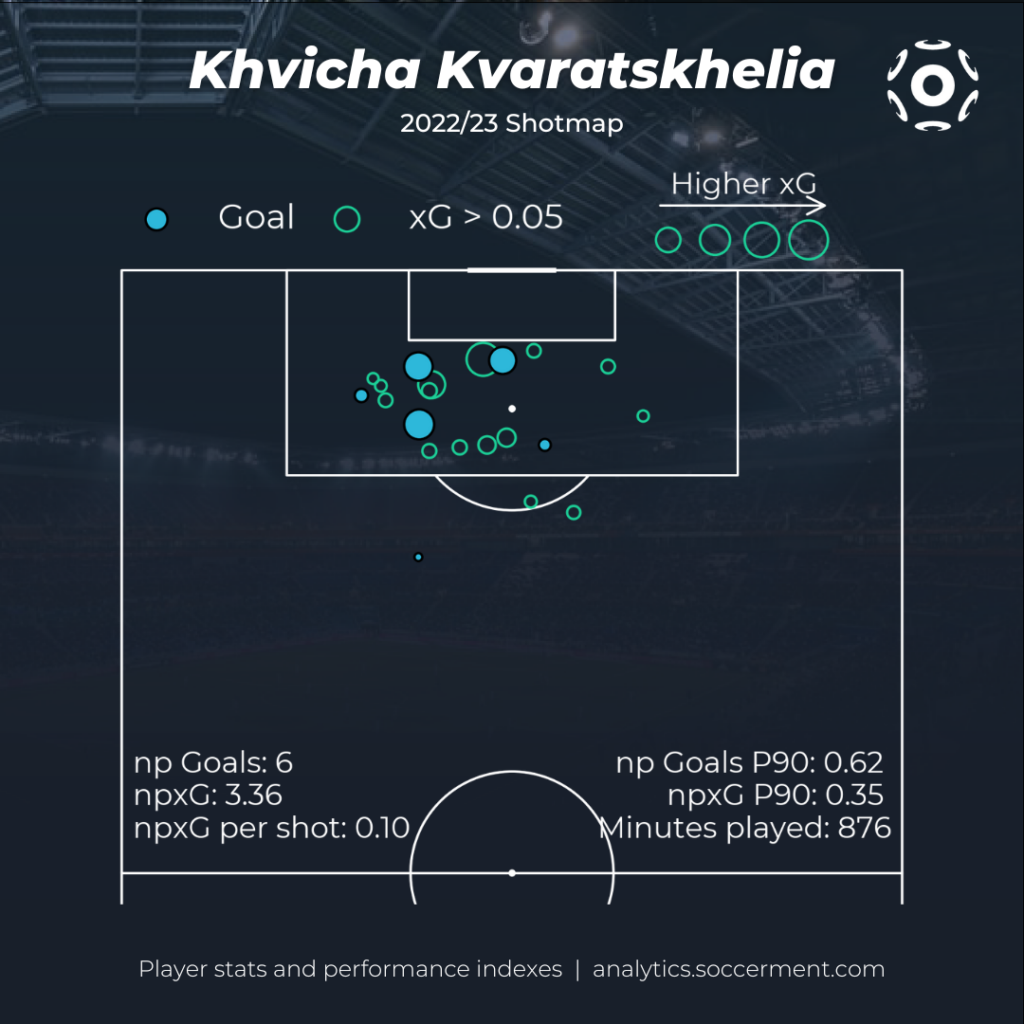 ---
Kvaratskhelia is a strong finisher, able with both feet, from short and from long range. While he usually strikes after converging from the left, he also roams around the offensive front in search of space to receive the ball and have a shot on goal. In his first 12 games for Napoli he has accumulated 3.36 npxG (0.35 P90) coming from a total of 34 shots (0.10 npxG per shot). He has already proven to be a strong finisher with both feet, capable of keeping his composure in front of goal. His current outperformance of xG, with 78.6% more goals than expected, will be difficult to sustain in the long-term, however his shot power and precision as well as his 1.43 SGA (Shooting Goals Added, here the article with the full explanation) already highlight the fact that his shooting ability is considerably better than average.
An example of his long-range shooting skill is his strong strike against Lazio.
---
Chance creation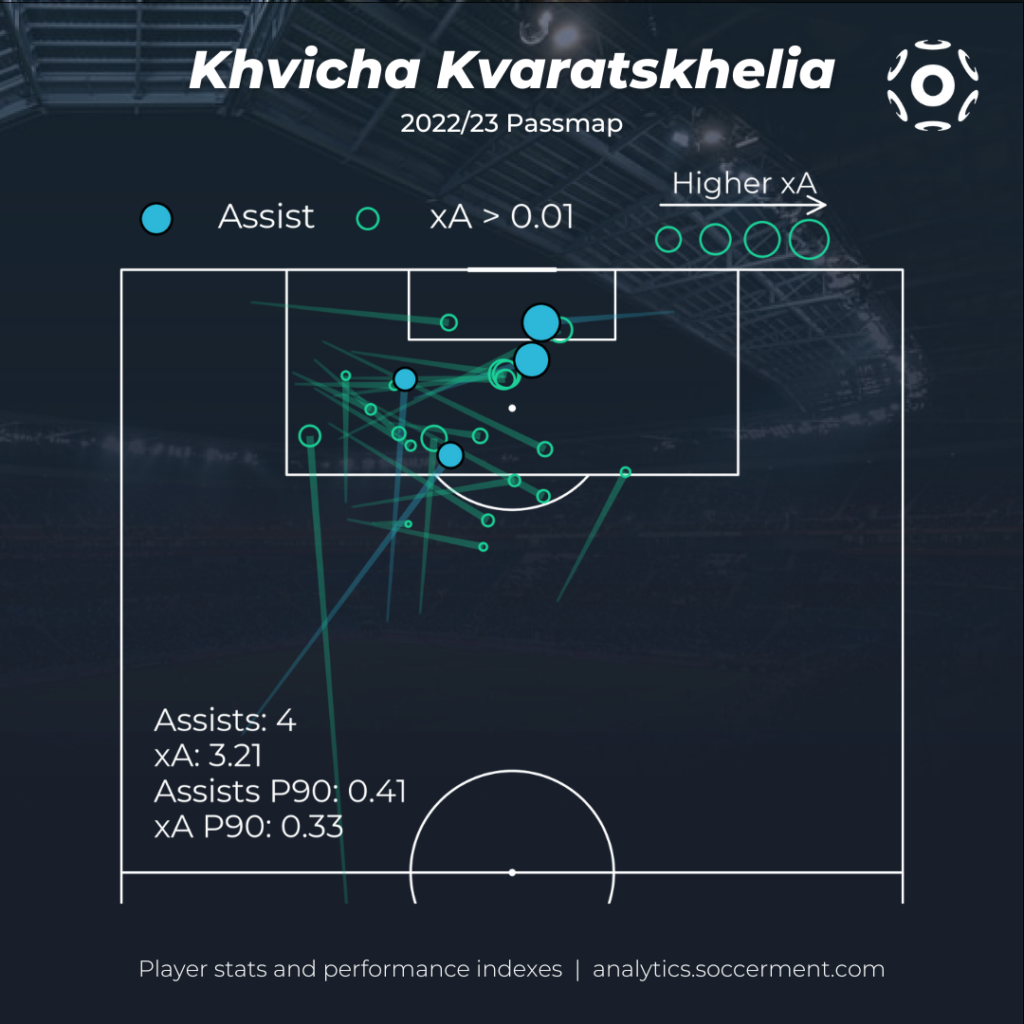 ---
Kvaratskhelia isn't only a dribbler and a finisher but also a very productive chance creator for his teammates. In fact, he tops the Serie A charts with 3.81 opxA and is 2nd with regards to xA (despite not taking set pieces in Serie A). Furthermore, 0.33 opxA P90 place him in the top percentile overall in the current season. His ability to transform possessions and create value for his teammates is also captured by his 0.42 xOVA P90. Also the Expected Threat model (xT) places him among the best performers in Serie A as can be seen in the graphs below.
---
The Georgian winger completes 0.20 cutbacks P90, 0.51 through balls P90 and 0.2 crosses P90. His numbers point out that while he can cross, it isn't his preferred route towards chance creation: he rather prefers to make a solo run or combine with his teammates keeping the ball on the ground.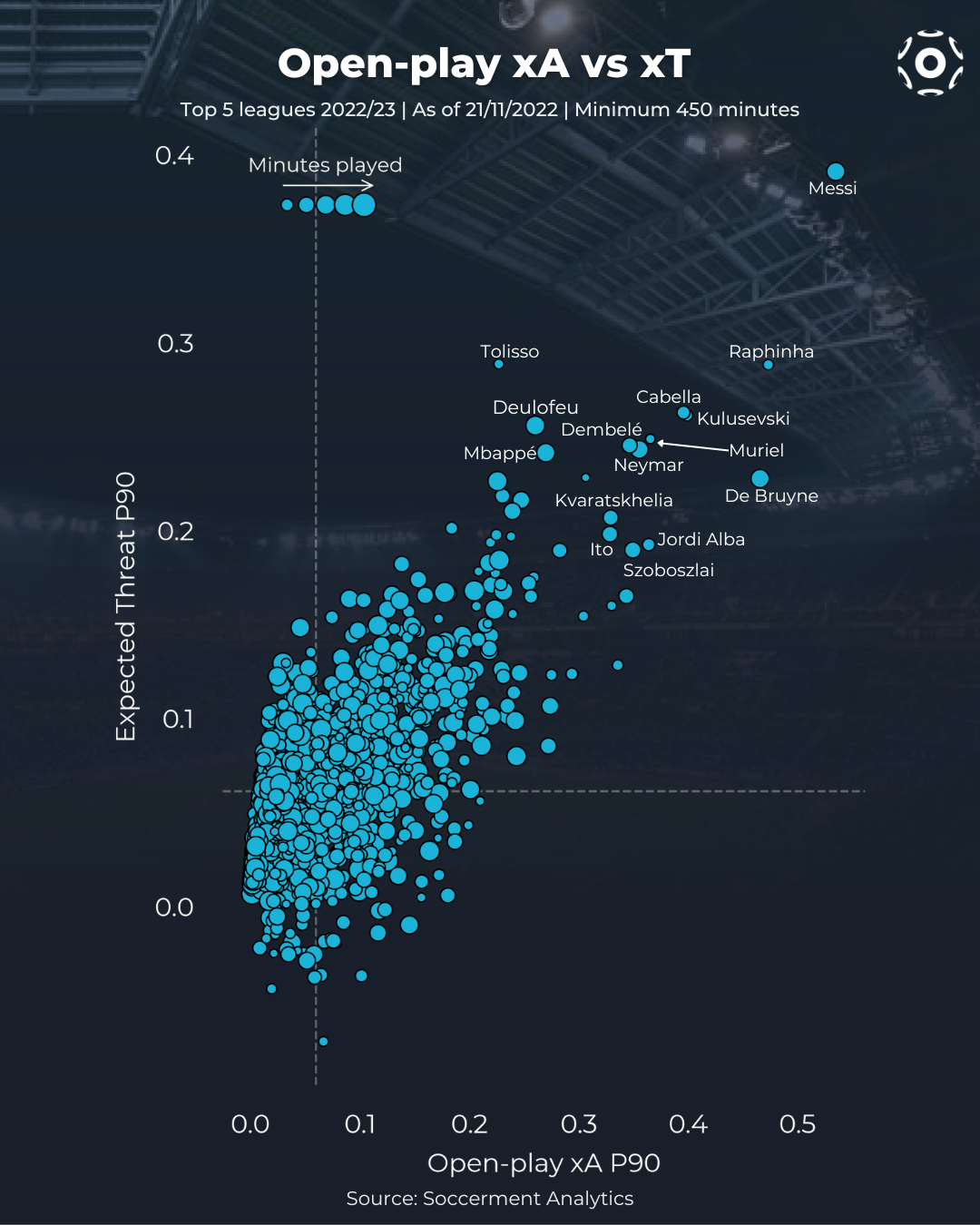 ---
Context
KK stepping in the boots of KK
Napoli's board and ownership have endured strong criticism during the summer transfer window (as well as in the past) due to the supposed lack of investment and inability to replace the club's most representative players. Indeed, replacing fan favorites such as Kalidou Koulibaly, Lorenzo Insigne, Dries Mertens and Fabian Ruiz was no easy task. However, the club was able to do it successfully, all while reducing the team average age, and producing a brand of football which has earned international praise in this first part of the season, topping both the Serie A and Champions League group tables.
Kvaratskhelia arrived to replace former club icon and captain Insigne on the left wing, an incredibly challenging task which Kvaratskhelia has made look easy. After their return to the Serie A, Napoli have always had very talented left wingers since the signing of Ezequiel Lavezzi. Insigne and Mertens followed but Kvaratskhelia's characteristics are more similar to Lavezzi's. His immediate burst on the scene resembles in many ways the very strong bond which was formed between the player and the city as a whole. However, Kvaratskhelia's Napoli seems to have a much higher potential.
Kim Min-Jae has replaced the Senegalese defender, who was one of the club's most important players and the leader of the defensive line. Giacomo Raspadori is filling in the void left by Mertens, showcasing his technique and ability in combining with his teammates while also giving Spalletti the chance to play him virtually anywhere on the offensive front. Tanguy Ndombele has arrived as a potential replacement for Ruiz, however they do possess different characteristics with the former Spurs player more prone towards progressive carrying and passing with the Spaniard more adept at keeping possession of the ball and dictating the tempo of play.
---
Conclusions
Kvarastkhelia has transitioned with ease to the Serie A becoming perhaps one of its most exciting players in a matter of months. He has proven to excel in most offensive aspects: he is a top performer with regards to many advanced metrics, both for chance creation and finishing.
It is yet to see if he will be able to sustain such impressive offensive production having played only 12 games in Serie A so far.
---