La Liga: Heavy Traffic on the road to Glory
La Liga at the moment looks like a congested motorway during rush hour, with several teams side-by-side at the top. However, with Lionel Messi back from injury and in very good shape (two direct involvements in a goal every 90 mins), Barcelona might soon break away and put some distance between themselves and Real Madrid and Atlético Madrid. Behind the top three, Sevilla, Real Sociedad and Villarreal seem the best equipped to fight for the fourth Champions League spot. In the report, we look at the league's provisional Top 11 and also take stock of the performance of last summer's big transfers: Luka Jovic, Antoine Griezmann and João Félix. We conclude with an overview of one of the best young talents in La Liga, Martin Odegaard.
---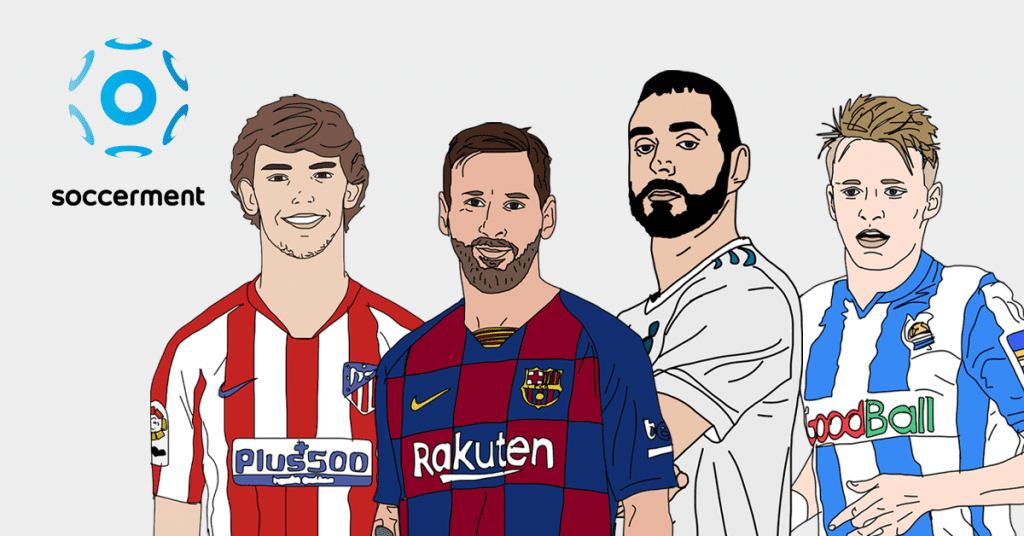 ---
Stats as of 25 November 2019
The Traffic Jam
With a third of the 2019/20 season now behind us competitive balance seems to be the order of the day in Spain's La Liga. Fourteen rounds of matches have been disputed so far and none of the teams are unbeaten. Moreover, the top twelve teams are separated by just ten points.
In this report, we focus our attention on the top twelve teams in La Liga at the time of writing. all of whom seem to harbor realistic European ambitions. Surely such competitive balance can't last for long?
But despite the sense of La Liga being much closer than usual, the names at the top of the table are the ones you would expect to see there. Real Madrid and Barcelona are leading the standings despite having played 13 matches, one fewer than the others, as El Clásico was postponed by the Real Federación Española de Fútbol (RFEF) in the wake of the political tensions surrounding the Catalan independence demonstrations. Sevilla are just one point behind them, and two points ahead of Atleti, both ready to take advantage of any missteps. What is surprising though, is that teams like Real Sociedad, Athletic Club, Valencia, Granada and Villareal are still keeping up with the leaders.
Beyond the facade: the difference between performance and results
When we analyse the performance of football players and teams, we try to look beyond the mere results, which are often influenced by random events. To that end, we focus on "expected" statistics, which account for the quality of the action under the microscope. By comparing actual and expected statistics, we try to assess which teams are more likely, according to the numbers, to be fighting for the title or the European slots at the end of the season. In order to do that, we account for non-penalty expected goals per ninety minutes (P90), made and conceded. We want to account for shot efficiency as well, which is why we look at xG per shot taken and xGA per shot conceded.
Team Statistics
---
The scatter graph above gives us some interesting preliminary information. The best performing team according to these numbers is Real Madrid: by scoring 2.00 NPxG (non-penalty xG goals per game) and conceding 0.93 NPxGA per 90 minutes, they have the widest expected goals difference per match (+1.07). Atlético Madrid have the best performing defence so far, but their offensive numbers are less impressive: they have produced only 1.56 NPxG in 14 matches.
On the other hand, teams with a negative balance of NPxG P90 include Athletic Club (-0.15), Granada (-0.25), Levante (-0.49) and Valencia (-0.32).
The quality of the chances, created and conceded
In this section, we consider non-penalty expected goals (for and against) as a percentage of total shots (taken and conceded). The objective of this analysis is to provide a measure of the quality of teams' attempts in the offensive phase and, at the same time, a proxy of the danger of the attempts conceded to opponents.
---
---
Of the highest ranking teams, Real Madrid seems to be the least efficient in offensive terms: los blancos shoot more than any other team (216 NP shots), but their NPxG per shot (0.121) is lower than that of FC Barcelona (0.142), Atlético Madrid (0.141), Villarreal and Real Sociedad (0.123). In terms of the fight for the Champions League, the offensive numbers Villarreal and Real Sociedad are producing are remarkable: 199 NP Shots for el submarino amarillo and 154 for the txuri-urdin (with an NPxG/shots ratio of 0.123).
But what about the quality of opponents' attempts? Atlético Madrid have been by far the best team in La Liga in this regard, conceding on average only 0.071 NPxGA per shot, immediately followed by Villarreal and Real Sociedad (both on 0.086), and Sevilla and Barcelona (both on 0.099). Real Madrid (0.111) are showing kind of mediocre numbers, but they have conceded just 109 non-penalty shots so far. Sevilla are slightly behind the other contenders for fourth place with 0.099 NPxGA/shots, but Julen Lopetegui's squad has conceded fewer non-penalty shots (134) than both Real Sociedad and Villarreal (177 and 172 respectively). In the previous graph, we see that Villarreal and Real Sociedad have identical statistics, but five points and six positions separate them in the ranking. Getafe has conceded the least NP shots to opponents, only 98.
Provisional Top 11 selection
---
We start this section by looking at La Liga's top eleven, selected automatically by Soccerment Analytics, according to their 'Soccerment Performance Rating' (SPR).
According to our algorithm, Unai Simón (SPR 57) has been the best goalkeeper in the league so far, with 0.46 clean sheets P90 and a save ratio of 81%.
The backline includes no surprises as it features Dani Carvajal, Sergio Ramos, Stefan Savic and Jordi Alba.
The top midfielders are Toni Kroos and Dani Parejo, with impressive passing indexes of 81. They are followed by Éver Banega, who has scored 2 goals (1 penalty) and served up 4 assists so far.
There are no surprises either in the top two strikers: Karim Benzema (SPR 66) is La Liga's top striker at the time of writing with ten goals and four assists in eleven appearances, and Lionel Messi (SPR 74) is immediately behind with 8 goals and 5 assists. Third place is taken by Villarreal's Gerard Moreno (SPR 58), who has eight non-penalty goals and two assists so far.
---
Interested in football stats? Sign up for free to Soccerment Analytics and start analysing football players and teams through intuitive data visualisation and innovative performance indicators.
---
Offensive cloud
In the chart below, we only consider players with more than 500 minutes played so far, with a minimum NPxG90+xAG90 of 0.20.
---
---
Many of the strikers in Soccerment's Top 11 are included in the cloud graph above. The only exception is Atlético Madrid's Álvaro Morata (SPR 52), who is leading the NPxG+NPxA table together with Lionel Messi, whereas Gerard Moreno is slightly smaller in the cloud.
---
---
How is life in the new club?
Despite the absence of official matches, summer 2019 was anything but boring for Spanish football supporters, as the top teams were particularly active during the transfer window. We analyze the recent performances of three of the main protagonists of the last transfer window: Antoine Griezmann, Luka Jovic and João Félix.
Antoine Griezmann: after five successful years under the tutelage of Diego Simeone, FC Barcelona announced the signing of "le petit prince" on July 12th 2019, for €120m. During his first months with the Blaugrana, Griezmann is showing some shortcomings in terms of involvement in the play and offensive efficiency.
Despite five years played as a striker at Atleti, Valverde is making him play as a left winger, further from goal than he is used to and somewhat isolated from his teammates. Griezmann has scored four goals so far, two of which were in the second match of the season, against Real Betis, when he played as a striker in place of the injured Luis Suarez.
---
Luka Jovic joined Real Madrid from Eintracht Frankfurt this summer for €60m after a stunning season in which he scored 27 goals in 46 appearances in the Bundesliga and Europa League. Such performances brought him to the attention of los galacticos who brought him in as competition for Benzema.
However, his new adventure as a Real Madrid striker has yet to really begin. Coach Zinedine Zidane has almost always chosen Karim Benzema as his starting centre forward, with Jovic playing just 286 minutes in 9 matches, of which only three were as a starter. What is particularly worrying for Jovic is that Zidane seems to have found in the 4-3-3 his best formation, with Hazard, Rodrygo and Benzema as his chosen front three. Will the Serbian striker be given the opportunity to showcase his skills?
---
João Félix was absolute magic last season in Portugal's Primeira Liga: his 15 goals and 7 assists were vital in Benfica securing their 37th national title. Atlético Madrid did not miss out and snapped up the young Portuguese for roughly €126m. Before his injury on October 19th, Félix collected nine appearances, with 2 goals and an assist.
The main challenge for him at the moment seems to be adapting to a new, more competitive league.
---
This last section is dedicated to the most interesting young LaLiga talent so far, Martin Odegaard. Real Madrid's rising star is currently playing on loan at Real Sociedad. The Norwegian prodigy made his Real Madrid debut in the season 2014-2015 against Getafe, before playing for two years on loan in the Eredivise (at Heerenveen and Vitesse, where he scored 10 goals in 69 appearances).
After his sojourn in the Netherlands, last summer Real Madrid loaned him to Real Sociedad, where his talent is shining. He is creating 2.58 chances P90 so far, with a pass accuracy in the opposition's half of 78%, against 66.8% for the average wide attacking midfielder. Odegaard is at the centre of Real Sociedad's attacks, creating 27% of his team's chances. Soccerment's similarity algorithm compares him to players such as Coutinho, James Maddison or David Silva.
If he keeps up this outstanding performance, with no doubts Real Madrid will count on him from the next season.
---
Conclusions
From our analysis, it emerges that the three Spanish giants are still yet to play at their full potential. Considering the value of their squads and the schedule of matches ahead, Barcelona seem slightly ahead of Real and Atleti at the moment. However, Ernesto Valverde has to find a way to get more from his offensive talents, particularly Griezmann. Real Madrid still have to find a more stable tactical balance, while Atlético Madrid needs to better capitalize on their offensive play and score more of the chances they produce.
Despite the unfavourable current standings and the latest defeat against Celta, Villarreal have a good chance of staying in the fight for fourth place with Sevilla and Real Sociedad, but the other teams will probably drift away from the top positions.
---
Interested in football stats? Sign up for free to Soccerment Analytics and start analysing football players and teams through intuitive data visualisation and innovative performance indicators.
---
Best way to stay in touch? Like our Facebook page and follow us on Instagram and Twitter.
For any query, suggestion or comment, you could send us an email: research@soccerment.com.
---