Premier League: A statistical recap
The English Premier League will be the third of the top-five European leagues to restart, doing so on Wednesday 17th June. At the top of the standings, Liverpool have already put the the race for the title to bed, while the fight for 3rd and 4th place is nothing short of compelling, with at least seven teams involved. In the relegation zone, Norwich are in the most danger of the drop, in our view.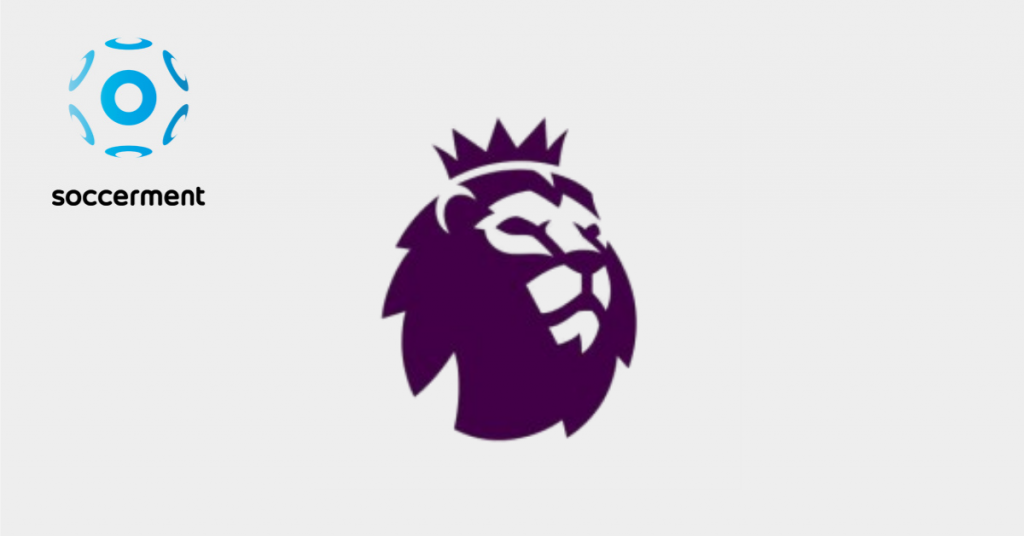 ---
Chronicle of a Premier League foretold
The Premier League – dominated, before the pandemic-induced break, by Jürgen Klopp's Liverpool – will be the third of the top-five European leagues (after Germany and Spain) to restart and will do so on Wednesday 17th June with two fixtures that had previously been postponed: Aston Villa-Sheffield United and Manchester City-Arsenal.
The 30th matchday will then be played between 19 and 21 June:
Friday June 19
Norwich vs Southampton
Tottenham vs Manchester Utd
Saturday June 20
Watford vs Leicester
Brighton vs Arsenal
West Ham vs Wolves
Bournemouth vs Crystal Palace
Sunday June 21
Newcastle vs Sheff Utd
Aston Villa vs. Chelsea
Everton vs Liverpool
Monday June 22
Manchester City vs Burnley
The hope is to end the league by August 2nd, and then play the FA Cup final on the weekend of August 8th and 9th.
Premier League table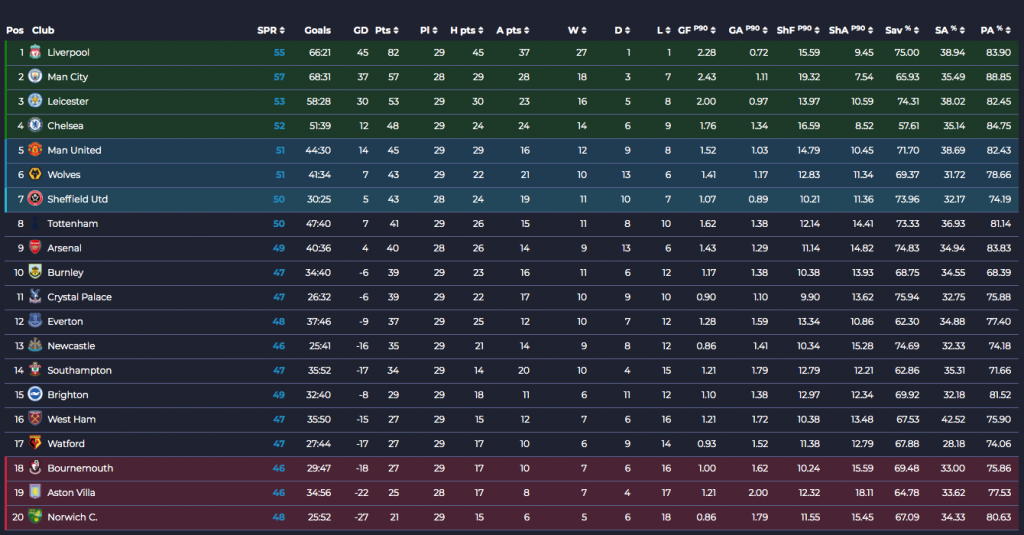 ---
After the two fixtures on 17 June, all the teams will have played 29 games, and will face 9 more to conclude the 2019/20 Premier League.
Liverpool are way out in front at the top of the table with 82 points, the result of 27 victories, a draw and just one defeat, 3-0 at Watford on 29 February. A defeat, curiously, that came just after the letter written to Klopp by a very young Manchester United, in which he asked the genial German to stop winning.
Despite an SPR – Soccerment Performance Rating, the proprietary algorithm that Soccerment uses to measure performances – that is higher than Liverpool's (57 vs. 55), reigning champions Manchester City are second, with a massive 25 point gap (with a game in hand). Our SPR is in line with most Expected Goals models, which show higher "Expected Points" for Manchester City than for the Reds.
Man City are followed by one of the the surprises of the season, Leicester (SPR of 53), who are just four points behind them. If we assume though that City will keep second spot, the battle for third and fourth place is between Leicester, Chelsea (SPR of 52), Manchester United (SPR of 51), Wolverhampton Wanderers (SPR of 51), Sheffield United (SPR of 50), Tottenham Hotspur (SPR of 50) and Arsenal (SPR of 49), whose SPR values faithfully reflect their rankings in the table. Norwich (SPR of 48) are in trouble in the relegation zone, despite having performed better than their direct rivals to avoid the drop: Bournemouth and Aston Villa both have SPRs of 46. Again, this is in line with most Expected Goals models.
Rankings: Teams
Looking at an overview of the in-play rankings, we note that, despite their dominance, Liverpool are first only in Assists (53) and Goal Conversion (19.94%); in almost all other metrics, Guardiola's City are the masters, when it comes to: Goals (68); Shots (541 of which 192 were on target); Chances created (421); and Total passes, Pass accuracy and Possession – trademarks for the Catalan coach.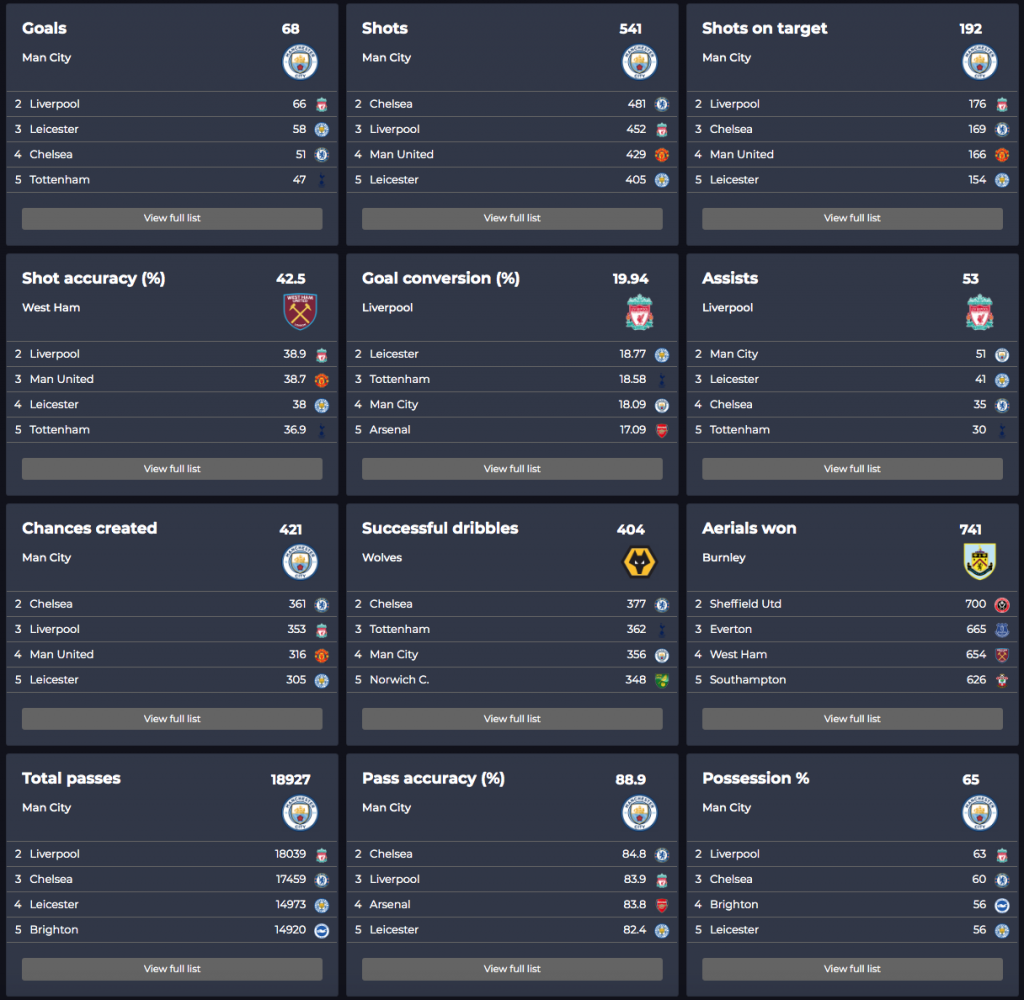 ---
As for Shot accuracy, Successful dribbles and Aerials won, the rankings for these stats are led by three outsiders: West Ham, Wolverhampton and Burnley.
If you want a more in-depth look at the rankings, click on the image to access the data.
Rankings: Players
After 29 rounds of fixtures, Leicester's Jamie Vardy is top of the goal-scoring charts with 19 goals to his name. Pierre-Emerick Aubameyang follows with 17 and, with 16 goals each, Sergio Aguero and Mohamed Salah.
The king of assists is City's Kevin De Bruyne who, with 16 assists, is 4 ahead of Liverpool's Trent Alexander-Arnold. The Citizens' midfielder also holds the prize for the highest number of through balls (23) and chances created (96), which give him top spot on the "Vision" index (93).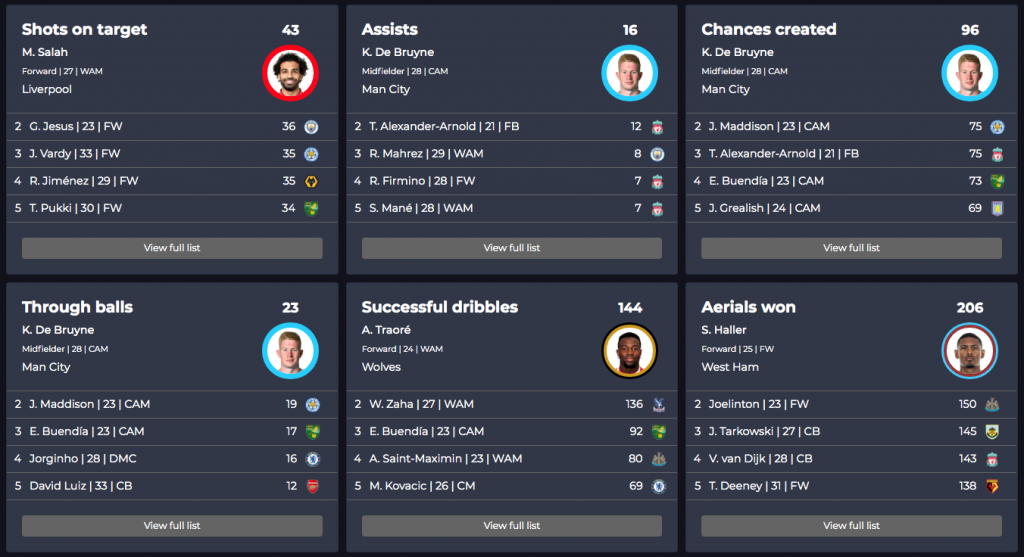 Not surprisingly, De Bruyne is also Premier League leader in terms of SPR (64), ahead of his teammate Kun Aguero (63) and the Reds' goalkeeper Alisson (63).

Click on the images for detailed statistics.
Premier League Top 11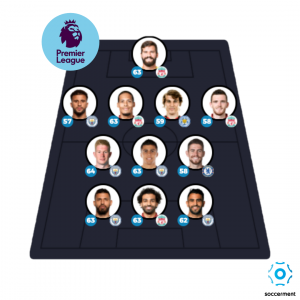 ---
Above, we display the Premier League's current Top 11 (4-3-3), as selected by Soccerment's algorithms, which is dominated, unsurprisingly, by Liverpool (4) and Manchester City (5).
The defensive block belongs almost entirely to the Reds, with the goalkeeper Alisson and the defenders van Dijk and Robertson. The keys to the midfield, however, are entrusted to City, specifically KDB and Rodri.
Outside those two, Leicester defender Söyüncü has the highest SPR (59) closely followed by Chelsea midfielder Jorginho (58).
Liverpool: possible records
Will Liverpool maintain the impressive numbers that they were able to produce between September and March? The forced stop due to the pandemic could have repercussions in this respect, but it is certain that if you look at the data (in blue) on a "per-90-minutes" basis recorded in the three phases of the game (Defense, Build-Up, Attack) so far, the comparison with the average of the Premier League teams (in grey) shows Liverpool's superiority.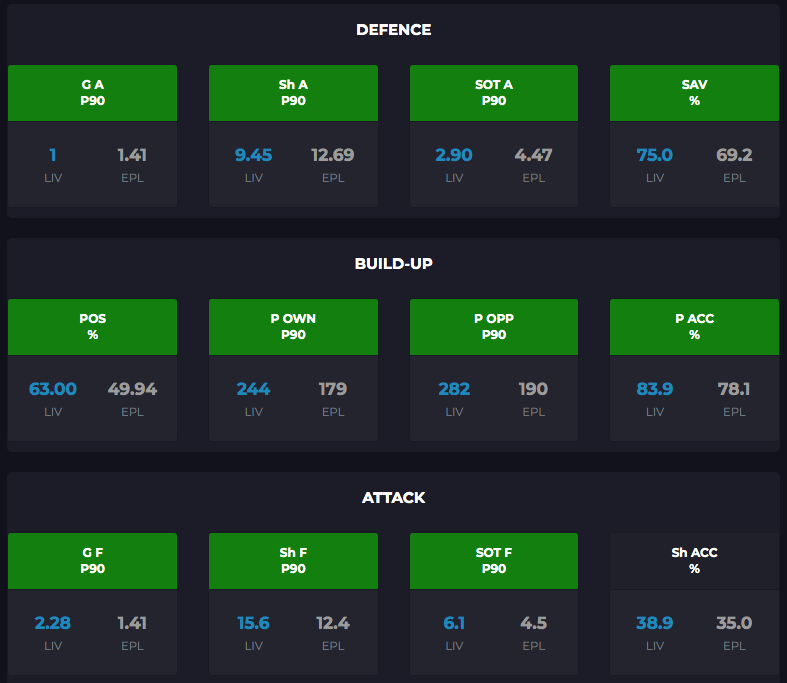 What is certain is that, if Liverpool keep winning, they could win the title – which the club has not celebrated since 1990 – with a good 7 fixtures to spare.
This would almost be a record in the top 5 European leagues, given that such a huge margin of victory has only occurred twice before:
The first was in the 2015/16 season, in which Paris Saint-Germain won Ligue 1 with 8 matches to spare.
The second is Bayern Munich 2013/14, who managed it 7 rounds from the end.
So, if Liverpool win their next two games they will become champions after 31 Premier League games, at home against Crystal Palace.
But the records to be targeted do not end there, and include:
Points scored in a single league: today belonging to Guardiola's City, who managed 100 in the 2017/18 season. Currently, Liverpool can reach 109.
League wins: Manchester City scored 32 last year, which was essential to beating Liverpool. Now, the Reds are on 26.
Home wins: 14 at the moment, with 5 needed to beat the Premier League record.
Away wins: Liverpool are currently on 12, 5 behind City's 2017/18 figure.
---
To stay informed about our research and the development of our tools, click on the button below and – if you haven't done it yet – sign up to Soccerment Analytics. We promise: no spam!
---
If signing up is a bit too much, would you like to stay in touch? You can "like" our Facebook page and follow us on Instagram and Twitter.
For any query, suggestion or comment, you could send us an email: research@soccerment.com.
---