Primeira Liga: A statistical recap
The Primeira Liga will be back on 3rd June. Unsurprisingly, it's a close call between Benfica and Porto. Benfica have shown better performance stats overall (SPR of 49 vs Porto's 47) and have led the table for 14 consecutive rounds. On the other hand, Porto have enjoyed two consecutive wins against their direct title rivals, and their calendar looks easier. It's gonna be fun!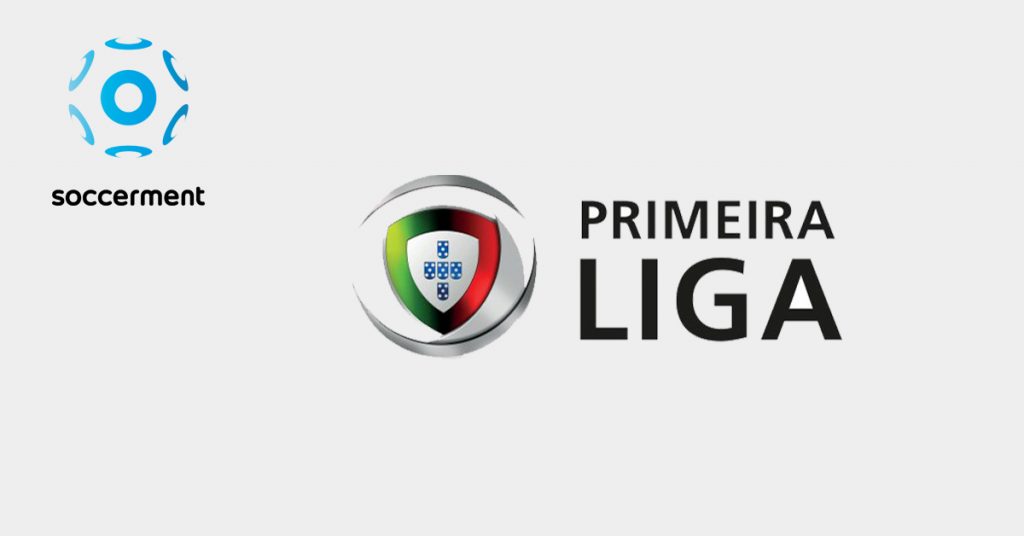 ---
Primeira Liga's standings before restarting
On Tuesday 12th May, the Portuguese League officially announced that the Primeira Liga would be restarting at the beginning of June, after two months of coronavirus-induced suspension. The remaining ten rounds will take place after rigorous security inspections and frequent tests of the personnel involved. Below are the current PPL standings.
After 24 matches, Porto and Benfica are, quite predictably, the two title contenders, with the Dragões one point ahead of the Aguaìs – their historic rivals, 60 points against 59. FC Porto have already won both direct clashes, with a cynical 0-2 win in Lisbon and an emotional 3-2 victory at the Dragao (happily for the fans, a final clash between the two Portuguese superpowers will take place in the Taca de Portugal Cup final).
In the line chart below, we show the evolution of the main teams' points totals over the 2019-20 season so far.
As we suspected it would from our previous PPL analysis, FC Famalicão's initial outperformance has rapidly collapsed. Reversion to the mean happens.
Benfica has shown better statistics so far, which explains their relative advantage in terms of SPR (Soccerment Performance Rating). Moreover, they have led the table for 14 consecutive rounds. But Benfica's two defeats against their direct title rivals have left FC Porto one point ahead of them and with an easier calendar to face. Sérgio Conceição and his players are now in charge of their own destiny and they will need to stay 100% focused: the biggest danger is often hidden around the very last corner.
Fc Porto vs. Benfica: another chapter
Porto, the currently leaders of the Primeira and managed by Sergio Conceição, have won 8 of their last 10 matches, including a decisive 3-2 home win against Benfica on February 8th: the triumph in O classico was crucial for FC Porto to erode what was then a seven point gap to their red rivals. On the other hand, Benfica balanced out the two direct losses to Porto by winning all sixteen matches in between, which has left them in top spot for the whole winter. However, in contrast to what happened in the first round, the second KO might have discouraged Bruno Lage and his players, who lost against Sporting Braga in the following match and have drawn their last two, against Moreirense and Vitoria Setubal, thereby surrendering their lead to the Dragões.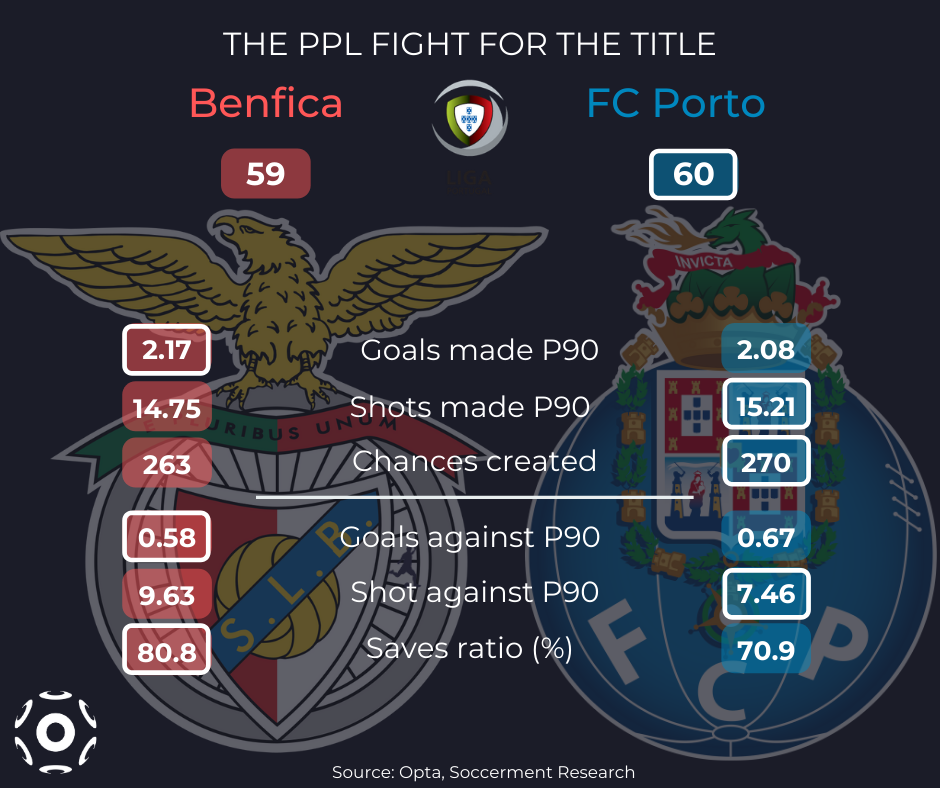 Despite recording just a single win in their last five games, Benfica is still the team with the highest SPR in Primeira Liga (49), followed by Porto (47), Braga and Rio Ave (45). The Soccerment Performance Rating is our proprietary algorithm used to measure player and team performances; according to the SPR Benfica deserve the title slightly more than Porto, after the 24 matches played so far. The Aguaìs still show the best statistics concerning goals scored and conceded per 90 minutes (2.17 and 0.58 respectively), with Porto just behind with 2.08 and 0.67. The gap between the two is extremely tight, and it is hard to pick a favorite for the run in.
Porto's and Benfica's paths to glory
Who has the easier path to glory? Both teams need to play against Sporting Lisbon, who will fight until the end with Braga for the third position and will probably play a decisive role in crowning the 2020 Portuguese champions.
Looking at the rest of the calendar, Benfica still have to play medium-sized clubs like Rio Ave, Vitoria Guimaraes and Santa Clara, plus the almost relegated Portimonense.
On the other hand, FC Porto will face relatively smaller opponents, such as Pacos de Ferreira, Moreirense and Belenenses, but they are visiting Braga in a very tricky final round of the championship.
NB: the opposing teams pictured here are only the non-equivalent ones: in the other six missing games, Porto and Benfica are facing the same opponents (Famalicao, Maritimo Madeira, Das Aves, Boavista, Tondela, and Sporting Lisbon)
Braga and Sporting CP: the fight for third
Braga is the only team to have beaten Benfica, Porto and Sporting Lisbon this season. After a very poor start, they were able to climb the rankings with nine wins and a draw in the last ten matches, reaching third place at Os Leões' expense.
Moreover, Os Guerreiros do Minho won the first trophy of 2020, beating FC Porto in the final of the Taca da Liga (the other national cup competition) with a last minute goal by Horta. The team was showing its full potential under head coach Ruben Amorim (35 years old, 14 caps for Portugal), after Ricardo Sà Pinto was sacked.
However, despite the excellent league results and triumph in the League Cup, Amorim decided to join Sporting Lisbon on March 4th, just five days before the league was suspended. Braga's new manager is former defensive midfielder Custòdio, who is taking on his first managerial role.
Sporting Braga have excellent statistics, especially offensively, with the highest values in the league for shots on target (144), chances created (302) and successful crosses (127).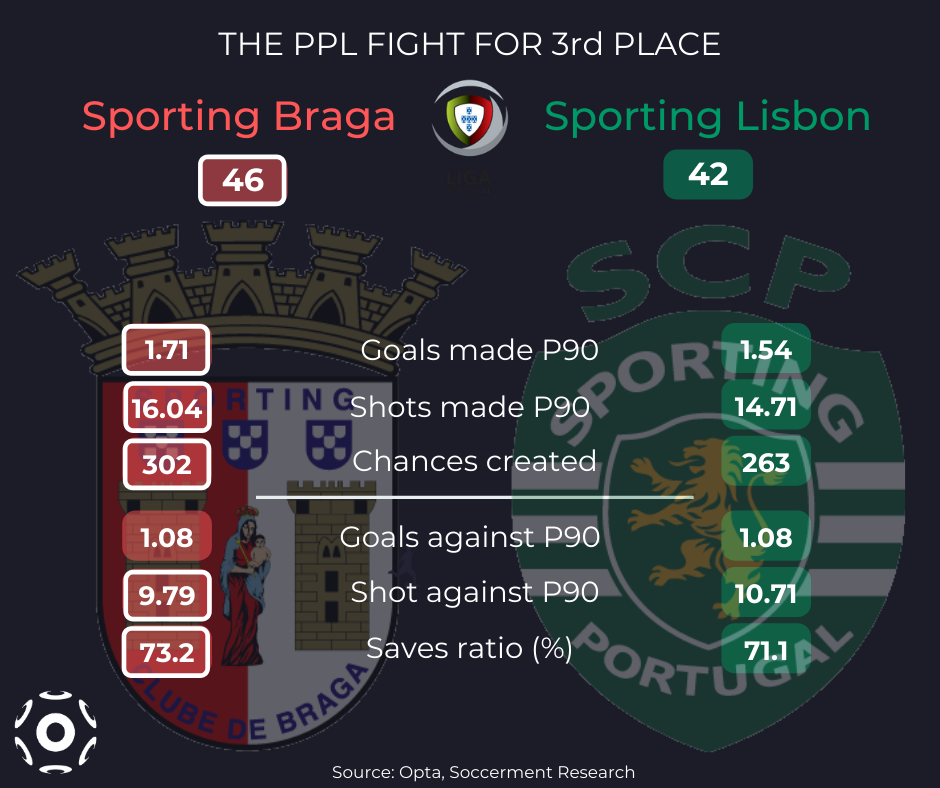 Sporting CP struggled hugely in the months before the break (it has not been a brilliant season so far) with four losses and a draw from their last 10 games. Two debacles in particular, against Başakşehir in the Europa League and FC Famaliçao in the Primeira Liga, were fatal to coach Silas, the third manager to be sacked this season after Marcel Keizer and Leones Pontes. Will Amorim be able to repeat the prodigious performances of his Braga at Sporting and threaten his previous team's third place? Only four points separate the two: the fight for third place will definitely be thrilling.
Player rankings
Benfica's Carlos Vinicius is the top scorer in the Portuguese championship with 15 goals, followed by his teammate Pizzi with 14, who leads in shots on target (29) and assists (8). Despite his January transfer to Manchester United, Bruno Fernandes still dominates in terms of through balls (15) and chances created (63).
Our overall rankings of the Primeira Liga's top performers show two goalkeepers in the top two places, Odisseas Vlachodimos (Benfica) and Giorgi Makaridze (Vitoria Setubal) with SPRs of 60 and 58, respectively. For the full lists and other detailed stats, click on the images below.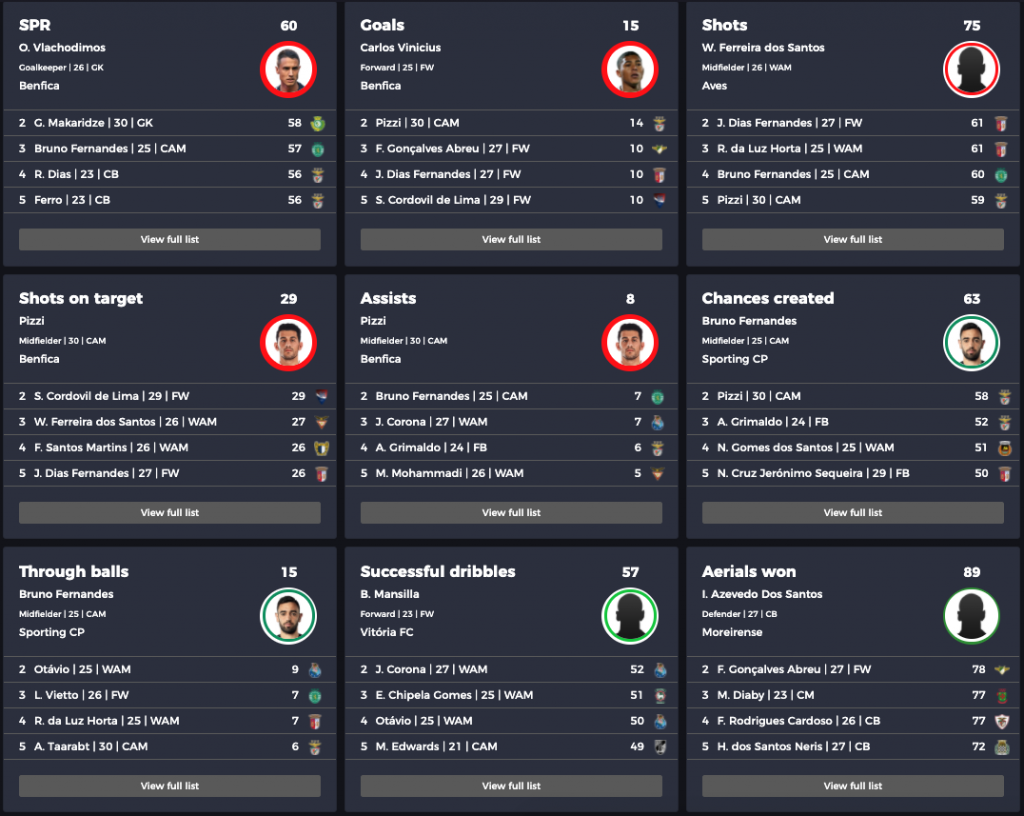 Trincão: from Braga to Barça
Braga winger Francisco Trincão was born in Viana do Castelo on the 29th of December 1999. As a child, he played for three years for his hometown team Vianense and had one year at FC Porto, before joining Sporting Braga in 2011. He climbed through the youth ranks to reach Braga B in 2016. After 5 goals and 5 assists in 30 appearances for Braga B in the 2017-2018 season, he debuted in the Primeira Liga in December 2018 against Vitoria FC.
This season, Trincão has become a key player for Braga: with 30 appearances in four competitions he has scored 7 goals and made 9 assists so far.
With an SPR of 47 he ranks twentieth among the 20-year-old players in our database.
Trincão usually plays as a right winger in a 4-3-3 formation. He is an elegant attacking midfielder, gifted with superb individual technique and good dribbling skills (4.13 successful dribbles P90). However, as his 9 assists in 30 presences demonstrate, his best quality is his vision: he has created 2.6 chances P90 (against an avg. 1.46) and made 0.59 through balls P90 (against 0.13 avg.).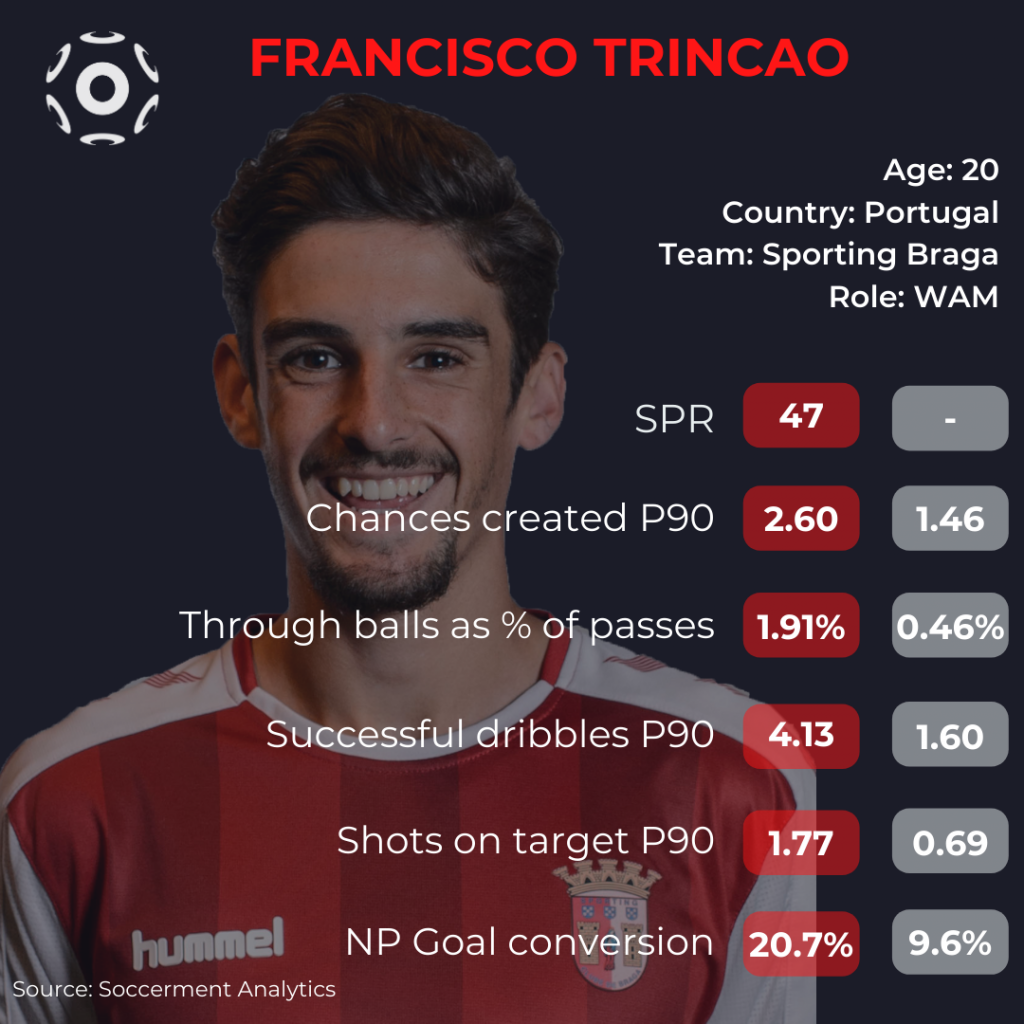 Trincão's better-than-average skills have not passed unseen by the top clubs in Europe: during the winter transfer window FC Barcelona agreed to pay Trincão's €31m release clause to sign the winger in July 2020, on a five-year contract and a humongous release clause of €500 million. Will this young star continue to rise and shine in La Liga?
Primeira Liga's Top 11
---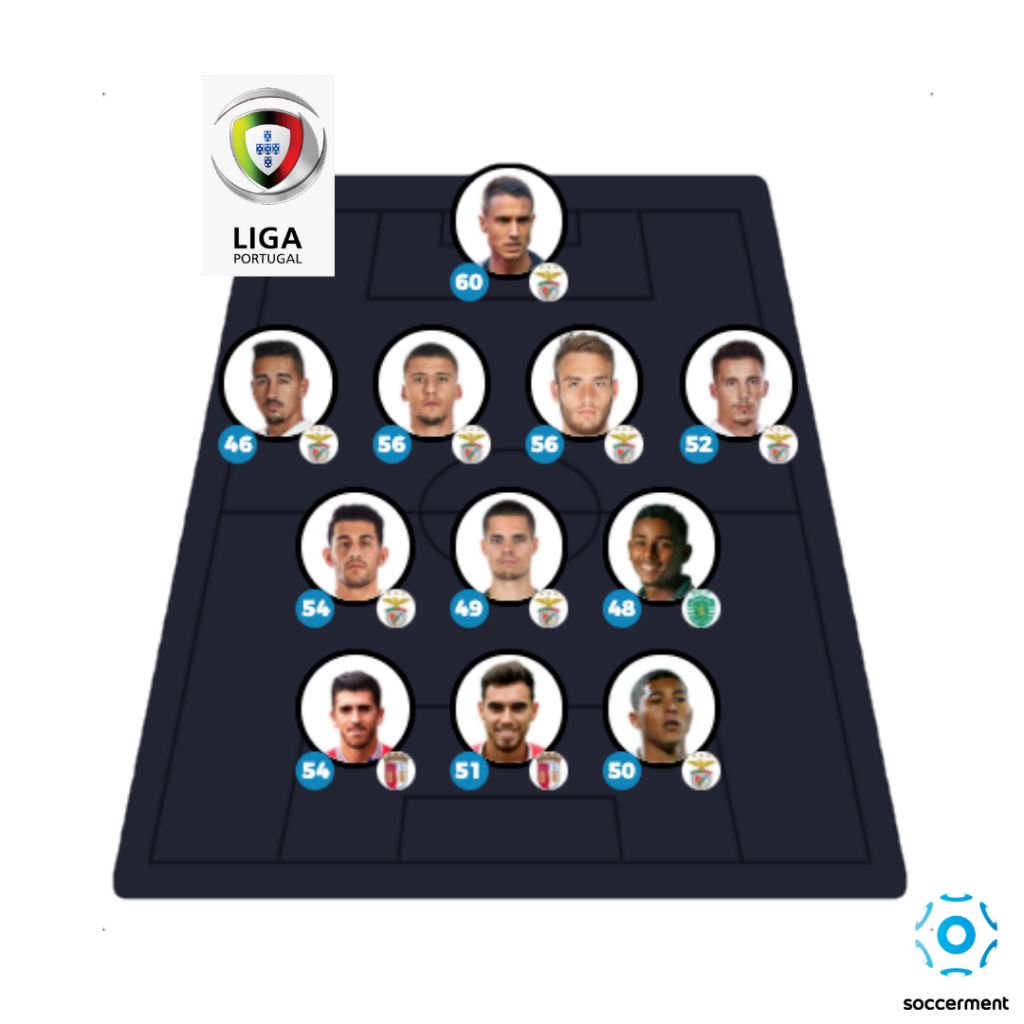 ---
Our Primeira top 11 is dominated by Benfica, who provide eight of the eleven players: centre backs Ruben Dias and Ferro have been able to sustain their excellent initial performances together with left back Alejandro Grimaldo, with right back Almeida joining them in the top 11 at the beginning of the spring.
Pizzi is still the best midfielder (SPR 54), ahead of the 24-year-old German Julian Weigl (SPR 49) and Sporting's young Brazilian Wendel (22 years old, SPR 48), a talented central midfielder with good passing, dribbling and vision.
Together with top scorer Carlos Vinicius (SPR 50), two Braga players complete the front line: Ricardo Horta (SPR 51), the hero of the League Cup final, a wide forward with seven goals and four assists who is equipped with good vision and passing ability, and Paulinho (SPR 54) – 10 goals and 4 assists so far – an old-school striker with strong heading, physical and attacking skills.
Remarkably enough, at the time of writing no FC Porto player makes the Portuguese Top 11: another sign of their precarity of their first place?
Simulating the final outcome
---

---
In the table above, we simulated the outcome of the remaining ten PPL games to predict the Portuguese champions: for every team we took the actual goal difference P90 for the current season as the reference variable, and adjusted for the league average of home and away goal difference P90. The index is then used as the lambda parameter of the Poisson distribution to simulate the last ten rounds, with 10,0000 iterations. For every team, a probability of reaching any position in the final table is provided. Despite Dragoes' lower goal difference, FC Porto is slightly above Benfica in the probability of winning the title (53.7% vs 46.3%), mainly because of the easier opponents they have to face. The gap is really thin and the only indisputable forecast we can make is…. that it is going to be fun!
---
To stay informed about our research and the development of our tools, click on the button below and – if you haven't done it yet – sign up to Soccerment Analytics. We promise: no spam!
---
If signing up is a bit too much, would you like to stay in touch? You can "like" our Facebook page and follow us on Instagram and Twitter.
For any query, suggestion or comment, you could send us an email: research@soccerment.com.
---