PSG: Analysis of the Trident's first match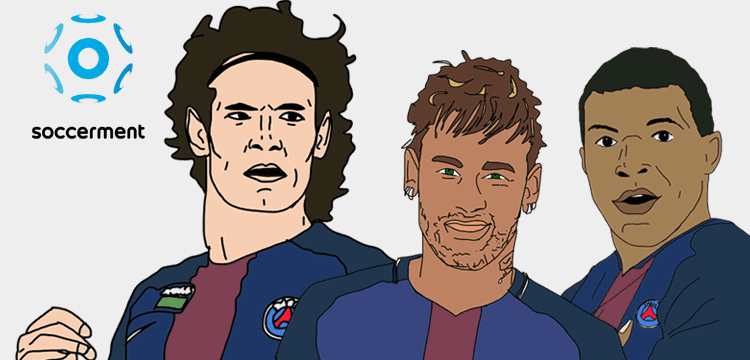 The Trio scored 4 out of 5 PSG goals on their debut together

Outstanding performance from Neymar

Heatmaps highlight some positioning issues
A very good debut for the Trident!
Saturday night likely marked a historical moment for PSG: the debut of the attacking trio Neymar- Cavani-Mbappé. The opponents (Metz) were probably not the toughest and PSG certainly took advantage of playing 11 vs 10 for 35 minutes, after Assou-Ekotto was sent off. The upcoming UCL matches (Celtic on 12th Sep and Bayern Munich on 27th Sep) and the FL1 match against Lyon (17th Sep) will represent harder exams to pass. We will then have the possibility to re-assess the Trio's full potential.
Nevertheless, their debut can be considered a success. PSG beat Metz 5-1 and now tops the FL1 table with 5 wins in 5 matches, displaying an outstanding goal-difference (+16).
The Trio's contribution to the result is evident: they took 57% of PSG's total shots against Metz (13 out of 23) and recorded a very high shot-accuracy of 69% (9 shots on target). PSG's shot-accuracy was a more normal 52%, i.e. 30% excluding the Trio. All-in-all, 75% of PSG's shots-on-target came from Neymar (2/12), Mbappé (2/12) and Cavani (5/12) and they scored 4 out of PSG's 5 goals.
Looking at the other combined key stats, we see that they successfully deployed 119 passes and successfully dribbled 9 times (45% of PSG's).
A memorable debut for Mbappé
One goal and one assist sounds like the dream debut.
In his first match for PSG, in our view Kylian Mbappé showed he has what it takes to be part of a top attacking line, assembled to compete for the UCL.
We have previously published an in-depth review of Mbappé's impressive stats. His stats were confirmed by the 90 minutes played against Metz.
He shot 3 times, of which 2 times on target, confirming a top-notch shot-accuracy. Last year he reported a shot-accuracy of 65.7%.
During the 90 minutes, Mbappé attempted 48 passes, of which 43 were accurate. Of these, 4 were key passes, which led to 1 assist (for Cavani's second goal).
Against Metz, Mbappé attempted 5 dribbles and 2 of them were successful. Dribbling accuracy was below his standards: last year he succeeded 50 times out of 89 attempts.
Another outstanding performance from Neymar
Apart from scoring a quality goal from out of the box, Neymar Jr. was the main source of PSG's attacks.
He recorded 6 successful dribbles in total, which is not even particularly high compared to his standards so far in FL1: in his first four matches he dribbled 39 times. As a reference, that is more than the successful dribbles that his teammate Cavani has accumulated over the past three seasons (32 in total, between FL1 and UCL).
Neymar also produced 7 key passes (passes leading to a shot), of which one became an assist (for Cavani's first goal). It needs to be highlighted that in his first three FL1 matches he has recorded 15 key passes and 3 assists and now the totals have reached 22 and 4, respectively.
In terms of shooting contribution, Neymar shot only 2 times, but both times the shots were on target. Before the match against Metz, he had shot 4 times every 90 minutes. It is certainly too early to infere it, but Mbappé's presence, along with Cavani's, might put a cap on Neymar's shooting attitude.
Some positioning issues that Emery would need to sort out
Against Metz, PSG's coach Unai Emery went for a 4-2-3-1, with Neymar, Mbappé and Draxler behind Cavani. Excluding Draxler from our analysis, as the heatmap shows, the Trio's positioning on the pitch was probably not optimal. In many occasions, the three players insisted on the same zones.
In particular, Neymar and Mbappé tended to touch the ball a lot on the left side of the attack. Closer to the postgoal, Mbappé also tended to overlap with Cavani.
This is well documented by the first goal of Edinson Cavani. Neymar puts a throughball in and Cavani and Mbappé find themselves very close to each other. Both could easily shoot on goal. This time around, Mbappé is aware that his teammate is better positioned and he is also unselfish enough to let Cavani take the ball, dribble the goalkeeper and shoot.
However, in the future, there might be overlapping situations where awareness and altruism fail to be top-notch and it could cause some problems. In our view, to avoid this issue, Emery should start looking for alternative formations to exploit the Trio's potential. One option would be a 4-3-3 formation, with Mbappé on the right side of the attack. This way, the risks of overlaps would be largely diminished. The flipside of the coin would be a lower level of interactions between Mbappé and Neymar and maybe fewer apps for the likes of Di Maria, Lucas Moura, Draxler and Pastore. Quite a high opportunity-cost.
For comments, suggestions or requests, you could send an email to: research@soccerment.com.
---