Wonderkids: Dejan Kulusevski
Dejan Kulusevski has burst onto the scene this season as one of the most exciting Under-20 players in Europe, with 4 goals and 7 assists in 17 appearances for Parma, where he was on loan from Atalanta. In this in-depth analysis, we highlight vision as his key strength, but also share insightful details about his dribbling and his shooting skills. Many top clubs were attracted by his quality, but Juventus beat off the competition and have secured his signature. Kulusevski will finish the season in Parma, before moving to Turin.
---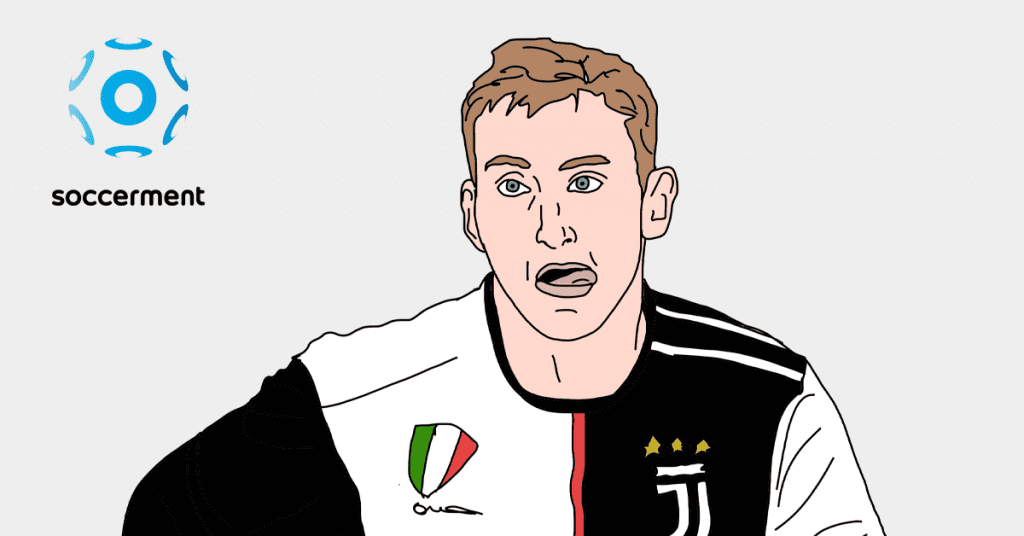 ---
Blossoming in Parma, after three years at Atalanta
Kulusevski, who was born on 25 April 2000 in Stockholm, started playing football at 6 years of age, for IF Brommapojkarna, in the western areas of Sweden's capital.
In June 2016, Kulusevski moved to Italy, joining the youth system of Atalanta BC. It took him two and a half years to debut in Serie A, which he did on 20 January 2019. During the 2018/19 season he played slightly more than 100 minutes in three Serie A appearances, but spent most of the year playing for Atalanta U-19s (in the "Primavera" league, as they call it in Italy). Atalanta U-19s won the league, winning the final 1-0 against Inter Milan. Kulusevski was named player of the tournament.
---
---
At the end of the 2019/20 season, Atalanta received several offers for Kulusevski, but ultimately decided to loan him, so as to facilitate his development. At the start of the season the young Swede moved on loan to Serie A side Parma Calcio 1913.
Atalanta's loan to Parma proved very beneficial to this Swedish attacking midfielder who found in the Duchy the perfect soil in which to bloom: limited pressure, a coach who truly believed in his qualities and a role (right winger in a 4-3-3) that saw him gradually entrusted with more and more responsibility. In 17 appearances Kulusevski played 1438 minutes, scoring 4 goals and providing 7 assists, and was directly involved in 0.68 goals per 90 minutes.
Few were expecting Dejan Kulusevski to emerge so brightly and so fast in Serie A. His performances sparked the interest of many top clubs, both in Italy and abroad. Inter Milan, Manchester United and Arsenal were among those reportedly interested. On 31 December 2019, however, strong rumours emerged that Juventus were the club about to sign him.
Joining Juventus in June
Juventus finalised the deal with Atalanta for €35m plus €9m of performance-related bonuses and made the move official on 2 January, stating that the player would remain on loan at Parma until the end of the season.
At Juventus, Kulusevski will have to adapt his game. While both Juventus and Parma play with a 4-3-3 formation, their tactical approaches are completely different: Maurizio Sarri's Juventus prioritise control of the ball (59% average possession this season), while Roberto D'Aversa's Parma aims to control space, especially by playing with a low block and looking to counter-attack quickly into space. They don't care much about having the ball, with average ball possession this season at 41%. Parma's most distinctive trait is probably their ability to counter-attack in wide areas, where Kulusevski is able to unleash his precise through balls. As Juventus play much closer to the opponents' goal, the space available for Kulusevski's through balls would be less. However, in Turin he could exploit the intelligent movement of Cristiano Ronaldo and Gonzalo Higuain and his through balls may prove deadly.
Vision: Kulusevski's main strength
A glimpse at our Spider Chart and its Performance Indexes shows what separates Dejan Kulusevski from other players: Vision.
He sees the game around him sooner and more vividly than many others, allowing him to continuously produce key passes, often with ambitious but precise through balls.
---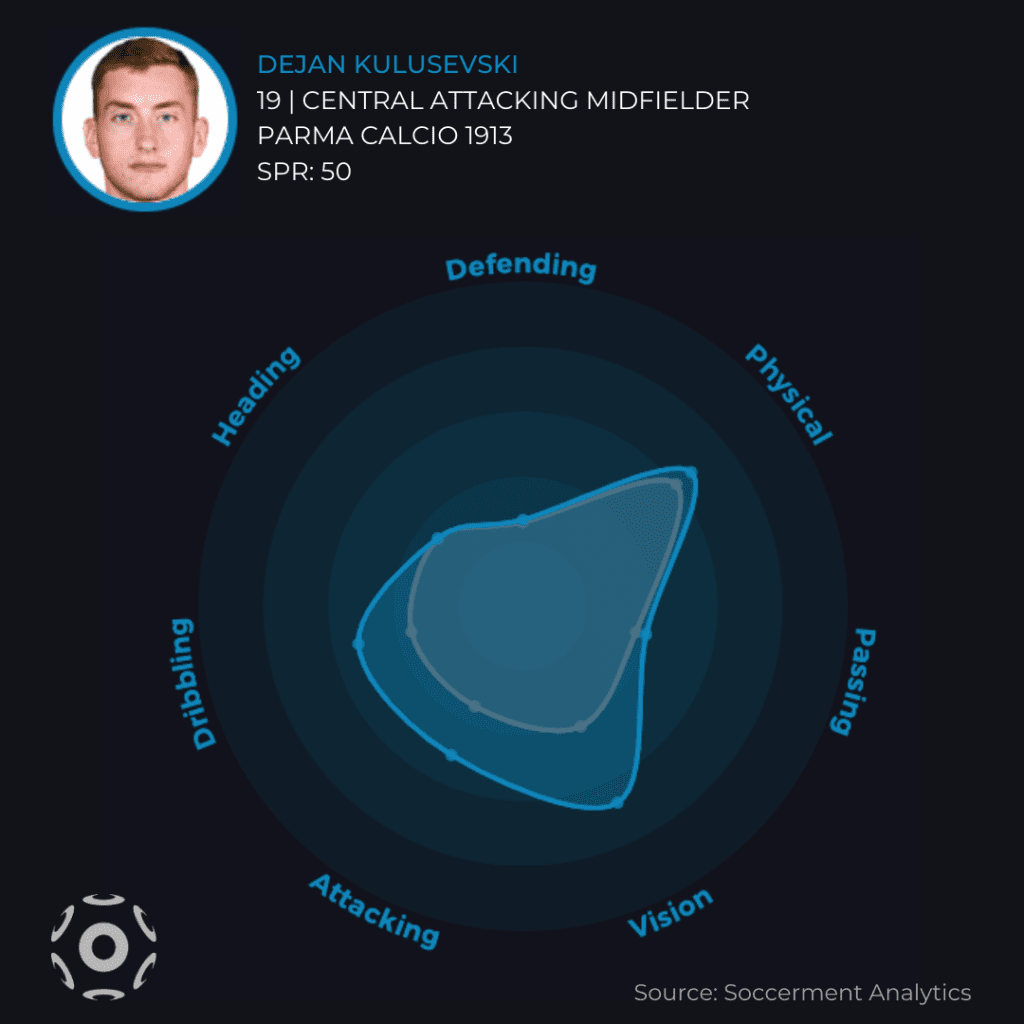 ---
Our "Vision" index is calculated taking a number of variables into consideration, the most important of which are chances created (key passes and assists) and through balls.
So far in Serie A, Kulusevski has completed 0.3 through balls per 90 minutes (P90), which compares to 0.2 P90 for the average Central Attacking Midfielder (CAM), and has created 2.5 chances per 90 minutes (1.7 P90 for the average CAM).
Among the Under-20 players in our database, Kulusevski scores by far the highest in the Vision Index. In the chart below, we show on the x-axis the Passing Index and on the y-axis the Vision Index for the U-20 players in the 14 European leagues we cover (Premier League, Championship, La Liga, Segunda, Serie A, Serie B, Bundesliga, 2. Bundesliga, Ligue 1, Ligue 2, Eredivisie, Primeira Liga, Jupiler PL and Süper Lig).
---
---
Kulusevski has already completed 7 assists this season (vs 4.1 Expected Assists), ranking sixth in this metric in the top 5 leagues as of 31 December 2019 (along with six others).
---
Top 5 leagues: Number of assists and Vision Index as of 31.12.2019 (🕹 click on the players' names to see their full profiles)
---
By the way, if you are asking yourself who has the highest Vision Index in our database this season, the answer is Marseille's Dimitri Payet. Despite "only" having produced 3 assists to date, he has created 4.4 chances per 90 minutes (5.7 Expected Assists in total).
---
Interested in football stats? Sign up for free to Soccerment Analytics and start analysing football players and teams through intuitive data visualisation and innovative performance indicators.
---
Dribbling: Technique and physicality making it "easy"
One-on-one dribbling is another important aspect of Kulusevski's game: thanks to a formidable physique (186 cm, 75 kg) and a good technique, he is able to resist defenders and win duels.
In Serie A Kulusevski has attempted 3.5 dribbles per 90 minutes this seasons, of which 62.5% have been successful, resulting in 2.2 successful dribbles P90.
Kulusevski's Dribbling Index score is 52 at the moment, the third highest among U-20 players in Europe (born later than 1st January 2000), behind Jadon Sancho (Borussia Dortmund, 64) and Alphonso Davies (Bayern Munich, 53).
The top Dribbling Index score belongs to Crystal Palace's Wilfried Zaha, who attempts 8.3 dribbles per 90 minutes, of which 63% are successful, which results in 5.3 successful dribbles per 90 minutes this season (last season he had 3.35 successful dribbles per 90 mins).
---
---
Interested in football stats? Sign up for free to Soccerment Analytics and start analysing football players and teams through intuitive data visualisation and innovative performance indicators.
---
Shooting: the numbers could soon improve
In Serie A, Dejan Kulusevski has shown good shot selection: his average xG per shot stands at 0.107, slightly higher than the mean: attacking players display an average xG per shot of 0.101. This is shown in the chart below, where we plot the shots taken by Kulusevski so far in the Serie A, highlighting their outcome (bubble colour) and xG value (bubble size).
In our view, considering his shooting skills, he has actually been somewhat too diligent in selecting his shots.
---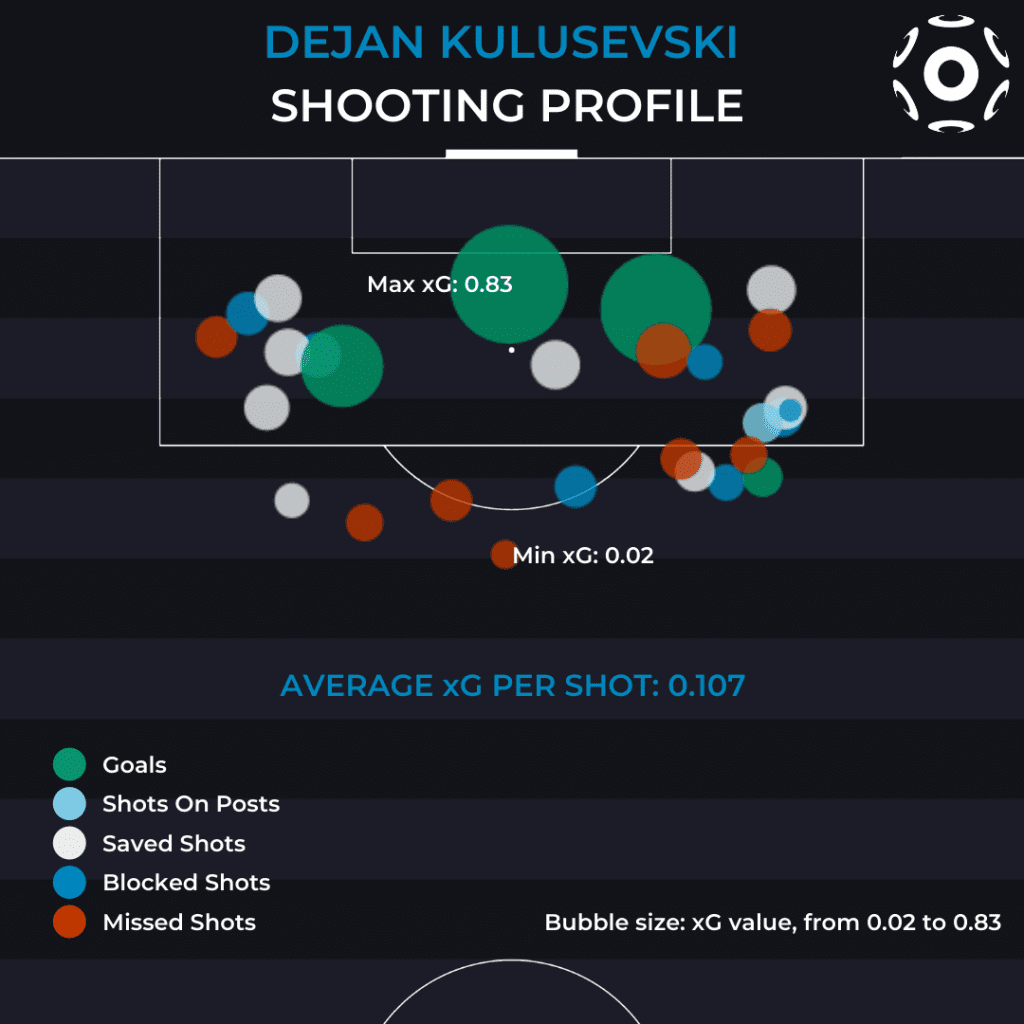 ---
His number of shots per 90 minutes is below average: 1.63 vs. 1.94 for the average Central Attacking Midfielder, while his shooting accuracy is above average: 42.3% vs. 34.5%. We expect Kulusevski to become more ambitious in his shot selection in the rest of his loan spell at Parma.
---
Interested in football stats? Sign up for free to Soccerment Analytics and start analysing football players and teams through intuitive data visualisation and innovative performance indicators.
---
We watched him take many shots when we recorded the teaser video with him for our smart shinguards! And we were impressed by his shooting skills.
What is not evident from the video is that it was a very windy day in Bergamo. Although we knew Kulusuvski's performance stats well and were very confident about his quality, all that wind worried us: when it's windy like that, directing the ball becomes extremely difficult.
Nevertheless, Dejan was able to shoot exactly where we asked him to, pinging the ball into one of the two top corners with almost every shot. We were truly amazed.
Here below is the video we are referring too.
---
---
We are presenting our smart shinguards in Las Vegas at the CES 2020 (Consumer Electronics Show).
They will be available for pre-order in the next few months. If you are interested, stay in touch by visiting our page:
---
Conclusions
Dejan Kulusevski has emerged as one of the most interesting Under-20 players in Europe. While the direction of his career was predictable (which is why he stars in our teaser video), the pace of his meteoric rise was anything but. Parma proved to be the perfect place for him to explode onto the scene.
According to our statistical models, vision is what differentiates Kulusevski from the other players: his ambitious through balls often turn into assists for his teammates.
Kulusevski is also very good at one-on-one dribbling, thanks to a strong physique and good technical skills. One aspect of his game where we would expect significant improvements in the near future is shooting: Kulusevski has been very diligent at selecting his shots so far; but the flip side of this coin is that his number of shots per match is well below the average for the role. We are expecting the number of shots he takes to increase, and if this comes at the expense of xG per shot, so be it: Kulusevski's shot accuracy is good enough to start being a bit more ambitious, in our view.
We are curious to see if Kulusevski will be able to quickly adapt to the narrower space that the possession-hungry Juventus work in in the opposition half, as opposed to the wide spaces that Parma exploit in their fast counter-attacks. However, despite Juventus having beaten off the competition and signed Kulusevski in January, we will have to wait until next season to see him playing with the "Bianconeri".
---
Best way to stay in touch? Like our Facebook page and follow us on Instagram and Twitter.
For any query, suggestion or comment, you could send us an email: research@soccerment.com.
---