Wonderkids: Federico Chiesa
Federico Chiesa is one of the most divisive young players in Italy and a particularly interesting case of study: while his physical development so far has been very good and offers him a solid base to perform at the highest levels, the lack of attacking efficiency in his game is such a big issue that possible suitors might be forced to look elsewhere for world-class talent. Through this research, we tried to analyse Chiesa's strengths and weaknesses, his style of play within Fiorentina's tactical dynamics and, of course, what could lie ahead for him in the future.
---
Analysis by @CharlesOnwuakpa for @Soccerment_Blog
---
Serie A: a family tradition
Although Serie A hasn't been the most popular destination for young footballers and player scouts among Europe's "Big Five" leagues over the last decade, it does have quite a few interesting Under-23 players: one of them is Federico Chiesa.
Federico Chiesa was born on the 25th of October 1997 in Genoa, Italy: he is the son of Enrico Chiesa, a former Italian forward who scored 138 Serie A goals in 380 games between 1988 and 2008.
A product of Fiorentina's youth academy, Chiesa made his first-team debut in the 2016/17 season under the management of Paulo Sousa and has since established himself as a regular presence in the starting XI, initially under Stefano Pioli and most recently under Vincenzo Montella, after Pioli resigned earlier this year.
---
Among the top physical performers
Chiesa is 175 cm tall and weighs 70 kg. His athleticism is unique: he has average muscular strength, but possesses very good explosiveness and speed in short and medium-long distances; his good mobility and endurance allow him to cover a lot of ground in 90 minutes, as well as perform a lot of high-intensity sprints. According to Lega Serie A, last year Chiesa ran 9.615 km per match, of which 1.148 km in sprints (one of the highest in the league).
His fast reactions are particularly impressive in transitions and loose ball situations.
---
Tactical/cognitive behaviours
Chiesa is a versatile attacker: he is mainly utilized as a wide forward on the right flank, but can also play as an inverted winger on the left or a second striker operating in central areas.
Attacking phase: in the middle third, he initially takes up wide positions – almost hugging the touchline – to create separation from his marker and demand the ball at his feet: if he's on the right flank he tries to get to the byline and play a cutback or low-driven cross in the box (or even shoot), whereas if he's on the left flank he seeks to cut inside with the ball and shoot or play quick combinations with a teammate.
When Fiorentina are in the final third and approaching the edge of the penalty box, he roams in between the lines to offer a central option for penetrative passes (although this is much more recurrent when playing as an inverted winger); after receiving the ball he tries to carry it forward and shoot or pass it.
He is very good in attacking transitions: he makes aggressive runs in the space behind the defensive line (or in front of it when moving towards the box to receive a cross/cutback) and is good at playing through balls if there are teammates making runs ahead of him.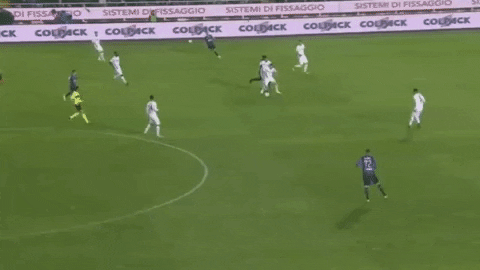 Defensive phase: most times he doesn't track back as Fiorentina use him as on outlet for counter-attacks, but he can press with good intensity from the front and is willing to make recovery runs if needed.
---
Technical strengths and weaknesses
Chiesa is a predominantly right-footed player: his first touch (especially when receiving long balls) and directional control of the ball with his strong foot are good, while his weaker foot is average.
His pass accuracy is below average (72.1% in Serie A last season), but this is justified by the fact that he often attempts risky passes: he attempts few passes (24.6 p90) and is an average chance creator (he created 1.60 chances per 90 minutes, equalling to 0.17 xA p90 last season).
His feinting is limited (he mainly uses shoulder feints) and his dribbling efficiency is poor: Chiesa attempts a lot of dribbles but has a below average success rate, as we can see in Exhibit 2: the attempted dribbles p90 and success rate (in %) of all attacking midfielders and wingers with 1000+ minutes played in Europe's "Big Five" leagues last season.
This subpar percentage is partly due to Fiorentina's attacking dynamics and partly due to his dribbling technique: Chiesa mainly relies on his athleticism rather than footwork in 1v1 situations, which means that he has less control of the ball when trying to change direction or speed; on the other hand, a lack of support from his teammates (like adequate spacing or an overlapping full-back on the right flank) means that he often forces the dribble and gets fouled or dispossessed.
Another aspect in which Chiesa has a poor efficiency is his shooting: his shot volume was one of the highest in Serie A last season, while the quality of each non-penalty shot (NPxG/shot) was below average, as shown in Exhibit 3: the non-penalty shots p90 and non-penalty xG per shot of all attacking midfielders and wide forwards with 1000+ minutes played in Europe's "Big Five" leagues last season.
Chiesa shoots a lot from outside the box, but this is a very risky approach (an average shot from long range has an xG value of 0.03, according to Understat) and can often lead to wasted possession: most times his shots get blocked or end up way off target and, although he can coordinate himself quickly and very well, he often relies on power rather than precision.
Sometimes he can create great shots off the dribble (like here or here), but his best shooting abilities are visible in attacking transitions: he is a very composed finisher when arriving in the box and in 1v1 situations against goalkeepers.
A good way to improve his shooting efficiency would be allowing him to receive the ball inside the box more often (something he was unable to consistently do, given the fact that Fiorentina were primarily a counter-attacking team under Pioli).
---
Chiesa's future
Fiorentina's new owner Rocco Commisso has promised that Chiesa will remain in Florence this season despite a strong interest from Juventus.
Having already played 100 games across three seasons in Italy's first division at just 21 years of age, his attacking potential is often topic of discussions among fans & pundits in the country: some are convinced that he is highly overrated, especially due to his current market value according to Fiorentina (reportedly being 70 million euros), while others believe he's very talented but hasn't benefited from Fiorentina's poor attacking dynamics in recent years, especially last season when the Florence-based club was seriously threatened with relegation to Serie B.
Chiesa's game intelligence is good overall, especially in offensive transitions (fast-break attacks or counter-attacks), but against set defences his decision-making is often erratic: at this stage he is still a very direct, instinctive footballer whose high-tempo style of play epitomizes Fiorentina's tactical approach under Pioli (quantity above quality): such characteristics are clearly showcased by his metrics.
Unlike another young talent whose main strength is his athleticism, like Kylian Mbappé, Chiesa hasn't yet put in world-class performances on the biggest football stages (the Champions League and World Cup), which of course is also due to the contexts in which he has found himself over the past three years; his critics argue that he will not be able to succeed in a more competitive team due to his inefficiencies.
In our opinion, Chiesa's potential ceiling and ability to reach/surpass it will depend on who will coach him and how well his flaws (shot selection, dribbling, body orientation and receiving on the half turn) will be dealt with over the next 2-3 seasons; the rebranded Italian national team with Roberto Mancini and his staff could certainly contribute towards a significant improvement.
---
Would you like to have all the most relevant football stats? Sign up for free to our analytics tool.
Best way to stay in touch? Like our Facebook page or follow us on Twitter.
For any query, suggestion or comment, you could send us an email: research@soccerment.com.
If you like our "iconic" images, you should check out this Instagram account: iconic_cool_people.
---