Wonderkids: Houssem Aouar
Houssem Aouar (Olympique Lyonnais) is without doubt one of the most promising young French footballers. We find him to be a versatile attacking midfielder, with good stats in terms of both finishing and assisting (0.19 xG and 0.13 xA per 90 mins since 2017). On the other hand, however, Aouar's defensive contribution is sub-par for a central midfielder, as he wins only one-third of his tackles and recovers just six balls per 90 mins. In our view, this is the area he most needs to work on if he is to attract sustained interest from top European clubs, especially ones that do not play with a "Trequartista".
---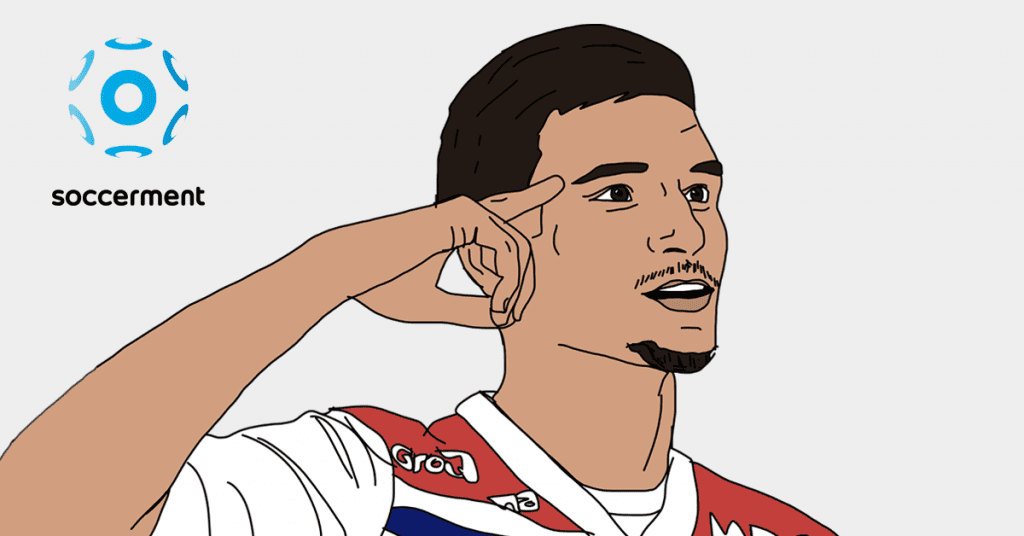 ---
Introduction
This story begins in summer 1998: France, hosts of the World Cup, thrashed defending world champions Brazil in the final in Saint-Deny, Paris, with two of the three goals scored by an extremely talented attacking midfielder of Algerian roots: Zinedine Zidane (now coach of Real Madrid). A few days earlier, around 460km from the Stade de France, another extraordinarily talented attacking midfielder of Algerian extraction, Houssem Aouar, was born in Lyon.
Houssem Aouar has always lived in Lyon, with his family. As a child, he was lucky enough to witness the most dominant decade in the history of his beloved club. Olympique Lyonnais won seven consecutive national titles from 2000-2001 to 2007-2008, six French Supercups, one Coupe de France, and one Coup de la Ligue. This unprecedented dominance of French football was built upon the club's top-class academy, home of stars like Gregory Coupet and Karim Benzema, to name but two.
Aouar's true idol, however, came from his home state of Pernambuco, Brazil to France in the summer of 2001, where he became the world's leading free-kick scorer of all time. When Aouar inherited Juninho Pernambucano's number 8 at Lyon, he declared: "I used to see him on TV and at the stadium, he has been amazing. I'd like people to think of me exactly the way I think of Juninho". These notions of glory became something more than a dream when in 2015 Aouar scored 25 goals and served up 16 assists in the U17 French championship. Two years later, he made his debut with Olympique Lyonnais' first team in the Europe League against AZ Alkmaar.
Technical and tactical skills
During his two and a half seasons as a pro, Aouar has proven himself able to play across midfield, even if he is principally a centre midfielder (he has 58 appearances, 9 goals and 14 assists as a CM in his career). He is extremely technical and shows impressive dribbling skills (dribbling index: 60 vs. an average of 32 for the CMs in our database) and passing statistics (long-pass accuracy of 69% against an average of 55.7%), as his 2019-20 spider chart shows (below).
---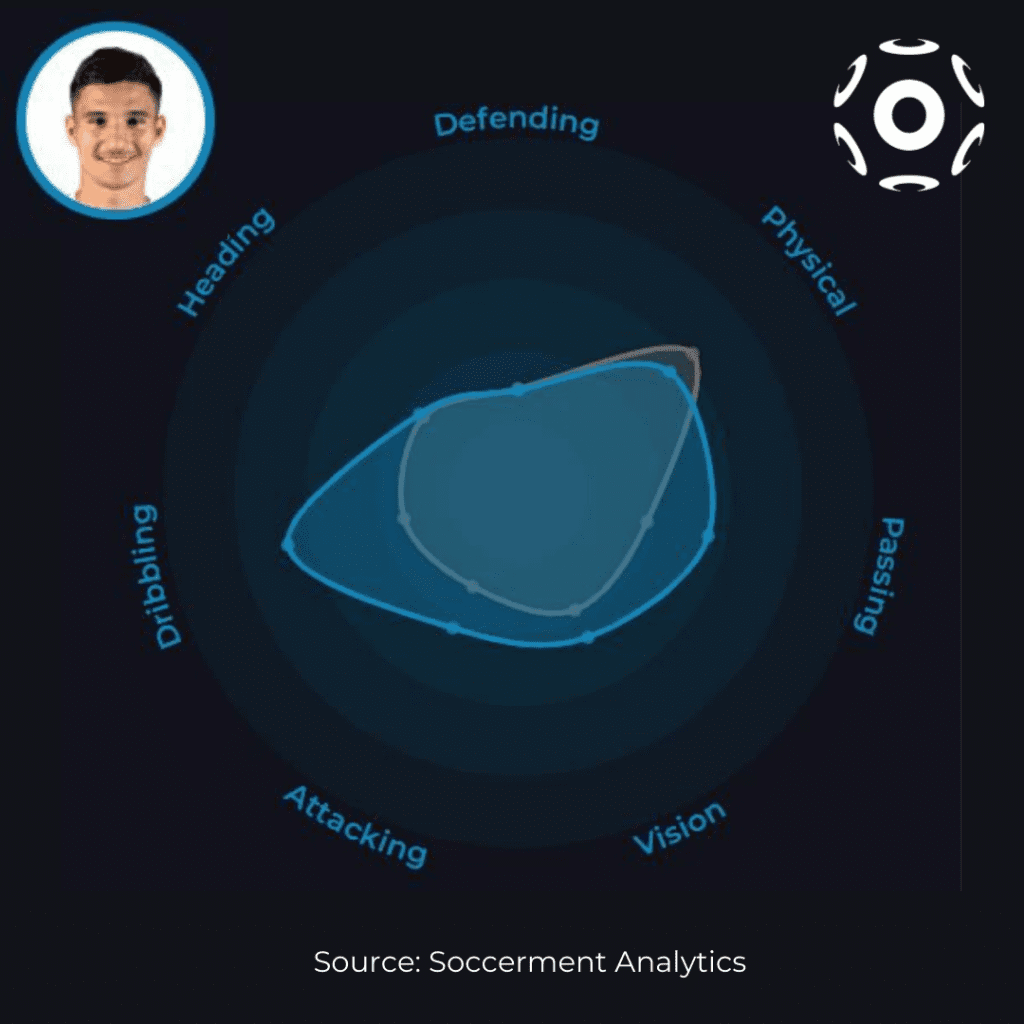 ---
However, this is only part of the story: Aouar has a very educated right foot and a marked disposition for attack, which together make him very dangerous when he cuts in from the left towards goal. This season, his shot accuracy is 44.8%, against 28% for the average central midfielder.
Moreover, he touches the ball in the opponent's box more than four times per match, while central midfielders average slightly more than once. These remarkable offensive stats justify Aouar's recurring deployment as centre/left attacking midfielder in the past 3 years (21 appearances, 5 goals and 3 assists in this role).
On top of that, in the French U21 National Team (14 appearances, 4 goals and 4 assists so far) he has played twice as a left-winger this season, against Azerbaijan and Slovakia, scoring 2 goals and providing 2 assists in two games.
In OL, Rudi Garcia once used him as wide-left forward, in the match against Nimes, with Memphis Depay in the centre and Bertrand Traorè on the right in a 4-2-3-1, an interesting alternative to Les Gones' classic 4-3-3 formation.
Despite these excellent statistics as a centre-left attacker, Aouar has established himself as a CM with the license to shoot, leaving room for Memphis Depay on the left.
This recent goal against LOSC Lille Metropole in the Coupe de La Ligue is probably the best synthesis of Aouar's top dribbling and shooting abilities.
---
https://youtu.be/zyjlXXt_HiQ
---
Interested in football stats? Sign up for free to Soccerment Analytics and start analysing football players and teams through intuitive data visualisation and innovative performance indicators.
---
Non-Penalty xG and xA P90: Aouar and his colleagues
Delving into Aouar's propensity to score and provide assists, we look at expected non-penalty goals and assists per 90 minutes. The graph below shows Ligue 1 midfielders with at least 10 appearances and 900 minutes in the current season so far.
---
---
Angel Di Maria is by far the best performing Ligue 1 midfielder in this regard, with a stunning 0.51 xA and 0.37 xG every 90 minutes played. But what about Aouar? This year his non-penalty expected goals are well-above the sample average (0.16 vs avg. 0.096), while his expected assists P90 are 0.10. These figures are not as exciting as we might expect, but the reader should note that the sample was restricted to the most-used midfielders in Ligue 1, and Aouar still finds himself in a relatively good position with respect to many of his colleagues.
In order to fully appreciate his qualities, the following section is dedicated to a comprehensive comparison between Houssem Aouar and the other U21 players in the Soccerment database.
---
Interested in football stats? Sign up for free to Soccerment Analytics and start analysing football players and teams through intuitive data visualisation and innovative performance indicators.
---
Aouar vs. other infant prodigies
The numbers prove that the young Lyonnaise is a talented and extremely versatile midfielder, essential in both the construction of play and in the team's more attacking phases, regardless of his position on the pitch.
Let's take a look at Aouar's performances compared to the other under-21 midfielders in the Soccerment database. We found it useful to split our comparison into three different playing situations: offensive, build-up and defensive phases.
OFFENSIVE PHASE
Concerning the offensive phase, in which shots on target P90 and successful dribbles P90 are considered, Aouar finds himself in the upper-right part of the graph. Compared to the top-five leagues' U21 players, his performances are stunning, as he outclasses other talented offensive midfielders such as Dejan Kulusevski (dedicated report here), Nicolò Zaniolo (dedicated report here) and Kai Havertz (dedicated report coming soon).
Aouar gets one shot on target per game, on average (this season, 21 out of his 42 shots were taken from inside the penalty area), and successfully dribbles past his opponents more than three times per match.
---
---
BUILD–UP PHASE
The graph below shows the number of successful passes P90 in the players' own and opposite half. Once again, Aouar displays excellent performances, especially in the opponents' half (x-axis). With almost 29 successful passes from that position, Aouar proves himself to be the key to Olympique Lyonnais' build-up play. Moreover, we note that 60% of the total passes made by Aouar go either to the right (36%) or forward (24%), meaning that he has a strong, natural disposition to put his teammates into promising positions.
---
---
DEFENSIVE PHASE
Last but not least, we assess Aouar's abilities in the defensive side of the game. To this end, we look at his recoveries P90 and tackle success ratio. The results are shown in the chart below:
---
---
This time, we see that Aouar underperforms with respect to his peers: this season, he won only 33% of his tackles so far, and he makes fewer than 6 recoveries per game, on average. He has a lot of room for improvement in these fundamentals, even if his physical characteristics are not of much help (he is 175 cm tall and weighs 70 kg).
Conclusions
Houssem Aouar is the latest of many incredible talents to have emerged from the Olympique Lyon production line in the past decade, along with Lacazette, Fekir, Tolisso, Umtiti and others. He will probably soon leave his hometown and join a top European club: many teams have expressed their interest, including Juventus, Liverpool, Barcelona and Manchester City. Regarding his future development, we believe he should focus on improving his defensive skills, be fiercer in his tackles and more active in recoveries. That would make his profile highly appealing to the top clubs playing with 4-3-3 formations.
---
Interested in football stats? Sign up for free to Soccerment Analytics and start analysing football players and teams through intuitive data visualisation and innovative performance indicators.
---
Best way to stay in touch? Like our Facebook page and follow us on Instagram and Twitter.
For any query, suggestion or comment, you could send us an email: research@soccerment.com.
---