The rise of Luka Jović, currently top scorer in the German Bundesliga, wasn't easy to predict, although his 2017/18 KPIs already offered some hints. In the current season, Jović's stats are really impressive, putting the 21 year-old Serbian at the very centre of many top clubs' interests. Whilst the current outperformance of both xG and xA looks hardly sustainable, we highlight that, even if he performed in line with the model, Jović's KPIs would be among the ones of the best forwards in Europe.
---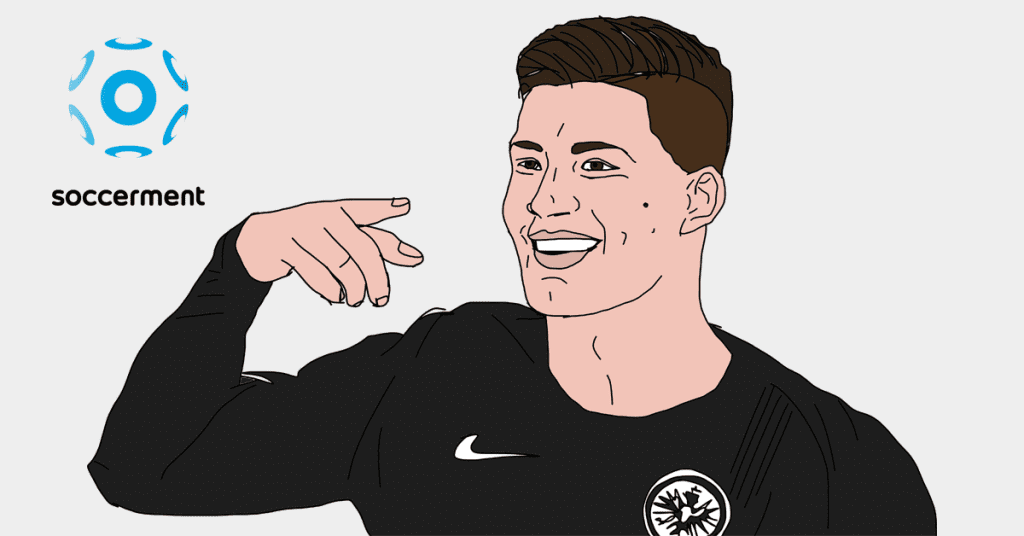 ---
How did Jović end up competing for the "kicker Torjägerkanone"?
On 28 May 2014, at the age of 16 years, five months and five days, Jović made his professional debut for Red Star Belgrade, breaking Dejan Stanković's record as the youngest goalscorer in the club's history: he scored a goal only two minutes after he was brought on as substitute, and the final score of 3–3 was enough to give Red Star the 2013–14 Serbian SuperLiga title. In total, he played 42 matches for Red Star, scoring 12 goals.
In February 2016, Jović signed for Benfica, debuting in the first-team on 20 March, as a substitute, in a 1–0 away victory against Boavista in the Primeira Liga. However, he struggled to gain a first-team place and ended up playing for Benfica B: in 18 matches he scored 4 goals.
In June 2017, Jović joined Eintracht Frankfurt on a two-season loan, but his new club secured an option to sign him on a permanent basis. Obviously, this option is very likely to be exercised now. In the 2017-18 season, he played 22 Bundesliga matches, scoring 8 goals. That was enough to grant him a place in the 2018 World Cup's Serbian team in Russia, where he played 1 minute, against Brazil.
Jović's idol is Radamel Falcao and he is often referred to as the "Serbian Falcao". He reportedly said: "Every young player looks up to Messi and Ronaldo. I love Ibrahimović, but my idol is Falcao".
Impressive performance stats this season
Luka Jović has played 1406 minutes (in 21 apps) so far in the German Bundesliga ('GB'), scoring 15 goals and providing 5 assists. He currently holds the top spot of the goal scorers ranking, with two goals more than Robert Lewandowski.
Jović has also played 428 minutes in the Uefa Europa League, scoring 6 goals and providing 1 assist. He is currently second in the top scorers ranking in the competition.
So far in the GB (as of 1 March 2019), Jović has taken 3.78 shots per 90 minutes, of which 1.86 P90 on target (49% shot accuracy vs 40% for the average forward). His average xG per shot stands at 0.186. He does not dribble often (successful dribbles of 0.96 P90), but the attempts are quite accurate (63% success ratio).
In Exhibit 1 below, we show our "Polar" and "Stereo" charts. The Polar chart shows the events on a per-90 minutes basis, while the Stereo chart shows four selected role-specific ratios. A glimpse at them reveals that Jović acts as the typical striker: a higher-than-average percentage of touches in the opposition box (15.2% vs 8.5% for the average forward), couples with a high goal conversion rate (25.4% vs 11.2% average forward).
---
---
Our similarity algorithm finds three players who perform more or less like Jović: two of them play in the Bundesliga (Finnbogason and Pléa), while one is the Polish revelation Krzysztof Piatek, now at AC Milan.
---
---
xG and xA outperformance: sustainable?
In the Exhibit 3 below, we show the expected and actual direct goal involvement per 90 minutes, of all the main goal scorers in Europe (filter: playing time >900 mins). For direct goal involvement, we mean the sum of goals and assists. We look at the actual numbers (y-axis), as well as the sum of xG (Expected Goals) and xA (Expected Assists).
---
---
As shown, Luka Jović's numbers are above the regression line, i.e. among the ones having outperformed xG and xA: he has scored 15 goals vs xGs of 11 (+4) and has provided 5 assists vs xAs of 3.3 (+1.7). In P90-terms, the expected direct goal involvement was 0.91, while the actual was 1.28 (+0.36 P90).
Systematically outperforming the Expected Goals is typical of the top players like Messi and Mbappé. Systematically outperforming the Expected Assists is typical of the players who play alongside top forwards like Messi and Mbappé.
Last year, Jović played 924 minutes. His expected direct goal involvement was 0.86 P90, almost in line with this season, but also in line with the actual direct goal involvement, of 0.88 P90. Ex-post, it is easy to say that the 2017/18 stats offered a hint about his qualities, namely the ability of creating dangerous situations.
Could Luka Jović become a serial xG-outperformer? Time will tell. What is important to underline, however, is that, even in case he performed in line with the Expected Goals and Assists model, Jović's KPIs would be among the best forwards in Europe.
---
---
Conclusions
On their website, Uefa wrote this about Jović: "That natural ability in front of goal catches the eye. Comfortable either up front on his own or with a strike partner, Jović's finishing is unerring. He's also quick in transition, physically strong and rarely injured".
Jović's finishing skills are quite evident from the numbers he is able to produce. We compared these to his Expected Goals and Expected Assists and noticed a remarkable outperformance this season, which could hardly be sustainable. However, even excluding such outperformance, the numbers would still be among the best, in the top-5 leagues.
We believe that Jović will likely attract the interest from more than a top club this summer. One of them could be Inter Milan, which Eintracht Frankfurt will play on 7th and 14th March, in the two legs of the Uefa Europa League's round of 16.
---