Wonderkids: Nicolò Zaniolo
The first impact and the fast-growing influence of Nicolò Zaniolo onto Di Francesco's Roma surprised many, in Italy and abroad. Zaniolo, 19-year-old, has shown to be tactically very versatile. The flip side of the coin is that, in our view, he still has to find the optimal position on the pitch. His current stats seem to suggest that, by playing as a right forward, he could fully exploit his key strengths: shooting and dribbling. However, thanks to an imposing physique and above-average technical skills, he could eventually evolve into a "mezzala", or even into a box-to-box midfielder.
---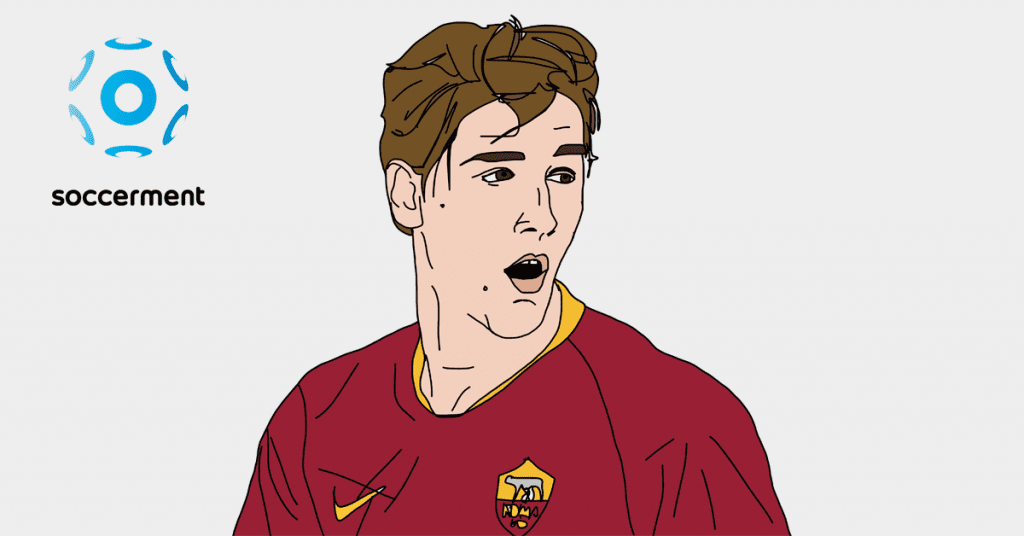 ---
From free agent to being one of the most promising European footballers, in less than 30 months
Zaniolo grew up in the Fiorentina Academy, after an experience within Genoa's youth system. Fiorentina's managers, however, didn't believe Zaniolo was fit to play in their Primavera team (under-19). Therefore, on the final day of the 2016 mid year transfer window, he was released and he subsequently joined Virtus Entella as a free agent.
At Virtus Entella, Zaniolo soon impressed with good performances in their Primavera squad, thus convincing the first team coach. Here below, a goal he scored for Virtus Entella's Primavera team against Atalanta.
---
---
Zaniolo made his Serie B debut aged 17 and played seven matches in total that season (2016/17).
That was enough to convince Inter Milan to invest a €2m fee. He played for Inter Milan's Primavera side in the 2017/18 season, finishing top-scorer of the team with 13 goals, winning the league.
During the 2018 summer, Zaniolo joined AS Roma: in the negotiations that led to the transfer of Radja Nainggolan to Inter Milan, Roma's director of football, Monchi, strongly insisted for Zaniolo to be included in the deal, alongside the full-back Davide Santon.
A few months later (1st September 2018), Zaniolo was surprisingly called-up by Roberto Mancini for the National team, without having played a single Serie A match. A few days later (19 Sep 2018), maybe even more surprisingly, Zaniolo made his Roma debut in the Champions League match against Real Madrid, at the Santiago Bernabeu.
Zaniolo's 2018/19 key stats so far
As of 22nd February 2019, Nicolò Zaniolo has played a total of 1033 minutes in ISA and 265 minutes in UCL. In the two competitions combined, he has scored 5 goals and provided 2 assists. Therefore, so far in the 2018/19 season he has been directly involved in 0.49 goals per 90 minutes.
Here below, probably his best goal for Roma so far, against Sassuolo.
---
---
Not really a "CAM", yet
Nicolò Zaniolo displays a Soccerment Performance Rating ('SPR') of 45, definitely not bad for his age. The top two SPRs among the 19-year-old players, right now, are Gianluigi Donnarumma (SPR of 57, goalkeeper, AC Milan) and Kai Havertz (SPR of 53, central midfielder, Bayer Leverkusen).
A glance at Zaniolo's spider chart (Exhibit 1, below), measuring eight key successful events per 90 minutes, suggests that he is far from being the typical Central Attacking Midfielder ('CAM').
---
---
The spider chart is indeed more skewed towards those KPIs that better represent Wide Attacking Midfielders / Forwards ('WAM').
Among the most obvious traits differentiating Zaniolo from the average Central Attacking Midfielder: i) he shoots and dribbles way more than the average CAM; ii) he is less involved in the build-up and creates a lower amount of chances than the average CAM.
Main KPIs per 90 minutes (Zaniolo vs avg CAM and avg WAM):
---
Shots on target: 1.39 vs 0.69 CAM vs 0.75 WAM
---
Successful dribbles: 2.27 vs 1.25 CAM vs 1.69 WAM
---
Successful passes in the opp half: 13.5 vs 22.9 CAM vs 18.6 WAM
---
Chances created: 0.70 vs 1.68 CAM vs 1.57 WAM
---
As aforementioned, we find his stats to look way more similar to the ones of the right attacking midfielders / forwards.
It seems to us that he would perfectly fit as a right forward in a 4-3-3 formation, which also happens to be the tactical structure that Di Francesco prefers. Roma has various players who could play in that position though: Ünder, Schick, Kluivert, El Shaarawy and potentially Florenzi.
Zaniolo's potential and his future development
The big question we have about Zaniolo is whether, over time, he could develop into a complete midfielder. His former coach at Inter Milan's Primavera, Stefano Vecchi, sounds quite sure about that. He said that Zaniolo will "go places" and has likened him to a "Steven Gerrard, Frank Lampard type player" (BBC article here).
We believe that, thanks to an imposing physique (190 cm, 79 kg) and above-average technical skills, he could eventually evolve into a "mezzala", or even into a box-to-box midfielder.
From the Exhibit 2 below, we could derive two important aspects of his game, which could be key to turn him into a great midfielder.
---
---
First of all, despite playing quite close to the opposition's box, he doesn't disdain tackling. He successfully tackles 1.4 times per 90 minutes (53% tackle success ratio), whilst the average European midfielder (CAMs, Central Midfielders and Defensive Midfielders), successfully complete 1.3 tackles per 90 minutes.
Secondly, whilst he isn't pushing for many long passes (only 1.3 per 90 minutes vs 2.7 for the average midfielder), the accuracy of his long passes is quite remarkable: 78.9% vs 58.0% for the average midfielder.
In our view, to be defined as a creative midfielder, he should show, inter alia, a higher propensity for through balls: so far, only 0.09 per 90 minutes, i.e. half of the average midfielder. As a reference, the midfielder in the top 5 European leagues with the highest number of through balls per 90 minutes is Cesc Fàbregas, with 1.04 P90.
Conclusions
The recent developments of Nicolò Zaniolo clearly show how the career of a football player is anything but linear. It is, instead, made of a number of S-curves and a series of defining moments. In the past two years, Zaniolo has been able to exploit almost every opportunity that the fate put in front of him. But let's not pretend it was only luck: certain opportunities do not come without commitment and hard work.
In the various TV interviews, Zaniolo sounds very down-to-earth and probably more mature than his age and, we believe, self-improvement will likely remain a top priority for him. On this last point, in our view, Zaniolo will have to decide, sooner or later, to "specialise" into a defined role on the pitch.
As aforementioned, his stats currently suggest that a more advanced and lateral position would make the most of his strengths. However, by acquiring more experience and being more exposed to the team's build-up and defensive phases, he could certainly become a complete midfielder.
---
For any query, comment or suggestion, do not hesitate to contact us: research@soccerment.com.
And if you like the "iconic" featured image, you should check out this Instagram account: Iconic Cool.
---