Two Tales of the Bosphorus
Despite Galatasaray finishing 23 points above Fenerbahçe in last year's Turkish Süper Lig, we think the battle between the two clubs from either side of the Bosphorus will be much more hard fought this year. In the 70th year of the competition, early indications suggest that the path to glory will be compelling until the bitter end.
---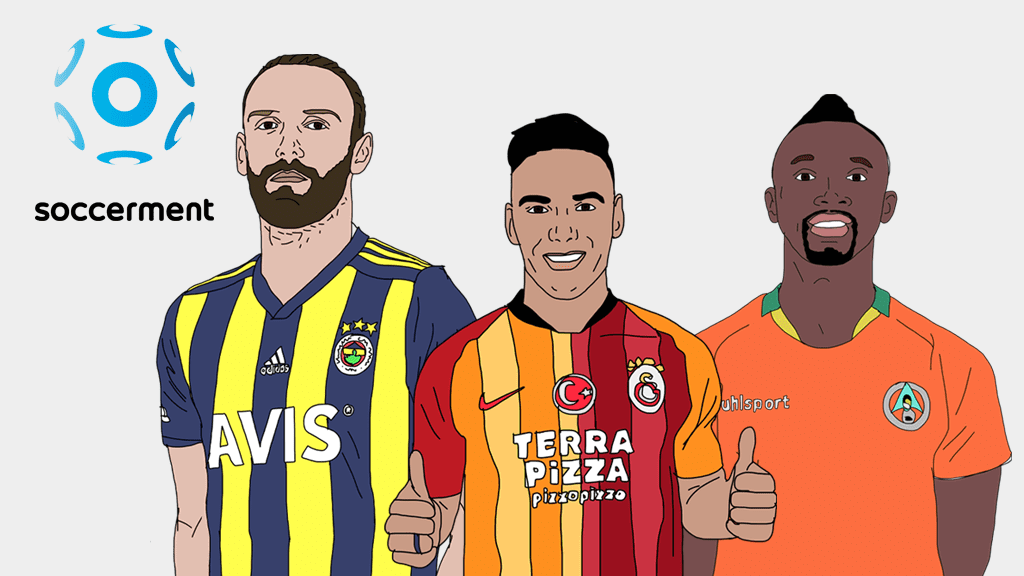 ---
Alanyaspor on top, Beşiktaş underperforming
The 2019/20 season of the Turkish Super League has been full of surprises and intrigue. Up to this point, every team has played 8 games and none of them are unbeaten. While only one team, Kayserispor, has yet to win a game this season.
Alanyaspor, the league leaders, began the season with four victories in a row, including a statement win against Fenerbahçe, but they couldn't maintain their form and went on to go three without winning until last weekend's dominant victory over Çaykur Rizespor.
Last season's league champions, Galatasaray, were the top goalscorers in the competition last season and, after the addition of Radamel 'El Tigre' Falcao, everybody was expecting this trend to continue. However, things haven't turned out that way, Gala are yet to get into double-digits in terms of goals and have won just three games. Another traditional giant, Beşiktaş, have won only two games so far and find themselves in 12th place at the end of Week 8. The underperformance of two of the Turkish Super League's biggest clubs is without doubt one of the the biggest surprises of the season so far.
In sharp contrast to these struggling giants, Trabzonspor are near the top of the league thanks to their attack-minded style of play and core of young players. Despite injuries to Abdülkadir Ömür and Caleb Ekuban, they find themselves 2nd after eight games as they look to consolidate their fluid and dynamic style of play. After eight games, Trabzonspor have the second youngest average age in the Süper Lig at just 25.2 years of age, only trailing behind Çaykur Rizespor's 24.8. It is fair to say that with their promising young squad, Trabzonspor are a dark horse for the title.
Fenerbahçe are playing much better this season than last, having already chalked up more wins (four from their first eight games) than they did in the entire first half of last season. Last year, it took Fener until late January to get their 4th win of the season. Despite their struggles before the international break (one loss and one draw), the Istanbul giants look to be back on track and are one of the early-season favourites for the title.
Fenerbahçe's rise and Galatasaray's frustration
After their abysmal 2018/19, there have been numerous ins and outs in Fenerbahçe's squad and they have started the season with an average of almost 8 new players in their starting lineup this year. After his arrival in December 2018, manager Ersun Yanal has been trying to implement his style and after 8 games, fans have seen glimpses of good football from their team. In terms of ball possession they are the most dominant team in the league.
---
---
We show pass accuracy in the Turkish Super League in the above chart and it is fair to say that Fenerbahçe and Galatasaray are a cut above the rest, with 88.1% and 88.2% short passing accuracy, 56.9% and 56.12% long passing accuracy. To put these figures into context, the league averages are 85.1% and 47.6%, respectively.
Delving deeper into passing stats, the below chart represents the correlation between possession and accurate passes, and no surprise here, Fenerbahçe leads the league in both categories. While the teams that have the lowest ball possession are also those with the lowest accurate pass numbers (Gazişehir Gaziantep FK and Ankaragücü). By the very nature of the game, accurate passes and possession are strongly correlated.
---
---
Galatasaray have only scored 9 goals in 8 matches so far and their inadequacy in front of goal is key to understanding the problem. Last year's champions are almost at the league average in both the quality and quantity of shots they've taken, with 13.3 shots P90 at a 36.8% accuracy vs. a league average of 13.0 shots P90 with 35.6% accuracy.
---
---
Galatasaray's style is such that every player in the team is expecting the ball to feet; this limits players' movement, especially in the opposition half. It also leads to a lack of dribbling and runs off the ball and forces teams to play in an immobile fashion. In the chart below we set out this issue with a simple representation of dribbling quantity and quality.
---
---
Galatasaray lay nearly in the middle ground in successful dribbles per match (10.4 vs league average 9.8 P90) but come in fifth from last in dribbling accuracy (59.1% vs league average 61.4%) and the reason, we believe, is mainly the lack of wingers in the squad. The club lost Henry Onyekuru and Garry Rodrigues' in the summer added Ryan Babel and Radamel Falcao, both of whom tend to expect the ball to feet. In our view, Galatasaray would need a winger who is able to complete many runs between the lines and create numerical superiority. In the short term, Emre Mor, who is on loan from Celta Vigo, could be the answer.
Süper Lig Top Eleven
Based on our Soccerment Performance Rating (SPR) system, the chart below shows the best players in the Turkish Süper Lig as of today and includes the following players: Gökhan Gönül, Victor Ruiz, Caner Erkin and Atiba Hutchinson from Beşiktaş; Serkan Kırıntılı, Diego Angelo, Haris Hajradinovic, Steven Nzonzi, Adis Jahovic, Papiss Cisse and Vedat Muriqi.
---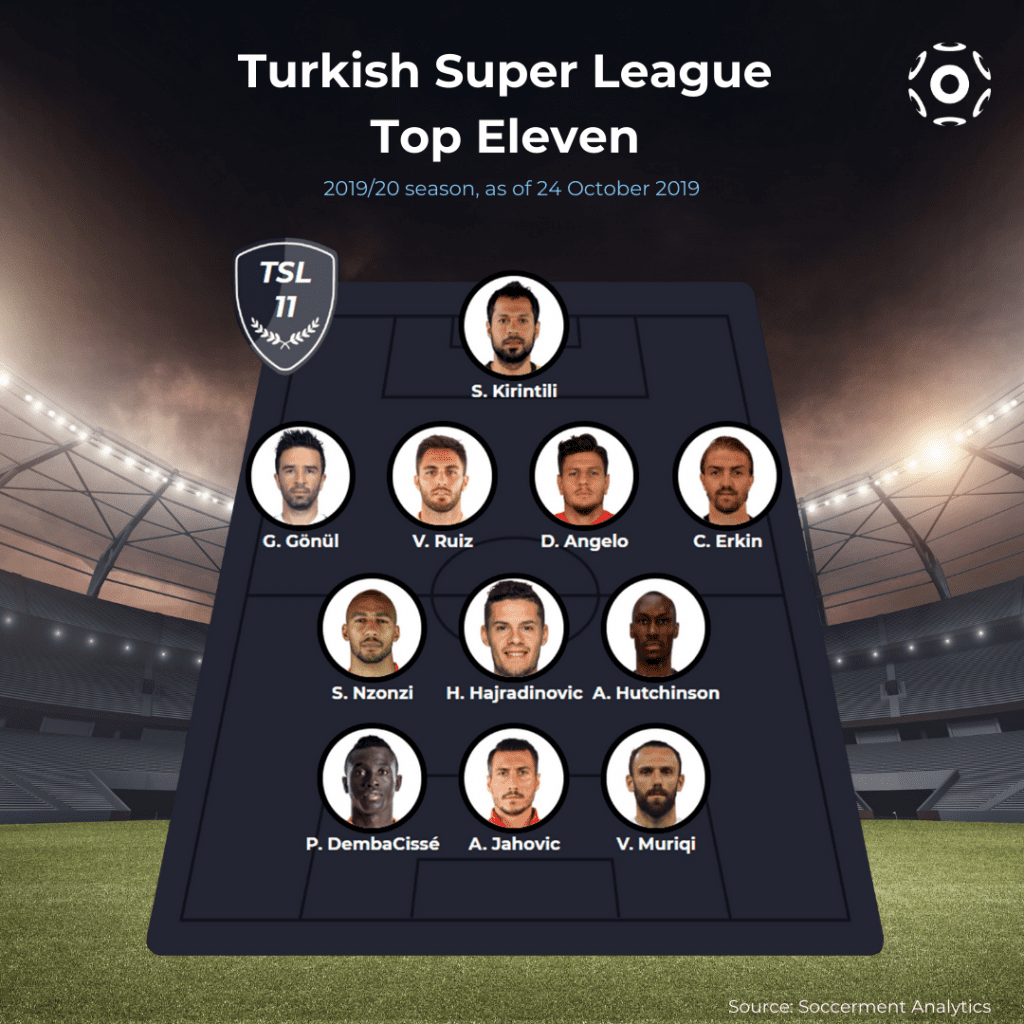 ---
Serkan Kırıntılı has been having a great season with Konyaspor and is the leading goalkeeper in our database for the Turkish Süper Lig. Kırıntılı has played a vital role in Konyaspor's success in this early part of the season with his 4.28 saves P90 and 0.29 clean sheets P90. In the below chart, we represented his role-specific events with our 'polar chart', and it is clear to see that Kırıntılı is not your average goalkeeper. He is the number one reason that Konyaspor have conceded the second-fewest goals in the division with 1.00 P90, vs. a league average of 1.41.
---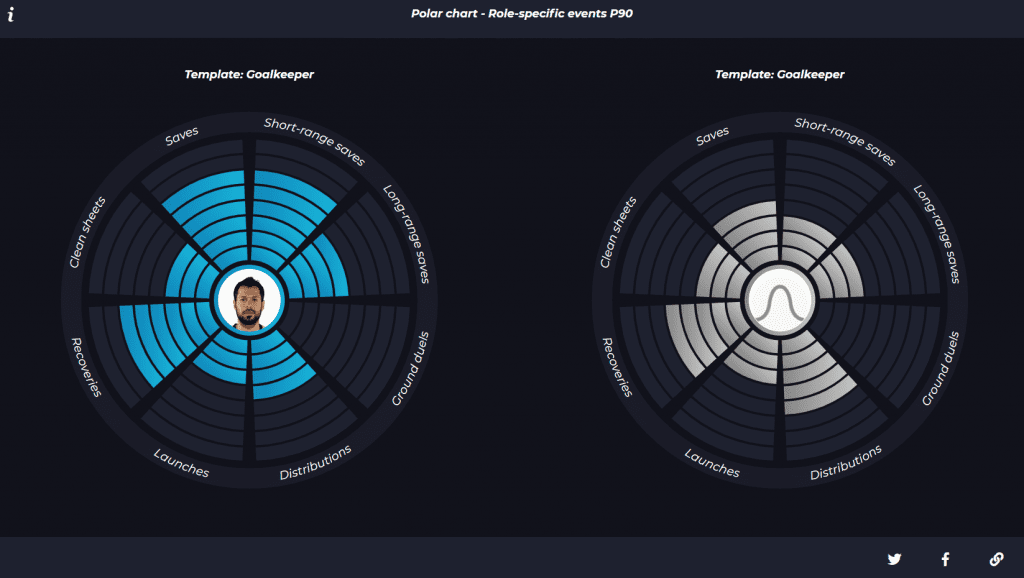 ---
In midfield, Steven Nzonzi and Atiba Hutchinson stand out as the best anchors in front of their central defenders. Haris Hajradinovic, meanwhile, is taking responsibility as the main creator for his team and he is fully-deserving of his spot in our Top Eleven. Looking at the spider chart of Hajradinovic's stats we see that he is a high level creator for his team with 0.81 through balls P90 and 3.89 created chances P90. With only 1 goal and 1 assist so far this season, he is a great example of how a player can be vital to a team's build-up without taking actions that directly result in goals. He finds his teammates when they are ready to make dangerous runs towards the opposition's goal.
---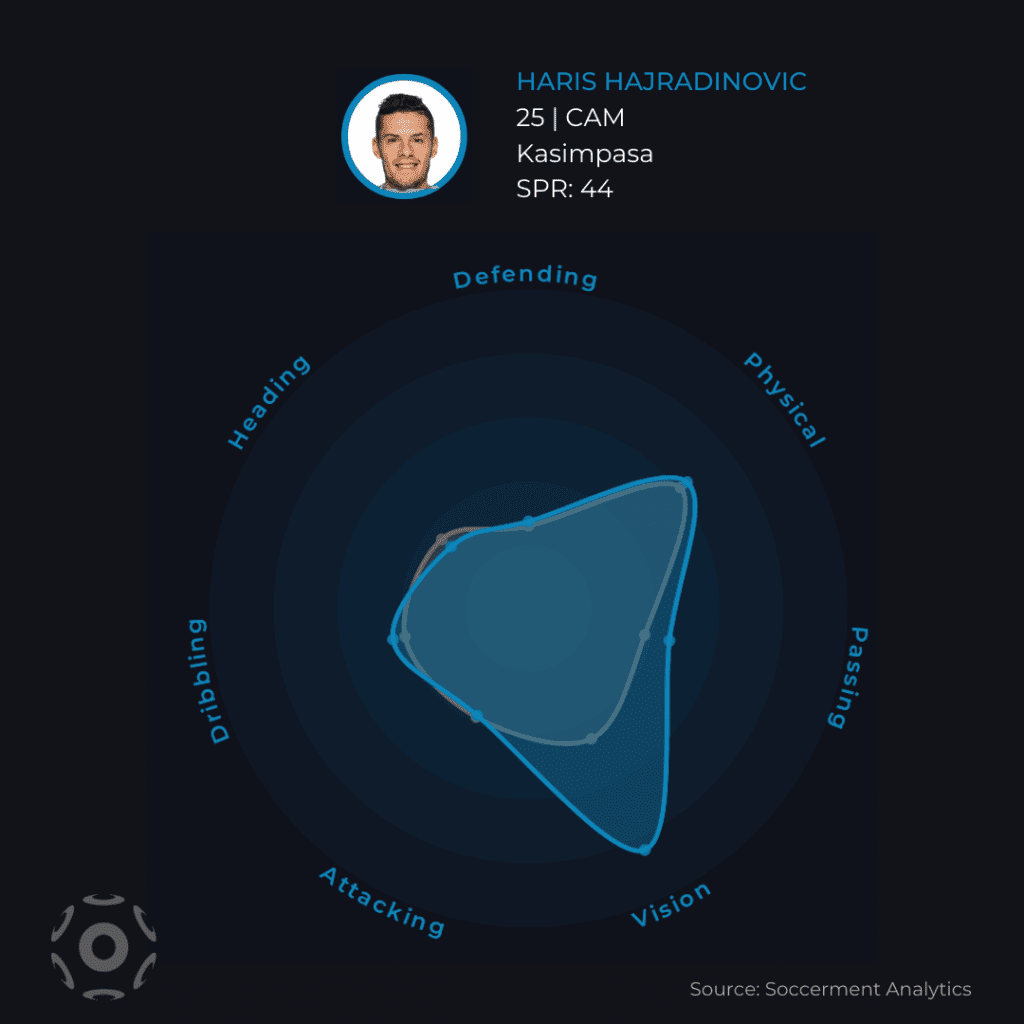 ---
Turning to our front three, and it is no surprise to see the top goalscorers in the competition: Papiss Cisse (Alanyaspor) has 8 goals, while Adis Jahovic (Yeni Malatyaspor) has 7 and both players have contributed nearly half of their teams' total goals. In addition to these prolific strikers, Fenerbahçe's top scorer, Vedat Muriqi with 4 goals has also earned himself a spot in our top eleven.
---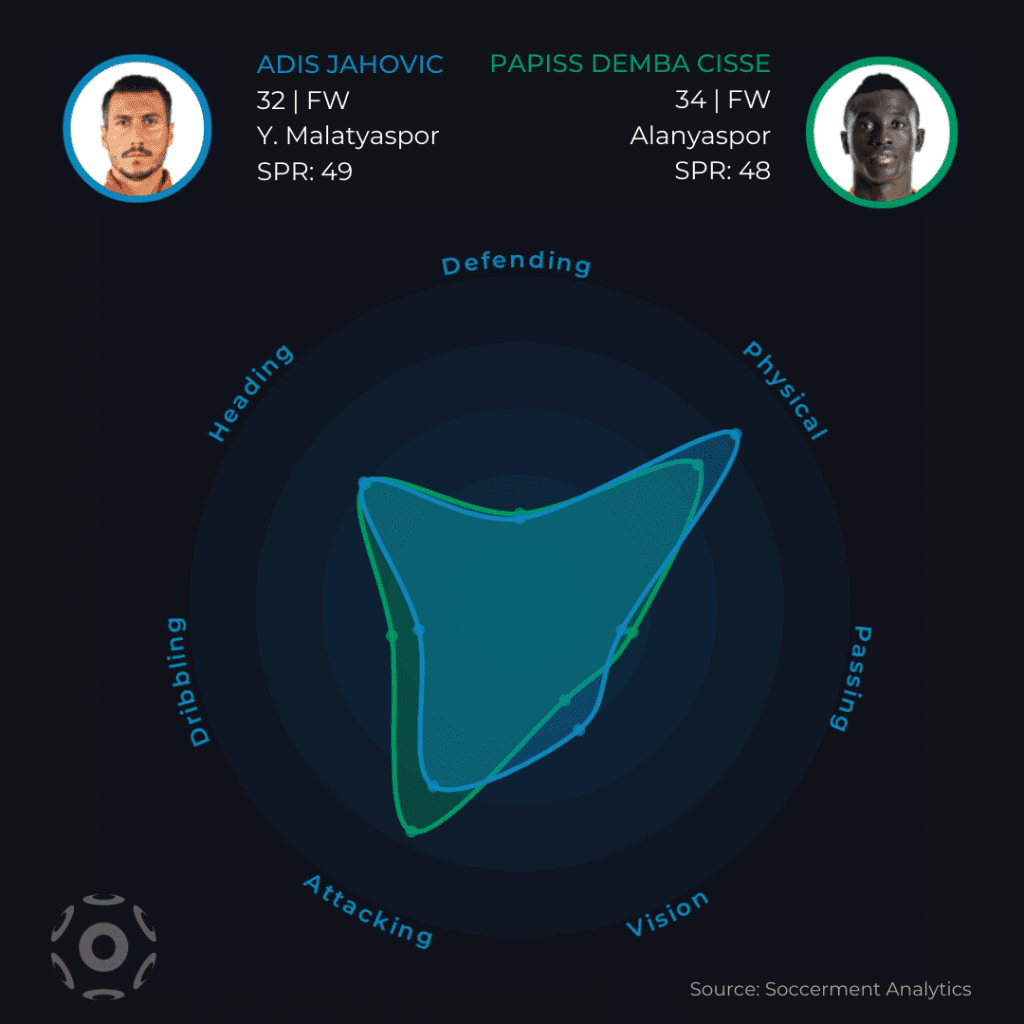 ---
Our platform shows that the two strikers are comparable in style, but with certain differences. Papiss Cisse is a "fox in the box" type striker who is also a strong dribbler, while Jahovic has greater upper body strength. Both men have been prolific in front of goal and have registered almost 1.0 goals P90 apiece.
It is important to consider whether these players will be in our Top Eleven at the end of the season, and it should be noted that there were only 1 players from Fenerbahçe and Galatasaray in our squad after eight games. Looking at the historical data, as well as the quality of their current squads, we can expect at least one more player from each of the two Istanbul giants to be in the Top Eleven at the end of the season. Serkan Kırıntılı's and Adis Jahovic's performances seem sustainable, and if they are to retain their spots they must continue to do what they have done in the last couple of seasons.
Conclusions
After eight weeks of action, the Turkish Süper Lig is still very uncertain. As of today, the gap between first and tenth is just 6 points, a clear indication of the league's equilibrium, with no clear leader able to break away.
Fenerbahçe's performances look promising: they lead the league on passing stats (first in both short passing accuracy, long passing accuracy and total passes) and shooting attempts (17.5 shots P90). However, poor shooting accuracy (32.0% vs. a league average of 35.6%), have cost them a couple of points already. To improve their ranking in the table, they will need to improve on that front.
Galatasaray's style has been less fluid than Fenerbahçe's, but we believe that there is not much difference between the potential of the two teams. At the time of writing, the weighted-average SPR for Fenerbahçe is 40.5 vs. Galatasaray's 40.0, highlighting that their performances have not been too different after all.
The destiny of the Turkish Süper Lig is likely, once again, to be a fight until the bitter end.
---