Unlock Your Performance Insights with XSEED's Player Cards
🇮🇹 La versione italiana dell'articolo è disponibile in fondo.
---
XSEED users may take advantage of Player Cards, which provide a comprehensive summary of their athletic and technical performance data. This tool condenses data into a one-page overview, simplifying analysis and identifying areas for improvement. Additionally, Player Cards allow users to showcase achievements, engage with others, and attract the attention of top clubs. Unlock your potential with XSEED's Player Cards and discover how to use them!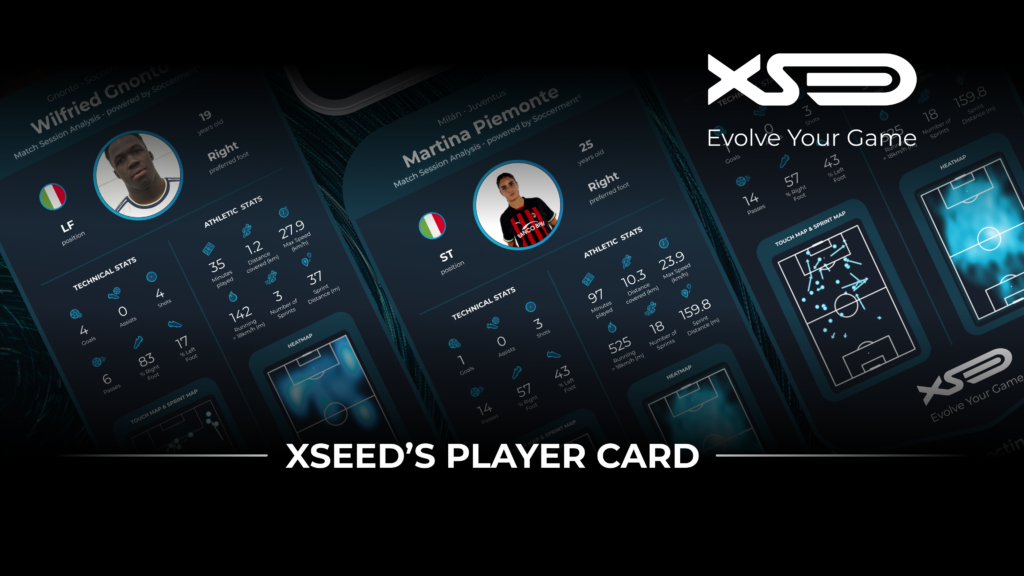 Soccerment's mission is to accelerate the adoption of data in football and foster a more meritocratic environment. This mission is exemplified through the development of innovative solutions, one of them being XSEED, the advanced wearable technology. This smart shin guard provides players of all levels with valuable insights, enabling them to enhance their performance and improve their game.
One of the standout features of XSEED is its Player Cards, which serve as the ultimate tool for performance analysis and sharing achievements. Player Cards offer a concise summary of both technical and athletic data, while also providing a fun and interactive solution for sharing insights with friends, teammates, and even catching the attention of top clubs.
Unveiling Your Player Card: Unlocking Performance Insights and Metrics
After a training session or match, users may instantly obtain their Player Card by following these simple steps. Firstly, users must select the "Session Analytics" section and tap on the desired match to view. Then, by scrolling down the session analysis users may find the "Player Card" button and click it.
Once you access your Player Card, you'll have a comprehensive one-page summary of your match statistics, divided into two categories: technical statistics on the left and athletic statistics on the right.
On the left side, you'll find information such as goals, assists, shots, and passes. These technical statistics are further broken down by the percentage of actions performed with the right foot and left foot.
On the right side, the athletic statistics provide insights into performance metrics, including minutes played, distance travelled (measured in kilometres), maximum speed achieved during the best sprint, distance covered at speeds exceeding 18 kilometres per hour, total number of sprints made, and total distance covered during sprints.
Moreover, at the bottom of the screen, you'll have access to additional visualisations such as touch and sprint map, as well as heat map, offering a deeper understanding of performance patterns. XSEED's Player Cards condense all the data collected by the shin guards into a single, comprehensive summary. This one-page overview gives instant access to vital information, simplifying the information search processes. With just a glance, players can evaluate their performance, identify strengths and weaknesses, and pinpoint areas for improvement.
To learn more, click here to watch our Player Card Tutorial video.
Share Your Achievements with XSEED's Player Cards
Beyond their analytical utility, Player Cards also serve as an exciting tool for social sharing. They allow users to showcase their insights and achievements with friends, teammates, and coaches, adding a new dimension of interaction and engagement to your football journey.
All that needs to be done is to scroll to the bottom of your match session and click the 'Player Card' button. This will open up your card, and then you must click the 'Share' button at the bottom of the screen. You will be granted the possibility to share your performance via WhatsApp, email, and even on Instagram, whether it be in a post, story, or private message.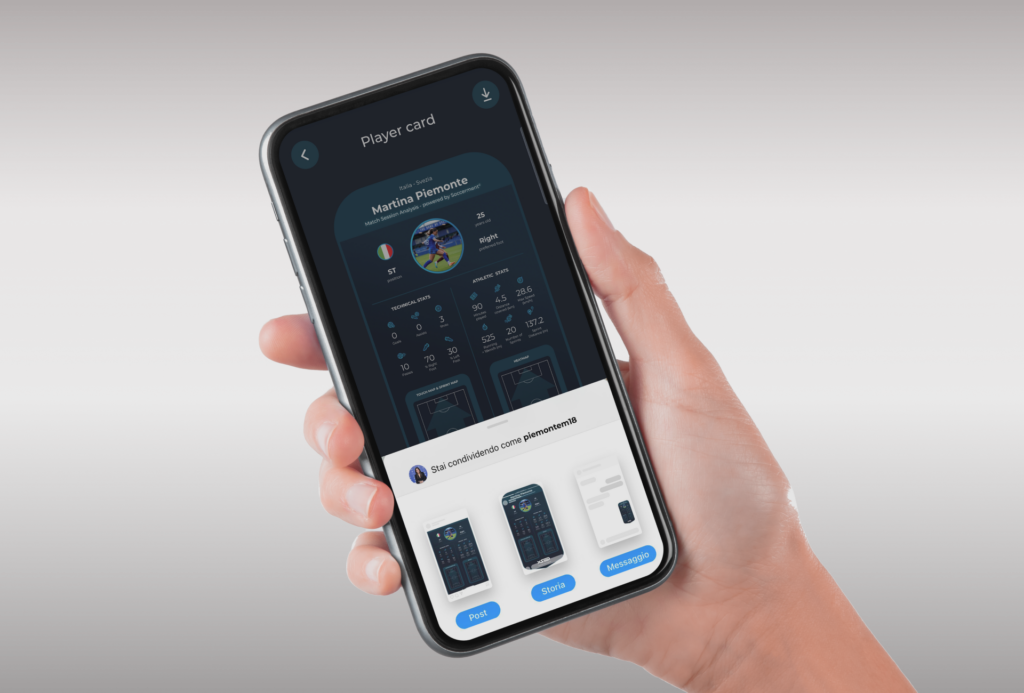 In addition, the ability to always have one's match statistics and the opportunity to showcase one's progress are competitive advantages, considering the limited access to data that players in the youth sector typically have. This, combined with the ease of sharing the Player Card, creates potentially intriguing opportunities for visibility in front of scouts or top teams. In fact, possessing data that attests to a player's skills further enhances users' chances of being recognized and potentially unlocking new professional opportunities.
Now, all that's left to do is to get on the field with XSEED, download your Player Card, and showcase your achievements to everyone! Let your performance speak for itself and make an impact on the field!
---
🇮🇹 VERSIONE ITALIANA
Scopri i dati delle tue performance con la Player Card di XSEED
Gli atleti XSEED possono sfruttare le Player Card per avere un riassunto completo dei dati delle proprie performance atletiche e tecniche. Questo strumento, che unisce in una sola grafica tutti i principali dati di una partita, semplifica l'analisi e aiuta i giocatori ad individuare potenziali aree di miglioramento. Inoltre, le Player Cards consentono agli utenti di mostrare i propri traguardi, interagire con altri giocatori e attirare l'attenzione dei migliori club.
Scopri come utilizzarle al meglio!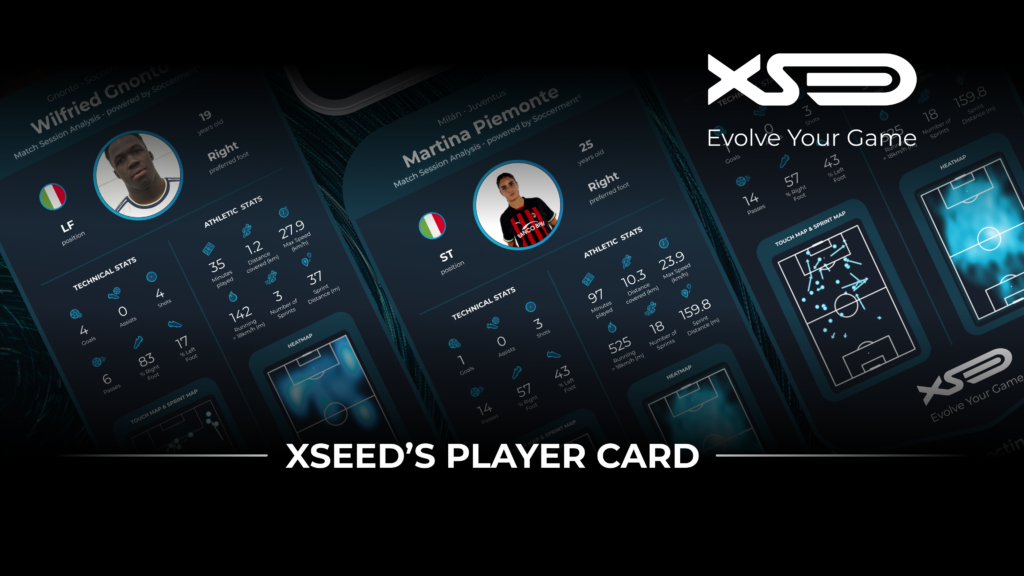 La missione di Soccerment è accelerare l'adozione dei dati nel calcio e favorire un ambiente più meritocratico. Questa missione si concretizza nello sviluppo di soluzioni innovative, una delle quali è XSEED, i nostri parastinchi intelligenti. Questo strumento fornisce ai giocatori di tutti i livelli preziose informazioni, consentendo loro di alzare il livello delle prestazioni e migliorare il proprio gioco.
Una delle caratteristiche principali di XSEED sono le Player Cards, lo strumento perfetto per analizzare le proprie prestazioni e osservare il raggiungimento dei propri traguardi. Le Player Cards, oltre ad offrire un riassunto conciso dei dati tecnici e atletici, diventano anche una soluzione divertente e interattiva per condividere informazioni con amici, compagni di squadra e persino attirare l'attenzione dei migliori club.
La tua Player Card: il riassunto perfetto delle tue partite
Dopo una sessione di allenamento o una partita, gli atleti possono scaricare immediatamente la loro Player Card seguendo questi semplici passaggi. In primo luogo, gli utenti devono selezionare la sezione "Session Analytics" e cliccare sulla partita desiderata per visualizzarla. Successivamente, scorrendo verso il basso, gli utenti troveranno il pulsante "Player Card" e potranno cliccarci sopra.
Una volta visualizzata la tua Player Card, avrai un riassunto completo in una sola pagina delle tue statistiche della partita, suddivise in due categorie: statistiche tecniche a sinistra e statistiche atletiche a destra.
Sulla parte sinistra, troverai informazioni come gol, assist, tiri e passaggi. Queste statistiche tecniche sono ulteriormente suddivise per la percentuale di azioni eseguite con il piede destro e il piede sinistro.
Sulla parte destra, le statistiche atletiche forniscono approfondimenti sulle metriche di performance, tra cui minuti giocati, distanza percorsa (misurata in chilometri), velocità massima raggiunta durante il miglior sprint, distanza percorsa a velocità superiori a 18 chilometri all'ora, numero totale di sprint effettuati e distanza totale percorsa durante gli sprint.
Inoltre, nella parte inferiore dello schermo, visualizzerai la mappa dei tocchi e degli sprint (touchmap + sprintmap) e la tua heatmap, in modo da avere un'applicazione sul campo dei dati della tua performance. Le Player Cards di XSEED condensano tutti i dati raccolti dai parastinchi in un unico riassunto completo. Questa panoramica offre un accesso immediato ai dati più importanti, semplificando il processo di ricerca delle informazioni. Con una sola grafica, i giocatori possono valutare le proprie performance, identificare punti di forza e debolezza e individuare aree di miglioramento.
Per saperne di più, guarda il nostro tutorial sulle Player Cards.
Condividi i tuoi traguardi con la Player Card XSEED
Oltre alla loro funzione analitica, le Player Cards di XSEED si prestano molto facilmente ad essere condivise. Consentono agli utenti di mostrare i propri risultati e successi ad amici, compagni di squadra e allenatori, aggiungendo una nuova dimensione di interazione e coinvolgimento al tuo percorso calcistico.
Sarà sufficiente scorrere in fondo alla tua sessione e cliccare il pulsante "Player card". In questo modo ti verrà mostrata la tua scheda giocatore e da lì dovrai utilizzare il pulsante "condividi" in fondo allo schermo. Avrai la possibilità di condividere la tua prestazione tramite Whatsapp, email e anche su Instagram, con un post, una storia o un messaggio privato.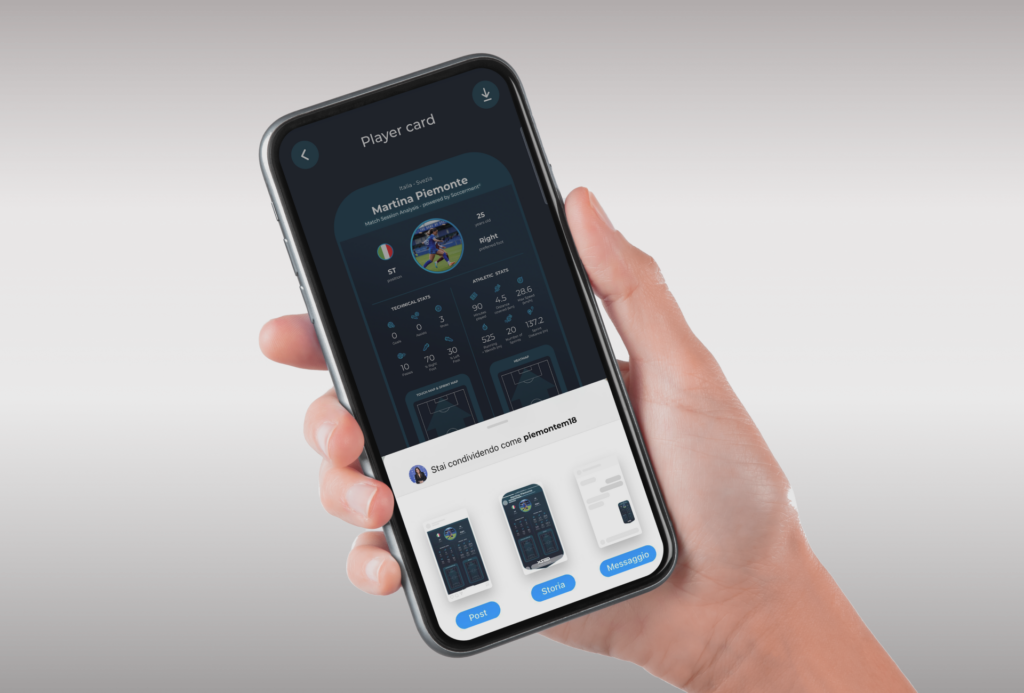 Inoltre, la possibilità di avere sempre a portata di mano le statistiche delle proprie partite e di poter mostrare i propri progressi rappresenta un vantaggio competitivo visto il limitatissimo numero di dati a cui i calciatori nel settore giovanile hanno accesso. Questo, unito alla facilità con cui la Player Card può essere condivisa, apre scenari potenzialmente molto interessanti per quanto riguarda la visibilità di fronte a scout o squadre di alto livello. Avere infatti dei dati, a testimonianza della bravura di un giocatore, non fa altro che aumentare la possibilità di essere scelti e selezionati da realtà professionistiche.
Non ti resta quindi che scendere in campo con XSEED, scaricare la tua Player Card e mostrare a tutti i tuoi successi sul campo!
---