AZ Alkmaar: Creating Success Through Data Analytics
---
When it comes to the use of data analytics in football, there are few better case-studies than Dutch outfit AZ Alkmaar. AZ have embraced data and objectivity as part of their club culture, including in player development. This seems to be giving them a strong competitive edge; currently second in the Eredivisie, they have been showcasing some of the most promising young talents in the Netherlands this season: Calvin Stengs, Myron Boadu, Owen Wijndal and Teun Koopmeiners, to name but a few.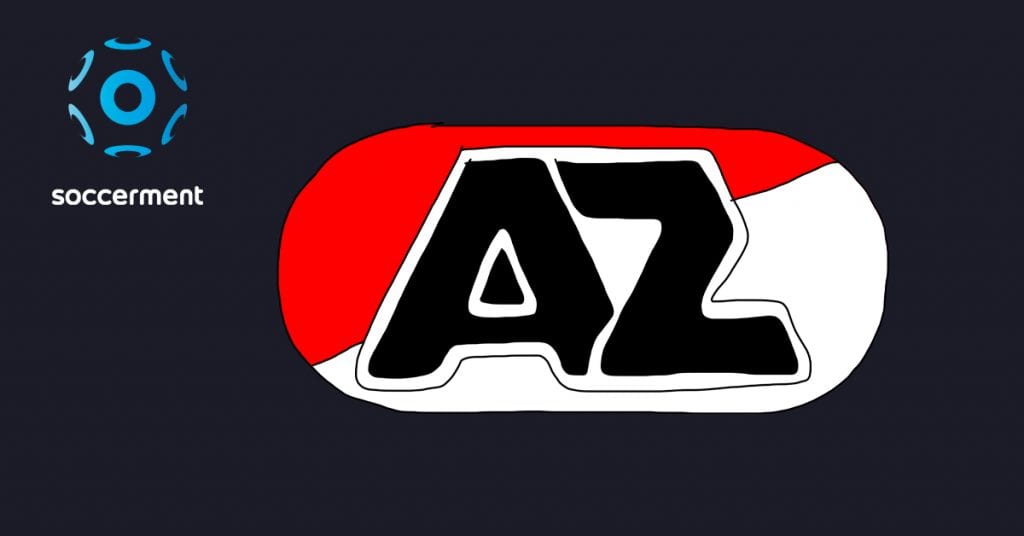 ---
Data Analytics applied to player development
September 2019, World Football Summit, Madrid.
A packed audience is patiently waiting for the speaker to start. The title of the presentation is intriguing: "How AZ Alkmaar Became One of Europe's Best Talent Factories Using Data".
We are there, very curious, to listen to Marijn Beuker, Head of Performance & Development at AZ Alkmaar.
By now, you must know that at Soccerment we love data analytics applied to football. Actually, it's more than love, it is literally our mission: accelerating the adoption of data analytics by non-professional footballers and teams. So, the more we hear about the subject, the happier we are.
In this case, we are even more intrigued than usual. Our curiosity stems from the development angle of the presentation. While data analytics is usually presented as a tool for scouting players and/or for match analysis (to acquire insights about future opponents), Mr Beuker's speech focuses on the importance of data analytics in player development, i.e. as a tool to help predict and cultivate players' potential. Compared to many other teams' practices, this really is next level thinking.
In roughly 40 minutes, Marijn Beuker's speech shares some very interesting insights about the club's culture, its vision, how it has put in place its various processes, and how it works with youngsters to nurture their talent. Won over by the speech, by AZ's history and by their recent performances, we began to gather and analyse information about the club and its most valuable assets – the many talented young players currently on its roster.
This piece sets out the conclusions of our research into AZ Alkmaar's vision and practices. It is the first of a two-part analysis dedicated to the club. The second part, focused on the team and the players, will be available in the next few days.
"We don't buy success, we create it"
At the time of writing, in November 2019, AZ Alkmaar is second in the Eredivisie, 6 points behind Ajax and 5 points ahead of PSV. They have the best defence in the league (8 goals conceded) and the second-best attack (31 goals scored). AZ are also second in their Europa League group (group L), 2 points behind Manchester United and 4 points ahead of FK Partizan (Astana have lost all of their matches so far).
These results are surprisingly good, considering that AZ Alkmaar's wage budget is somewhere between €25 and €35m and domestically they compete with clubs whose budgets are 3 to 4 times larger (Ajax, PSV, and Feyenoord). While internationally there are clubs leveraging on budgets that are 10 times bigger than AZ's.
So, the question is: how can AZ Alkmaar compete?
What they say is that they need to "think differently" (like in that beautiful old Apple commercial). Actually, they need to "think logically".
---
"What distinguishes us? We don't buy success, we create it. We believe in making the difference through vision, programs, facts, knowledge and capable staff."

Marijn Beuker presenting at the World Football Summit 2019
---
As AZ can't compete in terms of wages to attract talent, they need to create their own success.
What that means, in football terms, is that AZ need to develop most of their own players, through their academy programs.
And they are doing so very well: in the current season (2019/20), at the time of writing (November 2019), academy-grown footballers have played 46.9% of AZ's total minutes, one of the highest percentages in Europe.
In the chart below, we differentiate between players who were developed through the ranks of the "AZ Academy" (in blue) and the "Others" (in grey). On the x-axis, we see the total minutes played in the Eredivisie so far, while on the y-axis we show the players' Soccerment Performance Rating (SPR), the algorithm we use to rank player performance in a season.
Interestingly, in the top right corner there are four players from the AZ Academy (at a first glance, you might only see three of them, but two blue bubbles are almost perfectly overlapping): Teun Koopmeiners (Central Midfielder, 21 years old), Owen Wijndal (Full Back, 19), Calvin Stengs (Attacking Midfielder, 20) and Myron Boadu (Striker, 18).
---
---
The high amount of minutes played, along with the strong Soccerment Performance Ratings ('SPR'), tell us that the AZ Academy has been more than fundamental in creating the conditions necessary for the positive results AZ have enjoyed this season.
These strong results are the continuation of a trend of success for AZ in recent seasons. In 2018/19, they qualified for the second qualifying round of the Europa League, having come fourth in the Eredivisie. In the previous season (2017/18), they finished third in the league, ahead of Feyenoord.
It is clear that their plan is working well. But what exactly does their plan consist of? And how do they execute on it so consistently?
In our view, there are two "secrets" that are very much intertwined: Vision and Governance. Let's start with the latter.
Long-term planning requires clear and efficient governance
AZ Alkmaar need to think well ahead, to compensate for their limited budget. They need to plan for the next few years and not for just the next few months as most football clubs do. In his presentation, Marijn Beuker explicitly says that his job is to imagine how football will look ten years from now.
But long-term planning is a very complex task, especially in football, where decisions – for example the sacking of a coach – are too often subject to short-term results. Match results and league tables are dominated by random events such as own goals, bad refereeing decisions and injuries.
In football, executing a long-term plan is probably harder than in the corporate world, and even there it still requires a perfectly structured and well oiled organisation to come up with a coherent plan. Even the most coherent and well-thought out plans are at risk of failure if the interests of the various departments and business units are not aligned.
In order to carry out proper planning, aligning the interests of the various interested parties is fundamental. To do that, any organisation needs to have clarity on three things: leadership and rules (governance) and the path to follow (vision).
We analysed AZ Alkmaar's governance structure and were struck by the high degree of consistency. In the various press releases, interviews and speeches we read or saw, the message conveyed by the club is always clear and coherent.
In the chart below, we reconstruct how AZ Alkmaar is organised, highlighting the four positions that report to the Head of Football (Max Huiberts).
---

---
But what makes AZ Alkmaar different, if not special, is not how the organisation is shaped. At the end of the day, organisational trees all look the same.
AZ seems to differ from most other football clubs in the sense that, as Marijn Beuker says in his presentation, there is no person in charge of the organisation, the program is in charge. Here is a link to the quote, taken from another presentation (about talent and recruiting).
---
"There is not a person in charge of our club, the program is in charge"

Marijn Beuker, presenting at Digitaal-Werven 2018, November 2018
---
While this statement might sound somewhat utopian, it tells a lot about the club's culture and how confident they are in their vision, which shapes the program.
A well-thought out vision and the conviction to stick to it
The 2013/14 season was not the best for AZ Alkmaar. They finished 8th in the Eredivisie, 31 points behind Ajax. Things needed to change.
On 17 May 2014, AZ Alkmaar announced the appointment of Robert Eenhoorn as their new CEO, replacing Toon Gerbrands who had joined PSV. Back then, it looked like a quite strange decision. An ex-baseball player (he played in the MLB in the US), Eenhoorn had been working for the Royal Dutch Baseball and Softball Association (since 2009), before joining AZ. Not your typical football executive.
A few months later, this seemingly strange decision started to make more sense: on 17 March 2015, AZ announced that baseball legend Billy Beane was taking an official advisor role. Yes, that Billy Beane, "Mr Moneyball" himself. The man who became famous when, in his front-office career, he applied statistical analysis (known as sabermetrics) to baseball, leading to a revolution in how teams evaluate players.
The club's vision started to take shape and data became central.
The main idea is to try to substantiate everything, so as to have a higher degree of objectivity in decision-making at all levels within the organisation.
This vision permeates throughout the entire club. For instance, analysis is not limited to performance data alone, the so called "hard data". To get a full overview of a player, AZ Alkmaar combines hard data with soft skills (a direct input from Bully Beane), complementing the data as much as possible with physical, cognitive and psychological tests.
According to Marijn Beuker, this is the best way to avoid "confirmation bias". His suggestion is that, when making a decision, people need to always ask themselves: "Is it true, or do I want it to be true?".
Conclusions
As a case-study, AZ Alkmaar proves that logical thinking and a rational vision can be a winning formula, even when applied to football. Furthermore, it reminds us of the growing importance of data analytics in the Beautiful Game, a sport that many believed too difficult to analyse statistically. What FC Liverpool, AZ, FC Midtjylland and a few other teams are accomplishing with the help of data analysis should inspire many other football clubs, at all levels. Moreover, player development can be drastically improved with the right quantity and quality of information.
---
In the next few days we will publish part 2 of this analysis, with insights on AZ Alkmaar's player development process and on four exciting prospects developed at its: Calvin Stengs, Myron Boadu, Teun Koopmeiners and Owen Wijndal.
Interested in football analytics? Sign up for free to Soccerment Analytics and start analysing football players and teams through intuitive data visualisation and innovative performance indicators.
---
Best way to stay in touch? Like our Facebook page and follow us on Instagram and Twitter.
For any query, suggestion or comment, you could send us an email: research@soccerment.com.
---