In the past few months, Bukayo Saka has been one of the few bright spots at a struggling Arsenal side. Saka's versatility has been on full display as he has lined up in several positions Arsenal's starting XI, under both Unai Emery and Mikel Arteta. His potential and versatility could allow him to become an elite player in two different roles. However, in our view he would be better off finding a clearly defined role and working on his weaknesses. Focusing on two roles would probably become counterproductive in the long term.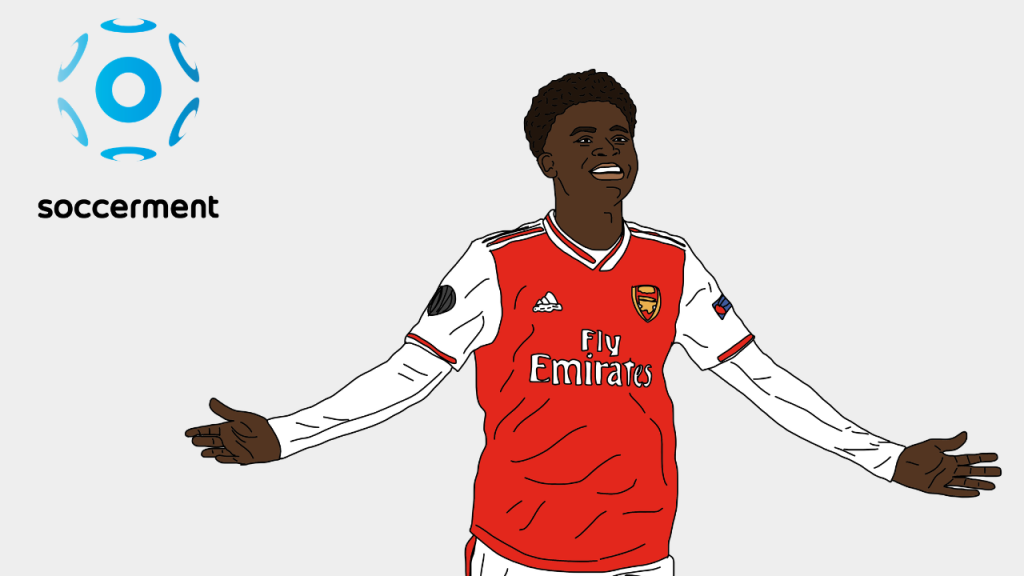 ---
Bio and playing style
A real gunner
Bukayo Saka was born to Nigerian parents in London on the 5th of September 2001. While his brother Yomi played for Watford's Academy before leaving football, Bukayo, an Arsenal fan, has only ever played for the gunners.
After being coached by his idol Freddie Ljungberg, Saka signed his first professional contract with Arsenal after turning 17. Shortly after, he was called up to the first team and made his debut in November 2018.
A fast left-footed winger
Saka is 178cm tall and weighs 65kg for a BMI of 20.52. Saka is a very quick and agile player, with a reported top speed of 36.16 km/h; while he is also well-rounded, capable of playing in different positions. The young Englishman is particularly adept at using his speed and ball control to get the edge over opponents while dribbling, which has translated into a success rate of 57% (2.95 attempted dribbles P90). He is also capable of effectively using his body and making quick turns to shield the ball.
Naturally left-footed, his shooting could be improved, especially if he is to play on the right and cut inside as he has been doing lately under Arteta. At the time of writing, Saka has a shooting accuracy of 31% and a non-penalty goal conversion rate of 8.7%, vs xG per shot of 0.1. Converting chances at a higher rate would significantly increase his offensive presence, as he already takes plenty of touches inside the box (5.03 in 2020/21).
In the chart below, we show Saka's performance relative to other Under-20 players on the Attacking and Dribbling performance indexes.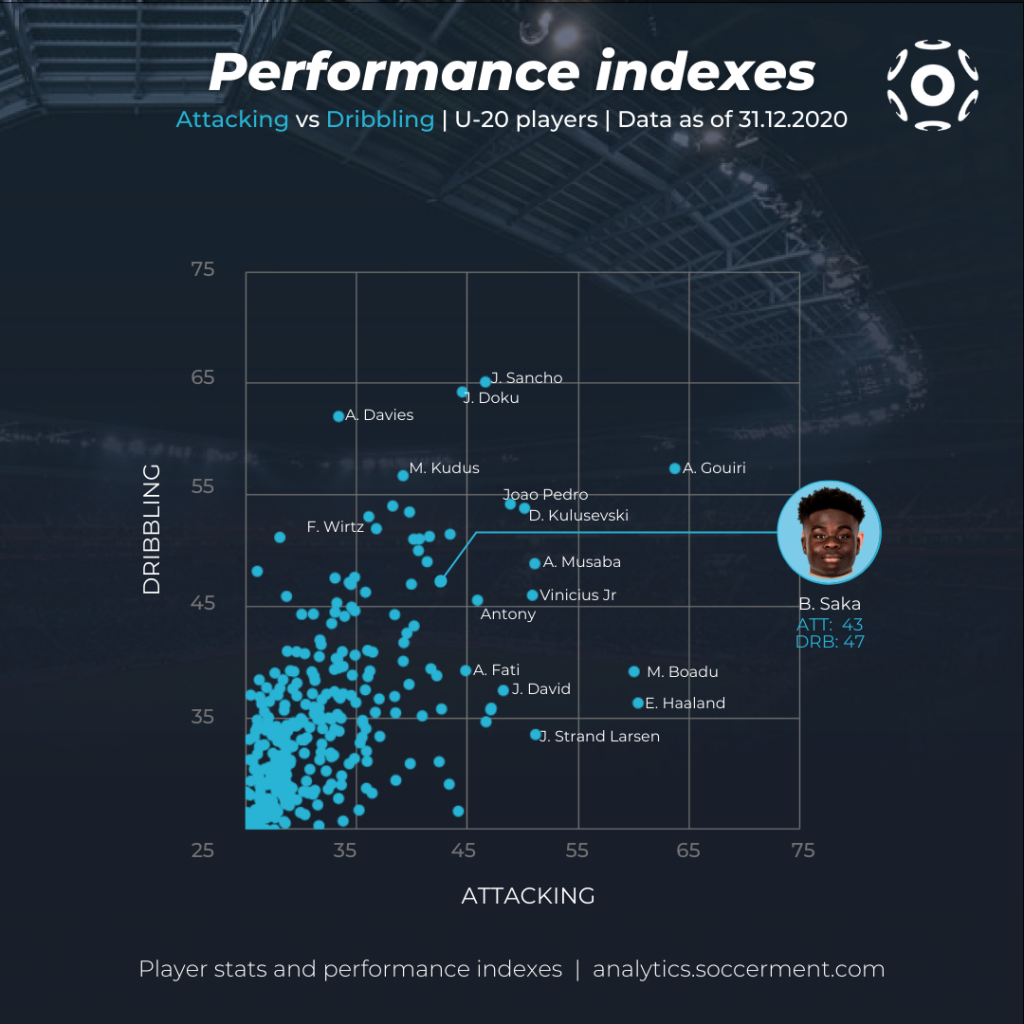 ---
Saka creates high quality chances for his teammates, with each of his key passes generating 0.15 xA, which has converted into 0.18 assists P90. He attempts a high number of crosses (3 P90), but has to improve his accuracy since only 14% have found a teammate, versus an average of 20% for his role; part of this, however, is due to Arsenal's stagnant focus on ball-possession, and strikers that don't excel aerially.
Defensively Saka has improved, but he still lacks the defensive contribution and awareness that other fullbacks and wing-backs have, mostly because he played in midfield in Arsenal's academy. His tackle success ratio of 57.4% is below average for both wide advanced midfielders (64.4%) and full backs (65.8%). Given his attributes, he could also improve his interceptions (0.68 P90) and his recoveries (4.3 P90).
He also has to improve his aerial ability as he has won only 17.7% of his aerial duels in the Premier League so far.
The versatility dilemma
Saka's versatility has come in very handy for Arteta and Emery in their time at Arsenal. He has mostly played on the left as a full-back or a wing-back in 4-2-3-1 and 3-4-2-1 formations, while also appearing as a left winger and most recently as a right advanced midfielder in a 4-2-3-1. He has even played a few games as a central midfielder.
---
---
This versatility might be useful for managers, but it could be detrimental for Saka if this trend were to continue in the future. Given his speed, dribbling and eye for a pass he is suited to playing out wide. As a full-back he would be a very offensive option, giving the team a constant presence on the left but at the risk of leaving open spaces behind.
Saka has left good impressions playing as a left wing-back both with Arsenal and England. In that position he has the chance to put himself in one-on-one situations and to create chances for his teammates. He also has the endurance required to cover that position.
In addition to the wing-back position, Saka is also well suited to a more offensive role given his dribbling and chance-creation numbers. When playing on the left, he has already shown that he can regularly beat his man and whip in crosses. Were he to play regularly on the right as he is doing lately, he would have to improve his finishing, which has a great deal of room for improvement.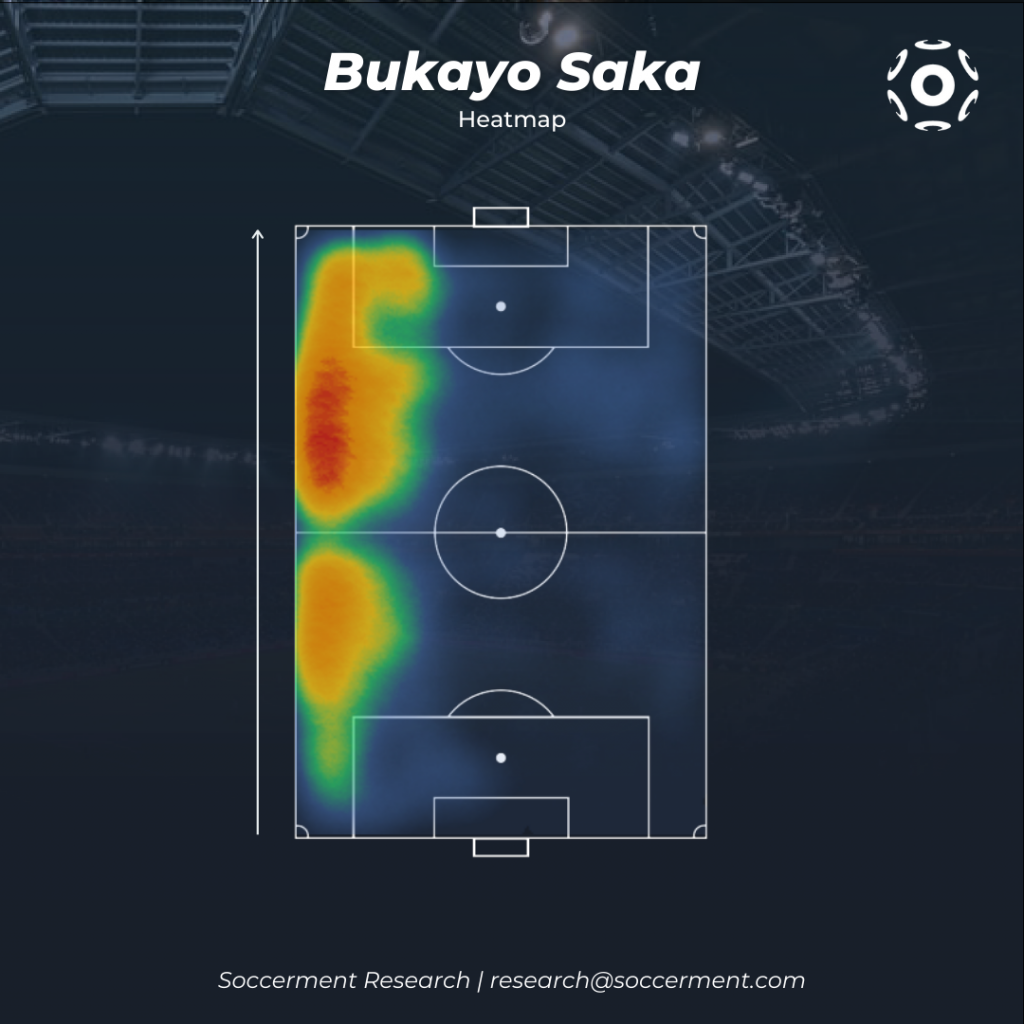 ---
Potential and outlook
Needs to establish himself in a single role to fulfil his potential
Saka's versatility gives him options as to what type of player he wants to specialise as. In our view, right now he is most suited to being an offensive wing-back or a wide creator. His speed is an asset he can use when covering ground behind him, or in one-on-one situations. However, to be more effective as a right winger/advanced midfielder he needs to work on his finishing.
We believe that if he works hard and finds a context that suits him, he has the potential to become an elite player in two different positions:
Wing-back: He will have to work on his defending and consolidate his dribbling and passing skills.
Wide Advanced midfielder/Winger: He will have to work a lot on his shooting and crossing, while consolidating his dribbling and passing skills.
However, becoming an elite player is a very difficult exercise. We feel he will need to focus on just one role to make the process easier and increase his chances of fulfilling his potential.
Arsenal's tactics don't seem ideal for his game
Having played his entire career at Arsenal, the club knows Saka well and what he is capable of. But playing at a big club with a large fan base that is struggling has made it difficult for him to get his head down and focus on his development, in part because he has been played in a wide variety of positions.
Arsenal's playing style hasn't always been the most suitable for him, especially when playing against teams that play with a low block. Regardless of this, he has still been one of their best and most creative players in whatever position he has played.
SWOT analysis
STRENGTHS

– Versatility (on the left he can play as a WB, FB or WAM)
– Speed (max speed >36 km/h)


WEAKNESSES

– Defending (tackle success ratio <60%)
– Heading (aerial success ratio <18%)

OPPORTUNITIES

– Becoming a full-time winger would increase his offensive output

THREATS

– Lack of positional identity

---
Once a gunner, always a gunner?
Saka has played for Arsenal since childhood, growing up in a family that supports Arsenal. He has developed at youth level under the wing of his idol Freddie Ljungberg, and he has gradually earned his place in the starting XI, ahead of big signings such as Pepe.
His impact on the team has earned him praise from fans and journalists, which makes it particularly difficult to imagine him moving away from the Emirates Stadium.
The only realistic way we could see him leaving would be due to the club itself. Poor transfer choices, poor results and big salaries have led Arsenal to be much more cautious with their acquisitions and have led to the need to sell players to save the club finances, especially after the breakout of the Coronavirus pandemic. His current value is reported to be in the region of €40m, making him one of Arsenal's biggest assets since players such as Lacazette, Aubameyang, Pepe and Ozil, who came in for large sums, cannot be sold at fees that would come even close to their acquisition costs. Saka's current contract gives him a gross yearly salary of over €620,000, according to Capology.
---
This analysis is part of our 'Wonderkids: 2021 Outlook". Please find the link to download the eBook here. A printed version is available too.
---