Jérémy Doku is one of the wonderkids with the most room for improvement, in our view. The 18 year-old winger has already showcased his electrifying pace and elite dribbling for both club and country. However, we find his decision making in the final third to still be suboptimal and, after joining Rennes, he is still adapting to Ligue 1. Should he continue to develop his attacking contribution, we truly believe that Doku has the potential to shine for a top European side in the future.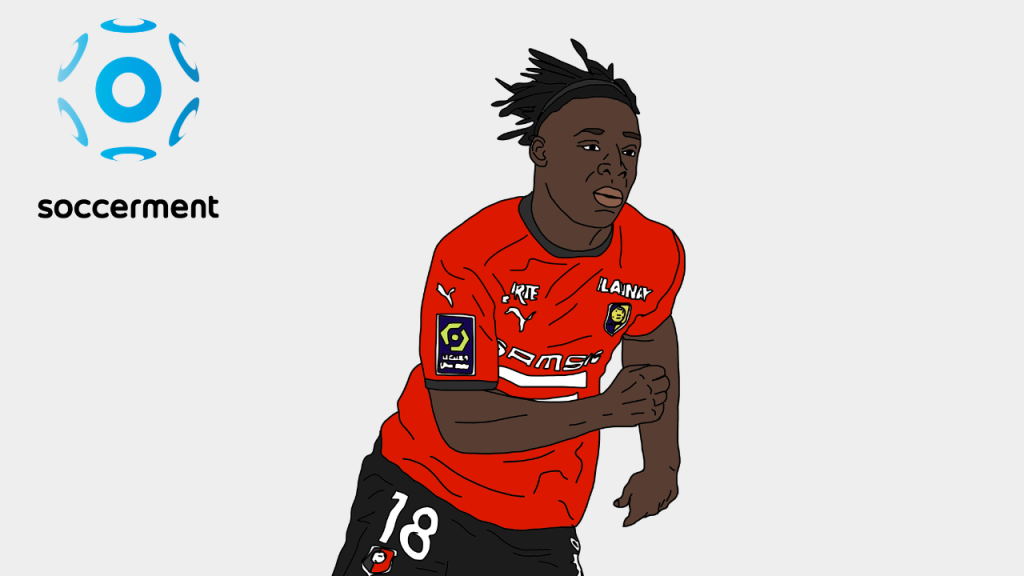 ---
Bio and playing style
A Belgium international
Jérémy Doku was born in Borgerhout, in the province of Antwerp, Belgium, where he began his youth career at Beerschot AC. Aged 10, he then moved to the academy of RSC Anderlecht.
After coming up through the ranks in the Anderlecht academy, Doku made his first team debut at the age of 16. Doku later joined Stade Rennais in October 2020 for €26m, making him Rennes' record signing.
Doku has already made 5 appearances for the Belgian national team, with 1 goal so far in his international career.
One of Europe's top dribblers
Jérémy Doku's speed, balance and dribbling skills stand out at first glance. At just 171cm and 65kg, with a BMI of 20.52, he is not the biggest player, and he makes the most of his smaller physique. It is very rare to see Doku outpaced by an opposing player. According to 'Het Laatste Nieuws', Doku can reach a top speed of 35 km/h. However, his acceleration is even more important than his top speed.
Boku's greatest strength is his dribbling, owing to a combination of speed, coordination, ability to change pace quickly, and unpredictable footwork. The video below sums him up much better than words ever could.
---
So far in his professional career, Doku averages 5.77 dribble attempts P90 (vs the 2.93 average for the role) and completes 64% of them (3.67 successful dribbles P90 vs the 1.61 average for the role).
Unsurprisingly, Doku showcases the second-best dribbling performance among Under-20s in Europe, behind the older and better known Jadon Sancho.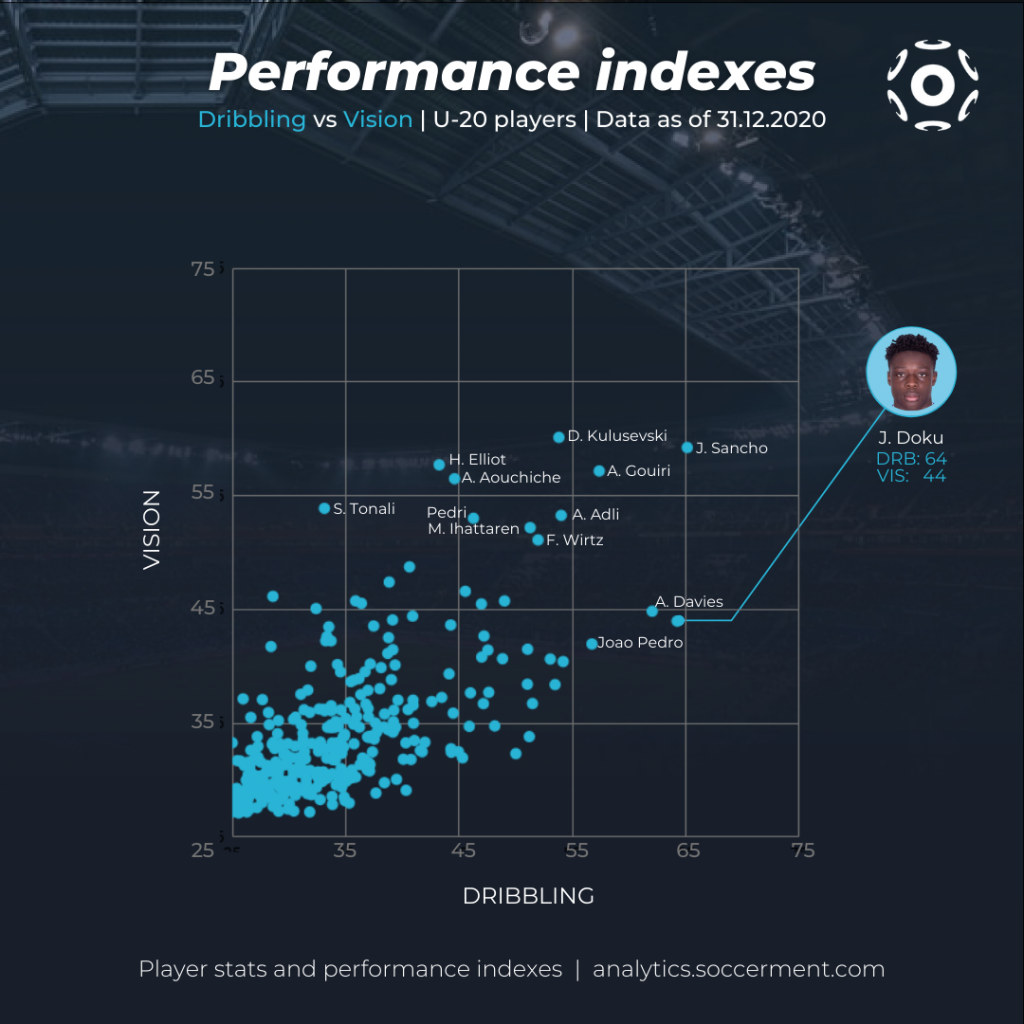 ---
Yet as the chart clearly shows, Doku, unlike Sancho, doesn't yet fully leverage his dribbling skills to create chances for his teammates. In our view, the number of chances and assists that Doku currently creates aren't good enough, bearing in mind the ease with which he is able to create numerical superiority. One of the main reasons for this is that he attempts too many crosses. Although Doku is more accurate at crossing than the average winger (a quarter of his crosses find a teammate, vs the average for a winger of one-fifth), crossing remains a suboptimal attacking strategy overall. We extensively analysed it in this post.
Chance creation is the area where we would expect the biggest improvement in the next few months. Here in the table, we compare Doku's stats to those of some of his peers. We have used the "creative winger" template of our Player Smart Search and applied it to the current season. Link here.
Note: French Ligue 1 stats only
Source: Soccerment Analytics, Opta | League stats 2020/21
---
From the table, it becomes clear that not only does Doku not create as many chances as he could, but he could also shoot more. On this front, we believe that switching position and playing on the left as an inverted winger would certainly help: we notice that in his career, although he has 10 more appearances as a right winger, Doku has managed 5 of his 6 goals and 7 of his 9 total assists while playing as left winger.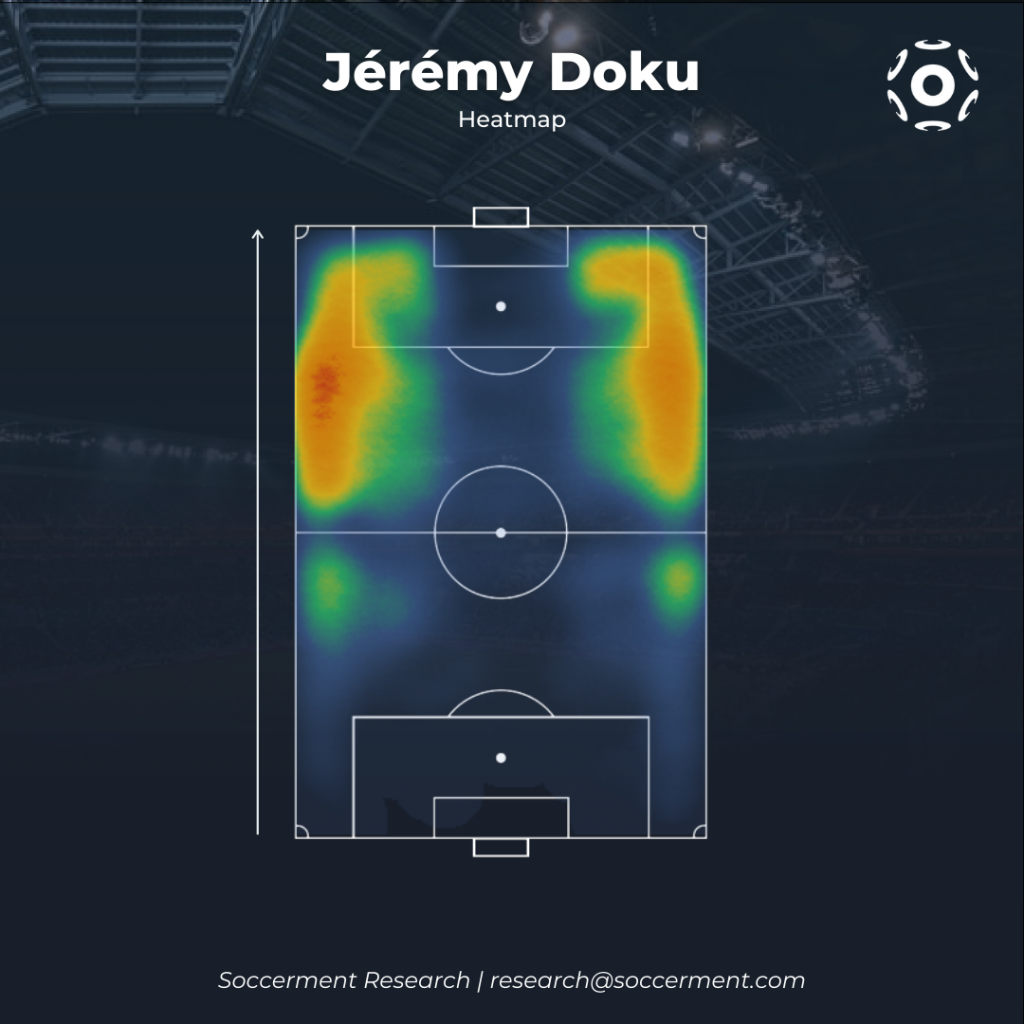 ---
Potential and outlook
Still ample room for improvement
Jérémy Doku is already considered one of the most promising wonderkids in Europe. At 18 years old he has already completed a big transfer to one of the top teams in Ligue 1.
---
---
We expect an SPR growth rate of 22.4% for Doku this year, making him the ninth-highest rated U-19 player in our database.
However, in our view, Doku has plenty of room of improvement, especially his decision making in the final third: if he were able to put his dribbling skills and pace at the service of chance creation or shot taking, his increase in SPR increase might be even greater.
Rennes are 4th in FL1, with an average age of 26
Stade Rennais are currently sitting forth in Ligue 1. The squad displays a weighted average age of 26 (weighted for the minutes played by each player), with a good mix of youngsters (Camavinga, Doku and Truffert, all featured in our Wonderkids 2021 Outlook, plus Soppy and Gboho) and experienced players like Steven N'Zonzi, Clement Grenier, Hamad Traoré and M'Baye Niang. This makes Rennes one of the top European destinations for ambitious U-21 players who wish to develop quickly.
This season, Renne played their first Champions League in the club's history, but it was a disappointing campaign with only 1 point in 6 group stage matches. This season they will try once again to finish in the top 3, for another shot at Champions League football.
SWOT analysis
STRENGTHS

– Dribbling (3.7 successful dribbles P90)
– Speed (>35 km/h)

WEAKNESSES

– Decision making in the final third
– Aerial duals

OPPORTUNITIES

– Call up for Belgium to Euro 2020

THREATS

– Rennes not qualifying for Europe
---
Staying at Rennes for a while
Before joining Stade Rennais this past October, Jérémy Doku was linked with some of Europe's top clubs. Liverpool, Arsenal, and Chelsea were all interested in his signature, but the 18 year old opted for Stade Rennais.
Liverpool have been scouting Doku since 2018, and even attempted to sign him as an academy player, but he chose to stay at Anderlecht. Joining Rennais gives Doku the opportunity to play regular first team football, which is clearly very important to him.
"I am very happy to sign for a club like Stade Rennais FC. I am very impatient. I just want to be on the field and play. Ligue 1 is a higher level than the Jupiler Pro League. I'll have to show what I'm capable of, but I'm ready"

Jérémy Doku after signing for Rennes
Rather than being a squad player behind guys like Sadio Mane or Hakim Ziyech, Doku preferred to showcase his talent consistently.
Doku has signed with Rennes until 30th June 2025. According to Capology, his annual gross salary exceeds €800,000.
We expect Doku to focus on developing at Rennes for at least a couple of years, before thinking of moving on to a bigger side.
---
This analysis is part of our 'Wonderkids: 2021 Outlook'. Please find the link to download the eBook here. A printed version is available too.
---