Wonderkids: Mohamed Ihattaren
A left-footed attacking midfielder, Mohamed Ihattaren (18 years old, PSV) is probably one of the most technically gifted U19 players in our database. His dribbling and passing skills, combined with his above-average vision, make him the archetypal number 10. Thanks to last season's performances he has attracted interest from many clubs in the top 5 leagues. This year, however, he is finding it difficult to meet the higher expectations that he has generated and we feel that only a marked improvement in the second half of the season will see the top European clubs renew their interest.
---
Bio and playing style
International debut likely to arrive soon
Mohamed Amine Ihattaren was born in Utrecht, the Netherlands on 12th February 2002. He joined the PSV Academy at the age of 8 and has developed through its ranks to make his first-team debut on 26th January 2019. Internationally, Ihattaren has represented the Netherlands from U15 level, and was part of the Dutch U17 team that won the UEFA European Championship in 2018. This past September, Ihattaren was called up to the Dutch senior squad for a UEFA Nations League fixture, although he is yet to make his senior international debut.
The archetypal number 10
Ihattaren is one of the most technically gifted U19 players in our database, thanks to his above-average dribbling, vision and passing, i.e. all the qualities you would expect from the archetypal number 10.
During the 2019/20 campaign, Ihattaren was 8th in the Eredivisie for successful dribbles (61, or 3.1 per 90 minutes), with a dribble success ratio of 67%. In his 45 league appearances, he has maintained an average of 2.8 successful dribbles P90, with a 63% success rate (1.39 P90 and a 59% success rate are the averages for his role).
Last year, he averaged 2.4 chances created per 90 minutes (ranking 13th in the Eredivisie, with 47 chances created in total). He also completed 0.51 through balls per 90 minutes, more than double the average for attacking midfielders (0.23). Here at Soccerment we strongly believe that the number of through balls is a good indication of a player's vision and technical skills.
When it comes to vision, Ihattaren is one of the top in Europe among Under-20 players. In this scatter chart we plot their Vision and Dribbling performance indexes. Ihattaren clearly stands out on both variables.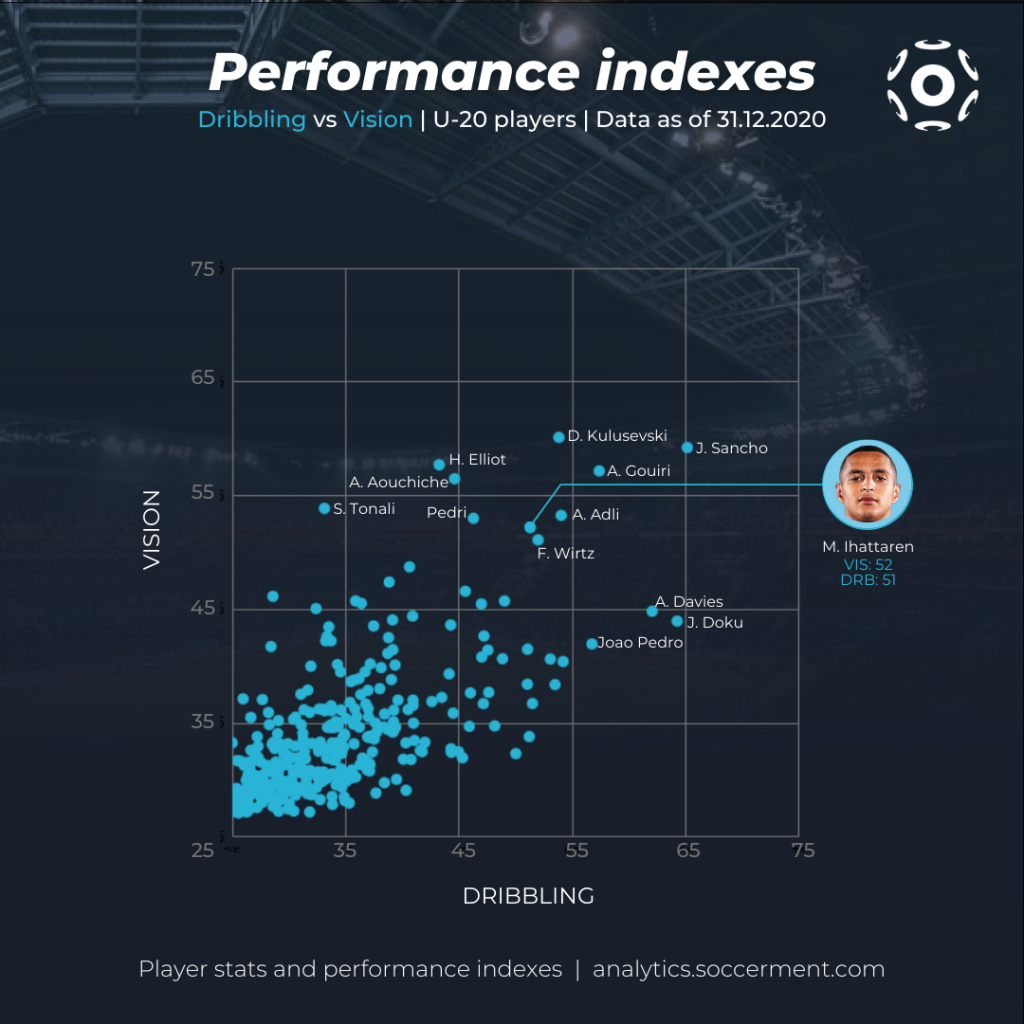 ---
Despite his young age, Ihattaren is already a catalyst in PSV's buildup play, as highlighted by the high number of passes in the opposition half that he completes (44.5 per 90 minutes, vs the 30.2 average for the role). Related to this, however, is one of his main weaknesses – the amount he loses possession. Ihattaren loses the ball 21.5 P90, vs the role average of 15.8 – this is without doubt an area of his game he needs to work on.
Moving from the right to the centre
Mohamed Ihattaren has primarily played as an Attacking Midfielder throughout his career (50% of the appearances), but he has also appeared as a RW (32%), LW (15%), and Center Forward (3%). This versatility and ability to play multiple positions at a high level clearly adds to Ihattaren's value.
---
---
Positionally, when Ihattaren plays as an Attacking Midfielder, he prefers to play in the half space on either the left or right of the pitch rather than centrally. This is also due to PSV's tactics, as they prefer to create a triangular shape when on the attack with their Attacking Midfielder, Winger, and Full Back. This allows Ihattaren to carry the ball and gives him options in support. Left-footed, he normally starts on the right, carrying the ball towards the centre of the pitch.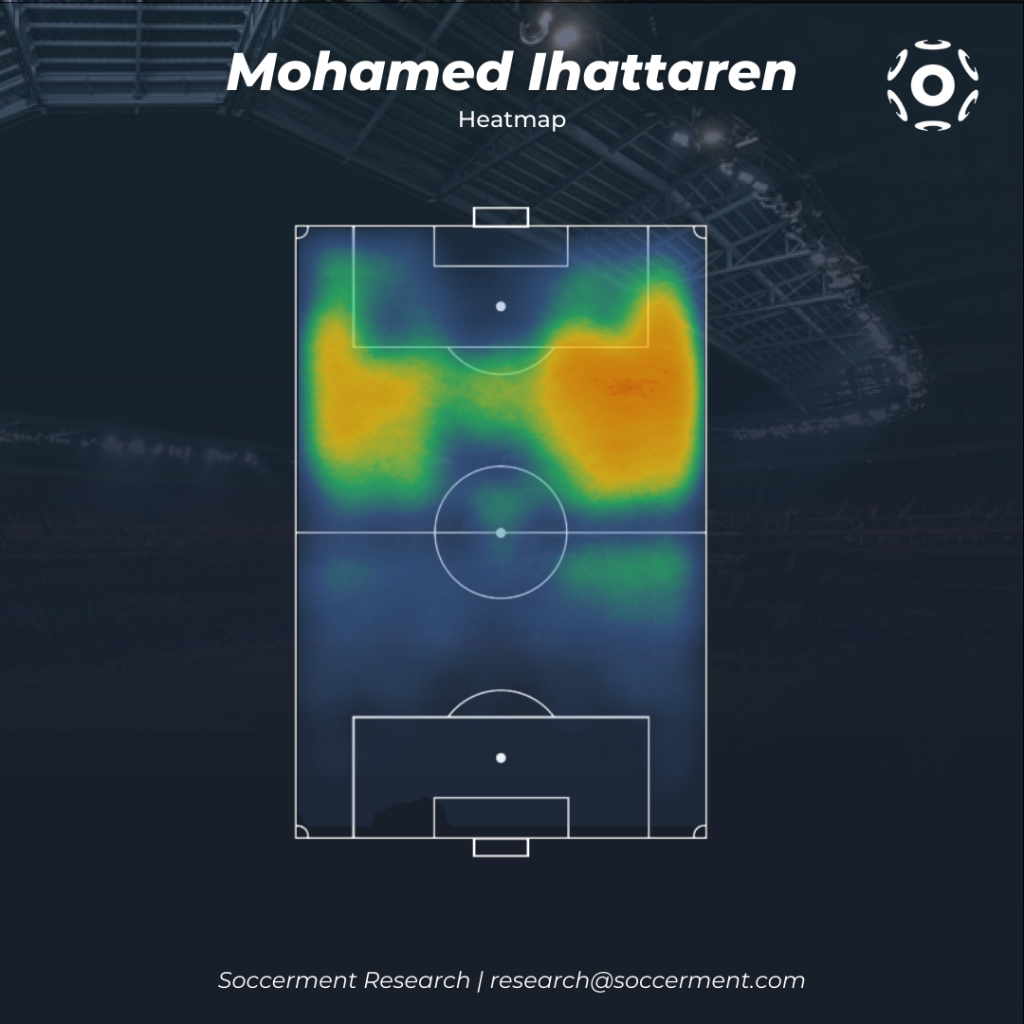 ---
Another point of potential improvement is Ihattaren's attitude when not in possession of the ball: very often he seeks to receive the ball to feet, rather than moving into space. Again, this is typical of a traditional number 10, but does not lend itseld to a more modern interpretation of the role.
Potential, context and possible future
A small setback after his breakout season
After the significant improvement in performance Ihattaren showed in his second year as a professional footballer (his Soccerment Performance Rating increased from 36 in 2018/19 to 49 in 2019/20), in the current season – his third as a pro – Ihattaren is finding it more difficult to get into PSV Eindhoven's starting XI: in the Eredivisie he has played 578 minutes and scored two goals, for a SPR of 40.
There are likely two main reasons for this: first, meeting higher expectations is always more difficult; secondly, PSV's squad is more competitive this season (second in the Eredivisie at the time of writing), with the arrivals of Ibrahim Sangaré, Philipp Max, Eran Zahavi and Mario Götze.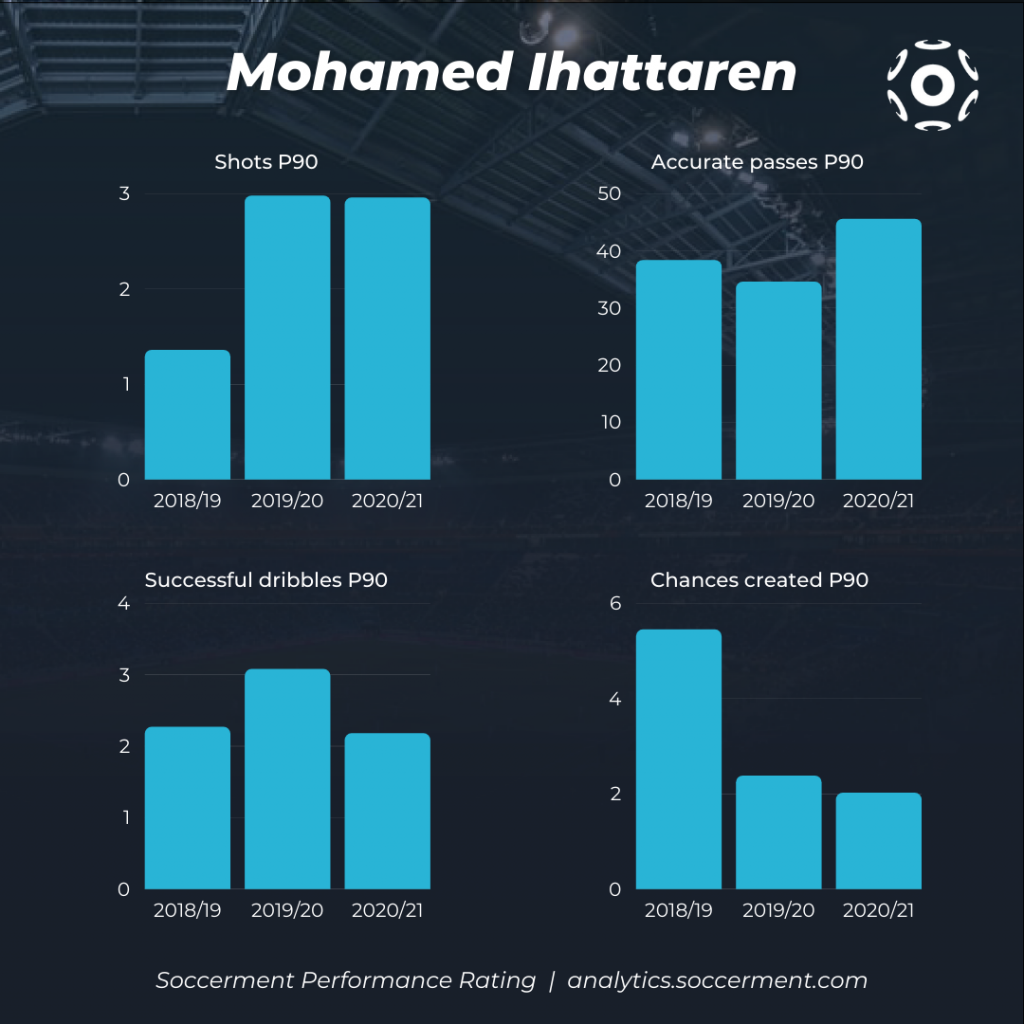 ---
Opportunity to learn from Götze
PSV are famous for the young talent they have produced over the years, and this season they seem to have a good balance in their squad of young and experienced players.
Ihattaren, for example, now has the opportunity to train and play alongside Mario Götze, who can certainly be a source of inspiration for the much younger Dutchman.
The flipside of the coin is, as mentioned above, more limited playing time: this season Ihattaren has played 53% of PSV's total minutes (ERE and UEL), adjusting for his availability (he missed one game due to illness).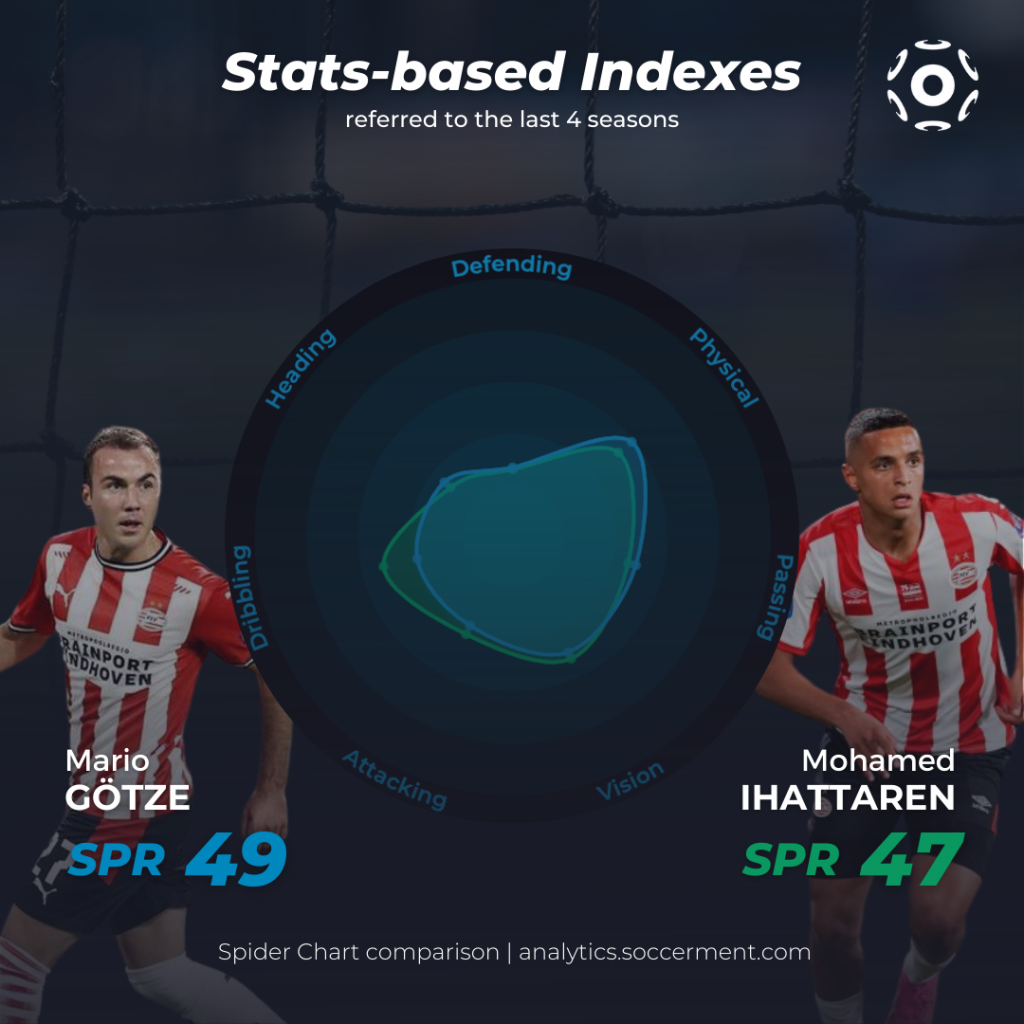 ---
SWOT analysis
STRENGTHS

– Dribbling (2.8 successful dribbles P90)
– Vision (0.42 through balls P90)

WEAKNESSES

– Heading (19% aerial success)
– Limited movement into wide areas

OPPORTUNITIES

– Learning from top players like Götze

THREATS

– Rushing a transfer to the EPL


---
Premier League on the horizon?
Mohamed Ihattaren's technical ability and potential mean it is hard to see him being at PSV for much longer. The player, whose contract expires on 30 June 2022 and, according to Capology, earns a gross salary of €150,000, is represented by Mino Raiola.
This past summer, Ihattaren was linked with moves to Ajax, Manchester City and Chelsea, but another team seems to be emerging as the favourites to sign the young Dutchman: Everton. Marcel Brands, Everton's Director of Football, joined Everton from PSV back in 2018, meaning that he has seen Ihattaren develop through the academy and into the first team. Brands recently said in an interview with Voetbal International that he would "like to have him at Everton tomorrow". Whether it is on loan or a permanent transfer, Everton have shown the willingness to spend money and back Brands, and this case would be no exception. With players like Mario Gotze, Cody Gakpo and Noni Madueke playing well, PSV may allow Ihattaren to leave sooner rather than later.
All things considered, it seems to us that the stars are aligning for an imminent transfer for Mohamed Ihattaren out of the Netherlands. In our view though, this will be subject to Ihattaren raising his level in the second half of this season, after having struggled in the first half.
---
This analysis is part of our 'Wonderkids: 2021 Outlook". Please find the link to download the eBook here. A printed version is available too.
---