Inspired by the path taken by his compatriot Jadon Sancho, Noni Madueke left England for a foreign football academy at a young age. His destination was PSV Eindhoven, a decision that seems to be paying off. Left-footed, he plays on the right flank as an inverted inside forward, capitalising on his pace and dribbling skills to finish or create chances. In the Eredivisie this season he has been directly involved in 1.4 goals every 90 minutes to date, the fourth-highest ratio among U-20 players.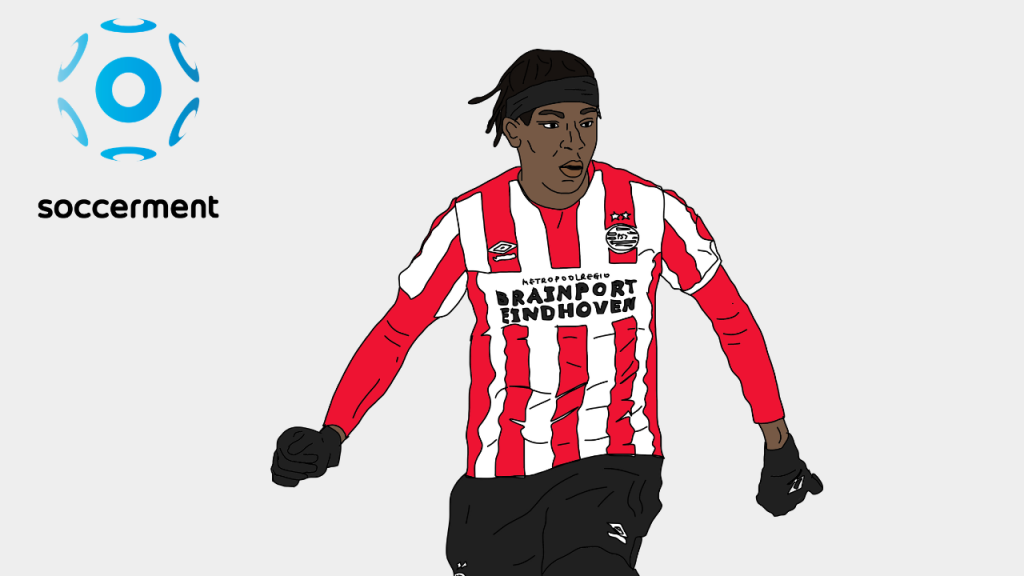 ---
Bio and playing style
Following Sancho's path
Chukwunonso "Noni" Tristan Madueke was born in London and began his life in football with Crystal Palace's Academy, before being picked up by Tottenham Hotspur.
After spending the majority of his youth career with Tottenham, Madueke joined the PSV academy in 2018 in the hope of accelerating his professional career in the same way that Jadon Sancho did, by leaving England in search of more first-team opportunities abroad. Although Madueke has represented England since U15 level, he is yet to make an appearance with the senior team and indeed may never do so, as he is strongly considering representing Nigeria, the birthplace of his parents.
Left-footed inside forward
At 18 years old, Noni Madueke is 182cm tall and weighs 70kg, which gives him a BMI of 21.1. Madueke has many desirable traits in a winger/inside forward. His pace is one of the first things that stands out when watching him play, and he often uses it to cause havoc for opposing defences. His speed and technique make Madueke an excellent dribbler. He attempts 5.2 dribbles every 90 minutes (vs the 2.9 average for his role) and successfully completes 62.5% of them (vs 54.9% average for role). PSV encourage Madueke to take on defenders with his dribbling skills, and he does not hesitate to do so.
Another aspect of Madueke's game that stands out is his clinical contribution in attack. This season in the Eredivisie he has 5 goals and 4 assists in 13 appearances, for a direct goal involvement (DGI) of 1.39 per 90 minutes. We calculate that this is the fourth-highest DGI P90 among the under-20 players in our database with more than 270 minutes this season, behind Lassina Traoré (Ajax), Erling Haaland (BVB) and Antony (Ajax).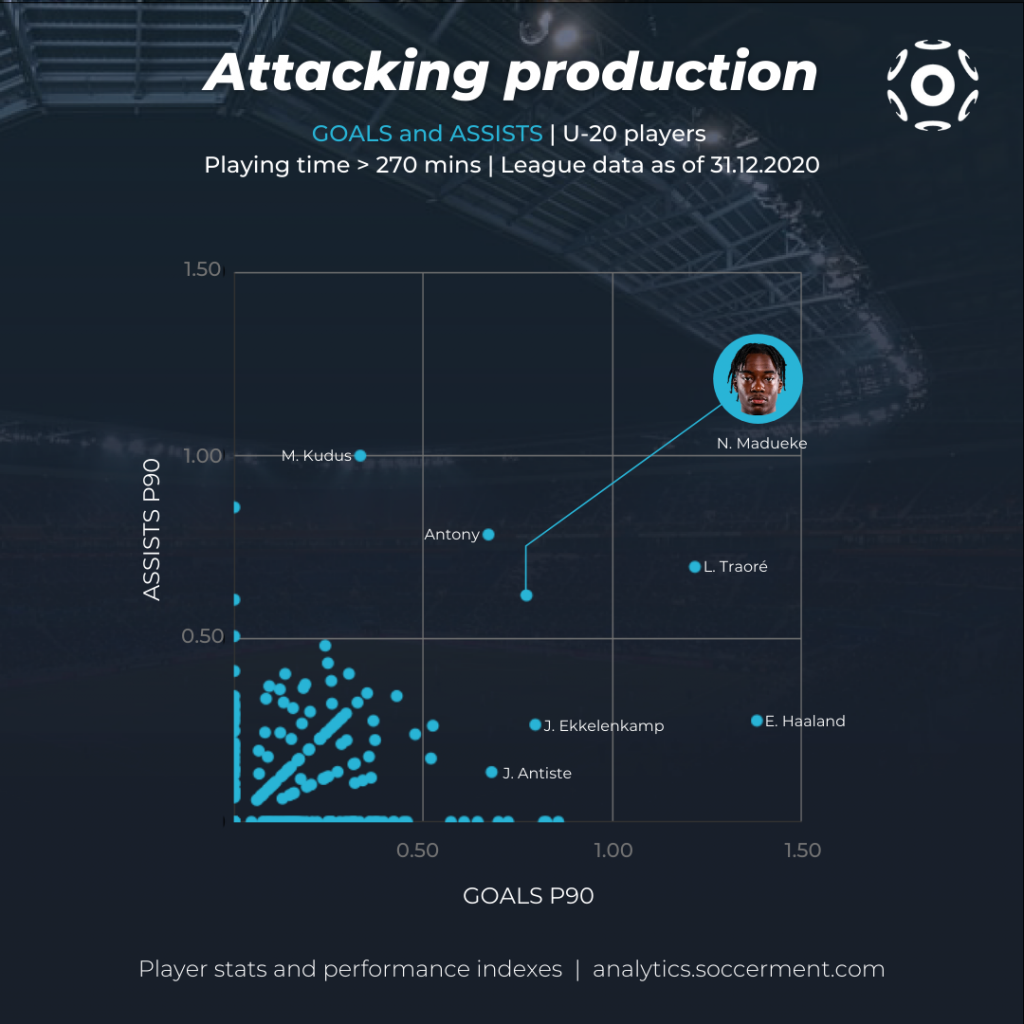 ---
In 2020/21, Madueke has taken 22 shots and scored 5 goals, vs 3.5 Expected Goals. This outperformance of his xG, as typified by an outstanding non-penalty goal conversion rate of 22.7%, is thanks in part to his very disciplined shot selection (xG per shot of 0.16) and shooting accuracy (40.9% vs the 34.5% average for the role).
When Madueke doesn't see a high chance of scoring he prefers to pass the ball to a better-placed teammate. Below is a clear example of his thought process: he could shoot twice (many forwards would have taken the unfavourable shot), but instead he prefers to pass the ball to his teammate (Cody Gakpo), who finds the net.
---
Madueke's discipline on shot selection translates into a higher-than-average number of chances created (1.67 chances P90 vs 1.41 average for role).
This has resulted in 0.62 assists P90 so far this season (0.15 average for role). However, such a high rate of assists seems unlikely to be sustainable: his Expected Assists P90 stands at 0.26, as displayed in the table below. Nonetheless, Madueke's partnership with Donyell Malen is working well, the two forwards often combine to create scoring opportunities for PSV.
| Season | Comp. | Shots | xG | xG / shot | xG P90 | xA P90 |
| --- | --- | --- | --- | --- | --- | --- |
| 2020/21 | ERE | 22 | 3.5 | 0.16 | 0.54 | 0.26 |
| 2020/21 | UEL | 7 | 1.17 | 0.17 | 0.42 | 0.49 |
| 2019/20 | ERE | 1 | 0.09 | 0.09 | 0.07 | 0.05 |
Stats as of 31.12.2020
---
Versatile, Madueke offers various options
Noni Madueke joined PSV's academy to play as a central attacking midfielder, but soon realised, with the help of his coach – PSV Legend Ruud Van Nistelrooy – that he would better exploit his skills playing on the right.
---
---
However, in the current season, Madueke has only made 6 of his appearances on the right. He has played 8 times as a central forward (striker / second striker) and twice on the left wing. He has found success in all of these positions, contributing a goal or an assist in all of them.
Like fellow PSV wonderkid Mohammed Ihattaren, Madueke's ability to play in different positions at a high level adds to his value. Madueke is most valuable in the attacking phase, whether it is scoring goals or assisting them.
Madueke's style is very direct and he always tries to make an impact in every match. When on the attack, you can see a lot of activity in the opposition penalty box, with Madueke averaging 7.61 touches in the oppositions box (3.25 Average for Role) P90. This is why we consider Madueke an inside forward, rather than an inverted winger.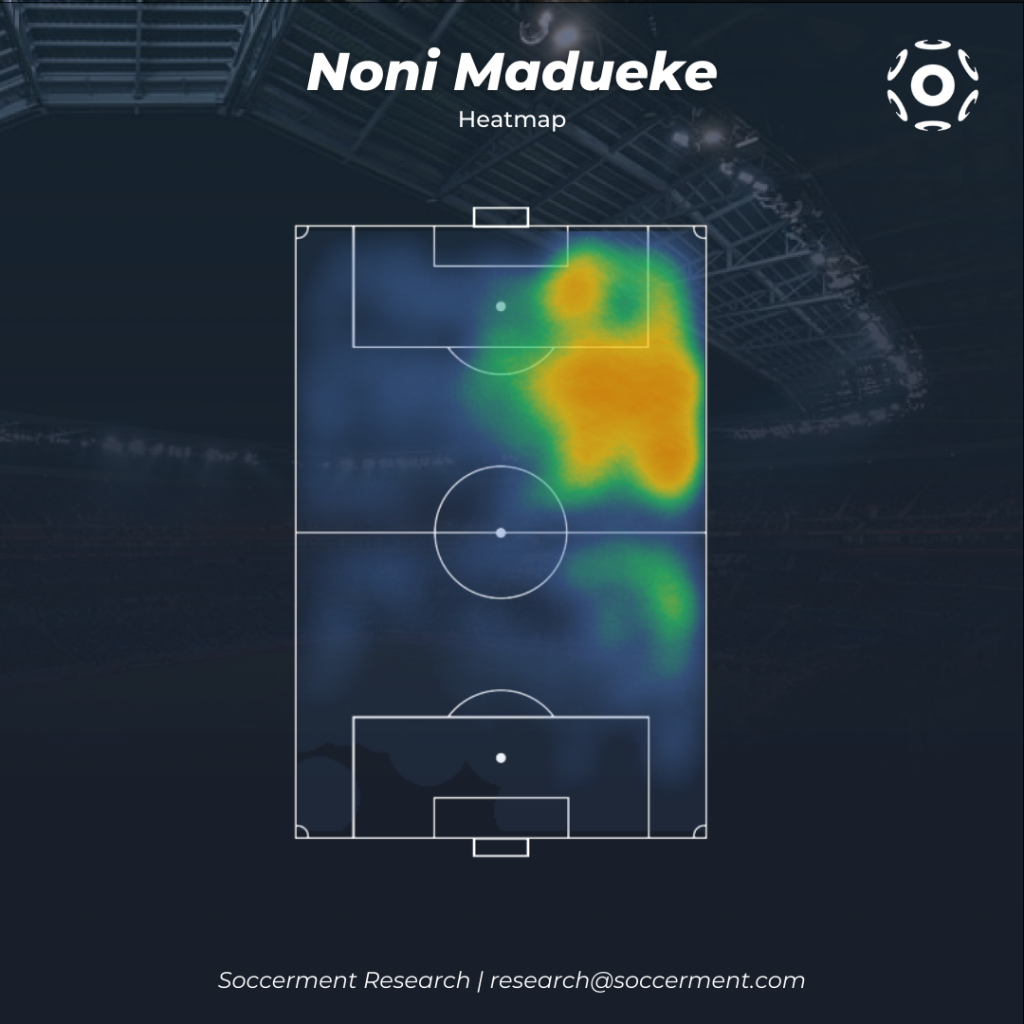 ---
Potential and outlook
Upside potential
Already considered a 'wonderkid' by our algorithmic system, Noni Madueke has time to develop further. Our model sees Madueke's Soccerment Performance Rating exceeding 49 by December 2021, which would be 11.6% growth from the current 44.
Madueke's playing position is ideal in that it allows him to gradually assume more and more responsibilities, which helps a lot in terms of development. At the same time, in that role it is also more difficult to maintain consistent output over prolonged periods. This is why we cannot rule out a performance dip next season, just as has happened to Mason Greenwood at Manchester United.
The main area where, in our view, Madueke can improve is his defensive contribution. His number of interceptions per 90 minutes is below the average for the role (0.26 vs the 0.73 avg) as is his percentage of tackles won (50% vs the 64% avg). An improvement in this area would increase his overall performance rating and would also improve his versatility in terms of his starting position.
PSV was a very good choice
After spending most of his childhood playing in Tottenham Hotspur's youth system (after starting out at Crystal Palace), Madueke took the decision to leave the UK and try his luck with the Dutch side PSV Eindhoven. He talks about that decision in this interview.
It is fair to say that the decision is paying off. Madueke made the move in search of opportunity and that is exactly what he has found, rapidly moving from the U-17s to the first team. The main reason for this, apart from Madueke's proven adaptability to living in a foreign country, is the importance that PSV places on developing talent, more so than clubs like Tottenham.
SWOT analysis
STRENGHTS

– Shot selection (xG per shot of 0.16)
– Dribbling (3.2 successful dribbles P90)
WEAKNESSES

– Defending (stats on interceptions and tackling are below average)


OPPORTUNITIES

– PSV's participation in the UEL

THREATS

– Performance dip after his breakout season

Outlook
Madueke decided to join PSV over Manchester United back in 2018, when he was sixteen years old. This came as a surprise, as Madueke is reportedly a Manchester United supporter. In an interview he did with Voetbal International, Madueke stated that: ""Jadon Sancho has opened people's eyes to other talents. A year after him, I went from Spurs to PSV. The plan that I had in mind then is now working out the way I intended it".
Madueke's quick rise within the ranks of PSV has caught the attention of some of the biggest clubs in the EPL. Prior to making his first-team debut for PSV, Madueke had already caught the attention of Arsenal. However, Madueke wanted to find a team where he would have the opportunity to break into the first team at a young age. Like Sancho's, his decision has paid off so far.
Nonetheless, we are pretty sure that – if Madueke's performances remain at their current levels – the top Premier League clubs will be back in for him. We expect to see Noni Madueke playing for a top EPL side sooner rather than later.
---
This analysis is part of our 'Wonderkids: 2021 Outlook". Please find the link to download the eBook here. A printed version is available too.
---