AZ Alkmaar's Talent Factory
The quantity and quality of players that the AZ Academy is able to promote to the first team every year is outstanding. This is no coincidence, but is the result of a well thought-out long-term plan, structured over the past five years. In this in-depth analysis we look at what distinguishes AZ's player development process. We then focus on four of the many talents currently on show: Myron Boadu, Teun Koopmeiners, Calvin Stengs and Owen Wijndal.
---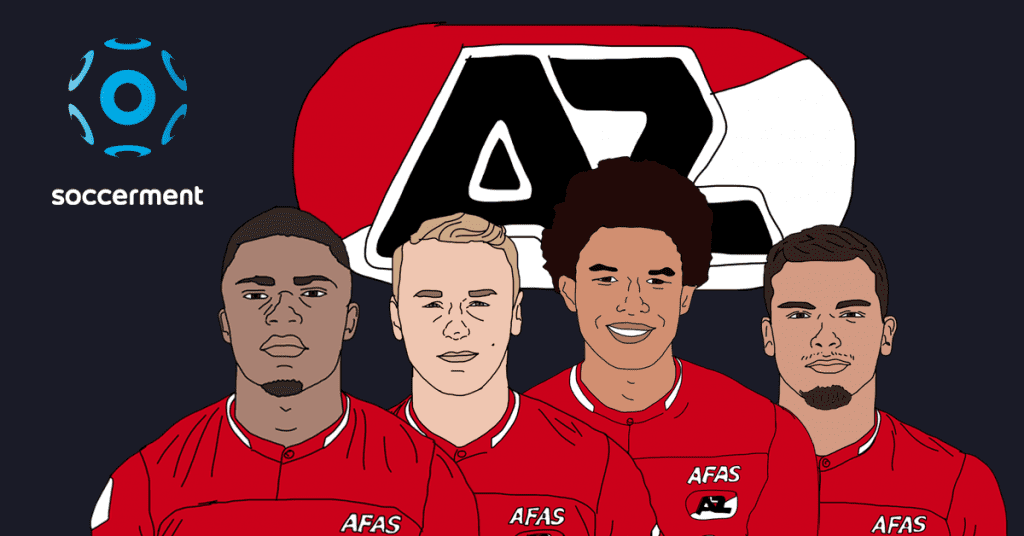 ---
AZ vs Portugal 4-2
On 11th October 2019, Netherlands U-21s won 4-2 against Portugal, in a qualifier for the UEFA European U-21 Championship.
All of the Dutch goals came from AZ Alkmaar players: Myron Boadu scored a brace, Teun Koopmeiners scored a penalty and Calvin Stengs scored the last goal, having already assisted two.
On that occasion, AZ had five players in the starting XI: as well as the aforementioned Boadu (forward), Koopmeiners (midfielder) and Stengs (attacking midfielder), we saw Owen Wijndal (left full-back) and Dani de Wit (midfielder).
Impressive, right? Well, it is even more if we consider that four of these five players joined AZ when they were around 12 years old.
Player Development at its Core
At the end of September 2019, at the World Football Summit in Madrid, we attended a presentation by Marijn Beuker, the Head of Performance & Development at Dutch club AZ Alkmaar. We were intrigued by the presentation's title: "How AZ Alkmaar Became One of Europe's Best Talent Factories Using Data".
Mr Beuker's speech focused on the importance of data analytics in player development, i.e. as a tool to help predict and cultivate players' potential.
In this piece, the second of a two-part analysis about AZ Alkmaar (see the first part here), we often refer to the speech we attended live in Madrid. If you weren't there, no worries: you can watch Mr Beuker's full speech at the World Football Summit by clicking here.
Making a virtue of necessity
One thing was clear from the very beginning of the presentation: AZ Alkmaar's focus on player development is at the core of their long-term strategy. The main reason, as we explained in the first of a two-part analysis dedicated to AZ, is related to the club's inability to compete on the transfer market, as its budget is much lower than both its domestic and international peers.
---
"What distinguishes us? We don't buy success, we create it. We believe in making the difference through vision, programs, facts, knowledge and capable staff."

Marijn Beuker, presenting at the World Football Summit 2019
---
Marijn Beuker (35) has spent more than 12 years at AZ. In his current role, he is constantly posing the question: "How can we create a high-performance culture?". Mr Beuker's key tasks, among other things, include: i) helping the Technical Director (Max Huiberts) enact the club's vision; ii) improving the development programs by adding innovation, alongside the First Team Coach (Arne Slot), the Head of Scouting (Koen Veenstra) and the Academy Director (Paul Brandenburg); and iii) creating development processes coherently across the various departments, with strong bonds between the first team, the academy and the scouting network.
Three key questions
AZ Alkmaar's relatively small budget holds them back from ever becoming one of the world's leading teams. When planning for the long term the club acknowledged this and decided that it could, instead, become the best in the world at simply answering three questions:
What really defines talent in football?
How can a club create a culture where talent can fruitfully develop?
When you have individual talents, how can you build a winning team?
What defines football talent
According to Marijn Beuker, football talent is defined by the following five characterstics: 1) technique; 2) physical abilities; 3) cognitive skills; 4) attitude; 5) personality.
Noticeably, in the list above, there is no mention of tactical ability. When it comes to player development, AZ does not place great importance on tactics because, in their view, football is mostly about creativity and understanding the game.
In the video below, we show a goal scored by AZ Alkmaar's U13s. Not much in the way of tactics, but a lot of creativity and spatial awareness.
---
Using data to substantiate everything
People are normally not very good at predicting success or understanding talents. The big problem everyone of us needs to face is our own "confirmation bias".
According to Marijn Beuker, when making a decision, people need to always ask themselves: "Is it true, or do I want it to be true?".
Yet there is a tool that can help limit confirmation bias: data. And that's the path that AZ Alkmaar has decided to take.
The main idea is to try to substantiate everything, so as to have a higher degree of objectivity in decision-making at all levels within the organisation.
But data alone can't offer the entire solution. Without science, data can offer only limited insight and can even end up being misleading. It is very important to know what conclusions to extract from the data and how.
For example, one smart way that AZ have of evaluating the players in their academy is by distinguishing between actual age and biological age. Between 12 and 18 years of age, the biological age of individuals can differ a lot from their "official" age. When analysing the results of the physical tests, it is therefore very important to compare players of the same biological age.
---
Interested in football stats? Sign up for free to Soccerment Analytics and start analysing football players and teams through intuitive data visualisation and innovative performance indicators.
---
Optimising team performance through both hard and soft skills
Analysis is not limited to performance data alone, the so called "hard data". To get a full overview of a player, AZ Alkmaar combines hard data with soft skills, complementing the data as much as possible with physical, cognitive and psychological tests.
The picture below is a snapshot of the platform (SoccerLab) that Marijn Beuker and his staff use to analyse how players are developing, in this case showing the cognitive skills of one player. Through various tests, AZ know that the player reacts well to external stimuli, is prone to self-reflection and is very good at filtering information. On the other hand, he is not good at anticipating moves (een stap voorult denken = thinking one step ahead) and doesn't seem to have great vision.
---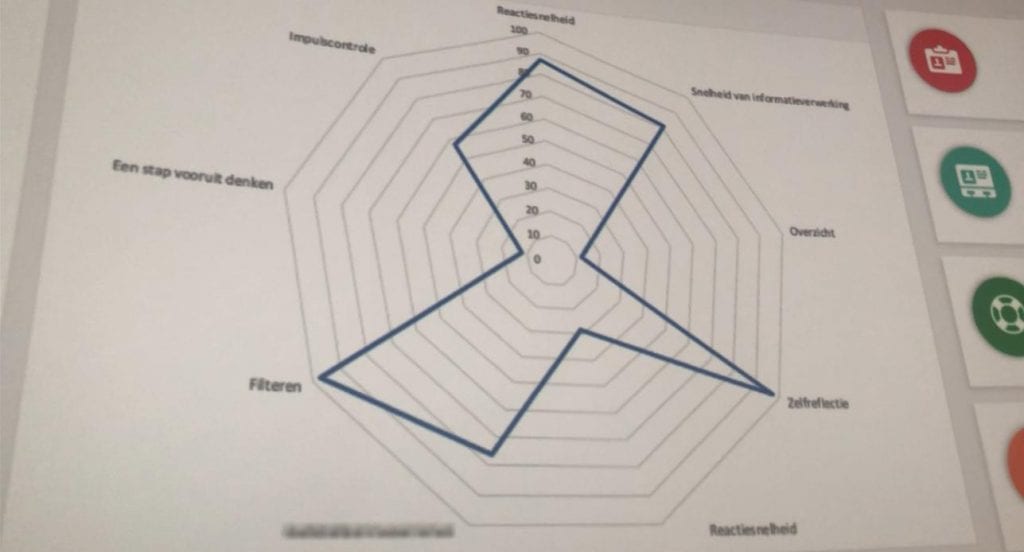 ---
In the snapshot below we see some details about the player's character traits, if he is an introvert or an extrovert, and if he is more of an individualist or a team-player.
---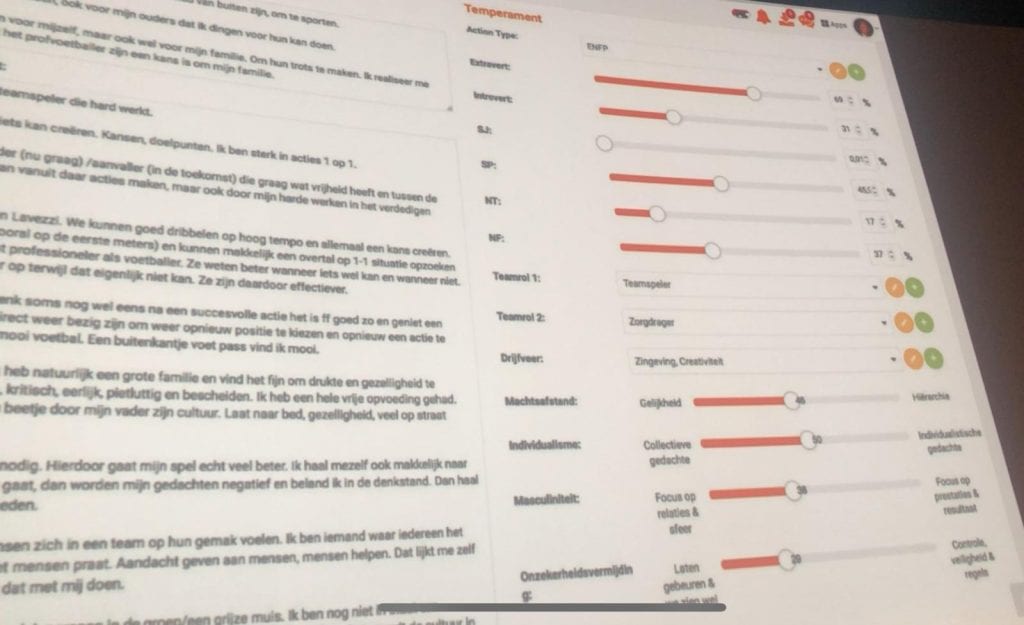 ---
This in-depth analysis lets the coaches get to know their players much better than they otherwise could, including on how they might interact in the team during a match. Coaches knowing their players as well as possible is vital if they are to develop their potential to the maximum.
Talents on display
There are several young players at AZ Alkmaar worth focusing on. Here we limit ourselves to four names (Stengs, Boadu, Koopmeiners and Wijndal), but we also highlight other interesting players coming through AZ's youth academy: Pantelis Hatzidiakos (22), Thomas Ouwejan (22), Ferdy Druijf (21) and Joris Kramer (23).
A 20-year-old attacking midfielder, Calvin Stengs usually starts from the right wing but often cuts inside to finish the attacking phase in the centre. Very creative, technically skilled and with remarkable vision, he is the archetype of the chance creator. He recently made his debut with the Dutch national team (with 2 assists, against Estonia). FC Barcelona are rumoured to be interested.
---
Calvin Stengs joined AZ Alkmaar's youth academy at the age of 12. He was born in Nieuw-Vennep, a town located fewer than 40km south-west of Amsterdam. Before joining AZ, he played for SV DIOS and HFC Haarlem and was recruited by AZ despite the partnership that HFC Haarlem had with Ajax before the club went bankrupt in 2010.
Stengs is 187cm tall and weighs only 68kg, according to Opta. Left-footed, his creativity and vision are eye-catching, as is the number of chances that he creates.
An attacking midfielder, he usually starts off as a right winger in a 4-3-3 or 4-2-3-1 formation. However, he normally cuts inside to finish attacking phases in the centre, between the lines, as a 10. From that position, close to the penalty area, he likes to perform accurate through balls to his teammates.
We still categorise him as a "WAM", i.e. a wide attacking midfielder, but we might soon have to change that to "CAM" (Central Attacking Midfielder), as we expect his starting position to progressively move towards the centre of the pitch. This has already happened when AZ's coach, Arne Slot, goes for a 4-2-3-1 formation. In the future, we wouldn't be surprised to see Stengs as a "CM" (Central Midfielder), especially if he becomes slightly more muscular and improves his explosiveness.
For an in-depth statistical analysis we look at our polar chart (exhibit below). We use the template for wingers and forwards. As a reference, the segments on the right denote the creative skills typical of attacking midfielders, while the ones on the left the finishing skills typical of strikers.
Clearly, the segments on the right are where Stengs' strength lies. Three numbers to underline here are:
Successful dribbles per 90 mins: 2.16 (55% dribble success ratio);
Through balls per 90 mins: 0.97 (2.2% of his total passes);
Chances created per 90 mins: 2.39 (7 assists in the Eredivisie at the time of writing).
Through balls and chances created are two of the variables that make up our "Vision" index, which for Calvin Stengs is 77 at the time of writing. It was 57 in 2018/19, which gives an indication of just how quickly Stengs is improving.
---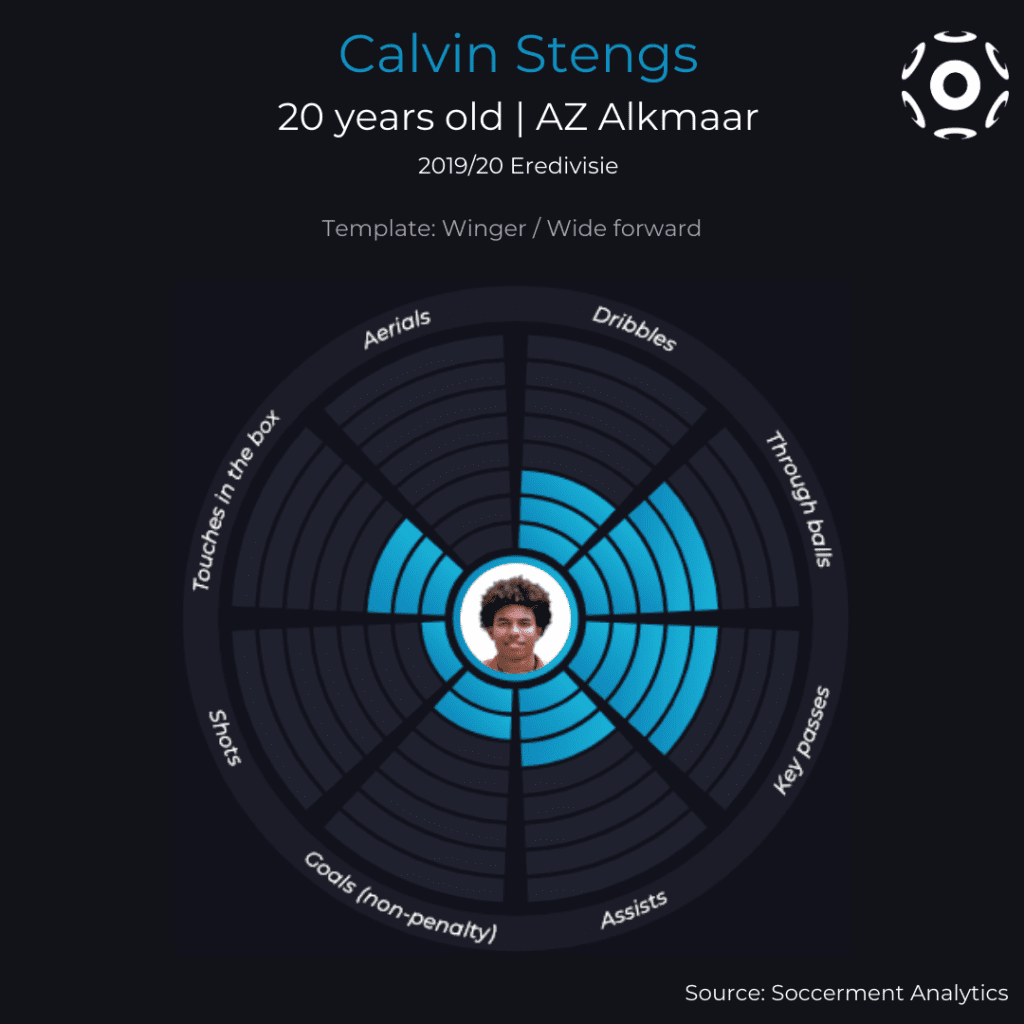 ---
A glance at Stengs' finishing skills is enough to tell us that we are not dealing with a sharpshooter here. Shooting is an aspect of his game that Stengs could really improve on. That said, he has scored some beautiful goals already. Below is one of them, which Stengs scored against Utrecht last season (although more than the finish, what impresses here are his dribbling skills).
Boadu is the archetype of the modern striker. Physically strong (although not imposing), he is very good at running behind opposing defences and finding space to shoot. He recently made his debut with the Dutch national team, scoring a goal against Estonia.
---
18 years old, Myron Boadu was born in Amsterdam in January 2001. Boadu started playing for SC Buitenveldert, before joining the AZ academy in 2013. In 2017, he was included in AZ's first team, but was sidelined for almost the entire 2017–18 season due to a knee injury. On 6 May 2018, Boadu made his professional debut for AZ in the last match of the Eredivisie season against PEC Zwolle.
After 3 goals and 2 assists in 391 minutes in the 2018/19 Eredivisie, in the current season Boadu has already scored 8 goals and provided 3 assists in 986 minutes (12 appearances).
The archetypal modern striker, according to Opta Boadu is 183cm tall and weighs 67kg. We are not sure how up-to-date this dataset is as he seems more muscular as of late, although he is still not the typical imposing centre forward. Boadu compensates for his unimposing physique with his dynamism: he has pace to burn running in behind a defence and is adept at finding space to shoot. This makes him the perfect partner for Calvin Stengs, who is very good at calibrating accurate through balls.
Statistically, there are three numbers worth highlighting (as of 23 November) for Boadu:
Shots per 90 minutes: 3.02;
Shooting accuracy: 52.8%;
Touches in the box represent 22.5% of his total touches.
---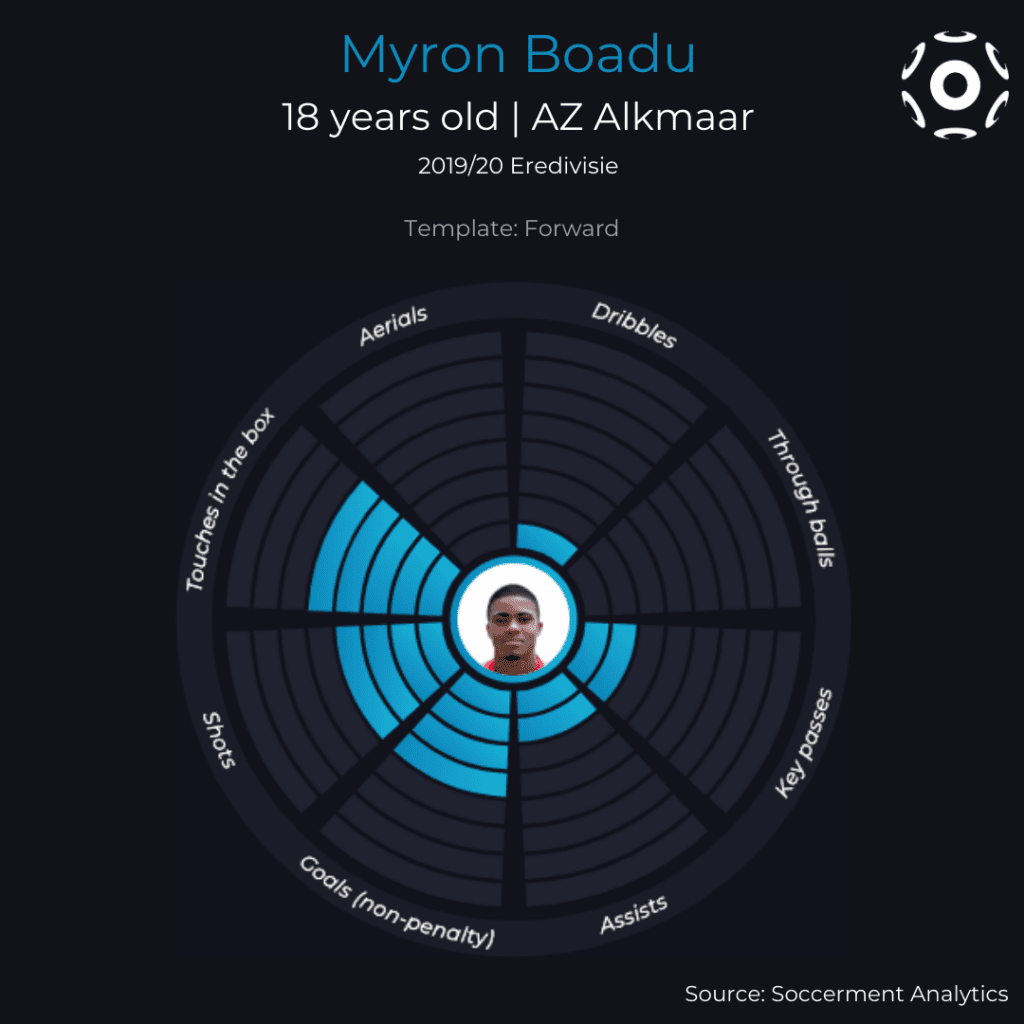 ---
In the video below, dated August 2019, we see the top 5 goals that Myron Boadu had scored before the current season.
---
Interested in football stats? Sign up for free to Soccerment Analytics and start analysing football players and teams through intuitive data visualisation and innovative performance indicators.
---
Teun Koopmeiners plays like a veteran, despite being only 21 years old. He captains AZ and takes on numerous responsibilities, including penalties. A classic central midfielder, he is a build-up master who can play as an 8 or a 6. He has played well as a centre back too.
---
Teun Koopmeiners was born and raised in Castricum, less than 12km south of Alkmaar. He took his first steps in the game at his local club, Vitesse '22 and joined the AZ youth academy at the under-12 level in 2009. After progressing through the ranks, he made his first-team debut on 1 October 2017 against Feyenoord.
According to Opta, Koopmeiners is 183cm tall and weighs 77kg. Left footed, he plays as a central midfielder, although in the past he has had success as a centre back as well. He is remarkable for his composure and strong personality.
Statistically, he is the typical build-up master. He displays a "Passing" index of 72, as of 23 November 2019. Our similarity algorithm (developed with machine learning techniques) puts him in the same category of players as Dani Parejo, Marcelo Brozovic, Axel Witsel and Miralem Pjanic (see the exhibit below).
---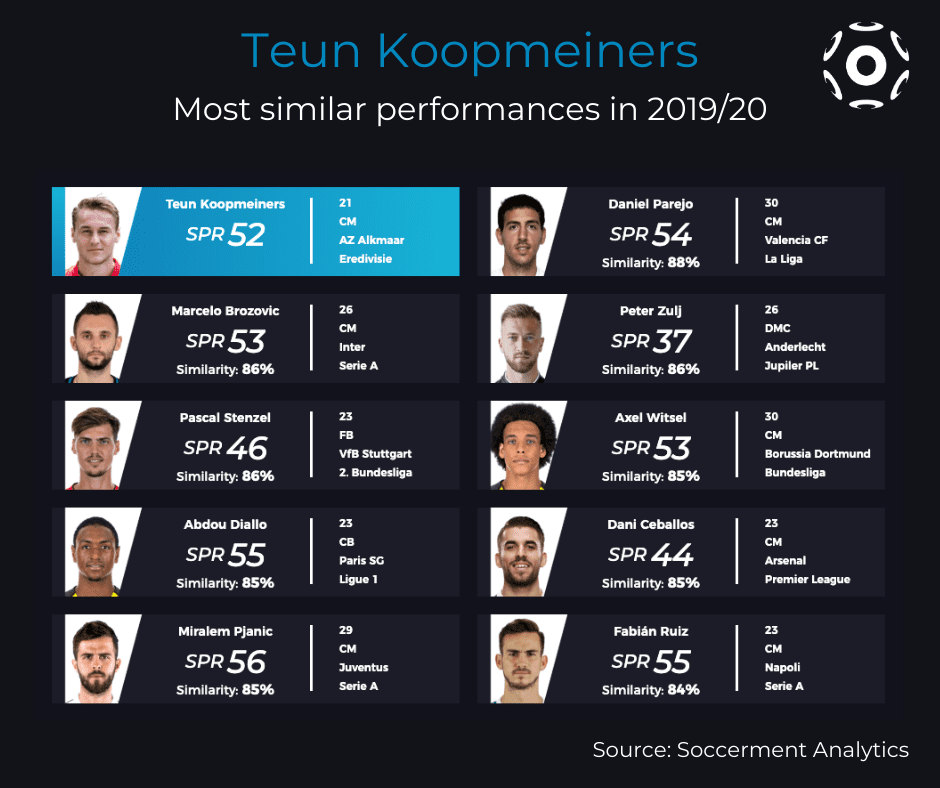 ---
Three key statistics in the 2019/20 Eredivisie, before looking at Koopmeiners' polar chart (template: Midfielder):
Pass accuracy of 88.6% (vs. 82.2% average for central midfielders);
76.1 accurate passes per 90 minutes;
10.7 attempted long passes per 90 mins (vs. 5.0 on average for CMs).
---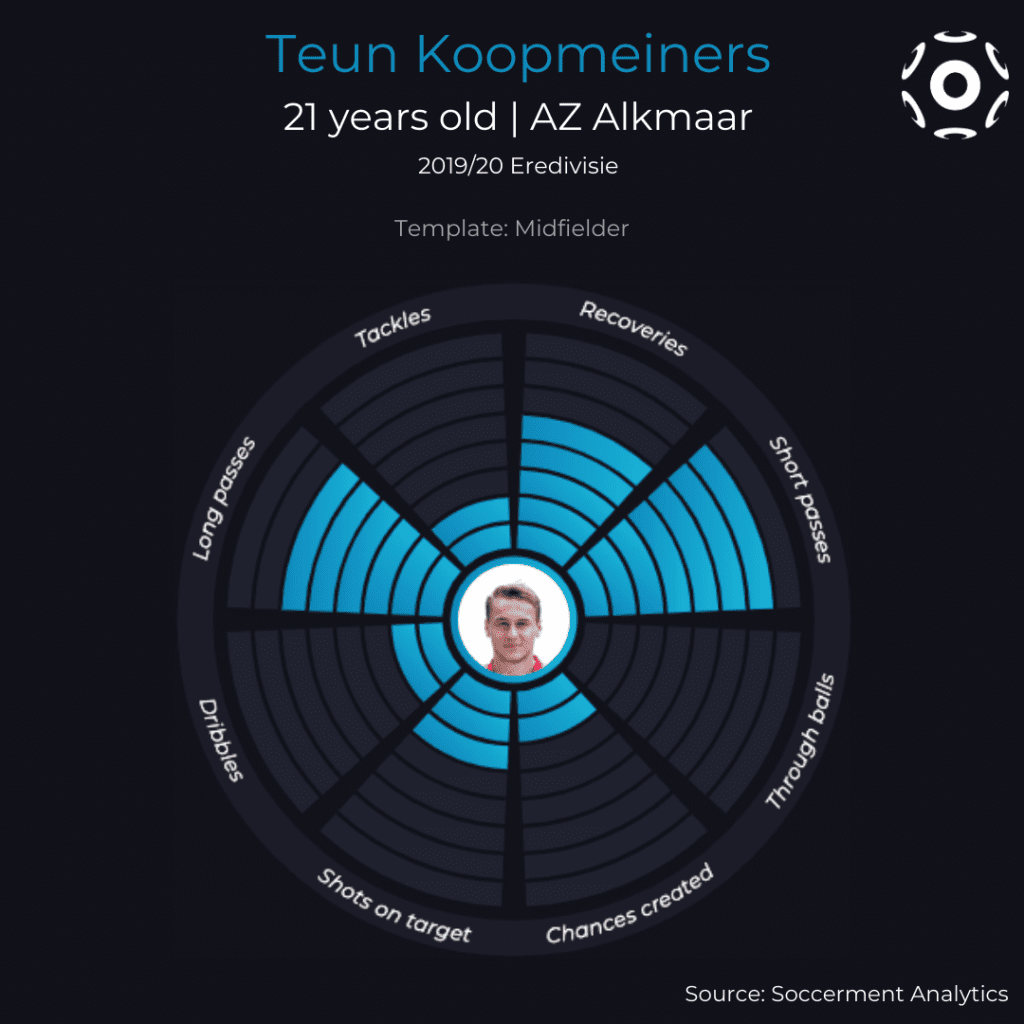 ---
In the video below are some of Koopmeiners' highlights, put together by AZ Alkmaar. They are mostly penalties though.
Owen Wijndal is an attacking left back who specialises in overlapping runs that offer a passing option to teammates and also create space. Defensively, he might still have to improve in one-on-ones, as his physical attributes are somewhat limited. Nonetheless, he is a regular starter for the Dutch U-21s.
---
Born on 28 November 1999 in Zaandam, 30km south of Alkmaar, Owen Wijndal will be 20 in a few days. He joined AZ's youth academy at the age of 10 and made his first-team debut in February 2017, against PSV.
Wijndal is 176cm tall and weighs 65kg, according to Opta. This clearly limits his potential when it comes to defensive one-to-ones: this season he has lost 55% of his aerial duels and displays a below-average tackle success ratio (54.5% vs. the 64% average for full backs). On the other hand, his lack of bulk makes him an agile figure who can continuously perform overlapping runs down the left flank. These runs are key for AZ to create numerical superiority in the final third. One of AZ's most common attacking patterns is for Wijndal to overlap when Idrissi has the ball on the left. Idrissi often takes advantage of the option and Wijndal concludes the attack with a low cross for Boadu or one of the midfielders. He has already provided 4 assists to date.
Wijndal's spider chart below highlights how his average contribution differs from that of the average full back (in grey).
---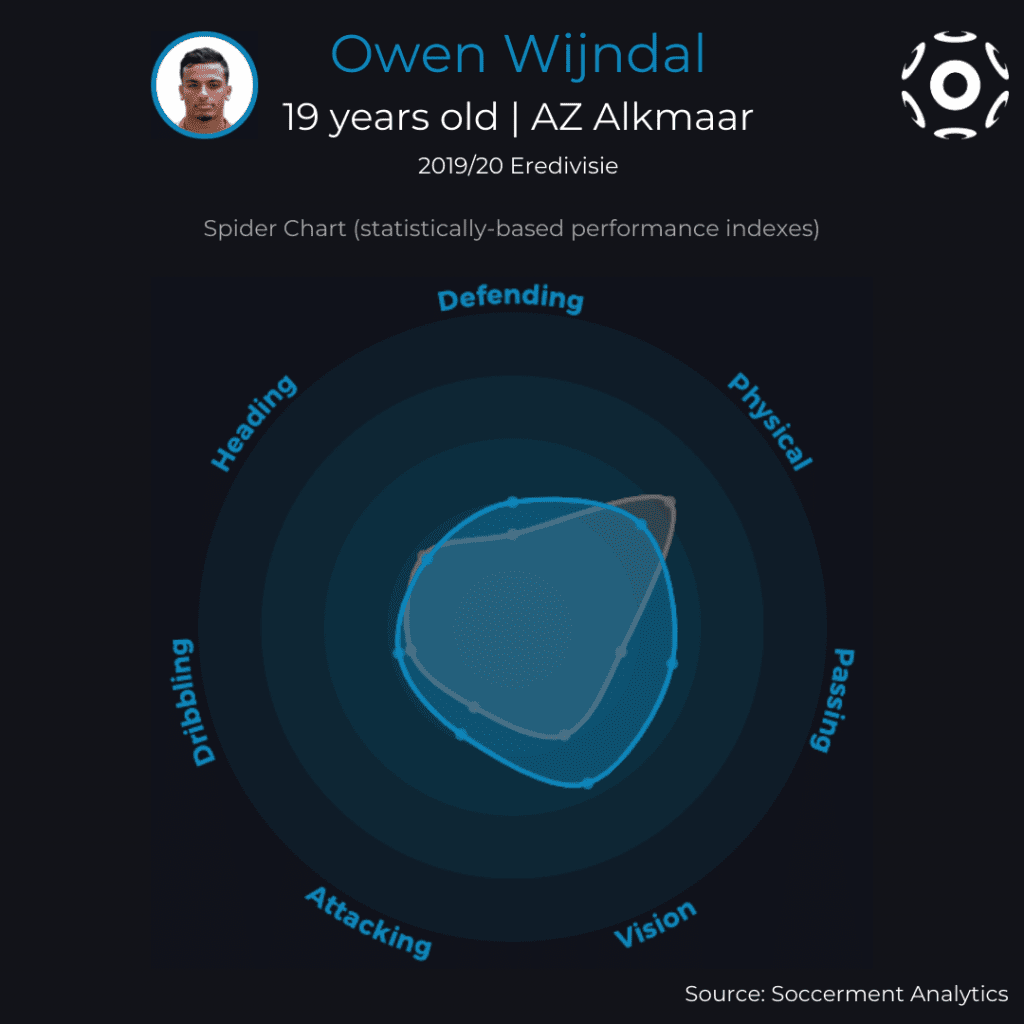 ---
Conclusions
The quantity and quality of players that the AZ Academy is able to bring into the first team every year is outstanding. In our view, this is not luck but the result of a well thought-out long-term plan, structured over the past five years.
We are expecting a couple of big transfers for AZ Alkmaar players next summer. Most likely, these transfers will involve players who entered AZ's youth academy when 12 years old or younger.
It seems clear to us that the directors of AZ have already planned for this and the replacements are already prepared. In this way, AZ will remain competitive, perpetuating a winning formula that is taking the club to a new level within the European football universe.
---
Interested in football stats? Sign up for free to Soccerment Analytics and start analysing football players and teams through intuitive data visualisation and innovative performance indicators.
---
Best way to stay in touch? Like our Facebook page and follow us on Instagram and Twitter.
For any query, suggestion or comment, you could send us an email: research@soccerment.com.
---