How to Best Prepare for the Upcoming Football Season: Leveraging XSEED to Enhance Performance
🇮🇹 La versione italiana dell'articolo è disponibile in fondo.
---
Discover the game-changing potential of XSEED in revolutionising player performance and development. Soccerment's advanced wearable device provides comprehensive performance tracking, capturing both athletic and technical aspects. By leveraging data-driven strategies, athletes can optimise their skills, make informed decisions, and unlock their full potential, increasing their chances of being recognised by scouts and top clubs.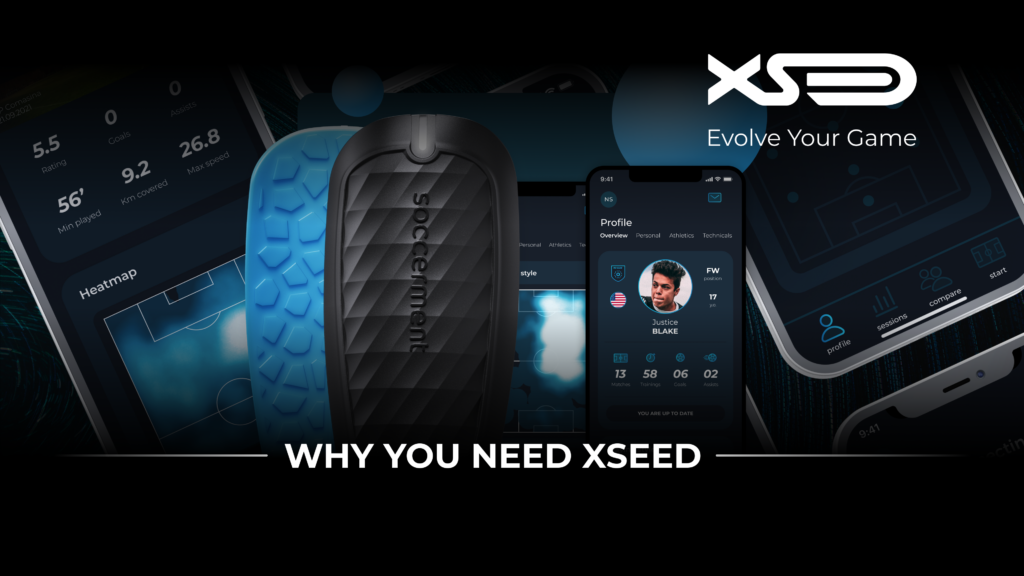 ---
At Soccerment, we are passionate about advancing the world of football through data-driven innovation. Football, a globally cherished sport, continually evolves, and we believe that technology plays a pivotal role in its transformation. Hence, the developed XSEED, the advanced wearable technology designed to optimise technical and athletic development for teams and individual athletes. With XSEED, coaches and players gain access to immediate, in-depth insights into performance, propelling targeted improvement and maximising resource utilisation. By revolutionising the way football data is collected and analysed, XSEED empowers players to improve their performance.
XSEED has been put to the test on some of the biggest stages in football, including the CEE Cup, where top clubs like West Ham United and Sparta Prague have tested out and shared their valuable insights. This played a pivotal role in gathering essential feedback, directed towards the refinement of XSEED with the primary objective of satisfying the requirements of top-tier clubs and better understanding the needs of players in elite football environments.
As the new football season approaches, players and teams are gearing up to make their mark on the pitch. Preparing for the upcoming season requires careful planning, dedication, and the right tools to optimise performance. We understand the importance of thorough preparation, and that's why we want to guide you on how to best prepare for the challenges ahead with the help of our advanced wearable technology, XSEED.
Before delving into the process, we highly recommend viewing our introductory video, where we provide a comprehensive guide on how to get started with XSEED. To view this video tutorial click here!
Setting Goals and Assessing Performance
The first step in preparing for the upcoming season is setting clear and achievable goals. Whether you aim to improve your speed, agility, passing accuracy, or tactical understanding, defining your objectives will guide your training. With XSEED's comprehensive performance tracking, you can assess your current abilities and identify areas for improvement.
This innovative device measures key athletic metrics such as maximum speed, distance covered, speed zones, number of sprints, acceleration, and deceleration. Additionally, it records essential technical statistics including the maximum power of a shot, number of touches, crosses, shots, and passes. All this data can be easily accessed and visually explored through the user-friendly XSEED app, providing players with valuable insights to analyse their performance and identify areas for improvement.
By analysing key athletic and technical metrics, you gain valuable insights into your strengths and weaknesses, providing the foundation for a targeted and effective training program. In addition, you can tailor your training to focus on specific aspects of your game that require improvement. Whether it's refining your shooting technique or enhancing your decision-making skills, XSEED's data-driven approach empowers you to fine-tune your training and maximise your progress.
Another standout feature of XSEED is its ability to generate insightful geolocalized data. Using advanced artificial intelligence, XSEED maps and visualises a player's touches on the pitch, as well as the direction of shots and passes. These smart maps and heatmaps offer invaluable information about a player's positioning, movement patterns, and decision-making on the field. By leveraging this data, players can make informed tactical adjustments and refine their gameplay for optimal performance.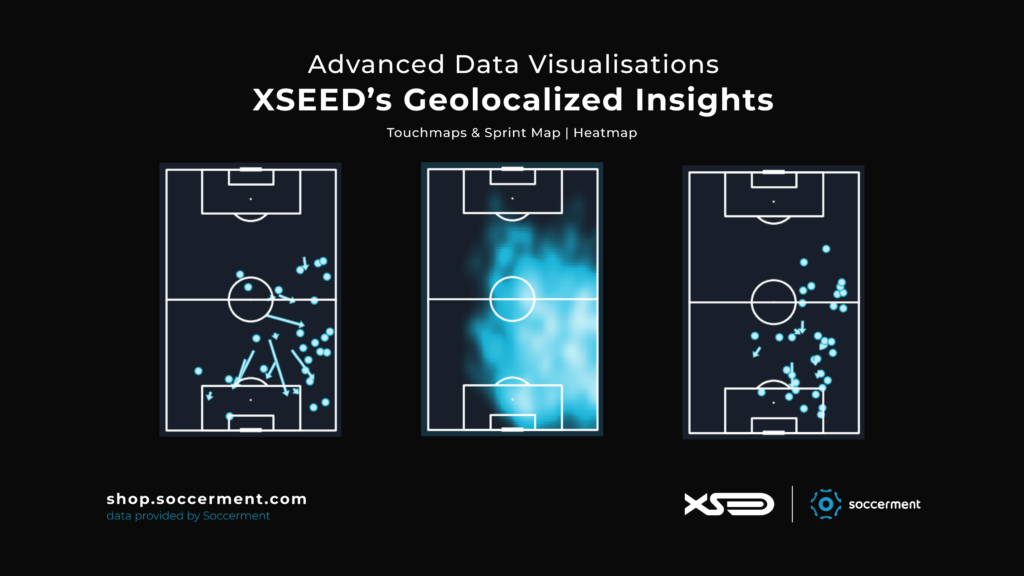 To explore further the types of reports and data attainable through our smart wearable devices, read the following blog entry where we have showcased a report developed for one of our XSEED users: Aurora's Player Report Analysis.
Embrace the Future of Football with XSEED
The incorporation of smart wearable devices like the XSEED can have a significant impact, especially at the youth level. Access to comprehensive data may be limited for young players, making it difficult to showcase their potential to clubs and talent scouts. XSEED serves as the perfect tool to bridge this gap, democratising data analysis and offering young athletes the opportunity to be discovered. By providing youth-level teams with access to these tools, we aim to foster a more inclusive and meritocratic environment for athletes of all levels.
Data-driven approaches are transforming the world of football. Insights derived from comprehensive data analysis enhance player skills, identify areas for improvement, and optimise training programs. XSEED represents a new era in football technology, offering unmatched capabilities in performance tracking and player development. With the ability to measure and analyse both athletic and technical metrics, XSEED equips players of all levels with the tools they need to elevate their performance.
Don't miss out on the opportunity to improve your performance on the field. To discover how XSEED can take your game to new heights watch the following video by clicking here.
Visit our website to purchase your pair today and gear up to enhance your performance for the upcoming season. Embrace the future of football and evolve your game with XSEED!
---
🇮🇹 VERSIONE ITALIANA
Come prepararsi al meglio per la prossima stagione calcistica: Sfruttare XSEED per migliorare le prestazioni
Scopri il potenziale rivoluzionario di XSEED nel migliorare le prestazioni e lo sviluppo dei giocatori. Lo smart wearable di Soccerment offre un monitoraggio completo delle prestazioni, catturando sia gli aspetti atletici che tecnici. Attraverso i dati delle proprie performance, gli atleti possono ottimizzare le proprie abilità, prendere decisioni informate e sfruttare al massimo il proprio potenziale, aumentando le possibilità di essere notati da osservatori e club di alto livello.
Noi di Soccerment abbiamo l'obiettivo di promuovere l'utilizzo dei dati nel mondo del calcio. Il calcio, uno sport amato in tutto il mondo, sta continuando ad evolversi e crediamo che la tecnologia giochi un ruolo fondamentale nel suo progresso. È per questo che abbiamo sviluppato XSEED, i nostri parastinchi intelligenti progettati per ottimizzare lo sviluppo tecnico e atletico delle squadre e degli atleti. Con XSEED, allenatori e giocatori ottengono accesso immediato e approfondito alle informazioni sulle prestazioni, permettendo un miglioramento mirato e massimizzando l'utilizzo delle risorse. Rivoluzionando il modo in cui i dati nel calcio vengono raccolti e analizzati, XSEED dà ai giocatori gli strumenti per migliorare le proprie performance.
XSEED è stato messo alla prova su alcuni dei più importanti palcoscenici calcistici, tra cui la CEE Cup, dove top club come West Ham United e Sparta Praga hanno testato i parastinchi, fornendoci i loro feedback e consigli. Questo svolge un ruolo fondamentale nel processo di perfezionamento di XSEED, che ha come obiettivo primario quello di soddisfare i requisiti dei club di alto livello e di comprendere meglio le esigenze dei giocatori in ambienti calcistici d'élite.
L'avvicinarsi della fine dell'estate coincide per la maggior parte delle squadre con l'inizio della preparazione in vista della nuova stagione calcistica. Prepararsi al meglio richiede un'attenta pianificazione, dedizione e gli strumenti giusti per ottimizzare risorse, tempo e soprattutto le prestazioni. In quest'ottica crediamo fortemente che XSEED possa essere un valido alleato dei giocatori sul campo e per questo vogliamo fornirvi una guida su come utilizzare al meglio i nostri parastinchi intelligenti.
Prima di iniziare, vi consigliamo di guardare il nostro video introduttivo, in cui forniamo una guida completa su come iniziare con XSEED. Guarda il tutorial qua!
Definizione degli obiettivi e valutazione delle prestazioni
Il primo passo per prepararsi alla prossima stagione è stabilire obiettivi chiari e raggiungibili. Che si tratti di migliorare la velocità, l'agilità, la precisione dei passaggi o la comprensione tattica, la definizione degli obiettivi indirizzerà l'allenamento. Grazie al monitoraggio completo delle prestazioni di XSEED, è possibile valutare le proprie capacità attuali e identificare le potenziali aree di miglioramento.
XSEED rileva le principali metriche atletiche come la velocità massima, la distanza percorsa, il numero di sprint, l'accelerazione e la decelerazione. Inoltre, registra statistiche tecniche essenziali come la potenza massima di un tiro, il numero di tocchi, cross, tiri e passaggi. Tutti questi dati possono essere facilmente consultati visivamente attraverso l'app XSEED, che fornisce ai giocatori preziose informazioni per analizzare le loro prestazioni e identificare le aree di miglioramento.
Analizzando le principali metriche atletiche e tecniche, si ottengono preziosi insights sui propri punti di forza e di debolezza, che possono diventare il punto di partenza per un programma di allenamento mirato ed efficace. Che si tratti di affinare la tecnica di tiro o di migliorare le capacità decisionali, l'approccio basato sui dati di XSEED consente di perfezionare l'allenamento e di massimizzare i progressi.
Un'altra caratteristica distintiva di XSEED è la capacità di generare dati geolocalizzati di grande impatto. Utilizzando un'intelligenza artificiale avanzata, XSEED mappa i tocchi di un giocatore sul campo, nonché la direzione di tiri e passaggi. Queste mappe offrono informazioni preziose sul posizionamento, sul movimento e sul processo decisionale di un giocatore in campo. Sfruttando questi dati, i giocatori, insieme ad allenatori e staff tecnici, possono lavorare sugli aspetti tattici, avendo accesso ad informazioni che solitamente vengono riservate ai soli club professionistici.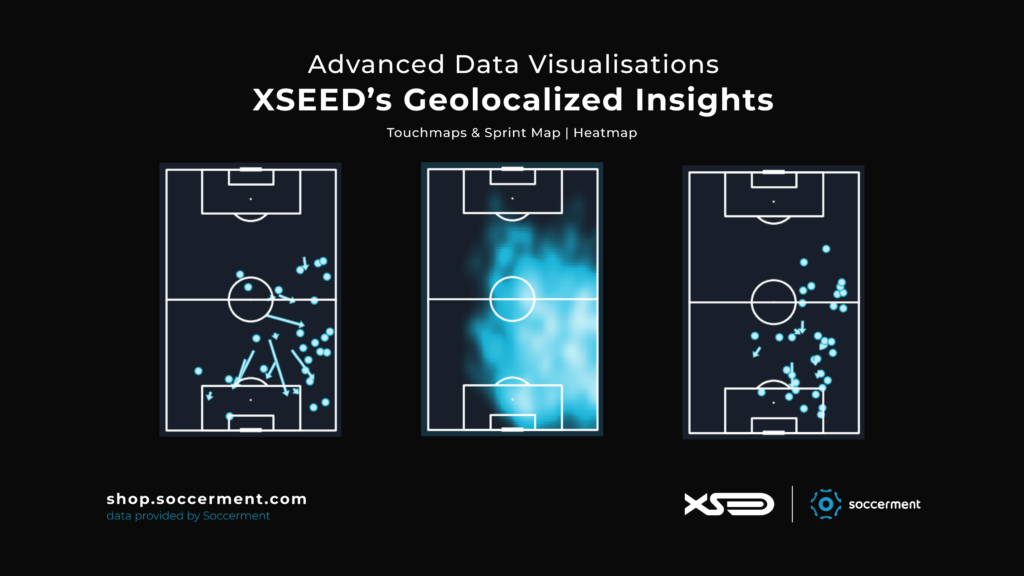 Per scoprire i tipi di report e di dati ottenibili attraverso i nostri smart devices, trovate di seguito un articolo del nostro blog in cui abbiamo presentato un report creato ad hoc per uno dei nostri atleti XSEED: Aurora's Player Report Analysis: Uncovering Performance Metrics and Areas for Development.
XSEED rappresenta il progresso in ambito calcistico
L'utilizzo di dispositivi come XSEED può avere un impatto significativo, soprattutto a livello giovanile. In ambito giovanile infatti, l'accesso ai dati delle partite è spesso limitato. In questo senso, XSEED è lo strumento perfetto per colmare questa lacuna, democratizzando l'analisi dei dati e offrendo ai giovani atleti l'opportunità di essere scoperti da scout o club professionistici. Fornendo alle squadre giovanili l'accesso a questi strumenti, miriamo a promuovere un ambiente più inclusivo e meritocratico per gli atleti di tutti i livelli.
L'approccio basato sui dati sta trasformando il mondo del calcio. XSEED rappresenta una nuova era del progresso tecnologico in ambito calcistico, offrendo ai giocatori innumerevoli possibilità nel monitoraggio delle proprie prestazioni. Grazie alla capacità di misurare e analizzare le metriche atletiche e tecniche, XSEED fornisce ai giocatori di tutti i livelli gli strumenti necessari per migliorare le loro prestazioni.
Sei pronto ad indossare XSEED?
Per scoprire di più su come XSEED può aiutarti a diventare un calciatore più forte, guarda il seguente video: https://www.youtube.com/watch?v=oeDZDT-qe8A
Visita il nostro sito web per acquistare oggi stesso il tuo paio di XSEED e preparati ad iniziare al meglio questa stagione!
Evolve your game with XSEED.
---