Juventus under coach Pirlo
Juventus will be one of the most interesting teams to watch in Europe this season. The main reason for our excitement is the leap of faith taken by the top management in naming rookie Andrea Pirlo as the new Head Coach, an appointment that seems to jar with the Old Lady's historical approach. Juventus's squad seems to be quite in line with Pirlo's footballing ideas (we rate each key position in this analysis). Ironically though, after the departure of Miralem Pjanic they seem to lack a deep-lying playmaker, the role in which Pirlo himself made his legend. Will the Maestro be able to extend the Bianconeri's seemingly endless domination of Italian football and also take Juventus to the top in Europe? We are quite positive regarding the first task (Juve's squad still seems far ahead of its peers), but unsure about the second.
---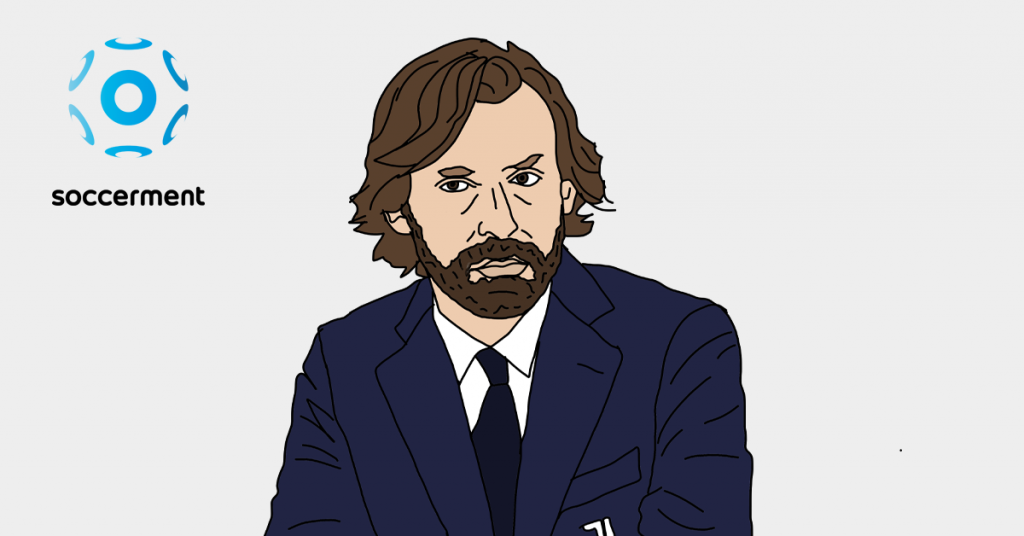 The Old Lady's brave gambit
On 30th July 2020 Andrea Pirlo returned to Juventus to take over as the coach of the under-23s . Just a week later, the club appointed Pirlo as their new head coach following the sacking of Maurizio Sarri.
Two things stood out here as atypical. Becoming head coach of the senior team only a week after signing for the U-23s, without even having taken a single training session yet. But even more than that, Pirlo has signed for a Serie C team and then a Serie A team in the space of eight days with no experience whatsoever of managing a football team.
Not a conventional move to say the least, especially considering that, historically, the Bianconeri have been very conservative in their managerial appointments.
In the past fifty years, Juventus have offered the role of head coach to a debutant in Serie A (or another tier 1 league) on only two occasions: Ciro Ferrara in 2009, who lasted 255 days; and Dino Zoff in 1988, who enjoyed a long spell of 729 days. The short spells of Massimo Carrera and Angelo Alessio were a result of Antonio Conte's temporary ban as part of a match-fixing scandal.
---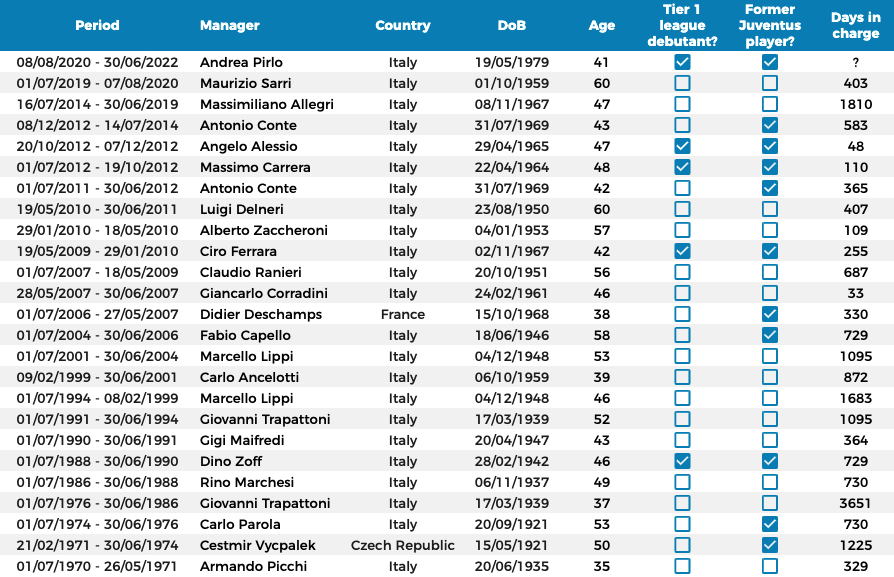 ---
Pirlo's footballing philosophy
Our research team have analyzed the dissertation that Pirlo presented recently in Coverciano, Italy, for the Uefa Pro Coach course, at the headquarters of the Italian Football Federation (FIGC).
There weren't any big surprises in relation to what was known (through interviews) about Pirlo in terms of footballing philosophy. In the disseration there are some interesting hints as to how Pirlo could rate Juventus's current players and what players he might target in the transfer market.
In his dissertation, "Il Calcio Che Vorrei" (i.e. "The Football I Would Love"), Andrea Pirlo makes it clear he wants his team to play an attacking, possession-hungry kind of football that looks to play the game on the front foot. He would like "total football", with all eleven players involved in both the attacking and defensive phases; a "collective" football that is nonetheless able to magnify the individuals' skills. He talks about the "game cycle" being one and indivisible, arguing that "a proactive, attacking and quality football can give great advantages. Greater enthusiasm in the environment, greater involvement on the part of players and staff. These dynamics are necessary to be able to create that empathy that is the basis of success".
Pirlo's footballing philosophy seems to have two main principles:
1. Maintaining possession of the ball as much as possible;
2. Trying ferociously to recover it when the ball is lost.
Attacking phase
In the attacking phase, Pirlo foresees his team positioned in a 3-2-5 or 2-3-5 formation. At least four players need to fill the penalty box when attacking. In the final third, the players are free to express their creativity and come up with decisive attacking solutions.
Main principles:
Build-up from the back.
Three options available to the players: a) Dribble; b) Through balls; c) Giving themselves as much space and time as possible.
The build-up should be focused through the middle rather than the wings, in order to impede the opponents' pressing.
Overcoming one line of pressure at a time, without being too vertical or playing speculative long balls forward (so to retain the team's structure and be ready in case of defensive transitions and counterpressing).
The buildup envisages many players around the ball, to facilitate Juventus's counterpressing should possession be lost.
Two-speed buildup: slower at the back, faster upfront.
Sub-principles:
Creation of a diamond around the player having the ball.
Creation and occupation of free spaces.
Recognizing the game "codes" and acting accordingly (moving closer or farther away from the ball according to the situations).
Respect positioning.
Defensive phase
Pressing and counterpressing seem to be the focal points of Pirlo's defensive ideas.
Counterpressing: The primary objective of counterpressing is not to recover the ball, but to just cover it, forcing the opponent into a mistake. According to analysis by Pirlo's staff, the top teams counterpress roughly 30-35 times per match, with a success (ball recovery) ratio of 70%. The average duration of these actions is 5 seconds and they involve 2.5 players, on average. Counterpressing actions normally take place in the halfspaces or on the flanks, as it is more difficult to counterpress centrally.
Pressing: Pirlo's staff also note that the top teams press c. 45 times per match, for a total of 12-14 minutes. The success ratio is 60% and only 10-15% of the time is a top team beaten by the opposition's buildup. When it does happen, however, the probability of conceding a dangerous chance increases considerably.
Pirlo's staff
Andrea Pirlo's work at Juventus will be complemented by a four-man team:
Roberto Baronio: former midfielder and teammate of Pirlo (Reggina, 1999-2000), who was coaching Napoli's U-19 side before joining Juventus as coach-assistant.
Igor Tudor: former Juventus centre-back, who will be the defensive coach.
Paolo Bertelli: fitness coach, returning to Juventus after experiences at Chelsea and Sampdoria.
Antonio Gagliardi: previously the head of match analysis for the Italian national team. We discussed with him the growing importance of data analytics within match analysis departments in this video.
Juventus's squad, in light of Pirlo's philosophy
We analyse Juventus's current playing squad, providing two ratings: one is an "absolute" rating that mirrors the Soccerment Performance Rating (SPR). The other is a rating based on what we believe is adherence to Pirlo's football philosophy, which here we call PHI. Taking advantage of our newly developed "Player Smart Search", we also try to identify a few players who could be useful in executing Pirlo's vision in the future.
---
Goalkeeper
"The modern goalkeeper need to be able to defend the space in front of them, which becomes pivotal in the case of a high defensive line. Furthermore, they need to take a key part in the team's buildup, being able to play the ball and deliver through balls."
A great goalkeeper between the posts, Wojciech Szczesny has maintained a higher-than-average saves ratio over the past three seasons: 72.7% in 2017/18, 75.9% in 2018/19 and 74.4% in 2019/20. However, Szczesny is not a so-called "Sweeper Keeper", i.e. the typical modern goalkeeper who is comfortable distributing the ball with his feet. For this reason he doesn't look to us like the optimal fit for Pirlo (for a list of the best sweeper keepers click here). Within the list, you will find the goalkeeper that we would suggest to Pirlo in terms of optimal adherence to his philosophy: André Onana (Ajax).
Current options: W. Szczesny, G. Buffon, C. Pinsoglio
SPR: ✭✭✭✭✩
PHI: ✭✭✭✩✩
Suggestion for the future: André Onana (Ajax)
---
Centre-backs
"They need to be able to mark, interpret the game and manage the space and they have become the first "regista" of the team, with the playmakers often being pressured."
Leonardo Bonucci looks like the role model for the functions described above. Chiellini, de Ligt and Demiral complement him well and, while not at the same level of passing ability, they are definitely above-average when it comes to the buildup.
Current options: L. Bonucci, G. Chiellini, M. de Ligt, M. Demiral, D. Rugani.
SPR: ✭✭✭✭✩
PHI: ✭✭✭✭✭
Suggestion for the future: Dayot Upamecano (RB Leipzig)
---
Full-backs
"A very flexible role, their importance in the initial buildup has grown massively in recent years; in some cases, they literally become "playmaker full backs."
When Andrea Pirlo talks about flexibility, the names of Cuadrado, Danilo and – maybe to a lesser extent – Alex Sandro sound very much in line with the idea of quickly moving from 2-3-5 to 3-5-2- and 4-3-3 formations.
Current options: J. Cuadrado, Danilo, M. De Sciglio, Alex Sandro, L. Pellegrini
SPR: ✭✭✭✭✩
PHI: ✭✭✭✭✩
Suggestion for the future: Léo Dubois (Lyon)
---
Central midfielders
"Skilled, with great vision, they also need to be dynamic and be ready to press promptly when the ball is lost."
After swapping Pjanic for Arthur (which should provide some athleticism while sacrificing a little quality), Juventus have added further dynamism with the signing of Weston McKennie from Schalke 04. Rabiot and Bentancourt offer a very good mix of quality and athleticism and Ramsey certainly represents a good offensive option, especially to change tactics during matches.
What the current roster lacks the most, in our view, is a modern deep-lying playmaker like Sassuolo's Manuel Locatelli. We strongly believe that his signing would increase Juventus's chances in the Champions League, where controlling space and time is extremely important in clutch moments.
Current options: Arthur, R. Bentancur, W. McKennie, A. Ramsey, A. Rabiot, S. Khedira
SPR: ✭✭✭✭✩
PHI: ✭✭✭✩✩
Suggestion for the future: Manuel Locatelli (Sassuolo)
---
Wingers
As in the case of full backs, flexibility is the key word here. Based on their characteristics, they can either play wide and exploit their 1-vs-1 skills or more centrally to exploit their vision, especially when playing on the opposite wing to their strong foot
Dejan Kulusevski really seems the perfect match for Pirlo's philosophy due to his mix of athleticism, dynamism, vision, and dribbling and technical skills. Bernardeschi represents a very good alternative, in our view. On the other hand, Douglas Costa's physical fragility doesn't look optimal when it comes to pressing and counterpressing. Replacing D. Costa with a very dynamic right-footed winger like Federico Chiesa would increase the offensive options and be more in line with Pirlo's football philosophy, in our view.
Current options: D. Kulusevski, F. Bernardeschi, D. Costa
SPR: ✭✭✭✭✩
PHI: ✭✭✭✭✩
Suggestion for the future: Federico Chiesa (Fiorentina)
---
Forwards
"They are often the most skilled players in the team, but they still need to play collectively. Attacking space is key (even with short runs). Furthermore, the forwards need to play intelligently and enable the runs of their teammates"
Our ratings below do not include the very likely signing of Edin Dzeko, who we see as the perfect player to complement Cristiano Ronaldo and Paulo Dybala (or Dejan Kulusevski) upfront, both technically and tactically. We understand that the negotiations are very close to completion.
Current options: Cristiano Ronaldo, P. Dybala
SPR: ✭✭✭✭✭
PHI: ✭✭✭✭✩
Suggestion for the future: Edin Dzeko (Roma)
Juventus's stats this season: expect them to be closer to Sarri's than Allegri's
Pirlo's footballing philosophy looks much closer to Sarri's than Allegri's, in line with the strategic decision that Juventus's top management took last year. We are curious to see how Pirlo will perform in terms of man management, at which Allegri excelled.
In any case, we would expect Juventus's team stats to be more in line with those produced last year with Sarri than under Allegri. This means a higher amount (and share) of short passes per match, with a consequent higher passing accuracy that should lead to more chances being created.
As shown in the table below, where we also include the stats that Juventus produced under Antonio Conte, Sarri's Juventus produced more Expected Goals, compared to the one of Allegri (1.94 vs 1.66 per match), but also conceded more Expected Goals to their opponents (1.08 vs 0.73 per match).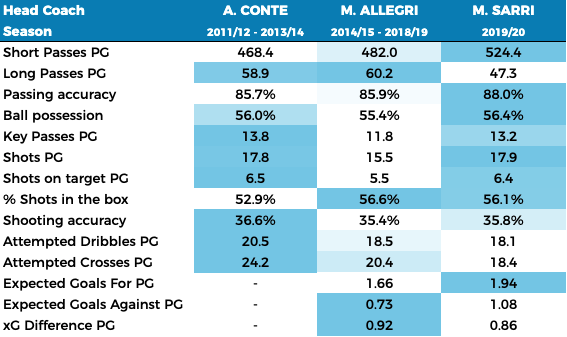 ---
Conclusions
After having analysed both Andrea Pirlo's FIGC dissertation and Juventus's playing squad, we believe that the players he has at his disposal are in line with Pirlo's conceptualisation of football.
The Maestro should be able to continue the Bianconeri's prolonged domination of Italian football as, in our view, Juventus's squad is still far ahead of its peers.
But we are more sceptical regarding the Bianconeri's chances of winning the Champions League this season: we feel Juventus are missing a modern playmaker such as Sassuolo's Manuel Locatelli. In top European competition, especially when the knockout rounds start, controlling space and time becomes vital and a dynamic playmaker can really help with that.
---
To stay informed about our research and the development of our tools, click on the button below and – if you haven't done it yet – sign up to Soccerment Analytics. We promise: no spam!
If you feel that signing up is a bit too much, would you like to stay in touch? You can "like" our Facebook page and follow us on Instagram and Twitter.
For any query, suggestion or comment, you could send us an email: research@soccerment.com.
---