Soccerment is the SportsTech Partner for Club Milano
🇮🇹 La versione italiana dell'articolo è disponibile in fondo.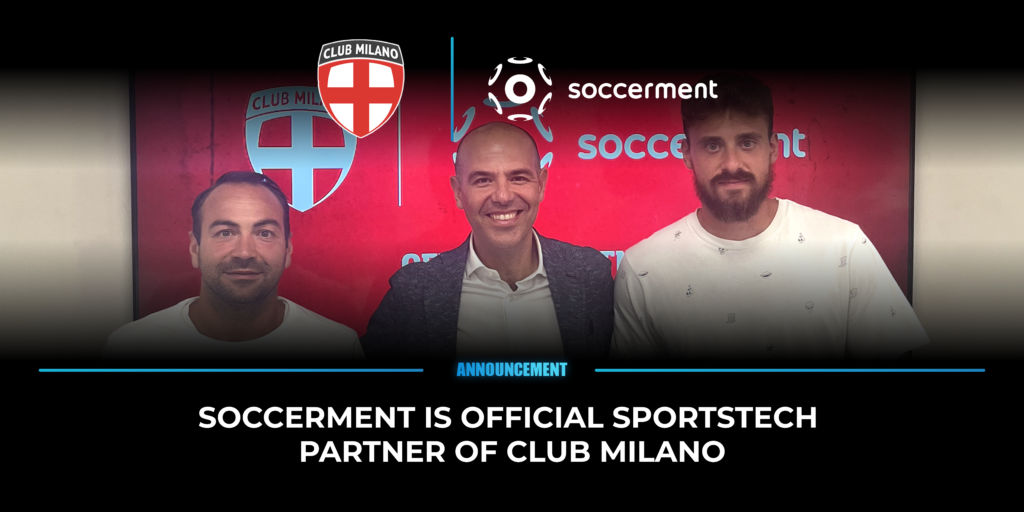 Soccerment partners with Club Milano, the third most relevant club team in Milan, to advance football technology by providing XSEED, AI-integrated smart shin guards for performance tracking, data analysis, and strategy enhancements, fostering inclusivity and innovation in the sport. In addition to XSEED, we will also provide match analysis support, and the creation of football data intelligence, further enhancing the club's capabilities in the pursuit of excellence.
---
On September 7th, at the press room of Pero's Vista Vision Stadium, we unveiled a synergy between Club Milano and Soccerment. This collaboration propels Club Milano to the forefront of Serie D as the first amateur club to integrate such advanced sports technology, setting a new standard in the league. Meanwhile, this partnership sets in motion our mission at Soccerment to democratize access to cutting-edge AI and advanced technologies in football, making the sport more meritocratic and inclusive for players of all levels. In this endeavor, we will function as the SportsTech Partner, with Club Milano serving as the Innovation Partner.
As part of our partnership, we're providing AI-Integrated smart shin guards, XSEED, to Club Milano. These innovative wearable devices efficiently and comprehensively track both athletic and technical performance during training sessions and matches. Technological support is not limited to XSEED alone; our provision of an advanced Video Analysis system, which leverages cutting-edge technologies, allows us to extract information related to each game action. This data is then processed through our proprietary algorithms, translating raw statistics into advanced metrics that offer a competitive edge.
Shared Vision Perspectives from Both
Club Milano President Guido Marrone expressed his excitement about this partnership, stating, "Club Milano is embarking on a new adventure, enjoying advanced and significant technology. It's remarkable that this experience will not only benefit the first team but also extend to the youth sector, aligning with the club's soccer development project."
CEO of Soccerment, Aldo Comi, shared his enthusiasm by saying, "I am excited about this partnership and believe it presents a unique opportunity for both Club Milano and Soccerment. It marks the beginning of Soccerment's journey to provide performance data to football enthusiasts of all levels. Even in Serie D, a team can harness the power of technology and artificial intelligence to access the kind of data that major clubs have at their disposal."
Closing Remarks
We strongly believe that a data-driven approach can revolutionize the world of football, making it more meritocratic and inclusive for young talent and more efficient and economically sustainable for clubs. Hence, the synergy between Club Milano and Soccerment represents a significant step in the process of democratizing sports at all levels. In fact, Club Milano is demonstrating that even a Serie D team, in terms of both the first team and the youth sector, can manage to access the same data as the big clubs fully represents our commitment to accelerating the adoption of data in the world of soccer at any level.
---
🇮🇹 VERSIONE ITALIANA
Soccerment è ufficialmente il nuovo Sportstech Partner del Club Milano, il terzo club più importante di Milano. La partnership rappresenta un unicum nel panorama calcistico dilettantistico con il club milanese che, grazie al supporto dei parastinchi intelligenti XSEED e di un avanzato sistema di video analysis, potrà avere accesso agli stessi dati dei grandi club professionistici.
---
Il 7 settembre, nella sala stampa dello stadio Vista Vision di Pero, si è tenuta la conferenza di presentazione della partnership tra il Club Milano e Soccerment. Questa collaborazione proietta il Club Milano al vertice della Serie D, in quanto primo club dilettantistico ad integrare una tecnologia sportiva così avanzata. Allo stesso tempo, la sinergia si sposa perfettamente con la missione in Soccerment di democratizzare l'accesso all'analisi avanzata dei dati nel mondo del calcio, rendendo lo sport più meritocratico ed inclusivo per giocatori di tutti i livelli.
Fornendo XSEED, i nostri parastinchi intelligenti integrati con l'intelligenza artificiale, ai giocatori della prima squadra e del settore giovanile, daremo modo al Club MIlano di monitorare le prestazioni fisiche e atletiche dei giocatori durante allenamenti e partite, garantendo un accesso a dati spesso riservati a realtà esclusivamente professionistiche. Il supporto tecnologico non si limita però solamente ad XSEED: l'utilizzo di un sistema avanzato di Video Analysis, grazie alle tecnologie all'avanguardia, ci permetterà di estrarre informazioni relative ad ogni azione di gioco. Dati che, una volta rielaborati attraverso i nostri algoritmi proprietari, offriranno ad allenatori e staff tecnici nuove chiavi di lettura per l'analisi delle partite e del lavoro settimanale.
Visioni Condivise
Il presidente del Club Milano, Guido Marrone, ha presentato con queste parole la partnership: "Partiamo con una nuova avventura e possiamo godere di una tecnologia avanzata e importante. Mi piace l'idea che oltre alla prima squadra questa esperienza sarà anche per il settore giovanile perché si sposa con il nostro progetto e completa quello che stiamo diventando a livello calcistico. Il mio grazie per questa opportunità ed esperienza".
Il CEO di Soccerment, Aldo Comi, ha confessato il suo entusiasmo a riguardo: "Sono entusiasta di questa partnership e credo che offra un'opportunità unica sia per il Club Milano che per Soccerment. Segna l'inizio del percorso di Soccerment nel fornire dati sulle performance agli appassionati di calcio di tutti i livelli. Anche in Serie D, una squadra può sfruttare la potenza della tecnologia e dell'intelligenza artificiale per accedere ai dati di cui dispongono i club di alto livello".
Soccerment x Club Milano
Crediamo fortemente che un approccio data driven possa rivoluzionare il mondo del calcio, rendendolo più meritocratico ed inclusivo per i giovani talenti e più efficiente ed economicamente sostenibile per i club. In questo senso, la sinergia tra Soccerment e Club Milano, una realtà giovane e molto ambiziosa, rappresenta un grande passo nel processo di democratizzazione dello sport a tutti i livelli. Dimostrare infatti che anche una squadra di Serie D, sia per la prima squadra sia per il settore giovanile, può riuscire ad accedere agli stessi dati dei grandi club, rappresenta a pieno il nostro impegno nell'accelerare l'adozione dei dati nel mondo del calcio, a qualsiasi livello.
---