Wonderkids: Adrien Truffert
Adrien Truffert is not as easy to define as one might think at first glance. Capable of playing in basically all positions on the left flank, he is endowed with dribbling and technique but has some defensive frailties. His offensive skills suggest that in the right tactical context he could become an excellent wing-back. He could also become a complete and highly in-demand left-back were he to improve his defensive reliability.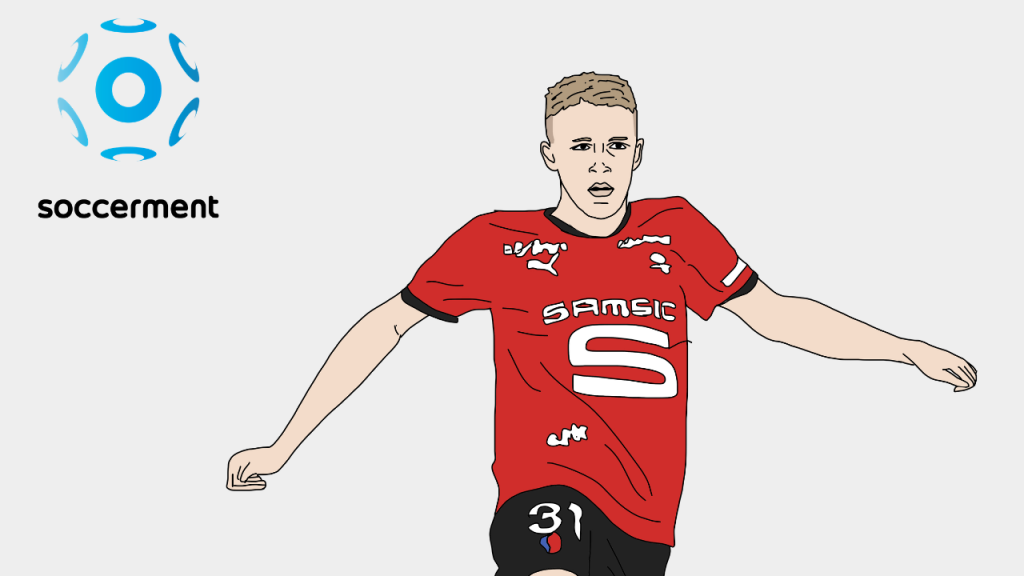 ---
Bio and playing style
Quite a debut…!
Adrien Truffert was born on the 20th of November 2001 in Liège, Belgium, to French parents.
Adrien grew up in Jouy in the Île-de-France region of France, where he started playing football at local club ES Jouy Saint-Prest in 2007. He remained there until 2010, when he joined FC Chartres; he then moved to Rennes in 2015 to join the Breton club's academy.
With Rennes' youth academy, Truffert won the U17 and U19 national championships, while also making 4 appearances in the UEFA Youth League.
Truffert joined Rennes' first team on May 28th 2020, when he signed his first professional contract with the club. But due to the stoppage of the French leagues due to Covid, he only made his debut in September 2020, when he scored and assisted in a Ligue 1 match against Monaco.
On 12 November 2020 he also made his debut with France's U21 team, in the 5-0 victory over Liechtenstein.
---
A very accurate left foot
Truffert is 173cm tall and weighs 68kg for a BMI of 22.7. Putting a little more muscle onto his frame could help him in duels, in which Truffert shows a very low tackle success ratio (35.7%, vs the 65.7% average for a full back) with 1.2 tackles lost P90 (vs 0.7 average for the role), and a 40.0% aerial success ratio (against 52.4% average) with 0.8 aerial duels won P90 (vs 2.1 average).
As confirmed by his manager, Truffert has great workrate and can play in both halves of the pitch, as shown by his 20.5 passes in own half P90 (vs 18.1 average) and 29.0 passes in the opposition half P90 (vs 24.2 average); with 2.83 touches in the opposition box P90 (vs 1.03 average), 4.4% of his total touches (against 1.6% average for the role).
Truffert has good technique and an educated left foot, as suggested by his crossing stats: a 26.1% cross accuracy (vs the 21.1% average for the role) with 0.8 successful crosses P90 (vs 0.3 average), impressive stats for a full back.
---
Truffert's passing skills are above-average as well: he plays 39.3 accurate passes P90 (vs 30.5 average for the role) with 84.9% accuracy (against the 77.5% average for the role). He's accurate in both halves of the pitch: 86.6% in his own half (vs 84.8% average) and 77.2% in the opposition half (vs 65.4% average).
Finally, Truffert also shows good dribbling stats, with a 56.3% dribble success ratio (vs 57.3% average for the role) and 1.21 successful dribbles P90 (against 0.74 average) out of 2.16 dribble attempts P90 (against the 1.29 average).
Up and down the left flank
Adrien Truffert is mainly used as a left-back, a role in which coach Stéphan prefers him for his possession based 4-1-4-1 (they average 60% possession), and in which Truffert has played 67% of games (15, as of 31.12.2020) in the 2020/21 season between Ligue 1 and the UEFA Champions League.
Truffert's defensive weaknesses, mainly duels but also interceptions (0.94 P90 vs 1.41 average for the role), could be corrected over time (he's still 19 years old). While characteristics such as his crossing and stamina make us think that Truffert might be more suited to being a wing-back.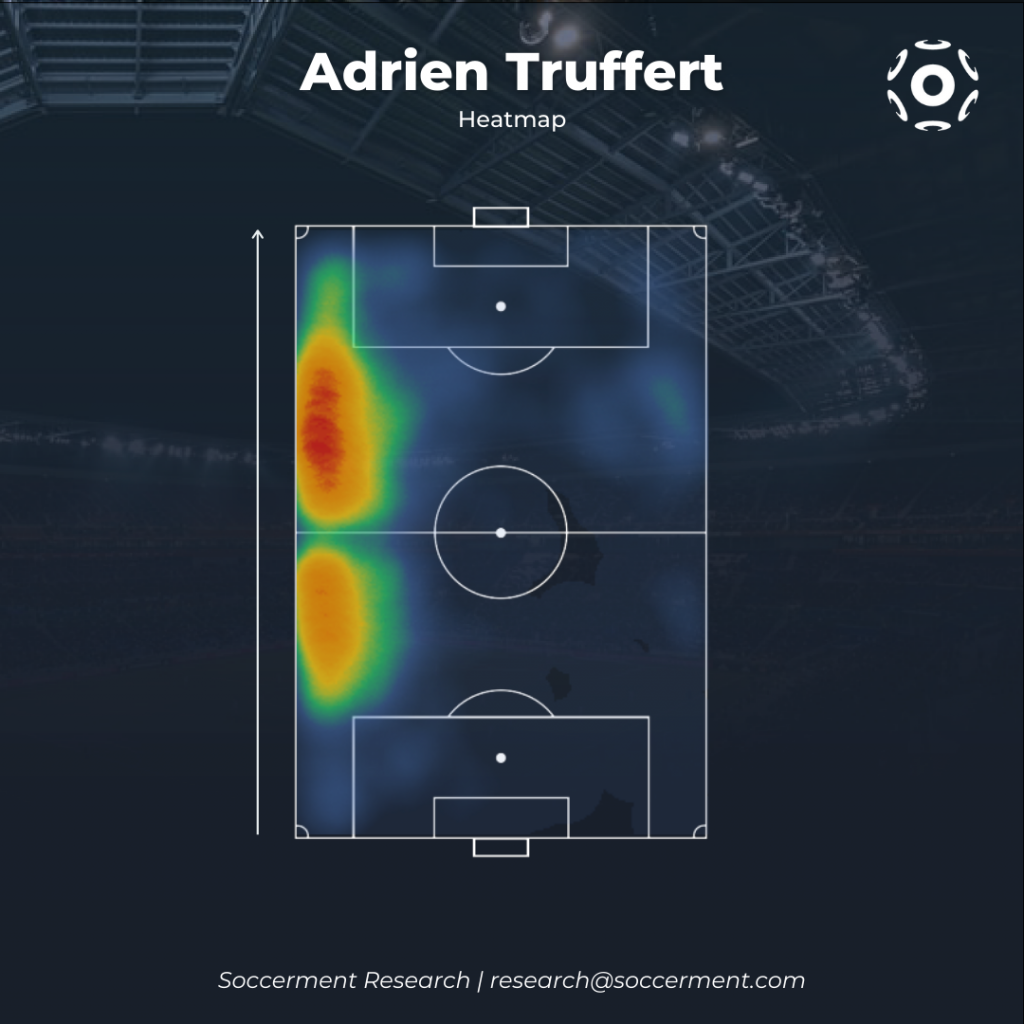 ---
In the attacking phase Truffert shows two important qualities. First, his chance creation, as shown by his 1.62 chances created P90 (against 0.82 average for the role) and also his 0.40 assists P90 (vs 0.08 average).
Potential and outlook
Improve defensively to become a complete full-back
Truffert is a full-back who still shows deficiencies in his defending (as seen in his interception and duels won numbers), and he needs to improve this side of his game to complement his strong crossing, workrate and passing. In particular, given his offensive characteristics, in the right tactical context (a possession-based team) he could become an excellent wing-back along the lines of players like Angeliño or Alex Telles.
---
---
Despite his wide margins for improvement defensively, Truffert wouldn't fit into a low-block team where he wouldn't have the chance to push further up the pitch. In our view, to become an attractive full-back in a few years, he should focus on increasing his reliability and overall defensive contribution.
As an example of his defensive ineptitude, in the goal scored by Depay in Rennes – Lyon, Truffert finds himself out of position, arriving late and giving Depay the opportunity to shoot.
---
Rennes are specialists at fostering talent
In the 2020/21 season (to date), Truffert has played 10 matches in Ligue 1 (including 7 as a starter) and 5 Champions League matches (including 2 as a starter) with Rennes. Coach Julien Stéphan is therefore giving him confidence, giving him experience of both top-flight French and European football.
Rennes, in addition to offering him an experience (now over) at European level, is also a team that is in and around the top four places in Ligue 1, so Truffert will also have the opportunity to measure himself against the pressure that comes from fighting for the European places. Having the chance to regularly play as a full back at the highest levels should also help Truffert fix his defensive problems quicker, in turn enabling him to fully express his potential.
SWOT analysis
STRENGTHS

– Crossing (26% accuracy)
– Passing (>75% accuracy in the opposition half)

WEAKNESSES

– Heading (33% success ratio)
– Tackling (<40% success ratio)


OPPORTUNITIES

– Playing as a wing-back


THREATS

– Losing a starting spot to more experienced full-backs

---
Staying in Brittany for a while
Rennes and Truffert signed a contract in 2020 that will expire on the 30th of June 2023.
We expect Rennes to keep hold of the young full-back in order to oversee his development.
Considering the uncertainty related to his defensive skills, any big interest from the top clubs also seems unlikely in the short term.
As a product of the academy, Rennes could make considerable profit from his eventual sale. The French club wouldn't be new to this kind of business.
---
This analysis is part of our 'Wonderkids: 2021 Outlook". Please find the link to download the eBook here. A printed version is available too.
---