Of the wonderkids born in 2001 or later, Ansu Fati is the most likely to reach "world-class player" status, according to our analysis. In the final third he participates effectively in the creation of attacks, but it is the astonishing precision of his finishing that really sets him apart. This is thanks to his deep understanding of the game, which allows him to take rapid and efficient decisions. There is still room for improvement in some areas (e.g. dribbling) and uncertainty regarding his predisposition to injuries, but it is clear to us that we are looking at a potential Ballon d'Or. We would expect him to receive increasing playing responsibilities at FC Barcelona in the future.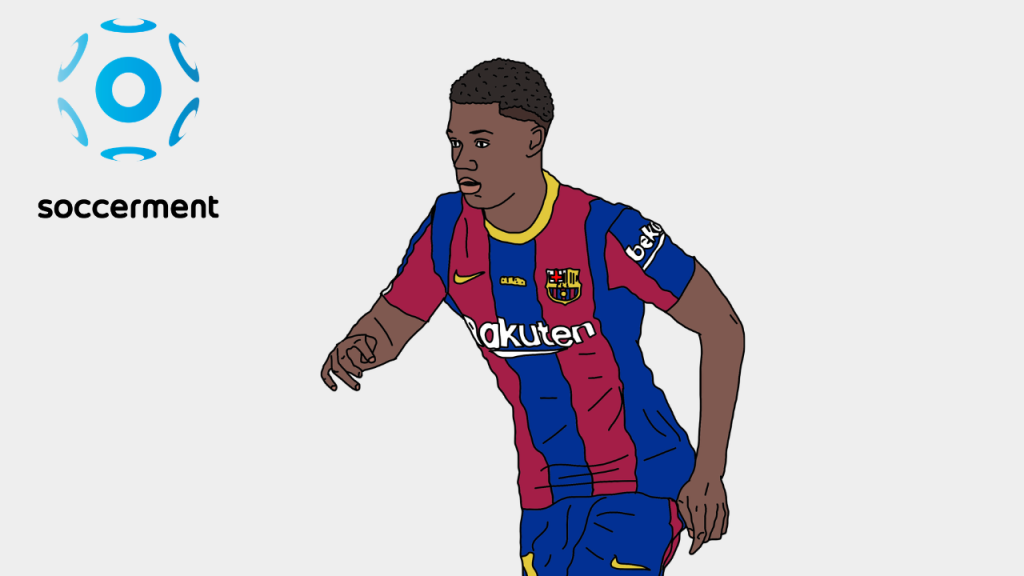 ---
Bio and playing style
Youngest UCL goalscorer ever
Born in Bissau (Guinea-Bissau) on 31st October, 2002, Anssumane "Ansu" Fati Vieira moved to Seville with his family at the age of six. His father was looking for a stable job after having played for some years in Portuguese minor leagues. Following his older brother Braima, Ansu started playing football in Sevilla's youth team. At the age of ten he moved to Barcelona's La Masia, again following in the footsteps of Braima, who had made the same journey the previous year. Ansu Fati made his first team debut for Barça on 25th August 2019. He is the all-time youngest goalscorer in UEFA Champions League, when he got the winner against Inter Milan aged just 17 years and 40 days.
An efficient decision maker and ambidextrous too
Ansu is 178cm tall and weighs just 66kg. Though not one of the fastest players in the league in terms of top speed, he is incredibly quick over short sprints and in changes of direction. Technically, meanwhile, it is clear at first sight that there are few players at his level. Right footed, Ansu can nonetheless control, pass and shoot the ball with either foot (his xG per game, for instance, is the same at 0.12 with both feet). However, only one of his 11 La Liga goals to date was scored with his left.
---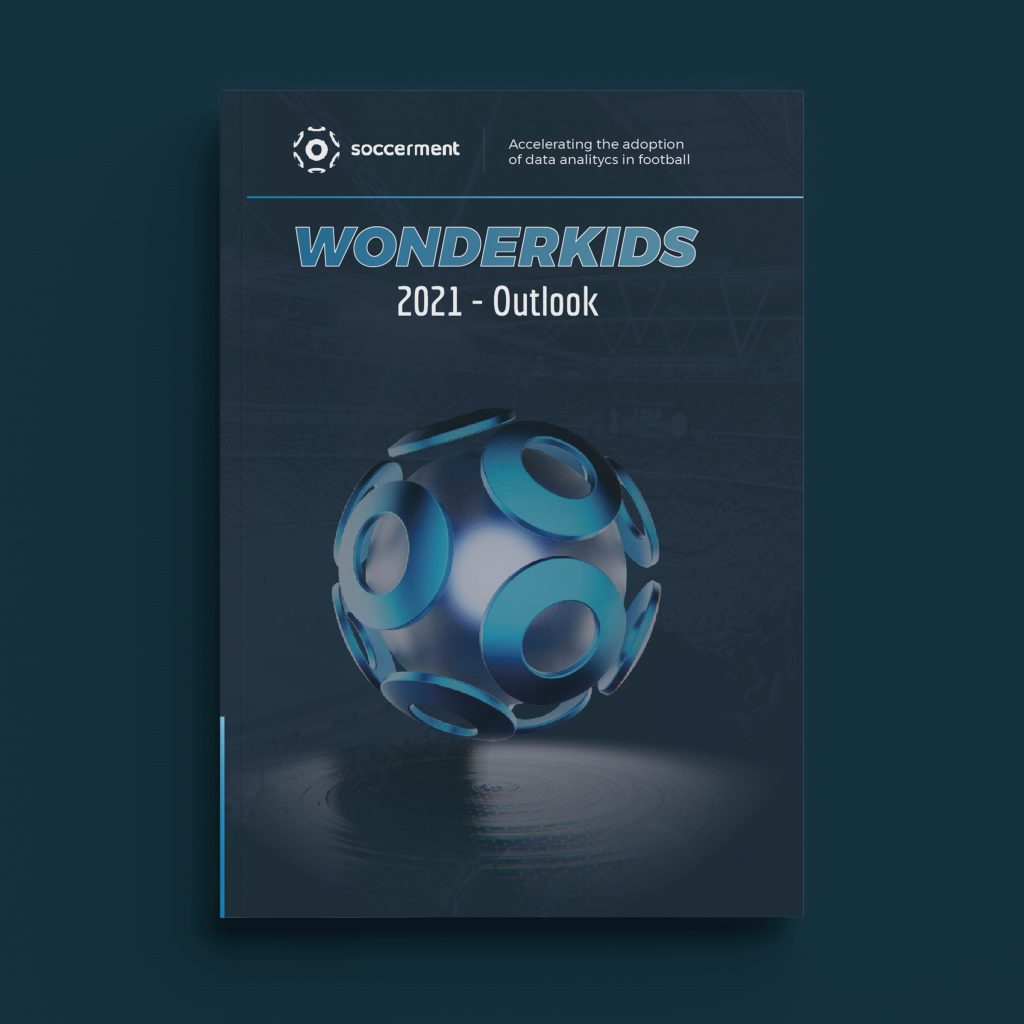 ---
Thanks to his amazing technique, Fati is decisive in his team's attacking phases: though he has not provided many assists yet, in the current season he has created a significant number of chances (1.86 per 90 minutes) and through balls (0.62 p90). Moreover, his passing accuracy in the opposition's half (82%) is by far the best in the league (the average for his role is 66%, and he is better than Messi, Parejo and Benzema, the next most accurate passers in the opposition half in the league).
Finally, it is worth taking a look at his shooting. 11 goals in 31 matches are really outstanding figures for a player of his age. Indeed, just before his latest injury he became the player with the most La Liga goals before his 18th birthday, (again, better than Messi). The data shows us that Ansu gets 1.17 shots on target P90, has 40% shooting accuracy and, most important, a 23% goal conversion rate. Once again, far above the average winger.
Striker or winger?
Given the technical abilities discussed above, one question instantly arises: is Ansu a striker or a winger? This is a topic of debate among Barcelona fans too, aware that most of Ansu's appearances in La Masia teams was as a forward, but that he has principally been deployed as a winger in his short senior career (25 first-team appearances as a LW and just 2 as a FW so far).
Ansu likes to receive the ball wide, close to the touchline, and converge towards the area. But he is not a selfish dribbler (his dribbling success ratio is below average), instead preferring to give and receive from his teammates in tight spaces to find the way to goal. Ansu's high Expected Assists P90 (0.22 in the previous season, 0.41 in the current one) are a clear indication of the quality of his play in the build-up phase.
Of the metrics that assess Ansu's ability and decisiveness close to goal, two stand out in particular: he takes 8.74 touches in the opposition box per 90 mins, almost three times the average for his role; and most importantly he scores 0.68 goals P90, again far above most other players. Such proficiency suggests to us that we may see him as a central striker at some point.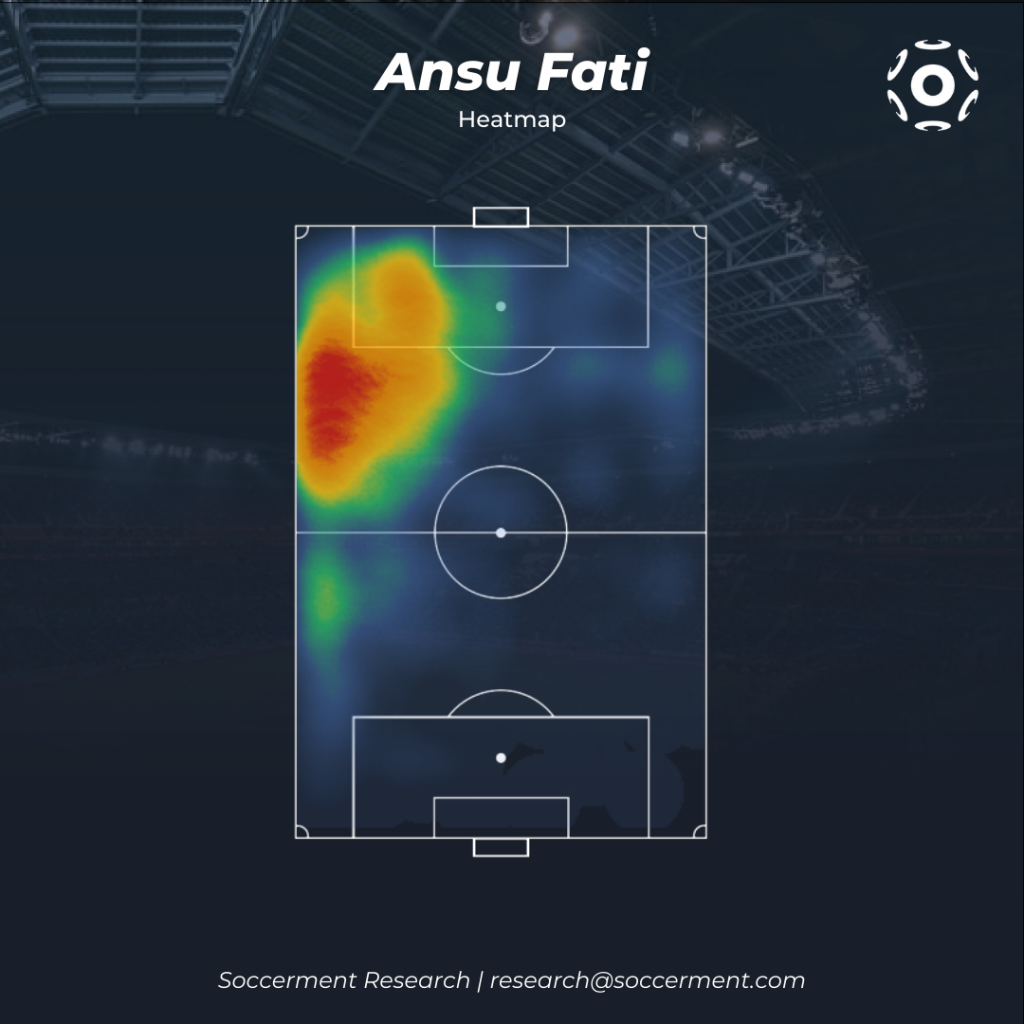 ---
Potential and outlook
Potentially a Ballon d'Or contender
From what we have seen so far, one thing is clear: Ansu Fati is already a fundamental player for Barcelona. But how high is his ceiling? Two factors will be useful to evaluate this. First, his age means that we may have only had a foretaste of his skills.
Second, if we compare his first season and his second (i.e. the current one), we see improvements in almost every key metric: chances created, successful dribbles, shooting accuracy, key passes – such smooth progression is a clear sign of a star being born.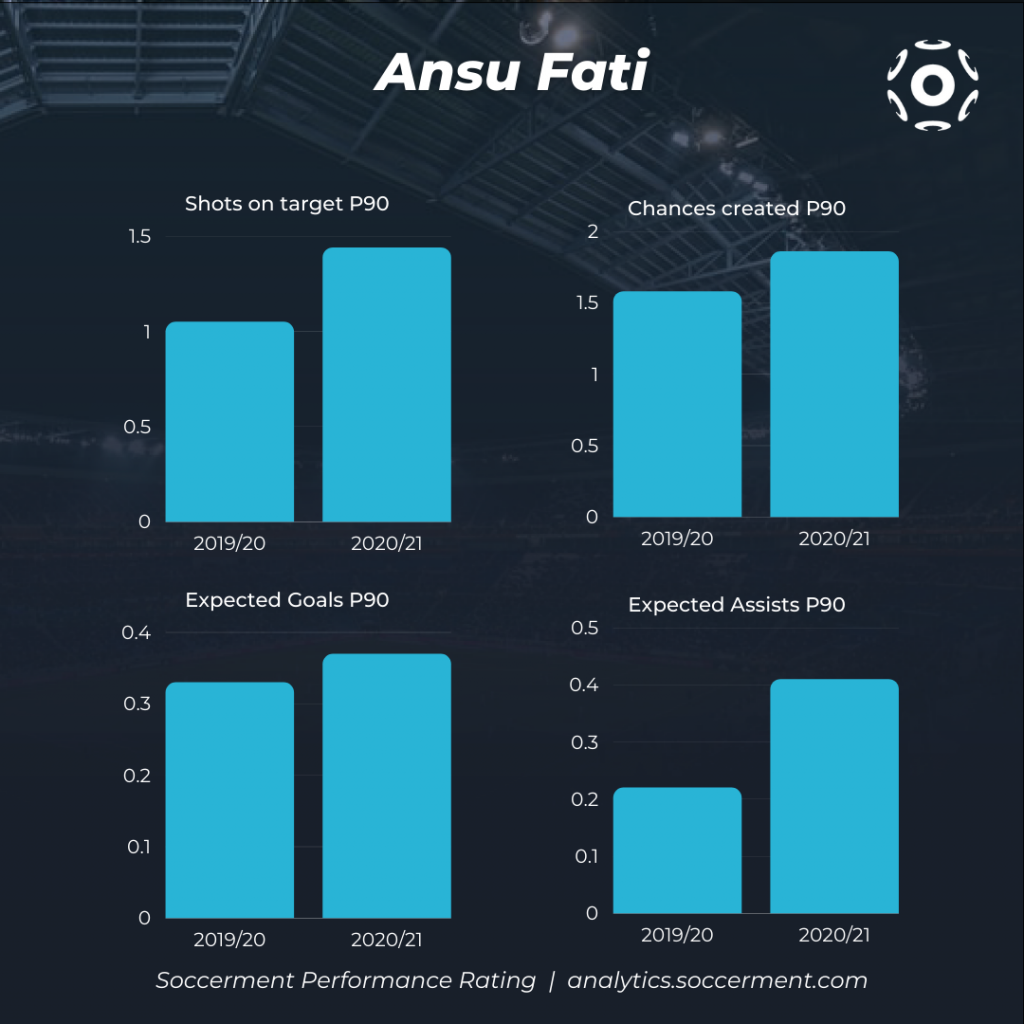 ---
Fati's SPR of 49 and his age (18 years and 2 months) naturally put him in our wonderkids list. Considering that forwards aged 18 see their SPR grow by 15% in two years, on average, we would not be surprised to see him enter the "elite players" group before he turns 20. And even that may not be the end of his ascent.
At the time of writing (December 2020), in our database only four players show an algorithm-derived status of "world-class player": Lionel Messi, Cristiano Ronaldo, Neymar and Kylian Mbappé. We strongly believe that Ansu Fati has everything it takes to join this selective group.
More responsibilities coming soon
With Messi probably leaving Barcelona soon, Ansu seems to be his natural successor. Moreover, traditionally Barcelona has a strong preference for talents coming through La Masia, and so managers will be eager to build the team in order to get the best out of him, as happened with Messi himself (just remember that the "Pulga" started his career when Ronaldinho won the Ballon d'Or).
SWOT analysis
STRENGTHS

– Attacking (0.68 goals P90)
– Vision (0.27 xA P90)
WEAKNESSES

– Dribbling (47% success ratio)

OPPORTUNITIES

– Increasing responsibilities at FCB

THREATS

– Injury prone

---
The future leader of Barcelona's attack
Last September, Ansu Fati signed a four-year contract with a buy-out clause of €400 million. Given everything we discuss above, it is very likely that we are going to see this Spanish wonderkid leading Blaugrana attacks at least until 2024.
---
This analysis is part of our 'Wonderkids: 2021 Outlook". Please find the link for its download here. A printed version is available too.
---