Wonderkids: Benoît Badiashile
Benoit Badiashile is 19 years old, but can already boast more than 50 appearances in one of the top 5 leagues in Europe. Tall, left-footed and with very good passing skills, it is little wonder that he is one of the most sought-after centre-backs in Europe. An improvement in his defending, plus a few kilograms more of muscle, would put him in prime position to establish himself in a top European club, in our view.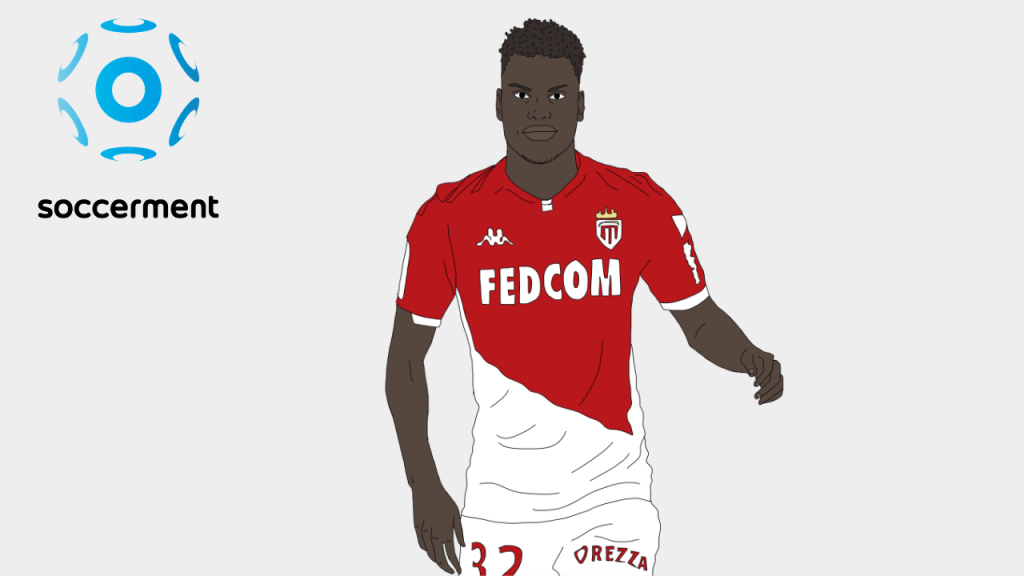 ---
Bio and playing style
At the Principauté since 2018
Benoît Badiashile Mukinayi was born in Limoges, France, on March 26, 2001. He started playing football with Limoges FC, before joining SC Malesherbes (Orleans) in 2008. Eight years later, in 2016, AS Monaco convinced the two Badiashile brothers (his older brother Loïc is a goalkeeper) to move to the Principauté.
Badiashile debuted in Ligue 1 on 11th November 2018 against PSG (a 4-0 defeat) and a few days later, he made his Champions League debut against Atlético de Madrid.
Badiashile has already received a call-up to the French national team squad, although he is yet to make his international debut.
His physicality could be even more imposing, the good passing skills could become top-class
---
At 194cm tall and weighing 75 kg Badiashile physique is without doubt imposing. Still, a few more kilograms of muscle would help to make his presence even more keenly felt.
In a few bullet points, this is how we would describe Badiashile:
very good at building from the back,
uses his imposing height to win aerial duels,
but still lacking in defensive positioning and,
is too nice (not aggressive enough).
A quick glance at a ternary plot featuring three of our performance indicators explains our view. In the chart, we include all the centre-backs in our database who are younger than 20 years old.
As shown, Badiashile's point is skewed towards the bottom right of the ternary plot, i.e. closer to the Passing and Heading performance indexes, rather than the Defending one.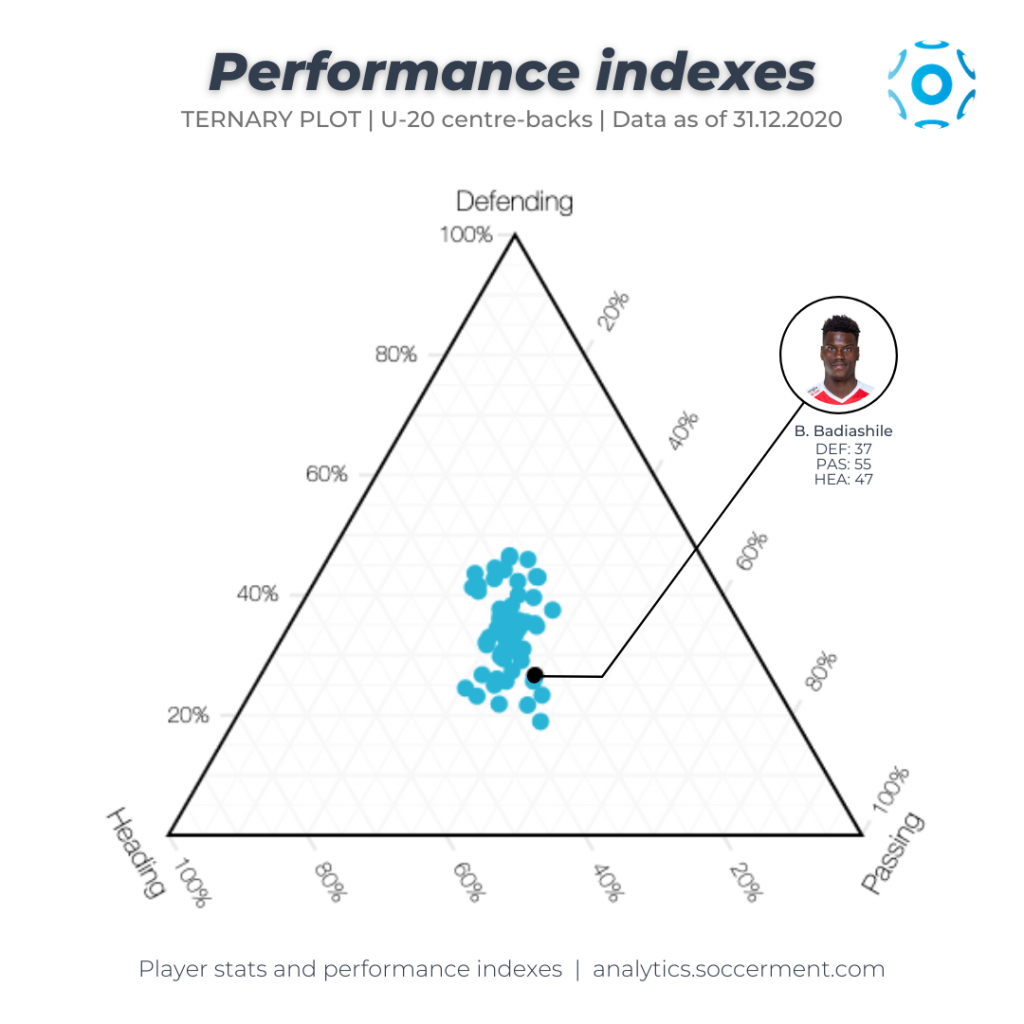 ---
Outstanding passing
We highlight that in Ligue 1 (slightly more than 4,600 minutes at the time of writing) Badiashile has maintained a 93.4% passing accuracy in his own half and a 78.8% accuracy in the opposition half; both ratios that are well above the average for centre-backs (90.2% and 67.5%, respectively).
Badiashile achieved these stats over a much higher number of passes than average (55.7 accurate passes per match, vs the 37.2 average for the role). More importantly, his strong accuracy ratios are also achieved with a higher-than-average success rate in long passes: Badiashile completes more than half his long passes (56.9%), while the centre-backs in our database complete an average of 46.4% of them.
In the chart below we show Badiashile's event heatmap. He is left-footed and prefers to play on the left side of the defence, both in a four-man defensive line or a three-man one. Les Monégasques mostly play with four men at the back under coach Niko Kovač, with Axel Disasi Badiashile's partner in central defence. The pair complement each other quite well, Disasi being more aggressive, explosive and defensively more savvy, while Badiashile is much better at playing out from the back.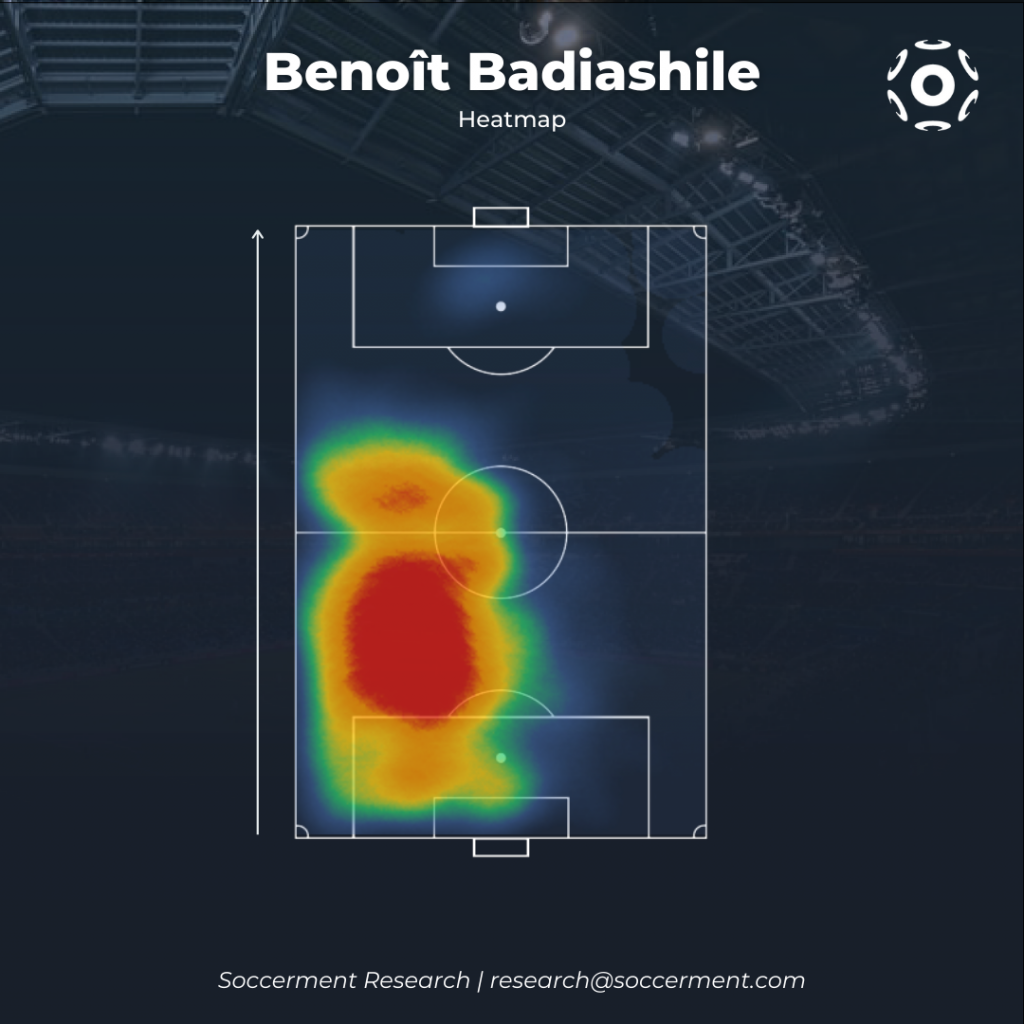 ---
The ability to accurately distribute the ball from the back and with the left foot is attractive for possession-hungry sides. There are many clubs in Europe which are looking for exactly that, which explains why Badiashile is likely to appear on the shortlist of many top clubs.
But the only shortlist where he definitely appears (at the time of writing) is that of ball-playing defenders in our Player Smart Search. Click on the button below to see the list (free signup needed).
---
---
Defensive positioning could improve a lot
Let's start with the positives: Badiashile displays a solid tackle success ratio of 71.9%, which compares to the 65.8% average for centre-backs. Still, our algorithms give him a Defending index of 37, which is low. The reason is that his higher-than-average tackle success ratio doesn't tell the full story, in our view. His number of tackles won is in fact well below average, at 0.8 per match vs the 1.1 average, and so are his numbers for blocks and clearances P90. In our view, these numbers show that Badiashile is often not positioned where he needs to be.
---
---
Badiashile's body type means that he is not blessed with impressive speed or acceleration. For this reason, if he is to excel defending high up the pitch he will need to improve his tactical awareness. Greater proactivity and aggression wouldn't do any harm either. In the current Ligue 1 he has not received a single card, yellow or red. In comparison, his teammate Axel Disasi has seen three yellow cards and two reds.
AS Monaco's 4-1 defeat against Lyon featured some good examples of these issues, especially in Lyon's first goal, scored by Memphis Depay. Badiashile finds himself out of position, leaves Houssem Aouar cutting through from behind him, and he is not able to get to Depay quickly enough.
---
A few extra kilos would improve his aerial stats
Badiashile's aerial stats are positive (67.6% success ratio vs 60.7% average for the role), but could be better in light of his height (194cm).
As a comparison, Joel Matip of Liverpool is 195cm and displays a 75.9% success ratio in aerial duals. Apart from positioning, the main difference is in Matip's physicality: he weighs 15kg more than Badiashile. In the penalty box, 15kg more of muscle does matter.
---
---
Potential and outlook
Second-best xSPR among U-19s, but the starting point is the highest
Having already played more than 4,600 minutes in one of the top 5 leagues and performed well overall, Badiashile has a big advantage in the starting Soccerment Performance Rating, as compared to other Under-19 players. Indeed, he ranks first for current SPR, which has been on a constant upward trajectory over the past three seasons.
That is why Badiashile is able to rank second overall in our Wonderkids 2021 Outlook, despite not displaying one of the highest expected improvements over the next twelve months.
Les Monégasques are not doing particularly well in FL1: they are currently sixth and far from the European places. The average age of the team is very low: 24.4 once weighted for the minutes played by each squad member.
Badiashile and Disasi's partnership, however, is working quite well (few shots and shots on target conceded), but the number of goals conceded is too high (1.5 per match) for us to be particularly optimistic about the second half of the season. At first glance, Monaco's biggest defensive weakness is in goal: they have conceded more goals than they should have (27 vs 21 Expected Goals) and the goalkeepers' combined save ratio is well below average (57% vs 67%).
SWOT analysis
STRENGTHS

– Passing (>88% accuracy)
– Heading (>67% aerial success ratio)

WEAKNESSES

– Defensive positioning



OPPORTUNITIES

– Adding muscle (BMI < 20)


THREATS

– Failing to qualify for Europe

---
A transfer seems imminent
At the beginning of the 2020/21 season, Manchester United reportedly made a €25m offer for Badiashile, which was rejected by AS Monaco. It seems that Real Madrid and Manchester City were also interested in the young Frenchman.
Right now Badiashile is the subject of fewer transfer rumours, but we believe that these will resurface towards the end of the season, especially if the positive trajectory of his performance improvement continues. However, we wouldn't rule out the possibility of a January transfer, as there are some top European clubs struggling with injuries (Liverpool) and/or may be willing to make an extra financial effort in order to optimise the squad as they target the title (Liverpool, Manchester United).
Badiashile's contract will expire at the end of June 2024 and – according to Capology – gives him less than €600,000 in gross annual salary.
---
This analysis is part of our 'Wonderkids: 2021 Outlook". Please find the link to download the eBook here. A printed version is available too.
---