Wonderkids: Eduardo Camavinga
Already on the shortlists of many of Europe's top clubs, Eduardo Camavinga showcases uncommon maturity, confidence and composure, all qualities that he will surely develop further thanks to his strong attention to detail and work ethic. The next step in Camavinga's on-pitch development is to complete the transition from defensive to box-to-box midfielder, which should also translate into more assists and goals. Off the pitch, Camavinga will soon have to move to a top club, something that the player and his entourage will have to manage carefully.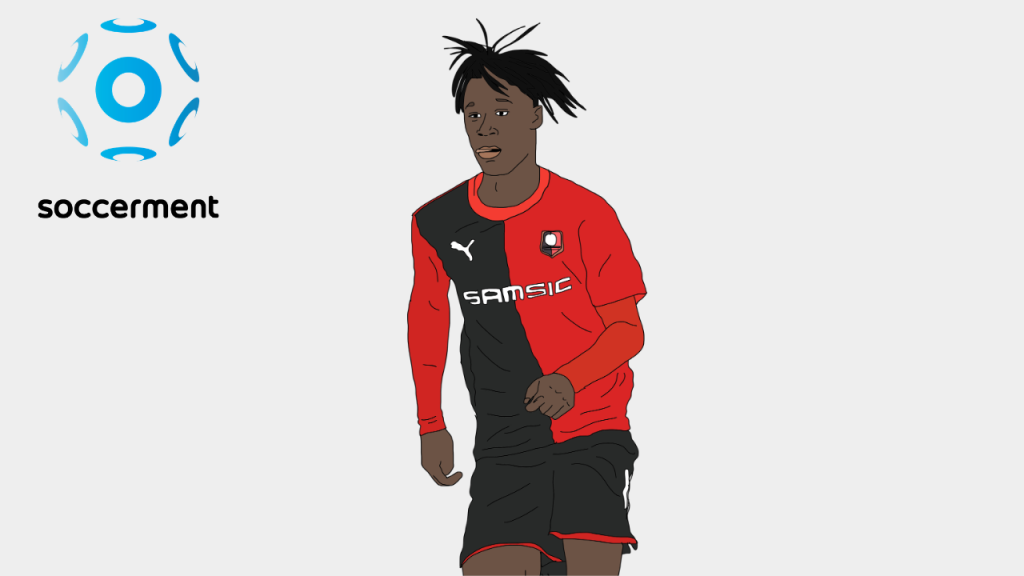 ---
Bio and playing style
Forged in hardship
Eduardo Camavinga was born on 10th November 2002 to Congolese parents in a refugee camp in Angola. At the age of 2, he and his family moved to Lille and then Fougères (both in France), where he grew up. The hardships for the Camavingas didn't stop there, as his family home burnt down when he was 13. He has later recounted that the disaster really motivated him in his mission to become a professional footballer. His father Celestino told him that much of the family's prospects were going to rest on his shoulders. After attracting interest from numerous scouts in his early teens, he joined Rennes' academy.
Quality, quantity and versatility
Camavinga is 182cm tall and weighs 68kg for a BMI of 20.5. His lean frame makes him an agile player, which in combination with his good technique makes him an effective dribbler (72.1% dribble success rate), able to evade pressure with apparent ease.
Camavinga is a surprisingly mature player for his age, while his vision and passing are remarkable for such a young player (91.7% passing accuracy in his own half vs the 89.2% average for his role; 83.9% passing accuracy in the opposition half vs the 73.6% average; and 73% long pass accuracy vs the 53.6% average). Meanwhile, his composure is underlined by the fact that he loses possession only 8.7 times per game (well below the average for his position of 12.7).
His impressive workrate and understanding of the game also enable the young Frenchman to attempt an impressive 4.3 tackles P90 (the 6th highest in Europe).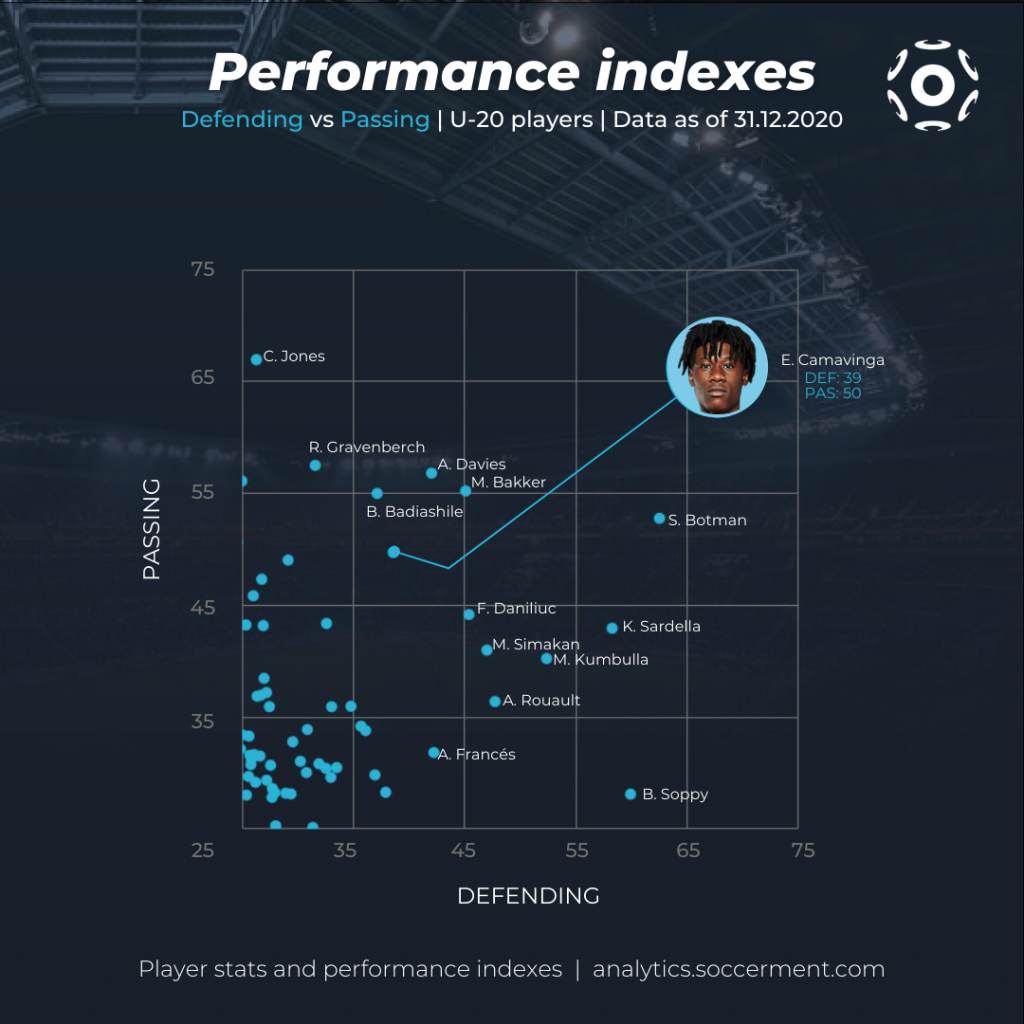 ---
Camavinga still has plenty of room for improvement considering his tender age, both in the physical and technical aspects of the game, which puts his ceiling at a really high level. This season, Camavinga has begun to take up more positions further up the pitch, which has already boosted his chance creation and shot numbers. This could be the final step to add to his game.
Evolving from defensive midfielder to box-to-box
The sheer range of Camavinga's skillset allows him to play in an impressive number of roles equally well. In his first games with Rennes at the start of the 2019/20 season he mostly played as a defensive midfielder in a 4-4-2 or a 5-2-1-2 formation, both on the right and the left side.
His speed and understanding of the game make him an effective shield for his backline. But when his manager asks it of him he also has the workrate to pressure opponents and make tackles. In the build-up phase, he was one of the main passing options for defenders when the team was building from the back. His movement and spatial awareness help him find the right positions to receive and then distribute the ball.
In the 2020/21 season, Rennes have mostly adopted a 4-3-3/4-1-4-1 formation, with Camavinga slotting in as a right-central midfielder. His broad skill set makes him a perfect match for this "mezzala" role as he has the offensive and defensive skills necessary to impose himself in both phases of play. This season, his change in position has seen his chance creation and shot numbers rise. Playing more in this role should help him improve even further in these respects.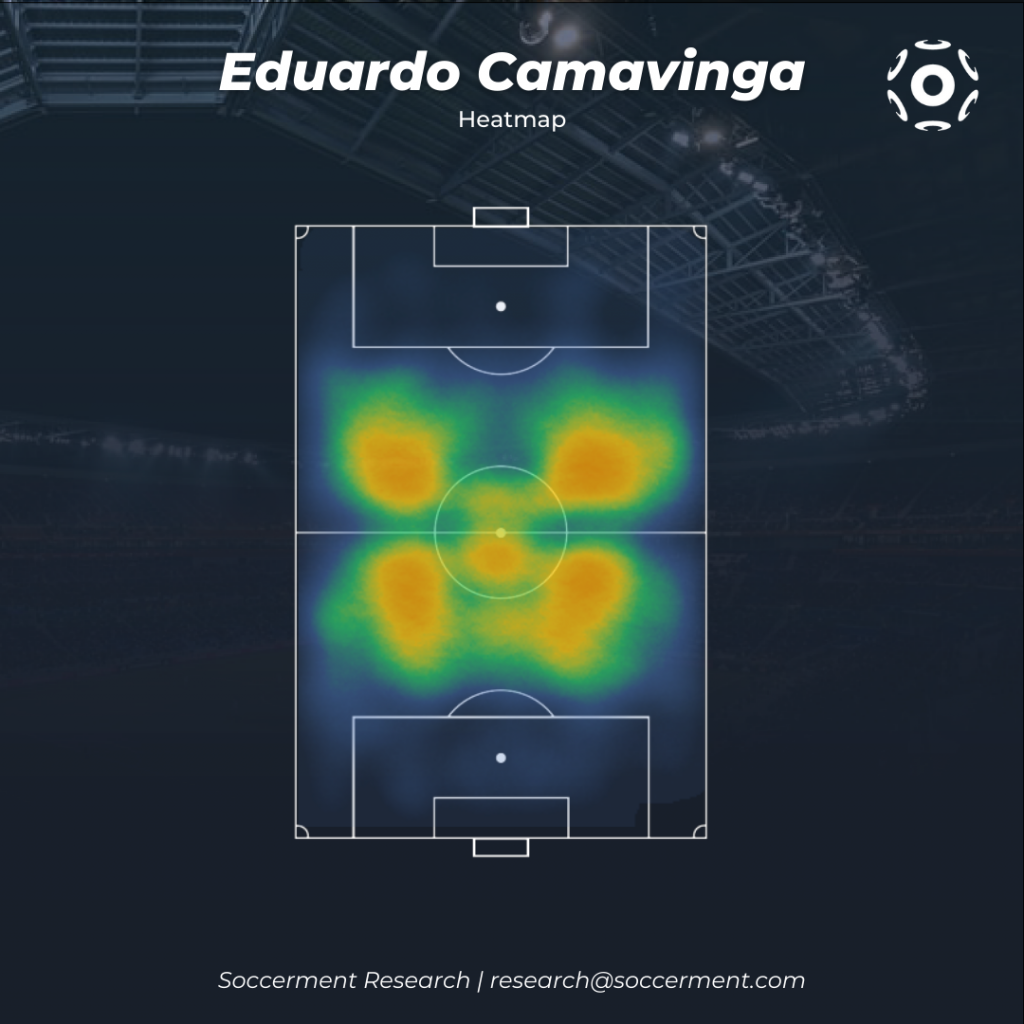 ---
Potential and outlook
The sky over Rennes is the limit
Camavinga is already excelling in numerous aspects of the game at both ends of the pitch. His change of position hasn't destabilized him, rather his performances are getting even better and he is becoming a truly complete midfielder capable of imposing himself both offensively and defensively.
---
---
Camavinga is currently showcasing a lot at Rennes, and a move to one of Europe's big clubs seems to be on the horizon. If he finds a good fit for himself, Camavinga could quickly establish himself as an elite midfielder. Playing with elite players will help him mature and refine himself even further.
Nurtured at Rennes
Rennes discovered this young talent when he was still very young, and as numerous youth coaches have stated they helped him develop without rushing him into the first team. Nonetheless, Rennes recognized that his unnatural maturity for his age meant that he was already set to make a difference in Ligue 1.
So far, Camavinga has played in an environment in which he can express himself with continuity, something vital for a player of his age. In fact, Rennes has been the team that has conceded the most minutes to U-18s in the top 5 leagues. Ligue 1 is a league that favours young talent such as his.
SWOT analysis
STRENGTHS

– Tackling (2.7 successful tackles P90)
– Dribbling (72% success ratio)
– Passing (84% accuracy in opp. half)

WEAKNESSES

– Shooting (<0.7 shots P90; <0.08 xG per shot)




OPPORTUNITIES

– Complete the transition to box-to-box midfielder

THREATS

– Rushed transfer to a club not suited for him

---
Bound for the elite
Talent like Camavinga's is bound to attract interest from accross the football world, particularly when he puts in MOTM performances against clubs such as PSG and Marseille, and wins a Ligue 1 Player of the Month award aged just 16. There has been reported interest from some of the biggest clubs in world football, most noticeably Real Madrid, Manchester United and Juventus, along with many others.
Just to add further uncertainty, Camavinga recently sacked his agent Moussa Sissoko to join Jonathan Barnett's agency, Stellar Football Ltd. But despite the rumours, the player has come out and said that there is still time to negotiate a new contract with Rennes.
Moreover, Rennes president Nicholas Holveck has stated that the club is keen on negotiating an extension to Camavinga's contract, which expires on 30th June 2022. His price tag was said to be around €80m, but the latest rumours suggest that the pandemic has reduced that figure to around €50m.
---
This analysis is part of our 'Wonderkids: 2021 Outlook'. Please find the link to download the eBook here. Printed version available too.
---