Wonderkids: Flavius Daniliuc
Flavius Daniliuc has very few appearances under his belt and less than 900 minutes in his senior career, but has nonetheless been able to impress both us and our valuation algorithms. Although it is still unclear just how much potential he has, it is worth keeping an eye on him until the end of the current season. Having played at the academies of Real Madrid and Bayern Munich in his youth, he joined OGC Nice because he wanted senior playing time. The decision seems to be paying off.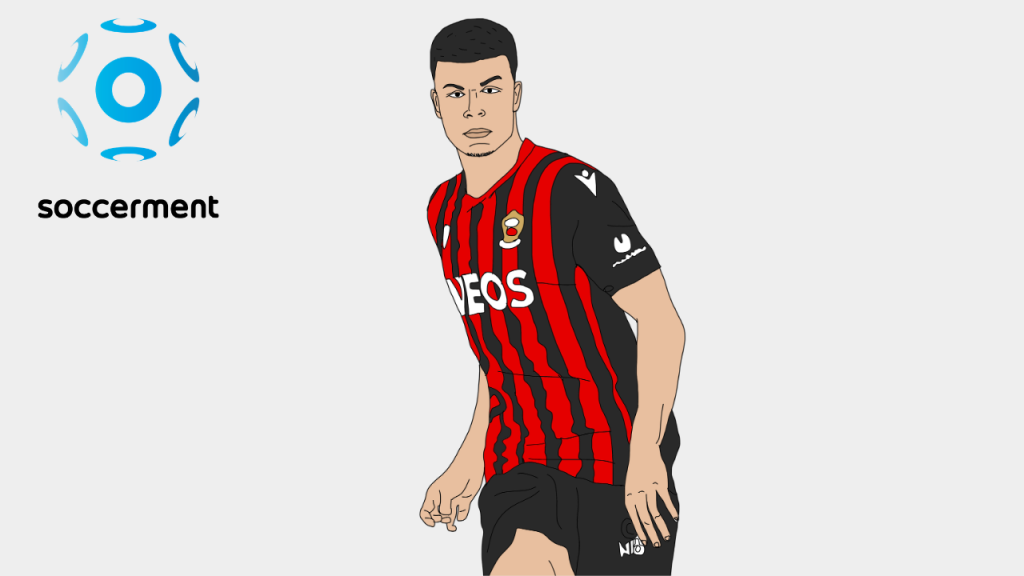 ---
Bio and playing style
Real Madrid and Bayern Munich on his CV
Born in Vienna on April 27, 2001, Flavius David Daniliuc is a centre back who plays for OGC Nice. His parents had moved to Austria from Romania due to the 1989 revolution.
There aren't many players who can boast the international youth career that Daniliuc has had: after just one year at Rapid Vienna, in 2011 he joined Real Madrid. After three seasons he then moved to Bayern Munich, where he made his senior debut with the second team in July 2018. Since he was not considered as a regular starter, though, he turned down the new contract proposal by the Bavarian club and joined Nice on a free transfer in summer 2020.
Are the stats too good to be true?
Daniliuc's performance indexes indicate no big weaknesses, while also showing some very promising numbers.
In order to understand what sort of defender Daniliuc is, we have built a ternary plot, with all the Under-20 centre backs in our database. The picture that emerges is that of a centre back with a balanced combination of passing and defensive skills. On aerials, despite his height (188cm), Daniliuc has not shown very positive numbers yet.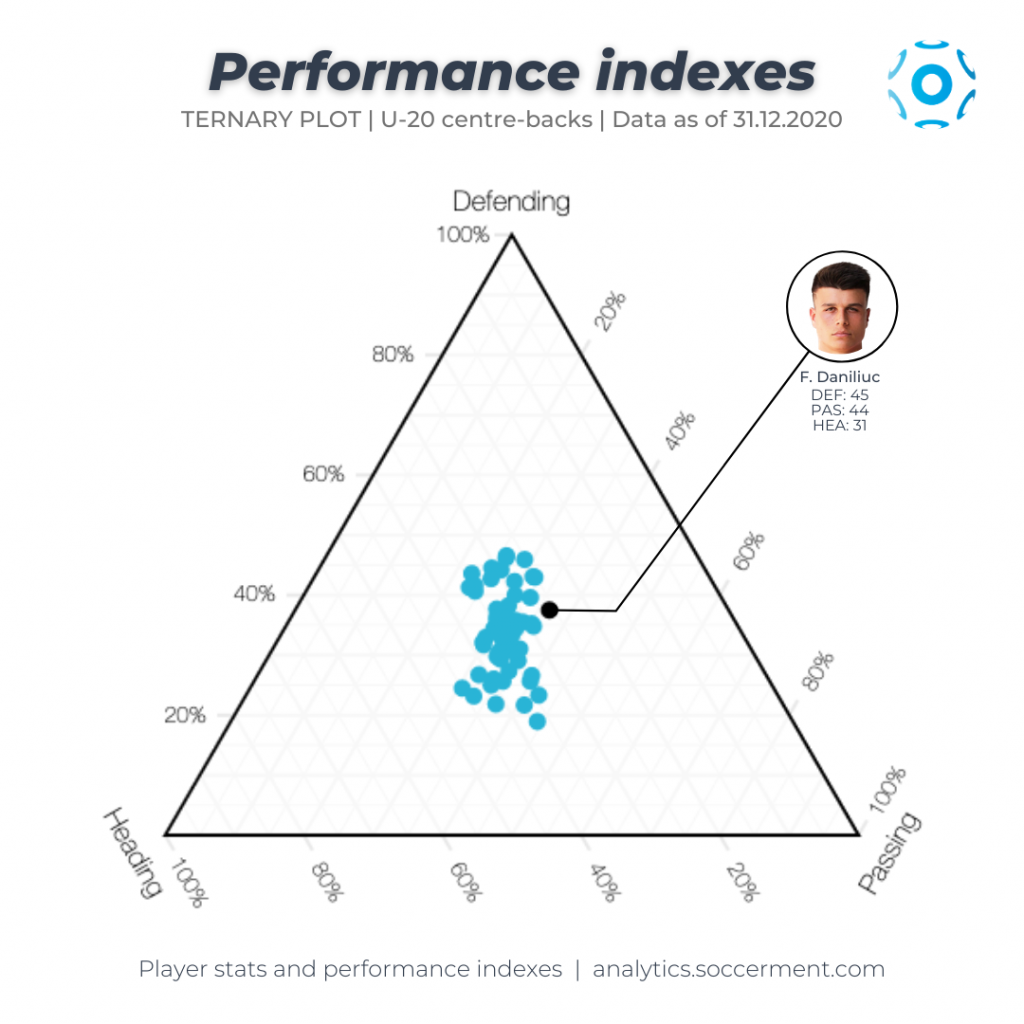 ---
The second thing we looked at, to better understand him as a player, was the list of most similar players, according to our machine learning algorithm. The most similar player is the Slovenian Milan Skriniar (Inter Milan).
---
---
The stats that make up Daniliuc's passing index are quite impressive. He displays a 92.4% passing accuracy in his own half and 83.9% in the opposition half, while the averages for centre backs are 90.2% and 67.5%, respectively. He is definitely not afraid to build from the back: he completes 70 passes per 90 minutes.
The majority of his passes are short, although when it is necessary to go forward with long balls his accuracy (61.9% vs the 46.4% average) is again remarkable.
---
Since he has started playing regularly, Daniliuc has been displaying impressive defensive skills. He has a 72.7% tackle success ratio (the average for centre backs is 65.8%), and 7.23 recoveries per ninety minutes – against the 4.79 average.
---
---
Daniliuc is 188cm tall and weighs 81kg, for a BMI of 22.9. Such an impressive physique means that it is no surprise that he wins an impressive 60.5% of his physical duals. However, aerially he has engaged in relatively few duals so far (2.4 P90 vs 4.45 average for the role), and he has managed to win less than 50% of them (vs the 60.7% average for the role).
Tactically he could prove versatile
Surprisingly, Daniliuc started off as a winger in Real Madrid's youth teams. But he quickly became a centre-back, and has barely played anywhere else in his professional career.
OGC Nice currently play with a 3-5-2 formation, with the Austrian on the right of the back three. He stands out with clean tackles and close marking.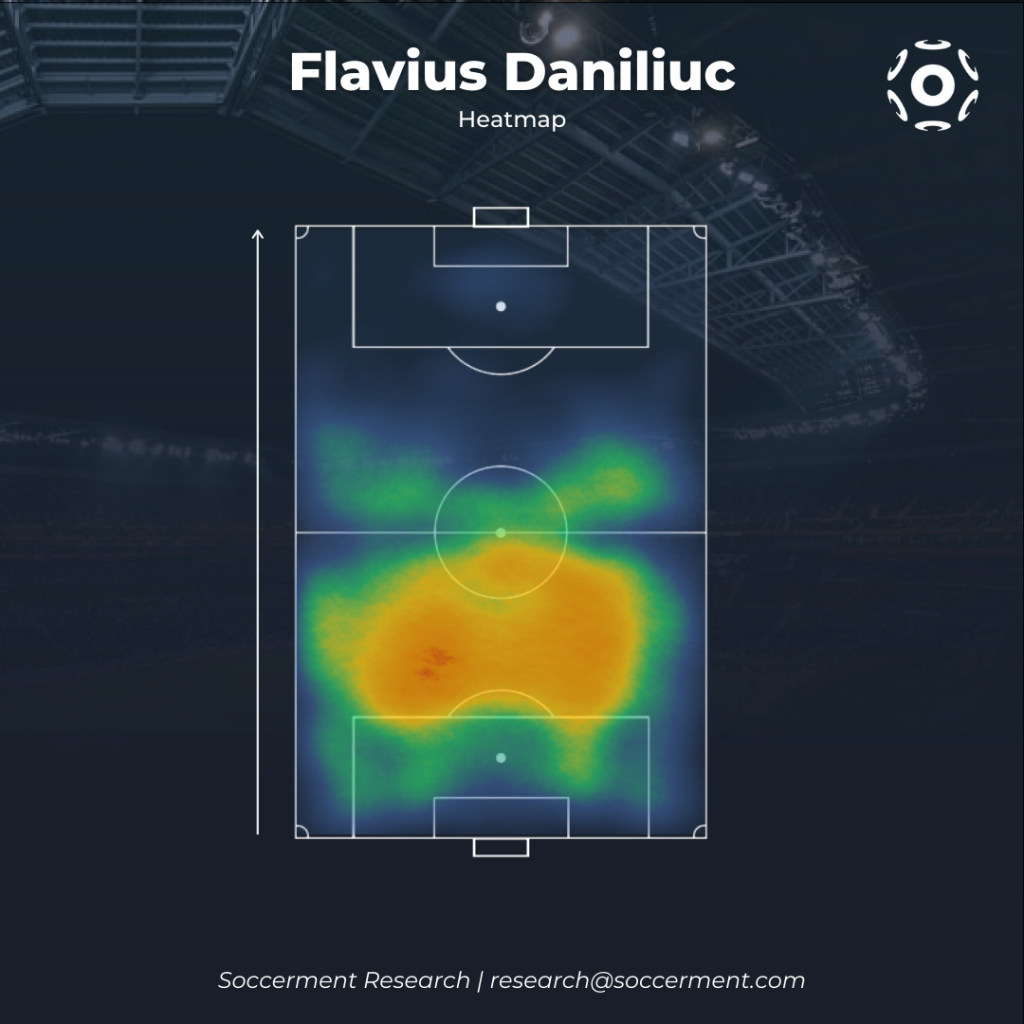 ---
In his last five matches, Daniliuc has led his team in number of accurate passes, although this is in part due to his preference for a safe, lateral pass over a vertical solution.
Having started the current season as the fourth or fifth choice centre back at Nice, he is now an undisputed first choice. At the time of writing Daniliuc has 9 appearances in Ligue 1 and 2 in the Europa League.
Potential and outlook
A "false positive"?
According to our Performance Rating system (SPR), Daniliuc is ranked seventeenth among all the Under-20 players in our database, despite having played relatively few matches so far in Ligue 1. This is remarkable as – although it is based on per-90-minute stats – the SPR takes into consideration playing time, which normally penalises players at the beginning of their careers.
While this could be a "false positive" and Daniliuc's performances in his first 10 FL1 appearances might not reflect his true level, we nevertheless decided to include Daniliuc in our Wonderkids 2021 Outlook as he meets our criteria (>500 mins in total, >270 mins this season).
Our model envisages a performance improvement of 5.6% over the next 12 months and we expect his SPR to reach 51 in December 2021. Such an SPR would be comparable to those of many defenders who are currently playing in the UEFA Champions League.
Mid-table doesn't look too appealing, but could translate into reduced pressure
In the last five years, OGC Nice has been able to get good results thanks to the growth of its young talents. However, we have always seen these players leave the club after their first season.
Daniliuc has rapidly gained manager Adrian Ursea's favour (it surely helps that they are both Romanian, even if Danulic was born in Austria) and his performances have been more than reassuring. It remains to be seen if he will keep his role in the starting XI now that the club has signed William Saliba on loan from Arsenal, but we believe that, as long as the team continues to play with a three-man defence, Daniliuc will continue to enjoy a good amount of playing time.
Nice sit in eleventh place in Ligue 1 at the time of writing. Whilst many might consider mid-table uninspiring, for youngsters it provides a low-pressure environment in which to develop and – hopefully – to blossom.
SWOT analysis
STRENGTHS

– Passing (82% accuracy)
– Tackling (67% success ratio)

WEAKNESSES

– Heading (<50% success ratio)

OPPORTUNITIES

– Performance improving as he gets used to a new culture and language

THREATS

– Playing time could be reduced by the club's recent signings


---
Becoming a polyglot
Daniliuc signed a four-year contract with OGC Nice after his academy experiences in Germany with Bayern Munich and in Spain with Real Madrid.
If Daniliuc continues to perform as he has in his first 10 appearances in FL1, the international interest in him will grow fast. However, Nice will probably prefer to keep him for at least a couple years. In such case, Daniliuc will have the chance to learn a new language, after German, English, Romanian and Spanish.
In the following interview he showcases very good English and good analytical skills as well. Thumbs up from us!
---
This analysis is part of our 'Wonderkids: 2021 Outlook'. Please find the link to download the eBook here. A printed version is available too.
---