Wonderkids: Florian Wirtz
Florian Wirtz has all the credentials to become one of the top attacking midfielders in Europe, in our view. Technically gifted, Wirtz's dribbling and vision are his main skills, while he is also very dynamic and covers a lot of ground during matches. Furthermore, various external factors lead us to believe that this 17-year-old wonderkid could fulfil his potential: he shows determination and lives in a positive and familial environment, with a club that is used to nurturing young talent and that strongly believes in his game, giving him space and continuity.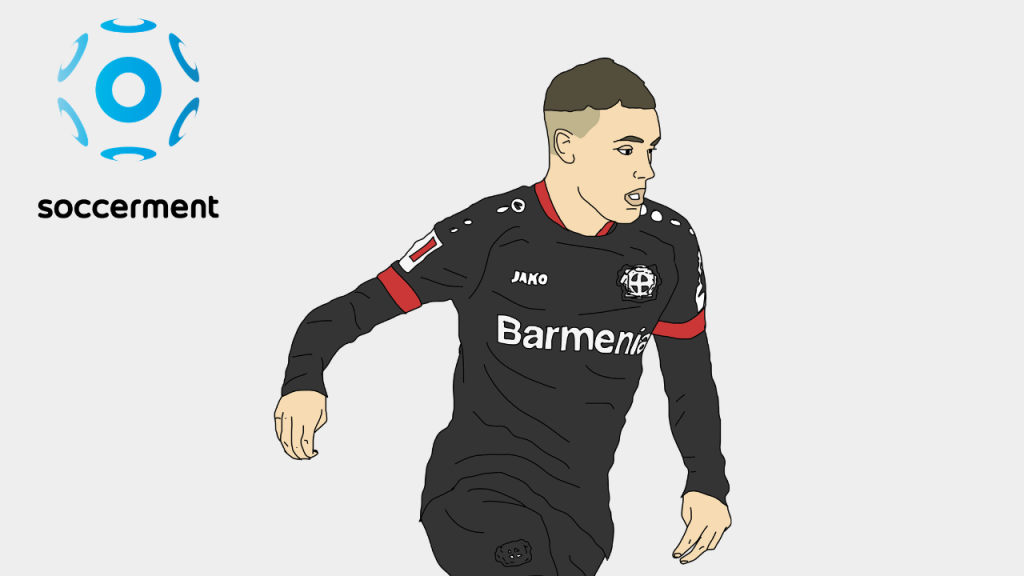 ---
Bio and playing style
Blossoming on the banks of the Rhine
Florian Richard Wirtz was born on 3 May 2003 in Pulheim, 18km from Cologne, Germany. Wirtz started playing at SV Grün-Weiss Brauweiler (his father was the club's chairman) but soon after in 2010, aged just 7, he joined 1. FC Köln's youth team, where he spent the next 10 years. His outstanding performances with Die Geissbocke attracted many top clubs, in Germany and elsewhere, but Wirtz decided to join Bayer Leverkusen in January 2020. The reason was simple – just 15km and the Rhine river separate the two cities, which means that Wirtz can commute to training while living at home with his family.
Wirtz made his professional debut on 18 May 2020, starting for Leverkusen against Werder Bremen. In doing so, he became the youngest Leverkusen player to debut in the Bundesliga, at the tender age of 17 years and 15 days.
On 6 June 2020, Wirtz also became the youngest goalscorer in Bundesliga history at the age of 17 years and 34 days, against Bayern Munich. Although this record was later taken by Dortmund's Youssoufa Moukoko.
---
Dribbling and vision
Florian Wirtz is an attacking midfielder, although he can also play wide on the left as an inverted winger. In the 2020/21 season Wirtz has made 18 appearances for Leverkusen (up to 31 December 2020), playing as a central attacking midfielder (CAM) 94% of the time.
Wirtz's biggest strength is his vision, a quality that allows him to create numerous chances for his teammates and generate a constant flow of assists. In the current season he has completed 5 assists, much better than his 2.64 xA; on a per-90-minute basis that's 0.43 assists vs 0.23 xA P90. On this front, his outperformance vs the average CAM can be seen in the higher number of chances he creates (2.22 P90 vs the 1.67 avg) and his through balls P90 (0.34, vs the 0.23 average for the role). Through balls account for 0.71% of his total passes (vs the 0.57% average for the role). His vision also adds verticality to his game: if we look at the direction of his passes this season, we see that he is most likely to pass forward (32% vs the 30% average for the role), followed by to the left (26% vs 24% avg), backward (22% vs 21% avg) and finally to the right (20% vs 26% avg).
The other main asset in Wirtz's tool box is his dribbling. So far in the Bundesliga he has displayed a dribble success ratio of around 70% (vs a 58.5% average for CAMs), with more than three successful dribbles per match (vs the 1.4 average for the role).
In the chart below, we show how Florian Wirtz compares to the other Under-20 players in our database in terms of Dribbling and Vision. We use our data-driven performance indexes, which mix the aforementioned stats. As we can see, Wirtz is already among the best U-20 players in these two parameters, despite being younger than most.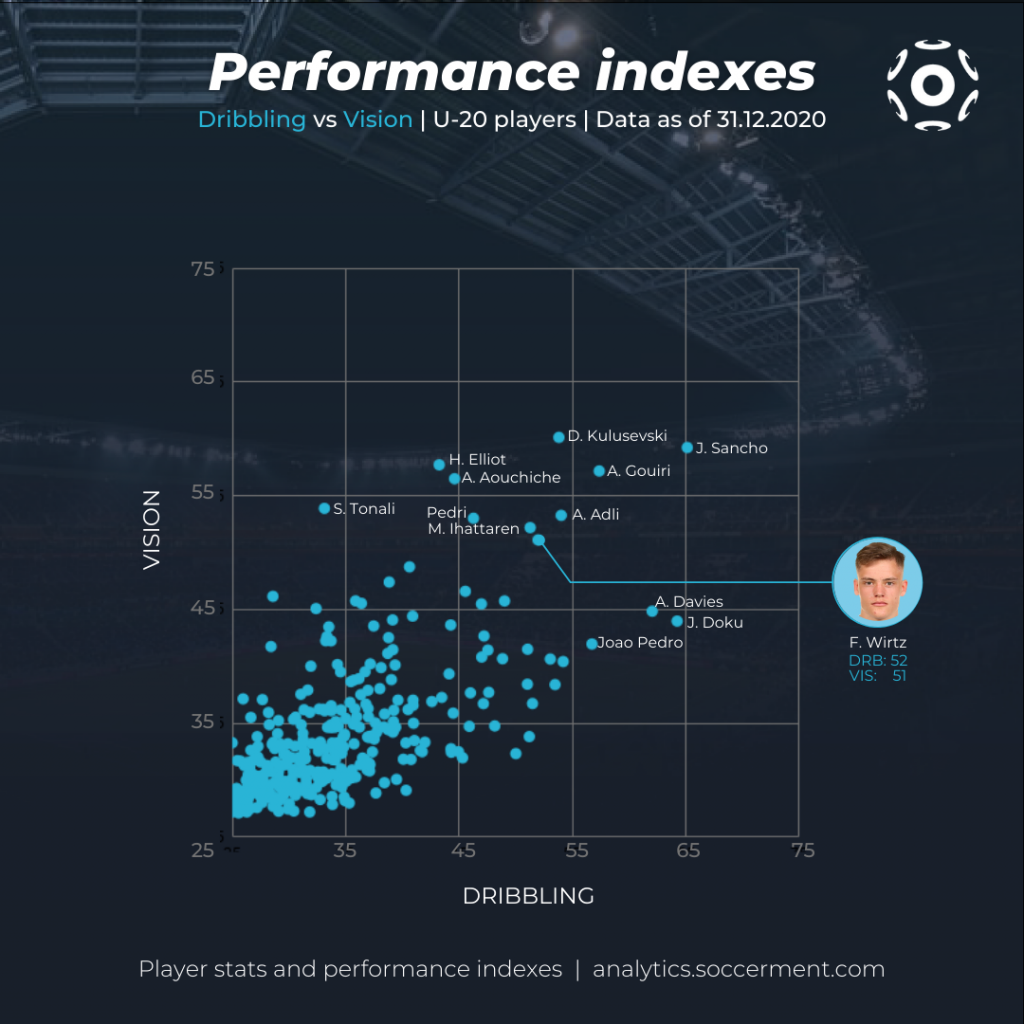 ---
Direct and dynamic, he covers a lot of ground
The heatmap below, as well as his performance stats, confirm two important aspects of Wirtz's game: 1) a marked offensive mindset; 2) that he is a very dynamic midfielder, who covers a lot a ground.
---
---
Regarding his offensive mindset, we note that 5.7% of Wirtz's total touches are made in the opposition box (3.2 per 90 minutes), as compared to 4.6% for the average central attacking midfielder.
So far in the Bundesliga this season, Wirtz has taken 15 shots in open play, most of which were from inside the penalty box (60%) and has scored 3 goals for a 20% shot conversion, with 2.4 xG and 0.16 xG per shot. He mostly shoots with his strong foot, indicating that he is not so confident with his left.
Despite Wirtz not being particularly fast – he has reached a top speed of 32.5km/h in the 2020/21 Bundesliga – he sprints very often, totalling 28.5 sprints per 90 minutes (311 total sprints, 12th in the Bundesliga). Furthermore, he has been covering 12.3km per 90 minutes (134.7 total kilometres, ranking him 25th in Bundesliga).
This dynamic playing style allows him to recover possession far more often than the average CAM (6.7 recoveries P90, vs the 5.2 average). Despite this, however, he needs to improve his overall defensive contribution, as evidenced by his low tackle success ratio of 45.0% (vs the 63.9% average for a CAM) and just 0.6 tackles won P90 (against 1.2 average for the role).
Aerial duels is another area where he has room for improvement, although his height (175cm) limits his contribution here: he shows a 25% aerial success ratio (vs 63.9% average for the role), with 0.4 aerial duels won P90 (against the 1.4 average).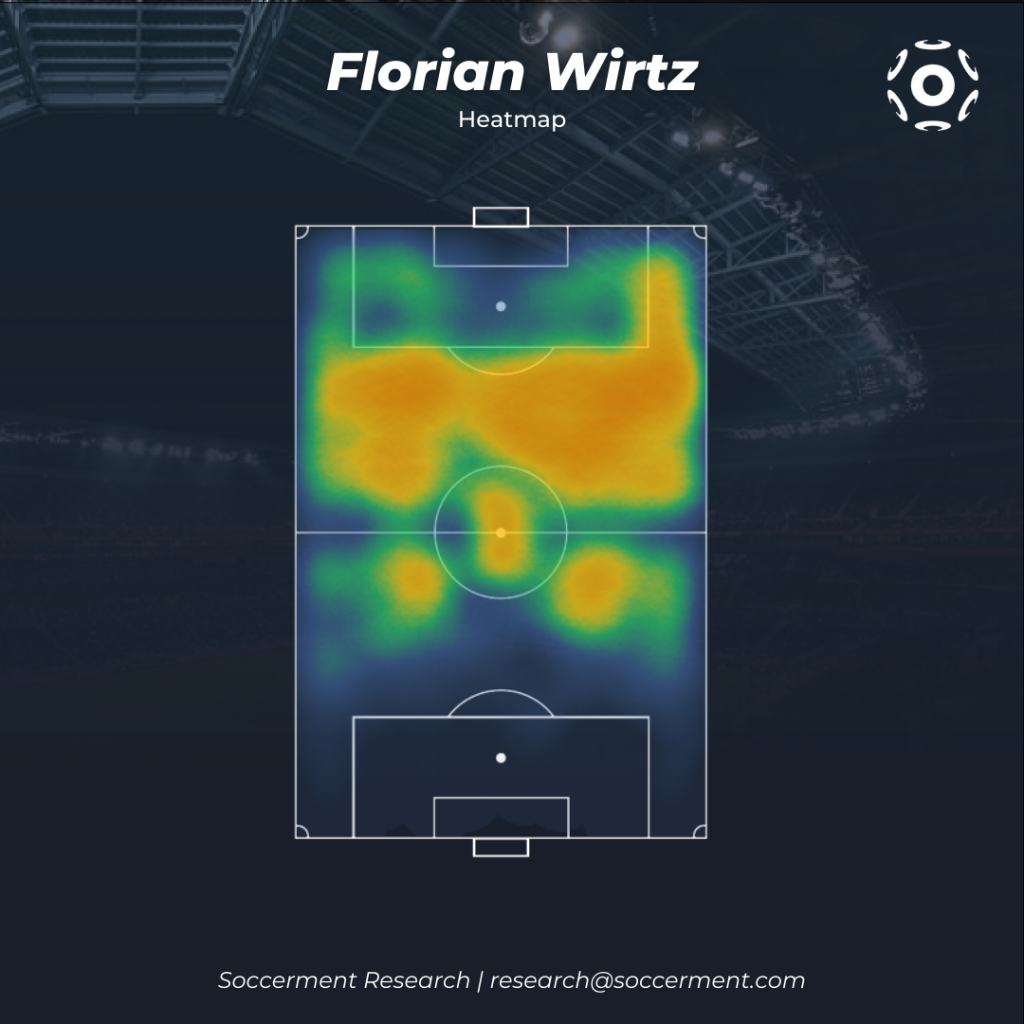 ---
Potential and outlook
One of the highest expected growth rates
Wirtz is just 17 year old. Assuming that he continues to improve athletically, tactically and technically, his confidence will only grow. This will likely shape him into one of the best central attacking midfielders in Europe over the next 4-5 years.
Die aspirin head coach Peter Bosz seems to firmly believe in him, so much so that Wirtz has practically become a permanent fixture in Bayer's midfield in the Bundesliga, instead resting in the Europa League.
In our valuation model, Florian Wirtz is expected to far exceed the average yearly growth of the Soccerment Performance Rating of 17-year-old midfielders. This is 12%, as we can see in the table below, while we expect Wirtz's SPR to grow by 17.4% in the next 12 months.
In our database, young midfielders (under 20) show more annual improvement, on average, than defenders or forwards (as shown in the matrix below).
| | | | |
| --- | --- | --- | --- |
| Age | Defenders | Midfielders | Forwards |
| 16 yo | +8% | +13% | +10% |
| 17 yo | +6% | +12% | +9% |
| 18 yo | +5% | +10% | +7% |
| 19 yo | +4% | +9% | +6% |
| 20 yo | +3% | +8% | +5% |
Matrix with the yearly average growth rates of the players' SPR, broken down by role and age (GK included in Defenders)
---
The favourable context in which Florian Wirtz plays is one of the key reasons for his expected outperformance:
Wirtz is finding a lot of playing time in a top team in the Bundesliga, one of the top 5 leagues in Europe; in the 2020/21 season, up to 31 December 2020, Wirtz had made 18 appearances for Bayer Leverkusen, making 13 appearances (including 12 as a starter) in the Bundesliga and 5 appearances in Europa League (including 3 as a starter).
Wirtz is playing in his preferred role (CAM) most of the time (>60%), which gives him confidence and defines his playing identity.
SWOT analysis
STRENGHTS

– Dribbling (>3 succesful dribbles P90)
– Vision (0.3 assists P90)

WEAKNESSES

– Aerial duels (23% success ratio)
– Tackling (<50% success ratio)

OPPORTUNITIES

– Shooting output (1.2 shots P90)

THREATS

– The recent tactical change (from 4-2-3-1 to 4-3-3) could negatively influence his game

---
Has extended with B04, but interest is growing
On 23 December 2020 Bayer Leverkusen and Wirtz agreed a contract extension, for which the Germany U21 international is set to stay at the club until 30 June 2023.
It is no secret that big clubs like Liverpool and Bayern Munich (whose manager Hans-Dieter Flick recently praised Wirtz) tried to sign Wirtz before he moved to B04, and in the short-to-medium term they may try again to lure the young attacking midfielder. Considering that Bayer paid Cologne around €200,000 for Wirtz (right now he is reportedly worth way more than €20m), Leverkusen may decide to bank another major capital gain, just as they did with Kai Havertz.
---
This analysis is part of our 'Wonderkids: 2021 Outlook'. Please find the link to download the eBook here. A printed version is available too.
---