Wonderkids: Giovanni Reyna
Giovanni Reyna's unquestionable talent is a key reason why the future looks bright for both the USMNT and Borussia Dortmund. Physically strong (185cm and 79kg) and gifted with great technical ability, he normally plays as attacking midfielder, often seeking space on the left. However, we feel that Reyna is yet to fully find his on-pitch identity, and so we worry that the recent managerial change at BVB represents more of a threat than an opportunity at this stage of his career. We expect him to remain in Dortmund for a few more years.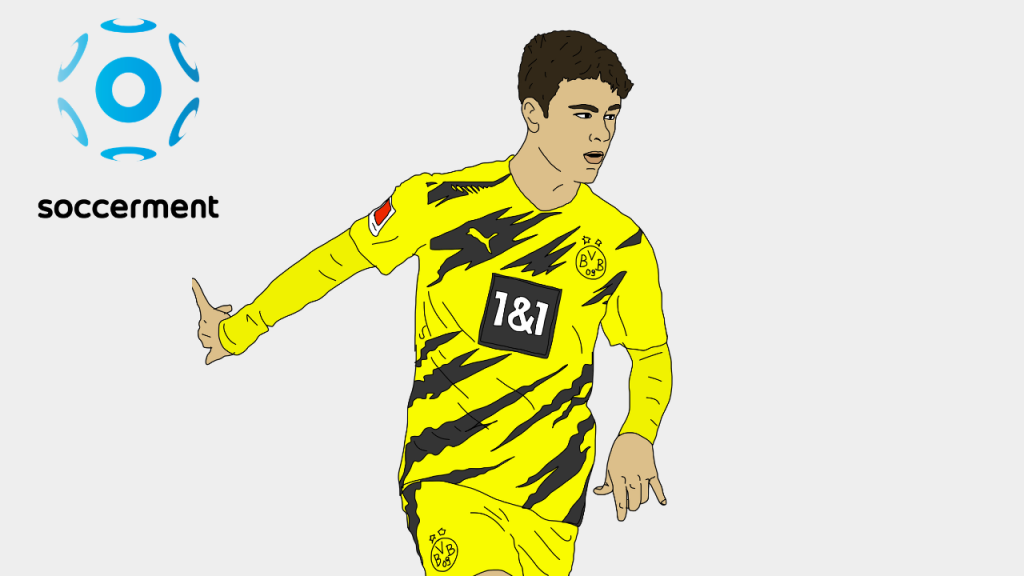 ---
Bio and playing style
Football is in his DNA
Giovanni Alejandro Reyna was born on 13 November 2002 in Sunderland, England, where his father Claudio played as a midfielder. His first name is a tribute to the friendship between his father and Giovanni van Bronckhorst, teammates at Glasgow Rangers.
In 2015 Giovanni joined the New York City Academy, with which he won the U17 Generation Adidas Cup (he was nominated for MVP of the tournament) and the U19 national title, scoring 13 goals in 17 appearances. In 2017 he also won the Torneo delle Nazioni with the USA U15.
In July 2019 Reyna left the NYCFC Academy to join Borussia Dortmund.
A yet-to-be defined playing style
Giovanni Reyna is yet to show his full potential, in our view. In part this is down to Reyna having not yet developed a clear playing style. He has left more questions than answers in the 40 matches he has played for Borussia Dortmund so far in all competitions. When tasked with finding a similar player, both people and machine learning algorithms struggle; although this may be a good thing, underlying Reyna's uniqueness as a player.
Reyna's technical skillset is certainly remarkable, as he is gifted with excellent dribbling and passing skills, and excellent vision.
He often attempts dribbles (4.67 P90 vs the 2.37 average for Central Attacking Midfielders) to create numerical superiority, and is skillful enough that he often succeeds (60% success ratio, vs. the 58.5% average for CAMs). It is no coincidence that in the 2020/21 Bundesliga seasons, as of 21 December 2020 he had the eighth-highest number of successful dribbles (25) and the third-highest number of fouls won (30).
---
As for Reyna's passing, we highlight the following stats: 84.5% pass accuracy (vs the 79.7% average for his role), with 41.7 accurate passes P90 (vs the 31.7 average), and excellent passing accuracy in the opposition half of 78.8% (vs the 70.5% average). The accuracy of his long passes is also remarkable, much higher than the average for the role: 70.0% vs 54.7%.
Reyna is 185cm tall and weighs 79 kg, for a BMI of 23.1. At 18 years of age, he is already well built and is competitive in professional football's heavy physical duels.
---
---
In light of this, we would expect more from him in aerial duels: he wins just 19% of his aerials, against a 49% average for the role. The same goes for tackles: he displays a 44.4% tackle success ratio (against the 63.9% average for the role) – something for him to work on.
Reyna's physical presence is accompanied by decent running stats: in the 2020/21 Bundesliga season he has so far totaled 23.7 sprints P90 (234 total sprints, 55th in Bundesliga), reaching a top speed of 32.75 km/h (139th in Bundesliga, where the fastest is Alphonso Davies with 35.94 km/h). He also covers 11.7 km P90 (115.6 total km: 63rd in the Bundesliga).
Looking for space on the left
Reyna is primarily an attacking midfielder, a role in which he has been deployed for 67% of his games this season (18, including 14 as a starter) for Dortmund (Bundesliga and UCL); he can also play as a left winger. Either way, he tends to operate towards the left, as we can see in the heatmap below and the breakdown of his passes, with 31% directed to the right, i.e. towards the centre of the pitch, more than any other direction.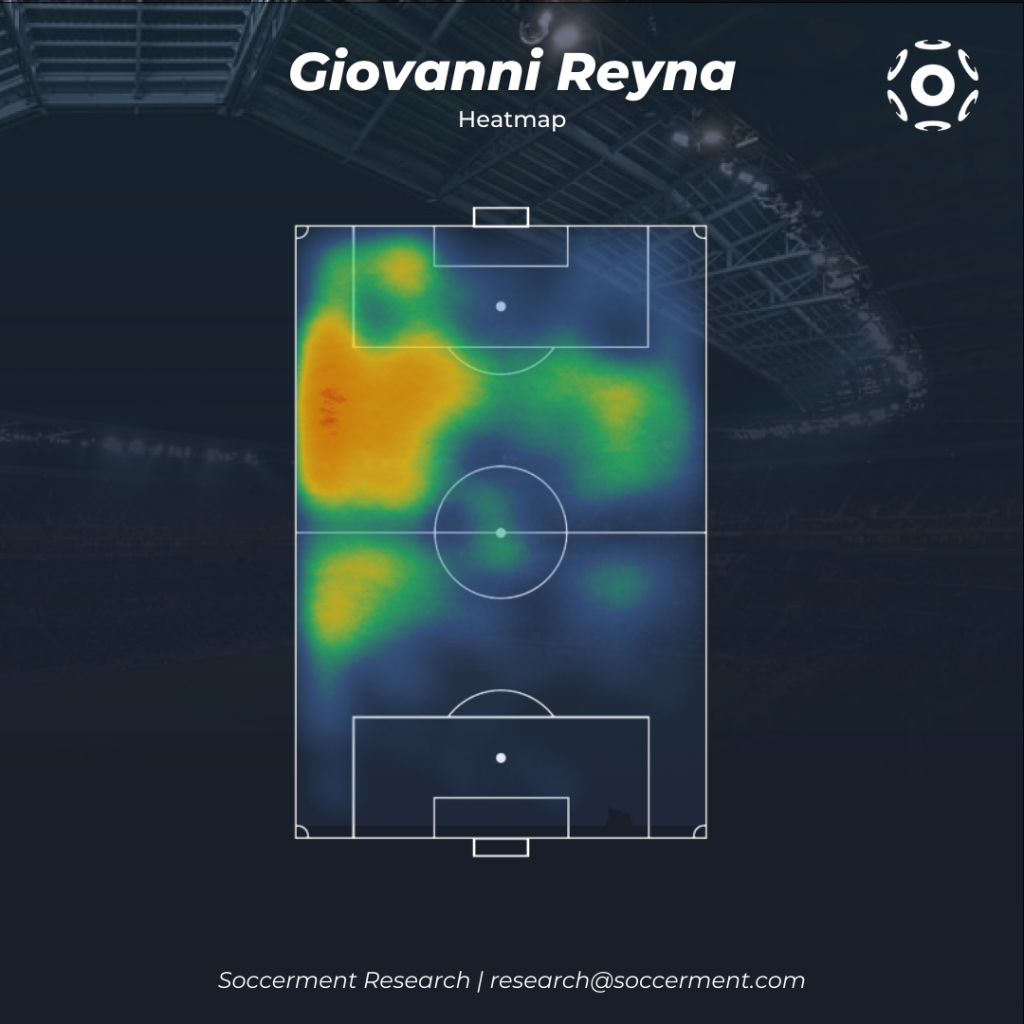 ---
In general, he plays high up the pitch (4.89 touches in the opposition box P90 vs the 2.74 average for the role) which gets the most out of his vision of the game and ability to pick out his teammates in dangerous positions. Reyna manages 0.36 assists P90 vs 0.16 average for his role (0.26 Expected Assists P90), 0.22 through balls P90 (in line with the average for role, 0.23) and 1.60 chances created P90 (vs the 1.67 average for role).
In our view, Reyna could improve his shooting a lot in the near future. We expect him to start taking more shots as his confidence grows and he gains in experience: in the Bundesliga he has taken 22 shots in open play (1.60 per 90 minutes), carrying only 1.7 xG (0.076 per shot) and scoring 3 goals. His outperformance in xG is down to a higher-than-average shooting accuracy (44% vs the 33% average for the role). We have noticed that while he trusts his right foot when it comes to difficult shots (0.055 xG per shot), with his left he limits himself to the "easy" ones (0.16 xG per shot). Some specific training on left-foot shooting could bring interesting results.
Potential and outlook
Potential
Considering his young age, Reyna is a fairly complete player from a technical and tactical point of view. What he still lacks is a more effective use of his body to win tackles and aerial duels and so lose fewer balls than he does now; this will come as he "fills out" his body and gains in experience and playing time.
Furthermore, an even greater contribution in the defensive phase – especially in tactical systems that require the team to press all across the pitch – could lead him to become an important player in modern football.
BVB is a talent factory, but could also be a team in transition
Borussia Dortmund is famously careful in investing in young talents: the squad is mostly made up of young footballers who have chosen Dortmund on the prospect of an immediate place in the starting XI of a team that doesn't take age into consideration when dolling out minutes.
At the time of writing, Reyna has already played 13 games in the 2020/21 season, 10 of which were from the start. The trust and continuity that Reyna enjoys, combined with consistently playing in the role most suited to him, can only make BVB the ideal context in which Reyna can learn to express his full potential.
SWOT analysis
STRENGTHS

– Dribbling (2.8 successful dribbles P90)
– Vision (0.26 Expected Assists P90)

WEAKNESSES

– Aerial duels (19% success ratio)
– Tackling (44% success ratio)

OPPORTUNITIES

– Increase number of shots

THREATS

– Change of manager at BVB

Expect him to remain in the black and yellow for a while
Having said that, BVB recently sacked manager Lucien Favre and replaced him with assistant coach Edin Terzić. While this change looks like a bid for continuity in terms of the team's playing style, it represents more of a threat than an opportunity for Reyna at this stage of his career: some managerial continuity and the advice of an experienced coach would have helped him to find his identity as a footballer, in our view.
---
This analysis is part of our 'Wonderkids: 2021 Outlook". Please find the link to download the eBook here. A printed version is available too.
---