Wonderkids: Jude Bellingham
There is a reason why the 17-year-old Jude Bellingham is already getting regular playing time at Borussia Dortmund and has debuted with the England national team: he is already a complete midfielder. Physically strong, Bellingham is comfortable in both defensive and attacking duels, despite his very young age. In our view, however, he will need to significantly improve his passing and shooting if he is to step up to the next level and develop into a top box-to-box midfielder.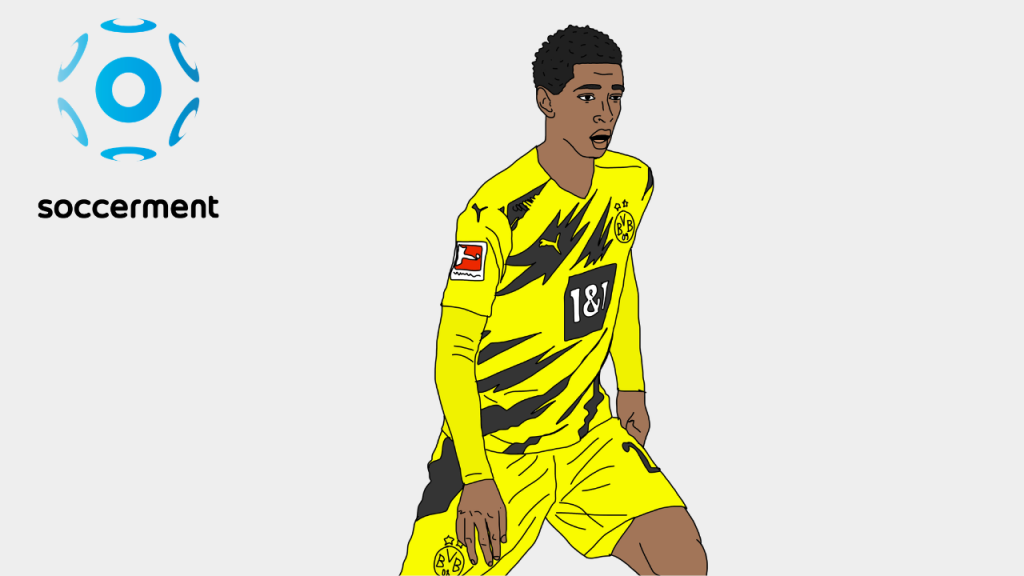 ---
Bio and playing style
Surprisingly precocious
Jude Victor William Bellingham was born on 29 June 2003 in Stourbridge, England. At the age of 8, he joined the Birmingham City Academy, where he played for the U18s at the age of 14 and for the U23s at the age of 15. On 6 August 2019 – at the age of 16 years and 38 days – Bellingham became Birmingham's youngest ever first-team player, starting in a Carabao Cup game against Portsmouth.
On 31 August 2019, Bellingham became Birmingham's youngest ever goalscorer, at the age of 16 years and 63 days. He concluded the 2019/20 season with 4 goals from 44 appearances.
In July 2020 Bellingham was transferred to Borussia Dortmund for a fee reportedly in the region of €25m. He made his international debut for the England national team in a friendly against the Republic of Ireland at Wembley on 12 November 2020.
Birmingham City have retired the no. 22 shirt in his honour.
Physically ready for take-ons, but his passing and shooting need improvement
Bellingham is 186cm tall and weighs 75kg, for a BMI of 21.7. He is unusually well-built for a 17-year-old, which allows him to go head-to-head with older players: despite his very young age, Bellingham's stats show that he is not afraid to take on more senior pros, with a 61.0% tackle success ratio (against the 63% average for the role), 2.95 tackles P90 (against the 1.98 average) and 6.24 recoveries P90 (against the 6.06 average). He's also fairly good at heading, with 1.36 aerial duels won P90 (against the 1.29 average).
Bellingham's stats do indicate a below-average passing ability though: although his accuracy within his own half is in-line with the average central midfielder (87.8% vs 89.2%), it drops well below average in the opposition half (66.2% vs the 73.6% average). These numbers clearly indicate that there is upside potential on this front.
Furthermore, his poor passing accuracy cannot be explained away by him attempting more forward passes than usual (see chart below), nor by the number of through balls he completes, which is below average (0.09 vs 0.12 P90).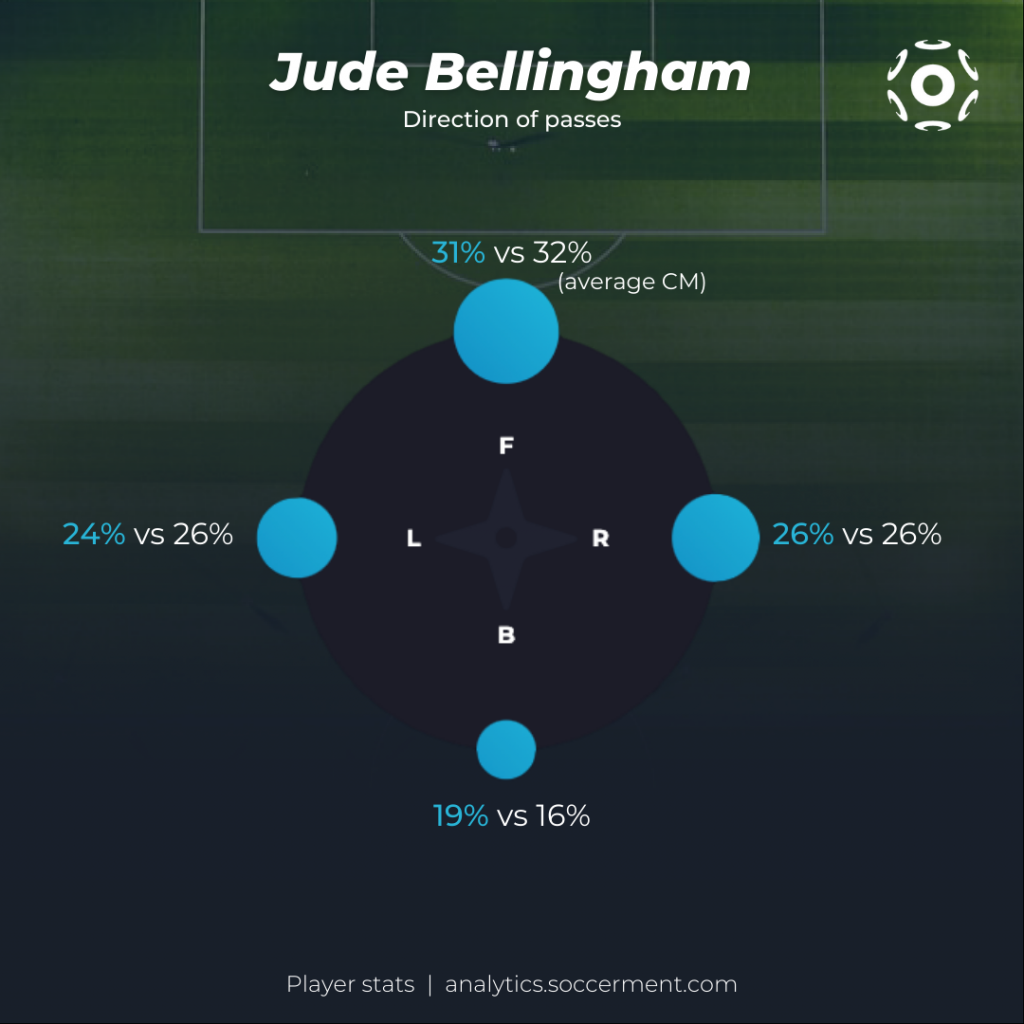 ---
His dribbling, however, is more proficient. He attempts double the average number of dribbles for his role (2.53 P90 vs. the 1.38 average), of which 1.54 P90 are successful, vs the 0.90 average.
A box-to-box midfielder in the making
Bellingham plays as a central midfielder, a role in which he has been deployed in 88% of the games (17, including 10 as a starter) he has played for Dortmund in Bundesliga and Champions League in the 2020/21 season.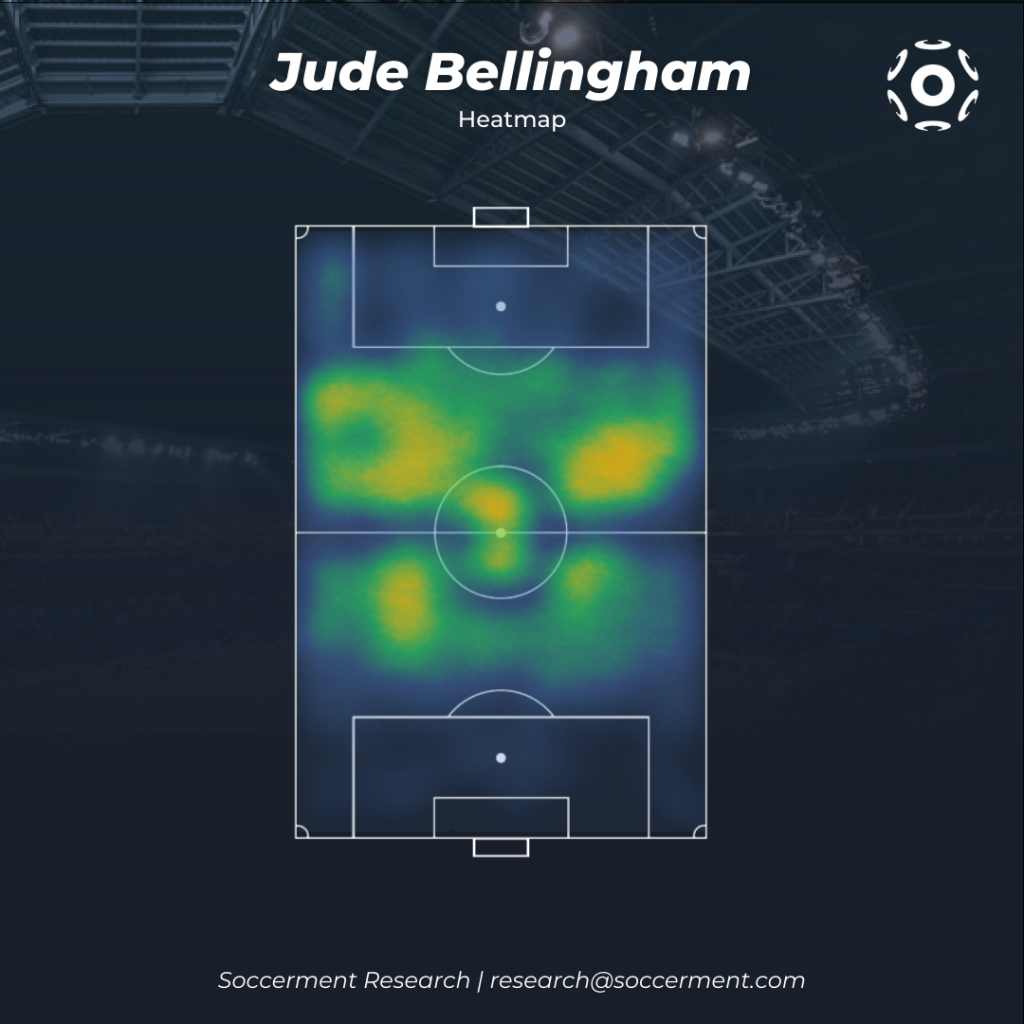 ---
As evidenced by the above heatmap, Bellingham is active in both halves of the pitch, just like the typical box-to-box midfielder.
The statistics show how Bellingham tends to participate in the attacking phase more than the average CM: 5.5% of his total touches are made in the opposition box (3.28 P90), vs 2.1% for the average central midfielder.
---
---
This season the efficiency and quantity of the chances Bellingham generates for his teammates has caught the eye. As of 31 December 2020, he has completed 2 assists in the Bundesliga (0.34 P90), which came from 1.7 Expected Assists (0.3 xA P90), as a result of 1.37 chances created P90 (vs 1.05 average). In the Champions League, Bellingham has completed one assist in 338 minutes (0.27 P90), out of 0.7 Expected Assists (0.18 xA P90).
| Season | Competition | Chances created P90 | xA P90 | Assists P90 |
| --- | --- | --- | --- | --- |
| 2020/21 | Bundesliga | 1.37 | 0.29 | 0.34 |
| 2020/21 | UCL | 1.60 | 0.18 | 0.27 |
| 2019/20 | Championship | 1.00 | 0.11 | 0.07 |
Stats as of 31.12.2020
---
If Bellingham wishes to impose himself as the next great English box-to-box midfielder, the heir to Steven Gerrard and Frank Lampard, he will have to improve his shooting.
This season in the Bundesliga Bellingham has taken 9 shots (1.55 P90) and generated 0.5 xG, which demonstrates debatable shot selection (0.05 xG per shot). More than half of the shots he took were from outside the box. In the Champions League, he has generated 0.6 xG from 6 shots. The shot selection here (0.1 xG per shot) is in line with his average and with the numbers he generated last year in the English Championship, when Bellingham scored 4 goals from 5.1 Expected Goals (0.1 xG per shot).
| Season | Competition | Shots | xG | xG per shot | Goals |
| --- | --- | --- | --- | --- | --- |
| 2020/21 | Bundesliga | 9 | 0.5 | 0.05 | – |
| 2020/21 | UCL | 6 | 0.6 | 0.10 | – |
| 2019/20 | Championship | 51 | 5.1 | 0.10 | 4 |
Stats as of 31.12.2020
---
Potential and outlook
SPR to grow considerably over the next 5 years
Jude Bellingham already looks like a complete central midfielder. In the 2020/21 season, with Lucien Favre as manager, Bellingham has played 17 games for Dortmund, of which 11 were in the Bundesliga (6 from the start) and 6 in the UEFA Champions League (4 from the start).
If he finds this same continuity under the new manager Edin Terzić – both in terms of minutes played and his tactical instructions – then Bellingham could find BVB the ideal context in which to grow, as the club prides itself in developing young talents, as we've seen for Giovanni Reyna and many others in the past.
When analysing Bellingham's stats one must never forget that he is only 17 years old: in our database, young midfielders (under 20) show more annual improvement, on average, than defenders or forwards (as shown in the matrix below).
---
| | | | |
| --- | --- | --- | --- |
| Age | Defenders | Midfielders | Forwards |
| 16 yo | +8% | +13% | +10% |
| 17 yo | +6% | +12% | +9% |
| 18 yo | +5% | +10% | +7% |
| 19 yo | +4% | +9% | +6% |
| 20 yo | +3% | +8% | +5% |
Matrix with the yearly average growth rates of the players' SPR, broken down by role and age (GK included in Defenders)
---
We would expect the improvement in Bellingham's performances (as measured by the growth of his Soccerment Performance Rating) to considerably exceed the average, given his exposure to top-quality teammates, competitions and training facilities. Regarding the latter, for example, we highlight that when it comes to improving passing skills, Borussia Dortmund seems to have the perfect technology-based training methodology: the Footbonaut.
All things considered, we wouldn't be surprised to see Jude Bellingham's Soccerment Performance Rating (SPR), currently 36, head into "elite player" territory (around 60) before he turns 23.
SWOT analysis
STRENGHTS

– One-on-ones (1.5 successful dribbles P90)
– Chance creation (0.3 xA P90)

WEAKNESSES

– Passing (<70% accuracy in the opp. half)
– Shooting (6% goal conversion)



OPPORTUNITIES

– Improve his defensive contribution

THREATS

– A reduction in his playing time following the change in management at BVB

---
A short contract, which gives all parties options
Following his transfer in July 2020, Bellingham signed a three-year contract that will expire on 30 June 2023 (according to Capology, his annual gross salary is €1,600,000). The relatively short contract will force both parties to quickly decide whether it makes sense for him to remain longer at Borussia Dortmund.
The signs are promising so far for Bellingham at the Signal Iduna Park: the young midfielder has earned himself playing time (524 minutes in the Bundesliga, 338 minutes in the Uefa Champions League) and his performances have not disappointed: 2 assists in GB, 1 assist in UCL.
And even if the environment around the player deteriorates, he will have plenty of options to return to England – this time to the top flight.
---
This analysis is part of our 'Wonderkids: 2021 Outlook'. Please find the link to download the eBook here. A printed version is available too.
---