Wonderkids: Lassina Traoré
Lassina Traoré is a 19-year-old striker from Burkina Faso who plays for AFC Ajax. While his imposing physique might lead some to consider him a target men, and his finishing ability is more typical of a poacher, we consider him a complete forward, able to consistently score goals and create chances for his teammates. This selfless attitude is ideal for a striker at Ajax, where we are expecting him to remain for a few years as he completes his development.
---
Bio and playing style
Football runs in his veins
Lassina Traoré was born in Bobo-Dioulasso, the second-largest city in Burkina Faso, in 2001. Traoré's mother was a former professional footballer and captained the Burkina Faso women's national football team, while his father was a footballer too. His cousin, Bertrand Traoré, is also a professional footballer, a striker for Aston Villa.
Aged 16, Traoré embarked on an 8.000km journey to South Africa, where he joined Ajax Cape Town FC. Two years later, aged 18, Traoré signed for AFC Ajax and debuted with the first team on 12th May 2019. Traoré was awarded the Eredivisie's POTM for October 2020.
A complete forward
Although young and not particularly tall (183 cm), Lassina Traoré is a striker who makes his presence felt in the penalty box thanks to his muscular physique.
Although his physicality is important for his game, Traoré is not the typical 'target man', nor the typical 'poacher'. He could instead be defined as a 'complete forward' who contributes to the build-up phase and, in our view, could well play in a two-men attack.
A look at the stats he has produced so far in the Eredivisie shows a total tally of 15 direct goal involvement in 866 minutes this season, i.e. 1.56 per 90 minutes, with 9 goals (0.94 non-penalty goals P90) and 6 assists (0.62 P90).
High xG per shot
Traoré's 9 non-penalty goals in the Eredivisie have come from 31 shots in total (29% goal conversion), or 3.1 per 90 minutes of play. Those shots carried a total of 7.3 Expected Goals (0.8 xG P90), which means that each shot had an xG of 0.24, on average.
This is a very high number when compared to Europe's best strikers. It is at the same level as Edinson Cavani, and above that of renowned poachers like Mauro Icardi and Jamie Vardy (both have xG per shot of 0.21 at the time of writing).
Time will tell whether Traoré will be able to maintain these high standards. Moreover, it should be taken into consideration that Traoré scored 5 of his 9 goals in the Eredivisie in a single match, Ajax's 13-0 win over VVV Venlo.
---
However, we also note that in the Uefa Champions League this season, in a tough group in which saw Ajax came third, Traoré accumulated 1.1 xG with 6 shots, i.e. a still high 0.19 xG per shot. He finished the UCL's group stage with one goal in 196 minutes.
xA per 90 minutes of 0.3
In the Eredivisie, Traorè has so far created more chances for his teammates than the typical forward in our database: 1.5 per 90 minutes vs 1.0 in average, which has resulted in 6 assists (0.6 per 90 minutes). This last number is obviously influenced by his teammates' ability to convert the opportunities he creates. Nevertheless, Traoré's Expected Assists of 0.29 xA per 90 minutes paints the picture of a creative forward. Poachers like Cavani, Icardi and Vardy are all well below 0.05 P90, while Target Men such as Lukaku, Ibrahimovic and Luuk de Jong are all below 0.25 P90.
Tactical analysis
While he is predominantly active in the area (8.6 touches in the box per 90 minutes, vs. 4.5 on average for the role), Traoré participates usefully in Ajax's buildup, with 18 accurate passes per 90 minutes (vs the 16 average for the role), while also showing better-than-average accuracy (75% pass accuracy vs 70% average for the role). The heatmap below demonstrates where Traoré is most active.
---
Potential and outlook
Potential to improve his explosiveness and accuracy
Physically, there doesn't seem to be much to add to Traoré's already imposing frame. On this front, therefore, the player's potential for improvement seems to be somewhat limited. In our view, most of Traoré's improvement will be in two specific areas, both of which are trainable.
---
---
First of all, improving his explosiveness would help him win more take ons: in the Eredivisie he has only attempted 0.8 dribbles per 90 minutes, successfully completing only a quarter of them.
Secondly, considering the favourable locations from which he shoots (xG per shot of 0.24), we would expect a higher shooting accuracy than the current 38.9% (considering both ERE and UCL).
The place to be and to learn
In our view, Lassina Traoré finds himself in the perfect place in AFC Ajax, for three reasons: 1) The club is well known for its focus on youth development; 2) The team is top of the Eredivisie and will play the knock-out stages of the Europa League; and 3) Ajax's manager Erik ten Hag is giving Traoré minutes: we calculate that, as of 30 December 2020, Traoré had played more than 50% of the minutes he was available for this season.
Furthermore, in Ajax's squad there are a few experienced players who could inspire the young Traoré, most notably "The Hunter" Klaas-Jan Huntelaar. A comparison of the two players shows that there is some similarity in playing style, making Huntelaar an excellent role model for Traoré.
Ajax has recently announced the signing of Sébastien Haller, for a record-breaking fee of €22.5m, according to the international media. Another experienced forward to take inspiration from, but that at the same time could limit Traoré's playing time.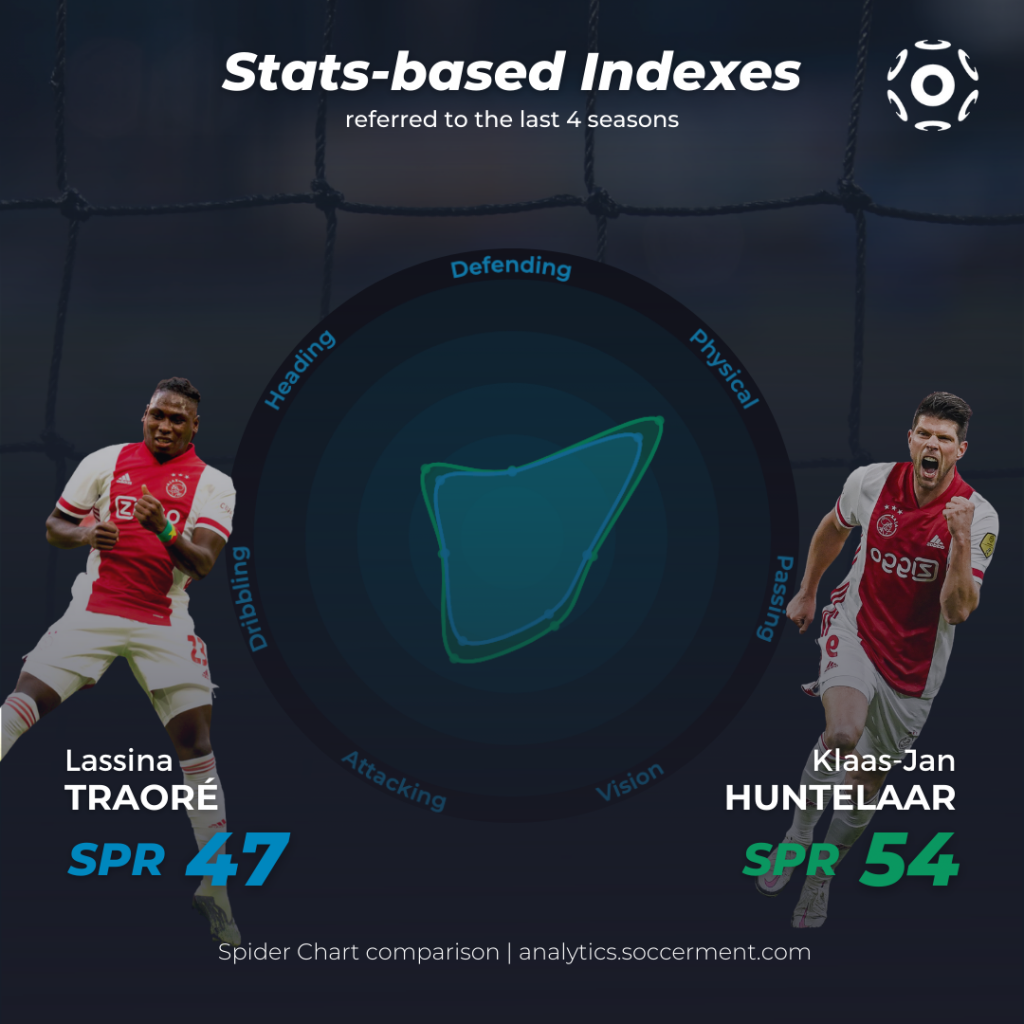 ---
SWOT analysis
STRENGTHS

– Shot selection (0.24 xG per shot in the Eredivisie)
– Chance creation (0.3 xA P90)
WEAKNESSES

– Dribbling (0.8 attempts P90 / 25% success)

OPPORTUNITIES

– Europa League's final stages
– Learning from Klaas-Jan Huntelaar

THREATS

– The signing of Sébastien Haller could limit his playing time
– In the past he has shown a propensity to gain weight
---
Possible future
We would expect Traoré to remain at AFC Ajax for a few more years, before seeking a move to another league. However, the recent signing of Sébastien Haller by Ajax could indicate a different future for the young Burkinabé striker.
Assuming that Traoré's performances remain at their currently high level, a contract renewal should come along soon. According to Capology, Lassina Traoré's contract will expire in 18 months, on 30 June 2022, and his current gross annual salary is €520,000.
The ideal process, over two-to-three years, would involve increasing exposure and responsibility in the first team, leading to interest from the top European clubs.
However, apart from the usual career-risks such as injuries and failure to meet expectations, in the case of any Ajax player there is the additional risk of high internal competition, which we highlight as a potential threat to his development in our SWOT analysis above. Ajax's youth teams are full of extraordinary forwards (Brian Brobbey, Sontje Hansen and Naci Unuvar to name but a few), who could end up limiting Traoré's playing time and development.
---
This analysis is part of our 'Wonderkids: 2021 Outlook". Please find the link to download the eBook here. A printed version is available too.
---