Wonderkids: Mason Greenwood
Mason Greenwood's impact at Manchester United has been as rapid and unpredictable as he is on the pitch. His impressive 2019/20 campaign set the bar very high for the young Englishman, and he has struggled to meet those expectations so far this season. Nonetheless, he undoubtedly possesses outstanding attributes, above all his speed and two-footedness, which make him a constant threat for opposition defences. In our view, to complete his development and become a regular starter for the Red Devils, he will need to absorb as much as he can, as quickly as he can, from the more experienced forwards now playing for Manchester United.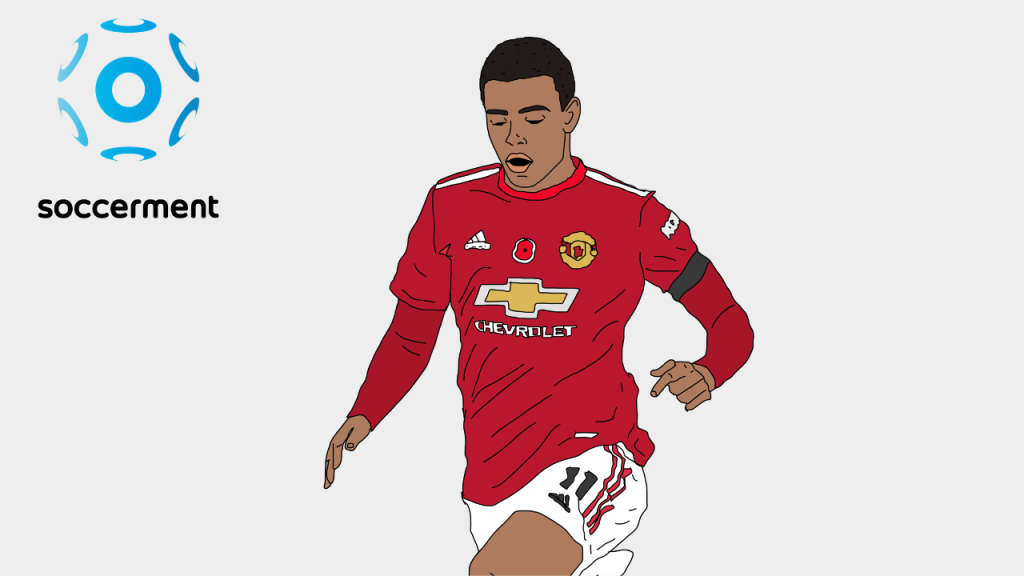 ---
Bio and playing style
A family of athletes
Mason Will John Greenwood was born in Bradford, England on 1 October 2001. Mason was raised by his parents Andrew and Melanie, along with his older sister Ashton. The Greenwoods are an athletically gifted family: Mason once held the GB U-13 100m record and Ashton is a 200m and 400m athlete.
Greenwood joined Manchester United when he was only 6 and hasn't stopped playing for the club since, achieving his dream of debuting for the first team on 6 March 2019.
Fast and two-footed
Mason Greenwood, who is 181cm tall and weighs 70kg (for a BMI of 20.7), is frighteningly quick: in the 2019/20 season he clocked in at a maximum speed of 37.6 Km/h, which ranked him joint-3rd in the Premier League and the fastest player at Manchester United. His speed, combined with a solid technique, allows him to beat his opponent often (60.7% dribbling success rate, vs the 51.7% average for forwards).
Greenwood uses his skills, speed and spatial awareness to receive the ball and shoot, often accurately (2.85 shots P90, 44% shooting accuracy).
As shown in the chart below, as of 31 December 2020, Greenwood had taken 61 shots from open play in the Premier League, with an average xG per shot of 0.09. His outperformance of xG (he has scored 11 goals vs the total xG of 5.5) has been outstanding. This outperformance has come:
in shots from both inside and outside the penalty box: 8 goals vs. an xG of 4.8 for shots in the box; and 3 goals vs xG of 0.7 for shots from outside the area;
from shots taken with his left foot (9 goals vs 3.5 xG) and his right (2 goals vs. 1.2 xG).
His aerial ability is a weakness, however: Greenwood wins only 0.26 aerial duels P90 minutes, with a success ratio of only 19.4%, and is yet to score a header in his senior career (0 goals vs 0.7 xG). His height isn't imposing, but it is enough for him perform better in the air than he has so far.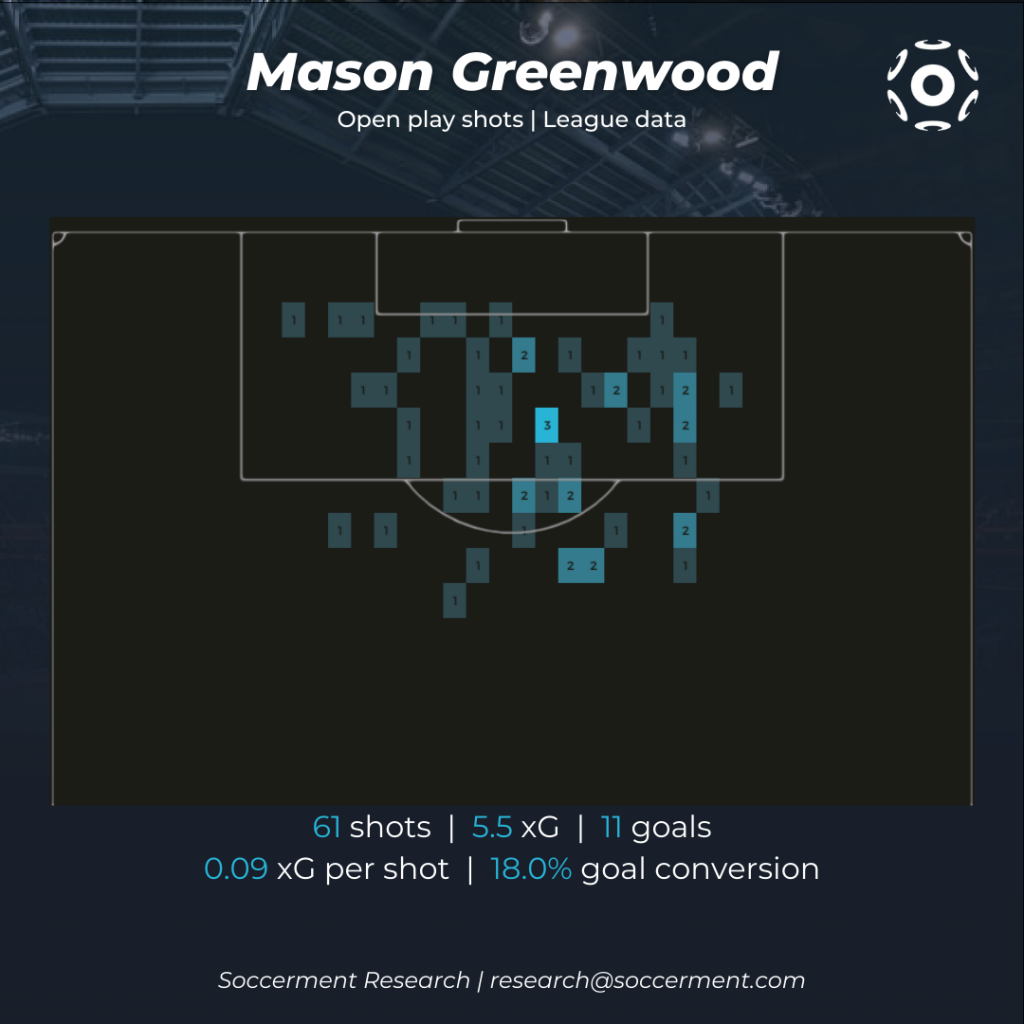 ---
Greenwood's passing stats are more than decent: his passing accuracy in the opposition half is high (83.9% vs 63.2% for his role), but this is partly explained by a "safe-pass attitude" (just 12.8% of his passes go forward, and 31% backwards). More frequent and incisive key passes might be what he is missing if he is to become a more complete offensive presence: Greenwood creates 0.96 chances per 90 minutes, vs the average of 0.99 for forwards, and only has 1 assist in his Premier League career so far (vs 2.2 Expected Assists).
A very versatile forward
Greenwood has mostly played as a right winger or a right-sided advanced midfielder in a 4-2-3-1 for Manchester United, but has also featured as a striker either in a 4-2-3-1 or in a 4-3-1-2 formation. His versatility and ability with both feet suggest that he could play both roles, and even on the left, without significantly losing effectiveness.
He tends to start wide and then drift towards the middle to find space to shoot, as his heatmap suggests.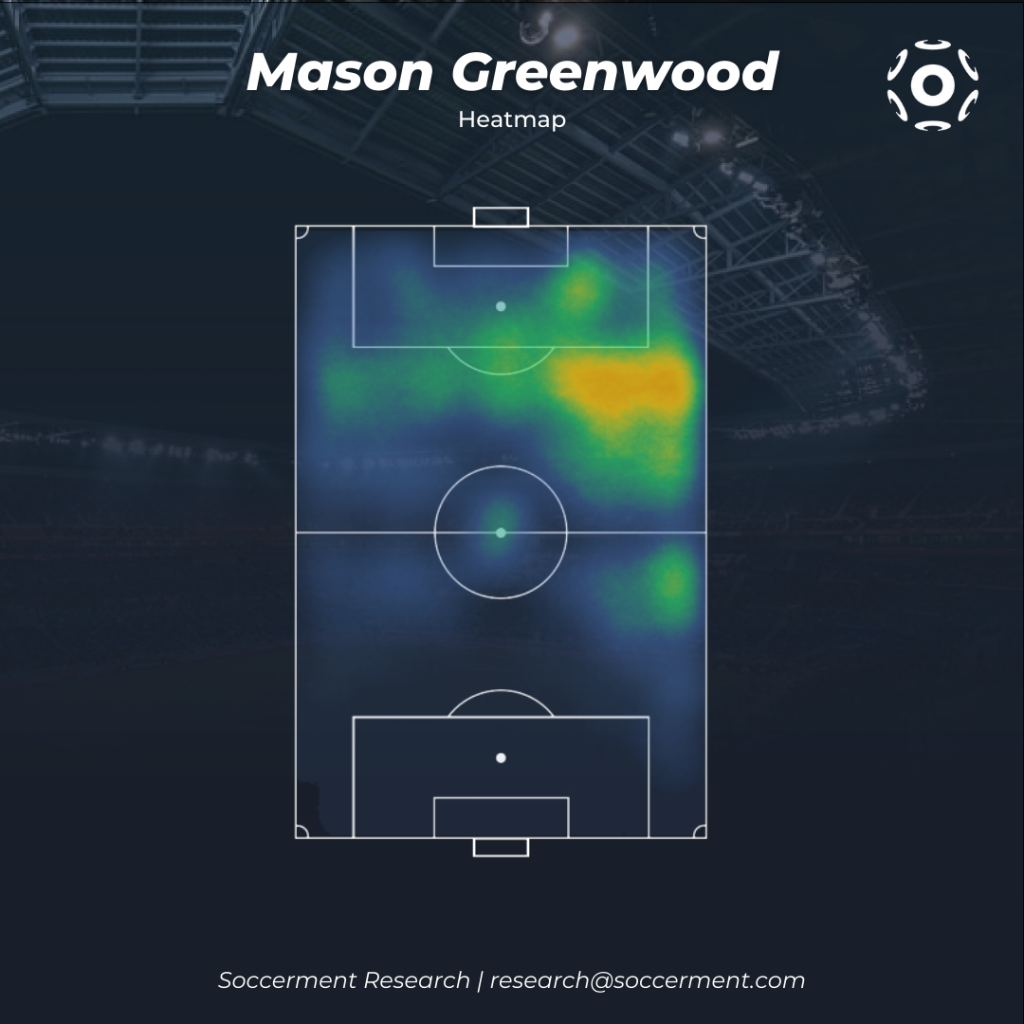 ---
Manchester United's usual lineup favours this kind of style as positioning tends to be very fluid with players swapping positions frequently, taking advantage of the fact that United have several forwards of a similar style. This similarity is demonstrated by our algorithms and by the similar shapes of Greenwood's, Rashford's and Martial's spider charts.
---
Given his exceptional speed, Greenwood prefers playing with open space in front of him in order to make runs behind the opposition backline or to provoke one-on-ones.
He has often come off the bench, which isn't ideal in terms of finding continuity, even if it is to be expected for such a young player at a big club. However, it does allow him to exploit his speed and dribbling skills against tired opponents.
Potential and outlook
Struggling to meet the higher bar
Greenwood has already demonstrated that he can perform at a high level: last season he scored 10 goals in the Premier League in just 1,312 minutes. What remains to be seen is if he can sustain similar levels of performance over a prolonged period.
---
---
This season his numbers are much worse, even if the sample size isn't as big (624 minutes). Since he is racking up basically the same number of xG P90 (0.23) as last season (0.25), we expect his output to converge towards his xG in the future. He will, however, have to work hard and improve other aspects of his game if he is to become an Elite Forward.
Pros and Cons of Manchester Utd
Playing for Manchester United at a young age has its pros and cons. The biggest advantage is that Greenwood has the chance to play alongside and learn from elite players like Edinson Cavani and Rashford. Furthermore, United's formation and style of play at the moment suit his playing style.
However, playing at Old Trafford means that competition for places is fierce and pressure from the fans very high (even when playing behind closed doors). Moreover, the Red Devils may not pay the same amount of attention to his development as other clubs that focus far more on young players' development.
SWOT analysis
STRENGTHS

– Exceptional max speed (>37 Km/h)
– Two-footedness


WEAKNESSES

– Heading (19% success rate)
– Chance creation (<1 chances created P90)
OPPORTUNITIES

– Learning from players with similar and different playing styles
– Chance to win titles

THREATS

– Not finding a place as a regular starter


---
Hard to imagine him away from Old Trafford
Having played his entire youth and senior career with the Red Devils, it is difficult to imagine Greenwood playing for another club anytime soon, for a number of reasons:
he has a contract until June of 2023 that the club can unilaterally extened for another year (according to Capology, he earns a gross annual salary of roughly €2,500,000).
his valuation of around €50m prices him out of the market for most clubs.
Greenwood has chosen his father as his agent, over other big names, which probably increases the likelihood of him staying in Manchester even further.
Greenwood is going through a dip in his performances, as expected, after a sensational 2019/20 season. We are yet to see how he will react mentally to tough periods of form, and whether he will be able to bounce back. Only if things on the pitch don't plan out for him would a move (maybe on loan?) become foreseeable.
Greenwood came through the academy at Manchester United and is fulfilling the dream of playing for his childhood club. Just like his childhood hero Wayne Rooney, he will want to be scoring goals at the Stretford End for many years to come.
---
This analysis is part of our 'Wonderkids: 2021 Outlook'. Please find the link to download the eBook here. A printed version is available too
---