Wonderkids: Nathan Collins
At first glance, Nathan Collins seems like the archetypal defender for an old-fashioned direct style of football, owing to his imposing physical presence. In reality, his stats also show glimpses of a more modern footballer. What he might be missing is experience in more competitive leagues, and outside the UK. In our view, next season he should be ready to move to a Premier League side where he could continue his progress. After all, if he has already proven he can do it on a cold rainy night in Stoke, then why couldn't he do it on the best pitches in Europe?!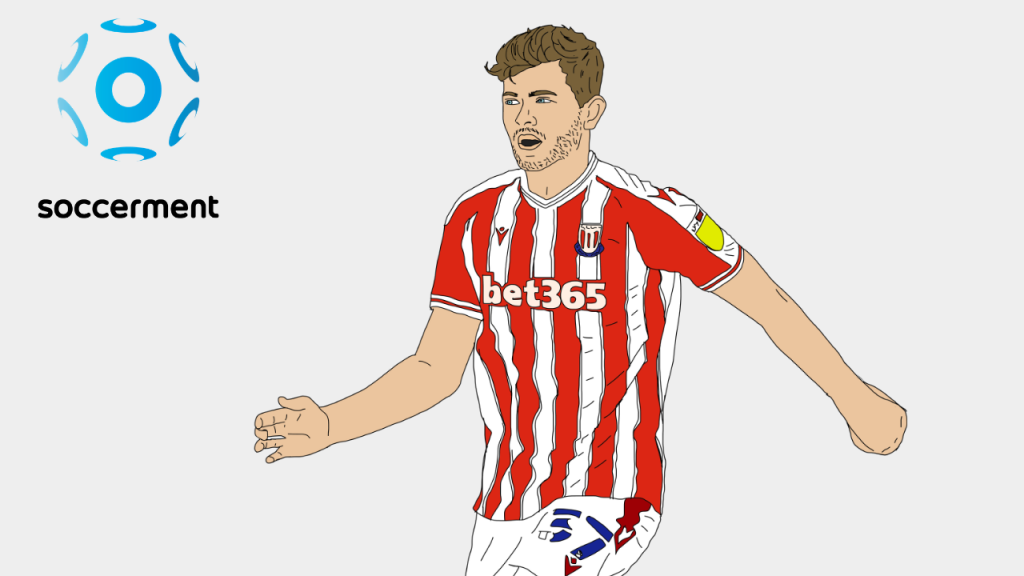 ---
Bio and playing style
Irish, with football in his DNA
Nathan Michael Collins was born on 30 April 2001 in Leixlip, Republic of Ireland, in a family dominated by footballers. Collins' father Dave played for Liverpool and Oxford United among others; his uncle Eamonn played for Southampton and Portsmouth before becoming an agent; while his older brother Josh plays for University College Dublin.
Nathan started his career at Cherry Orchard Football Club in 2006, before joining Stoke City in January 2016. He played for the U18s and U23s before making his professional debut on 9 April 2019 against Swansea.
In the 2019/20 Championship, in a match against Leeds United, Collins was given the armband, becoming the youngest player ever to captain Stoke City.
Very much suited to English football
Collins is 193cm tall and weighs 80kg, for a BMI of 21.5, an impressive physique for a 19-year-old who at the age of 16 was already 190cm tall.
Collins' physical characteristics make him perfectly suited to English football and the Championship in particular, where many teams use "long ball" tactics and Collins' strong aerial play is essential. He shows above-average stats in the air: a 65.1% aerial success ratio (vs 60.7% average for a centre back), with 3.3 aerial duels won per 90 minutes (against the 1.4 average for the role) and he is also dangerous in the opponent's box at set pieces.
Collins knows how to cover space when marking and his assessment of when to engage the attacker is excellent: this comes together to give him a balance between tackles and recoveries (5.49 recoveries P90 vs the 4.79 average); regarding tackles, Collins shows a tackle success ratio of 76.0% versus the 65.8% average for the role. On this front, his physical presence is clearly very important.
---
His passing stats are obviously influenced by Stoke's direct playing style (they manage 137 successful passes per match in the opposition half of the pitch vs the 149 average in the Championship): Collins shows a 74.1% pass accuracy (vs the 82.0% average for the role) with a 58.3% passing accuracy in the opposition half (vs the 67.5% average for the role).
A quick glance at a ternary plot with our Defending, Heading and Passing indexes for all the Under-20 centre-backs in our database is quite useful to visually describe the stats that we have just described: Collins' performances are definitely skewed towards the defensive side of the game and highlight a strong predisposition for aerial duels, while passing is not his main strength (although, as said, this is influenced by Stoke's playing style).
---
Switching from RB to CB with ease
In the 2020/21 season Collins has been deployed 15 times in the Championship (as of 31.12.2020) by Stoke, 60% of which he played as a centre back, mostly in a three-man defence, and 40% as a right back in a four-man defence. However, given his physique and his technical qualities, he could also play as a centre-back in a four-man defence, in our view.
When playing as a right back Collins shows good technical qualities, as highlighted by his 80.0% dribble success ratio. Furthermore, although he doesn't often play in the opposition half of the pitch, when he does he shows very good skills, as highlighted by his 32% cross accuracy.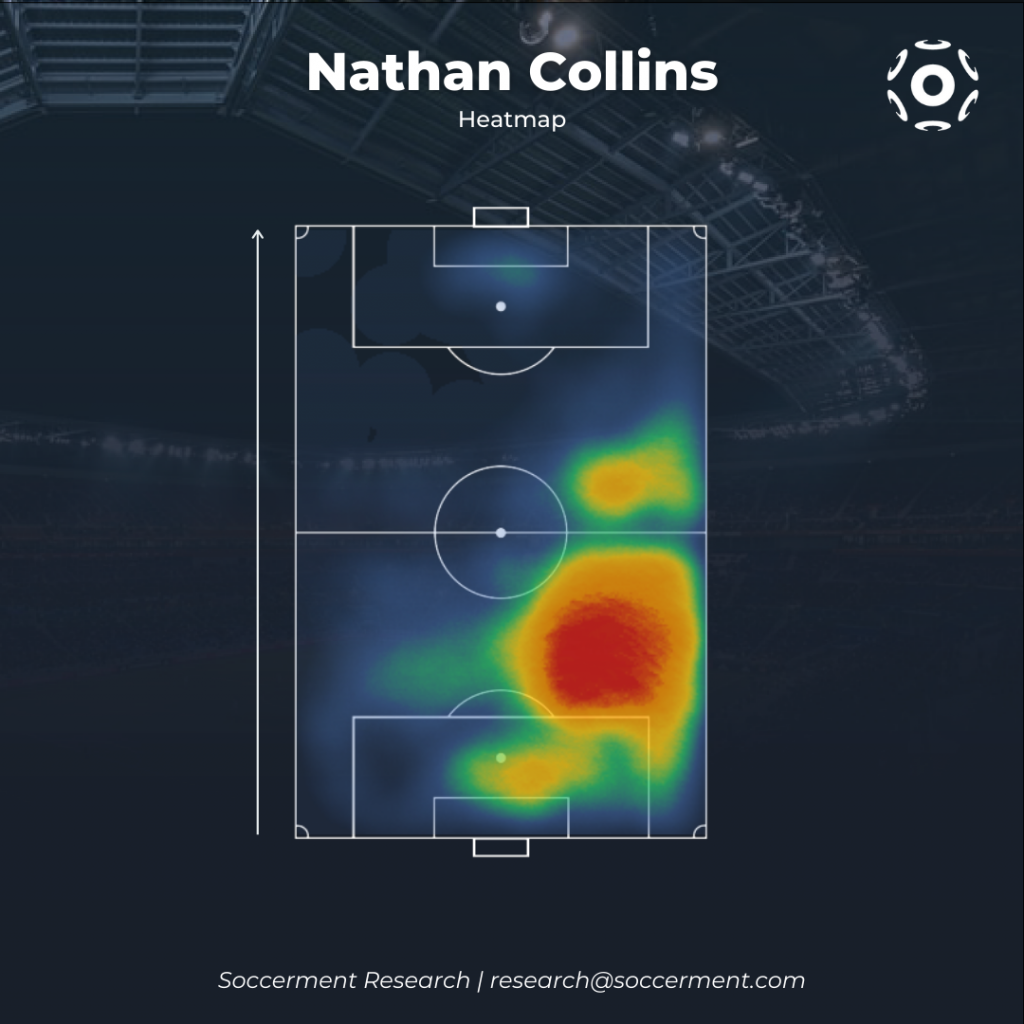 ---
Potential and outlook
Almost ready for the EPL
Collins is a sturdy defender, who already seems to have all the physical and technical characteristics to fit well into any defensive line.
His versatility in playing both as a right back and a centre back could provide him with excellent opportunities to play in more prestigious and competitive contexts, both at league and international level, giving him the chance to earn more experience and become a complete modern defender, capable of actively and effectively contributing to both phases of the game.
---
---
In the 2020/21 season Collins has played 15 Championship matches with Stoke City, 12 of them as a starter (at the time of writing). He does not lack for trust from his coaches, or for minutes this season, the first in which he has been a regular starter.
The fact of playing in the Championship – despite it being perhaps the most high-profile and competitive of second-tier leagues – does not play in his favour, nor does the lack of continental exposure (e.g. Champions League or Europa League) in which to gain experience and attention.
That said, Stoke City has certainly allowed him to develop in an excellent context, but to make the next leap in quality he will have to play in more important clubs and competitions.
According to our xSPR model he could reach a Soccerment Performance Rating of 46.3 in 12 months, which would make him a great fit for a mid-table Premier League club.
SWOT analysis
STRENGTHS

– Tackling (success ratio > 75%)
– Heading (success ratio > 65%)

WEAKNESSES

– Not used to a possession-based style

OPPORTUNITIES

– International debut with Ireland seems close

THREATS

– Remaining stuck in the Championship

---
EPL transfer seems imminent
In May 2019, Manchester United had shown interest in securing Collins' performances, but ultimately no deal was reached. Instead, on 26 July 2019 Collins and Stoke City agreed a contract extension for which the Ireland U21 international is set to stay at the club until 30 June 2024 (according to Capology, his gross annual salary exceeds €300,000).
We expect this to be Collins' last contract at Stoke; if the defender continues to grow and meet his potential, the transfer to a more prestigious club appears inevitable within 1-2 years.
This would be of benefit both to the growth of the player and to the finances of the club, who would obtain a significant capital gain from the transfer of an academy product like Collins.
In our view, next year Collins will be ready to play in EPL teams that favour a direct playing style, the likes of Newcastle, West Brom and Burnley.
---
This analysis is part of our 'Wonderkids: 2021 Outlook". Please find the link to download the eBook here. A printed version is available too.
---