Nuno Mendes, born in 2002, is a left wing-back at Sporting CP where he shines with his dynamism, personality, dribbling skills and defensive contribution. However, his offensive production has been poor, with just one goal and no assists in 19 matches (his per-match xG and xA numbers are on the low side). While there are some doubts about his ability to adapt to a four-men defence and to a more challenging league, he is nonetheless considered one of the most promising Portuguese players – as demonstrated by the international interest in him.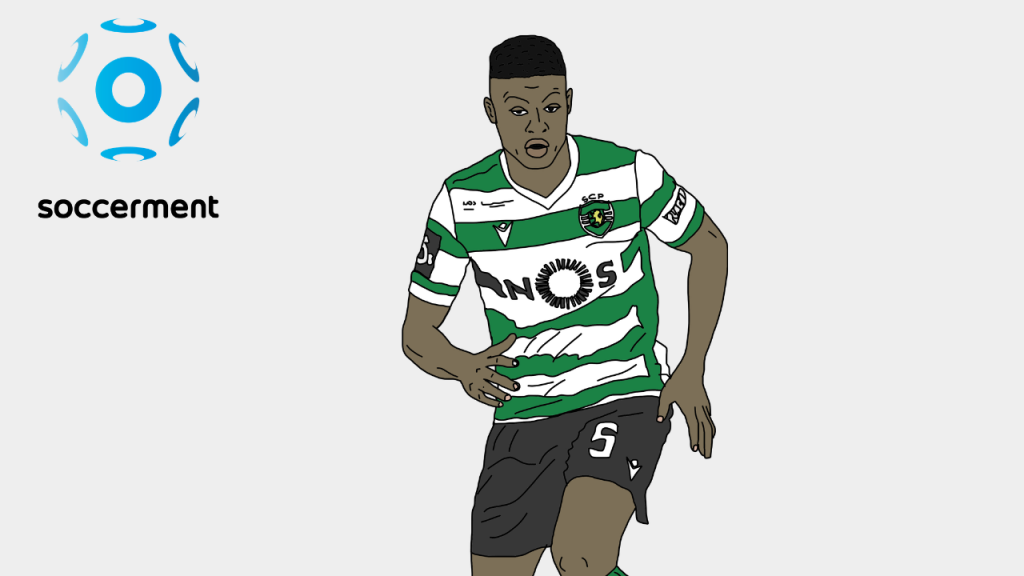 ---
Bio and playing style
'Verde e branco' since he was 10 years old
Nuno Alexandre Tavares Mendes was born in Sintra, Portugal, on June 19, 2002. He started playing for his hometown club, before moving to Sporting CP at the age of ten.
During his time in Sporting's youth teams, the club had several financial issues and Mendes was told that they would no longer be able to support him financially. However, one of the club's old associates believed in his qualities and agreed to support him.
A youth international for Portugal since the Under-16s and currently part of the Under-21 set-up, Mendes made his debut for Sporting CP's first team on 12 June 2020.
Once a midfielder, always a midfielder?
A left wing-back, Nuno Mendes shows impressive defensive skills, including when compared to the average full back. He still has some flaws, but we are impressed by his overall defensive game, particularly as he started his youth career as a 'trequartista'.
Mendes' per-90-minute stats are, in many aspects, still very similar to those of a midfielder. For example, while full-backs produce 0.03 through balls per 90 minutes, Nuno Mendes makes 0.12, which is exactly the average number produced by central midfielders.
He has 5.4 recoveries per 90 minutes, slightly more than the average for full backs. In the current Primeira Liga has made the third most interceptions: 28 already (3.15 P90), behind Moreirense's Fábio Pacheco and his teammate Luis Neto. For the full list click here.
Another of Nuno's strengths is his dribbling, an important feature for modern full backs. He ranks third for total dribbles among the league's defenders, although his success rate (53.8%) could be improved.
Though he still has plenty of work to do in this area, Nuno's contribution to the build-up phase is remarkable. With 70% passing accuracy in the opponents' half and 1.23 chances created P90, he is far above the average for players his age, and is comparable to some of Europe's top wide midfielders. In light of this, we were surprised to see that Nuno's Expected Assists was only 0.08 per 90 minutes over the past two seasons, and 0.09 P90 in the current season.
Mendes's xA90 is quite low for the role, as evidenced by the table below, where we compare the full-backs of the top four teams in Portugal (Sporting CP, Benfica, Porto and Braga) through five selected key stats.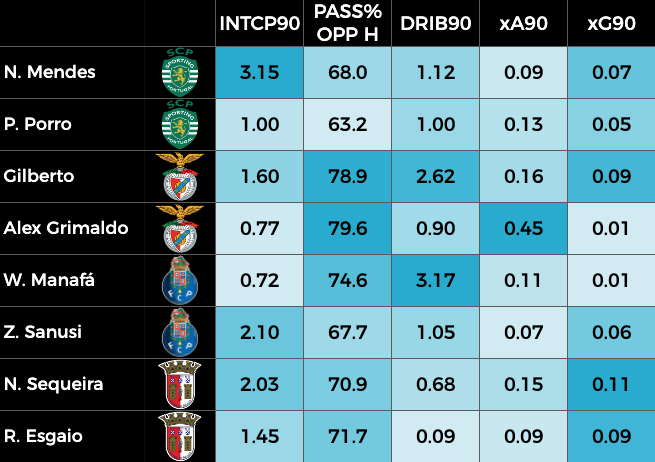 ---
Exploiting the left flank, with an eye on the centre of the pitch
Although Mendes began playing football as a trequartista, he has soon become a left-back – or even a centre back, when needed. Manager Ruben Amorim's preferred formation has meant that at senior club level Mendes has only ever played as a left midfielder/left wing-back in Sporting CP's 3-4-3.
---
---
His physical attributes make him suitable for the role, allowing him to stay wide and attack any space behind the opposition defence, both with and without the ball.
Mendes' good technique means that he rarely loses control of the ball and his vertical passing (33% of total passes) is strong, which enables him to play a fundamental role in his team's build-up. Mendes' contribution in defense is crucial as he is very strong in 1vs1 duels (6 won P90) and making interceptions, thus breaking up the opponents' play and perhaps starting a counterattack.
Even though he displays very strong defensive skills, the role Mendes plays for Sporting relieves him of many of the responsibilities that a pure defender constantly faces. In particular, his relatively low tackle success ratio may be an issue if he were switched to a four-man defence.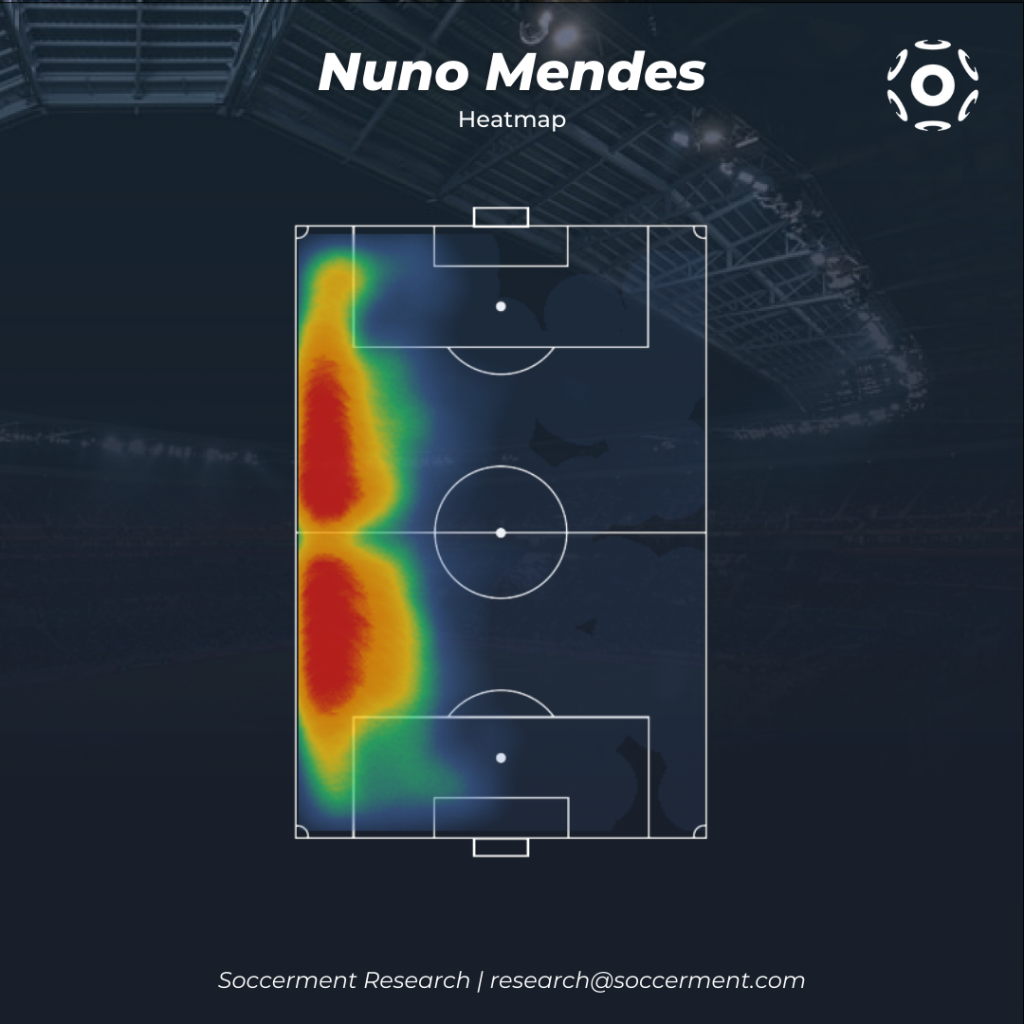 ---
Potential and outlook
One of the few full-back wonderkids in Europe
Nuno Mendes shows some rare qualities for an eighteen-year-old: it is particularly unusual to see such a good balance of physical, technical and defensive skills in a player so young.
However, Mendes' path to becoming an "elite player" is not an easy one. In our view he is not yet mature in terms of his tactical awareness and decision-making, a common problem for players who develop in the Portuguese Primeira Liga.
Having said that, Nuno Mendes is one of the few full-backs that our algorithm classifies as a wonderkid. Here below is the full list.
Sporting CP has an excellent track record in player development
Rui Patrício, João Moutinho, Nani, Luis Figo, Cristiano Ronaldo: Sporting CP's youth academy is one of the most renowned in Europe. Players like Mendes, who has eight years in the "Academia" on their CVs, come with a certified stamp of quality.
In addition, being an undisputed starter for the leaders of the Primeira Liga will only help him grow in experience and self-confidence. We calculate that Nuno Mendes has played more than 90% of the minutes he was available for this season.
SWOT analysis
STRENGTHS

– Interceptions (3.02 P90)
– Dribbling (1.73 successful dribbles P90)

WEAKNESSES

– Attacking phase (0.08 xA P90 / 0.07 xG P90)


OPPORTUNITIES

– Improve his tactical awareness

THREATS

– Being forced to play as a full-back in a four-men defense, before he is ready

Data related to the past two seasons
Leaving Lisbon this summer?
Like with many Portuguese wonderkids who have begun to play regularly, transfer rumors have been a constant for Nuno Mendes in the first half of this season. Liverpool and Manchester United seem to be the most interested teams, but Juventus, AC Milan and Real Madrid may also be considering a deal.
Sporting may try to postpone the transfer to this summer as they fight for the league title, although a significant offer would not be easy to turn down. In order to protect his value, on December 19 the club agreed with the player a new five-year contract (gross salary of €240,000 per year, according to Capology) with a €70 million buyout clause, his third contract renewal in less than one year in the first team.
---
This analysis is part of our 'Wonderkids: 2021 Outlook". Please find the link to download the eBook here. A printed version is available too.
---