Wonderkids: Odilon Kossounou
Odilon Kossounou has been developing at lightning speed since his arrival in Europe two years ago. The 20-year-old centre back excels in his tackling: his long limbs and the excellent timing of his interventions gives him one of the highest tackle success ratios in Europe. Although he has just signed a new contract with Club Brugge until June 2024, we believe that his name will be a regular feature of the transfer rumour mill: there are simply too many top clubs in search of good centre backs.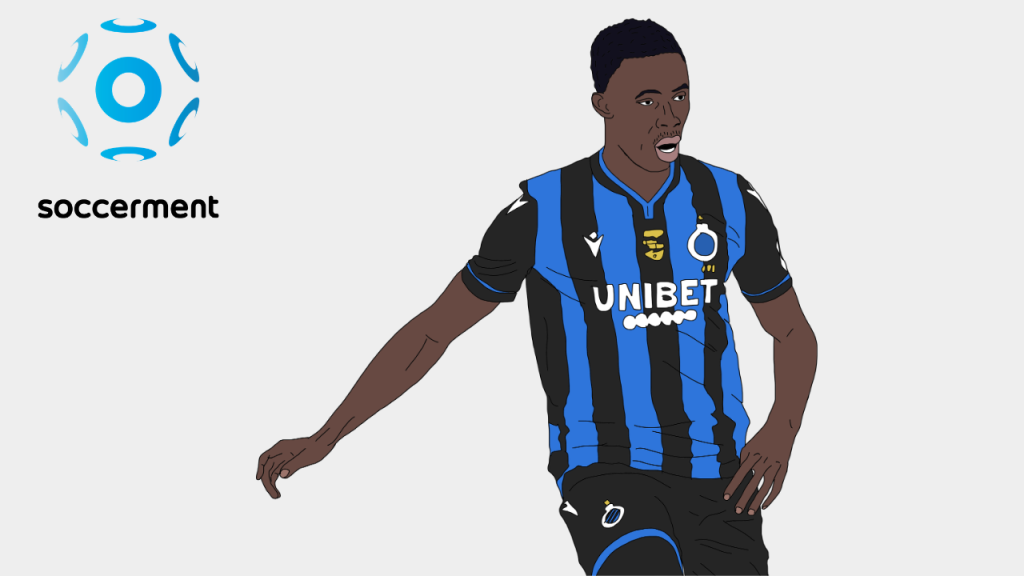 ---
Bio & playing style
Côte d'Ivoire international
Kossounou Kouakou Odilon Dorgeless was born in Abidjan, Côte d'Ivoire. The 20 year-old began his professional career at Ivorian side ASEC Mimosas, before joining Hammarby IF in Sweden during the 2019 January transfer window. After only six months at Hammarby IF, Koussounou joined Club Brugge for around €3.4m. At the time of writing, he has appeared in 30 matches league and European competitions for the Belgian outfit (21 JPL, 7 UCL, 2 UEL).
Kossounou has already made four international appearances for Côte d'Ivoire, with his debut coming on October 8th 2020 in a friendly against Belgium.
A tackling master
Odilon Kossounou is 188cm tall and weighs 72kg, giving him a BMI of 20.4, which is slightly lower than the typical centre-back. However, Kossounou makes up for this with a combination of pace and good positioning.
Defensively, Kossounou has been dominant so far in his career in Belgium. He is averaging 1.57 tackles per 90 minutes (vs the 1.38 average for the role), with an impressive tackle success ratio of 80.8% (vs the 65.8% average for the role). While one might think that this has to do with the level of the Jupiler Pro League as compared to the top 5 leagues, we note that Kossounou also has an 80% tackling success rate in the Uefa Champions League, where he has won 12 of his 15 attempted tackles so far.
Two factors clearly contribute to Kossounou's tackling ability: his long limbs and the perfect timing of his interventions. In the current season, in more than 1,500 minutes of play (of which 450 were in the UCL), he has been booked only twice.
---
As a result of his tackling ability and tactical awareness, the young Ivorian recovers an average 7.1 balls per match, much higher than the role average of 4.8.
Accurate in the build-up phase, but could take on more risk
Passing is another strength in Koussounou's game (he ranks 16th among U-20 centre-backs, according to our performance index).
In the Jupiler Pro League, he has completed 84.2% of his passes (82.0% average for the role), better than the average in both halves of the pitch: in his own half he displays a 91.2% passing accuracy (vs. the 90.2% average for the role), while in the opposition half he completes 73.6% of his passes (67% role avg).
His long passing accuracy is well above average too, at 58.3% (46.4% average for the role), a sign that he could try more audacious passes than he does at the moment. If we look at the breakdown of Kossounou's passes, we see that 37% of them go forward, which is lower than the average of 40% for the centre-backs in our database.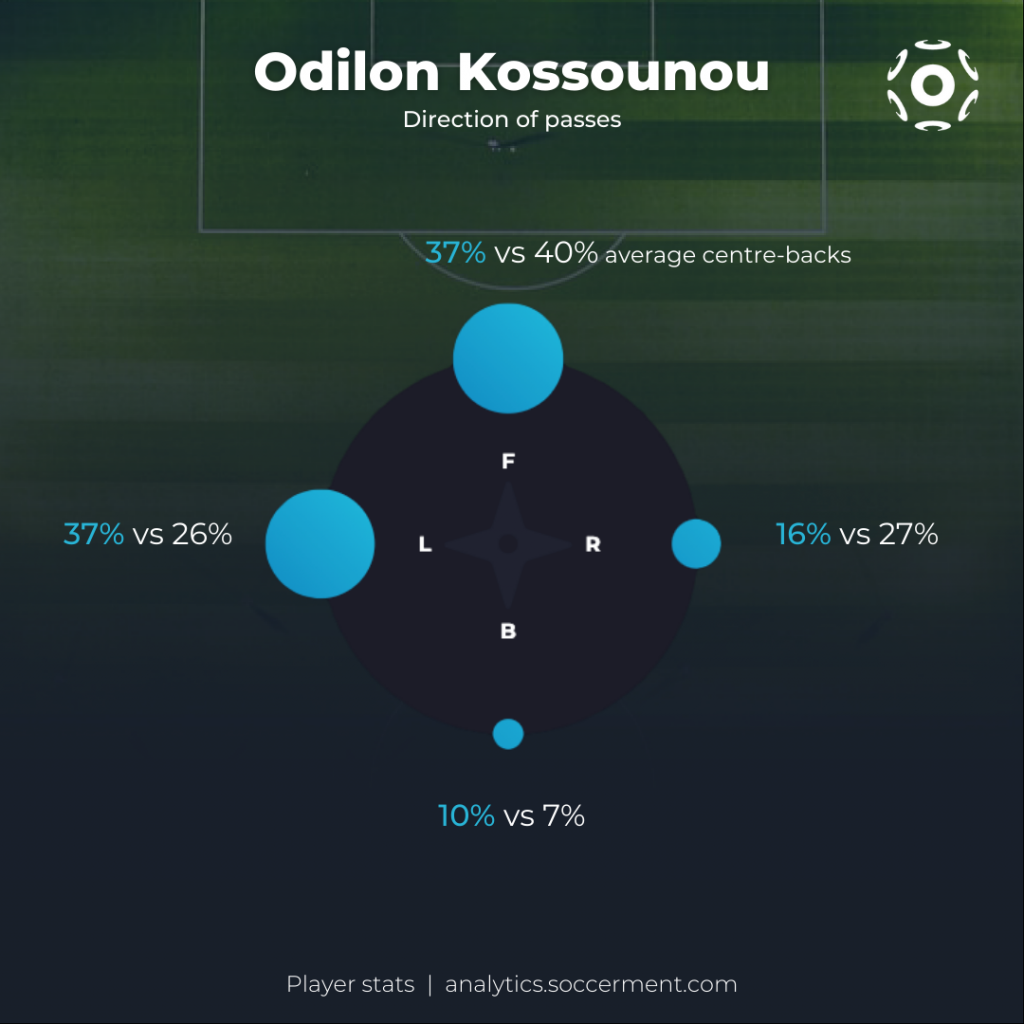 ---
Aerial game needs improvement
However, Kossounou does struggle with aerial duals. He averages 1.69 Aerial Duels Won P90, with only a 58.3% success rate (60.7% average for the role). With his height and athleticism, Kossounou should be way more successful aerially than he is, in our view.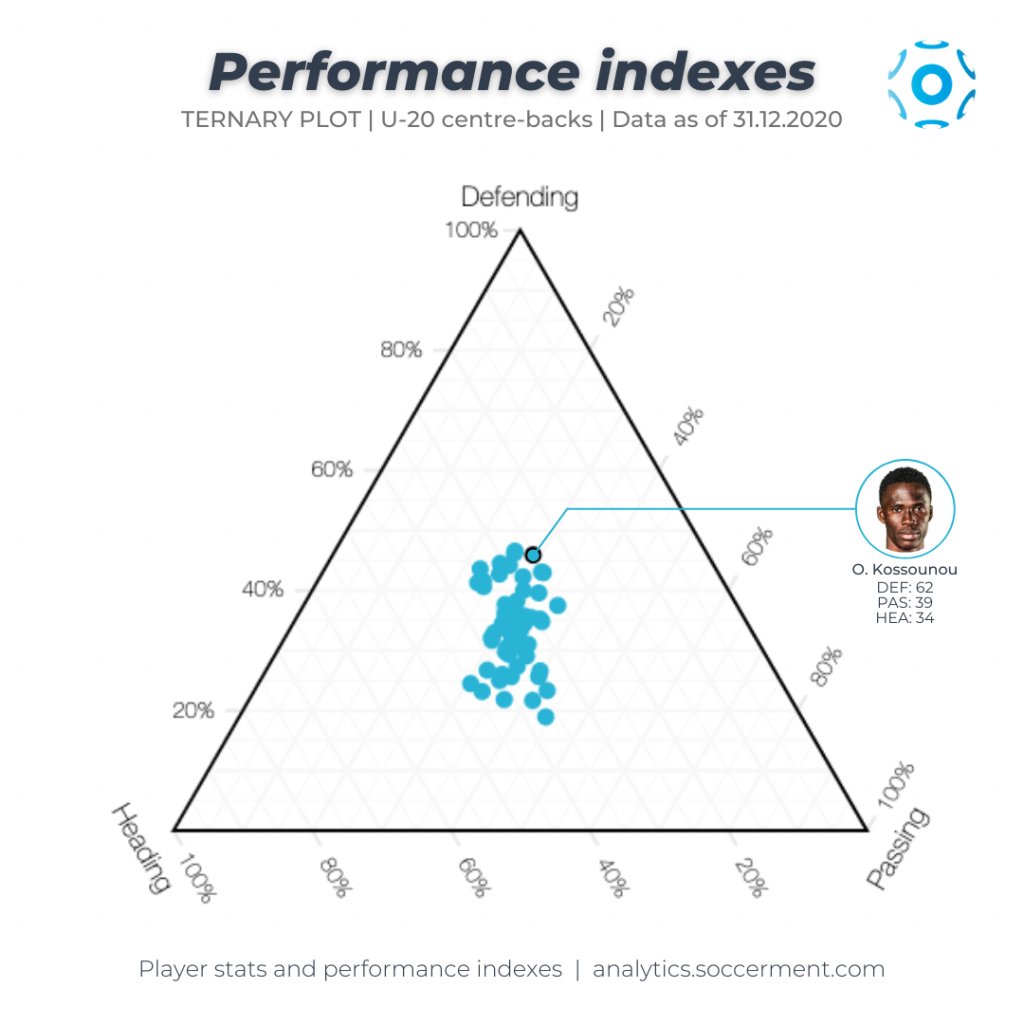 ---
Koussounou is primarily a centre-back (24 apps so far in the role since he joined Club Brugge). He is a right footed player, so he naturally spends most of his time as the right sided centre-back. We do note that Koussounou has also made 3 appearances as a right-back, 2 appearances as a defensive midfielder, and even 1 appearance as a right midfielder.
In the Jupiler Pro League, Club Brugge has been very dominant this season and that allows the team's centre-backs to push further up the pitch. Kossounou averages 23.4 passes in the opposition half P90, well above the average for the role (17.1 P90). With both of Club Brugge's wingbacks consistently joining the attack, Koussounou and his centre-back partner are often left isolated when dealing with counter-attacks. This has not been an issue however, as his Club Brugge averages 0.50 Goals Conceded P90 when Koussounou is on the field (vs. 1.34 average for role).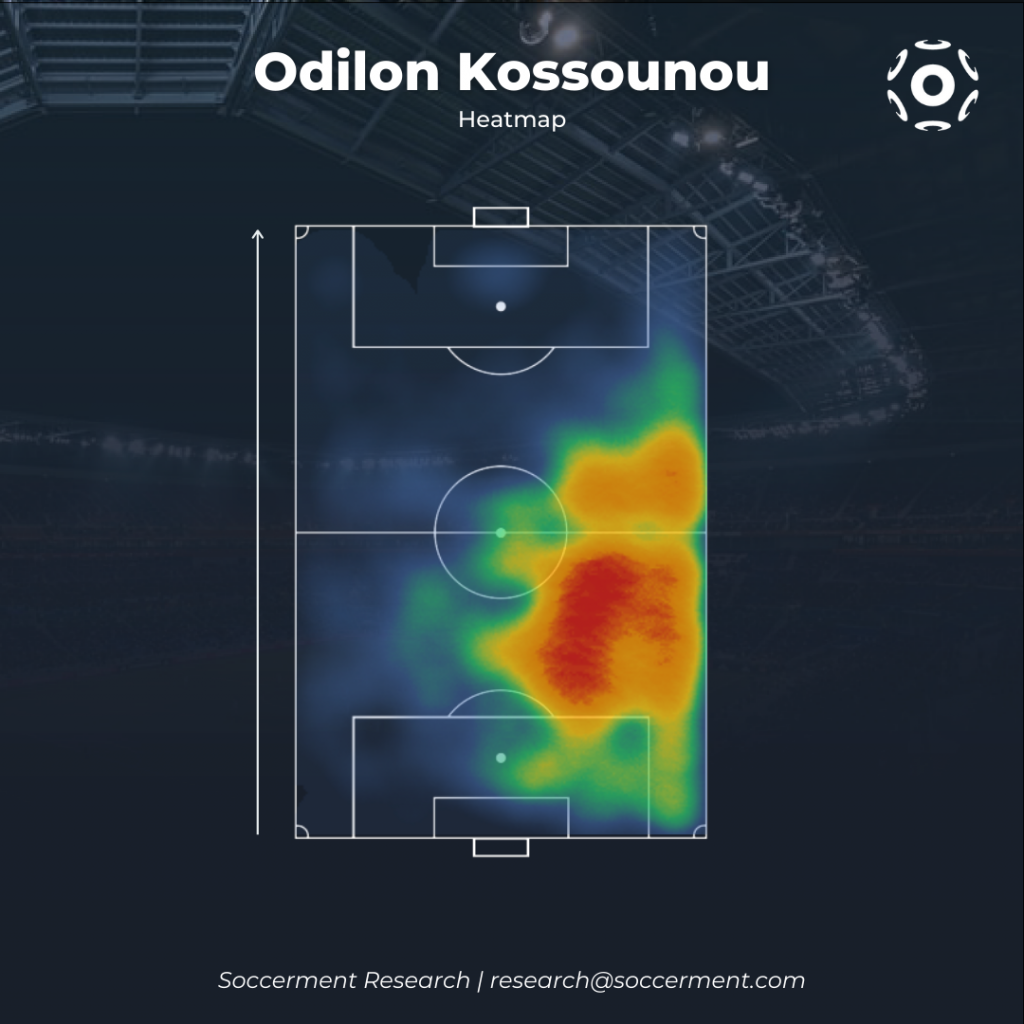 ---
Potential and outlook
Has improved quickly, and there's room for more
So far in his career, Odilon Kossounou has demonstrated his talent at both Club Brugge and Hammarby IF, with 40 first team appearances between the two clubs.
---
---
Since he arrived at Club Brugge in 2019, Kossounou has improved a great deal both defensively and in his passing. His Soccerment Performance Rating (SPR) reflects this, growing from 38 in 2019/20 to 47 in 2020/21 (his total SPR of 45 is the weighted average of the two).
For Kossounou to truly take the next step, in our view, he will need to become better aerially, stronger physically, and improve his passing skills still further, becoming more confident at breaking the pressing lines. Should he manage all this, adding to the highly desirable traits he already has, he could become a top centre back.
A big fish in a small pond
Club Brugge is one of the biggest clubs in Belgium. They are leading the Jupiler Pro League, a division that is well known for nurturing and giving visibility to wonderkids over the years.
Club Brugge excels in finding a good balance between young and more experienced players in their squad. With 19 appearances this season, Kossounou is the centre back at the club with the most minutes played so far in the 2020/2021 campaign. Playing consistent first team football at a high level domestically, as well as playing in the Champions League, makes Club Brugge the perfect place for Kossounou to continue his development.
SWOT analysis
STRENGTHS

– Tackling (>80% success ratio)

WEAKNESSES

– Aerials (<60% success ratio)


OPPORTUNITIES

– Being more audacious with his passes

THREATS

– Constant transfer rumours becoming a distraction

---
Just signed a new contract
So far this season, Odilon Kossounou's high level has surely caught the attention of clubs accross Europe.
Not least, Club Brugge itself, which recently accelerated contract talks to annouce his renewal until June 2024.
---
The new contract could mean that we will see him at Club Brugge for a while. However, we believe that the transfer rumours about him are unlikely to stop: there are simply too many top clubs in search of good centre-backs.
---
This analysis is part of our 'Wonderkids: 2021 Outlook'. Please find the link to download the eBook here. A printed version is available too.
---