Pedri has quickly established himself as a regular starter for FC Barcelona, no easy feat for an 18-year-old coming from the Segunda División. He has tended to play as an inverted winger, at least at the start of the season, but the combination of his excellent passing and dribbling skills, combined with outstanding vision, could eventually make him a top mezzala, especially if he improves his defensive work. Barça are reaching the end of a cycle, which will likely continue to bring harsh criticism and chaos. This represents both a threat and an opportunity for Pedri, who will need to remain extremely focused on improving his game if he is to become a top player.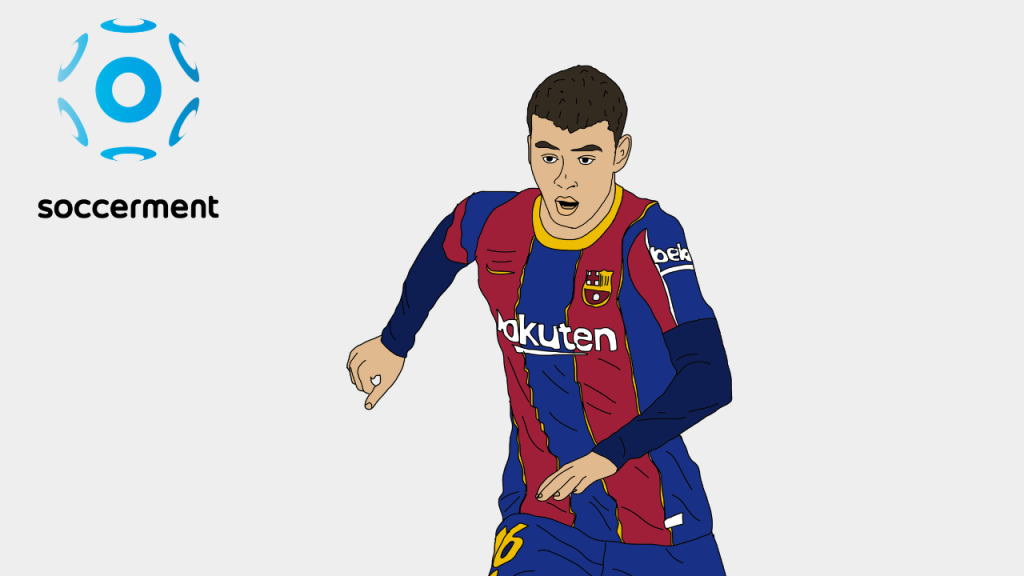 ---
Bio and playing style
A blaugrana boy from the Canary Islands
Pedro González López was born in Tegueste, Tenerife, on November 25, 2002. Having transferred to Las Palmas in 2018, he soon impressed enough there to attract Barcelona's interest. The Catalans quickly completed the deal for €5 million, leaving him on loan at Las Palmas for one more year. Pedri was a protagonist of the 2019/20 Segunda Division, while he also became Las Palmas' youngest ever goalscorer at the age of 16 years, 9 months and 23 days. According to Pedri himself, the transfer to Barcelona was the realization of his greatest dream, since he and his family have always been blaugrana fans.
Dribble like a winger, create like a midfielder
Barcelona's scouts will have been particularly impressed by Pedri's technical skills. Playing either as a left winger or a central midfielder, so far this season he is outshining his colleagues in terms of through balls (0.32 P90, against the 0.12 average for both roles) and chances created (1.93 P90 against averages of 1.41 and 1.05, respectively).
He also shows above-average passing accuracy in the opposition half (78.3%) and in long passes (66.7%). According to our algorithms, he is one of the best ranked Under-20 players in Europe when it comes to the Vision (53) and Passing (52) performance indexes.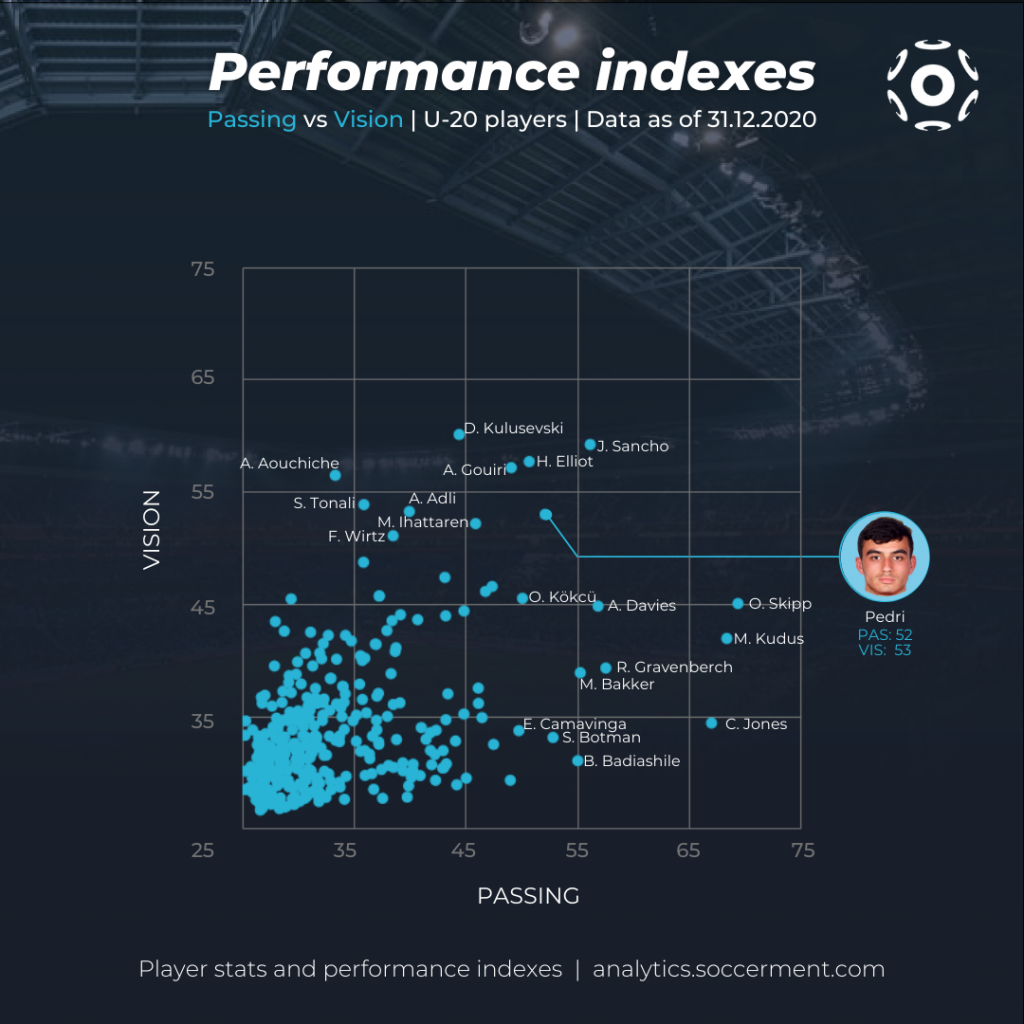 ---
Pedri's dribbling skills are worth highlighting too. His 2.71 dribbles per ninety minutes are in line with the averages, but his success rate (69.7%) is remarkable.
Although he is right-footed, Pedri is at ease using both feet (his only goal and assist so far have both come with his left foot).
The young Canary Islander still has some work to do in his offensive output though, as in the current season he is shooting less than once per ninety minutes and with very low accuracy (11.1%), despite a relatively disciplined shot selection (xG per shot of 0.12). We would soon expect some improvements on this front.
Defending is not one of his strengths either, as almost all of his defensive statistics are below average.
Pedri is 174cm tall and weighs just 60kg for a BMI of 19.6. Though he is not exactly a warrior, he is still able to win 44.9% of duels, which puts him in line with the average winger (44%) and just below the average midfielder (49.8%).
So is he a winger or a midfielder?
Any tactical analysis of Pedri has to begin by asking whether he is a winger or a midfielder. In Las Palmas he mainly played as a left winger, while this season Ronald Koeman is mainly playing him as an inside forward or a "trequartista". In light of his skills and his numbers, it seems fair to say that he is perfectly able to adapt to both roles.
---
---
On the one hand, his dribbling and key passes (17 so far this season) make him a dangerous winger (although he needs to increase the number of shots he takes). On the other hand, he is smart and skilled enough to play more centrally, which is where Koeman now seems to prefer him. We have seen that he lacks some of the defensive capability for this latter role, but interestingly his stats on that front, despite being below average, are not so different from many of his eminent colleagues in La Liga. We believe that, with time and experience, he could eventually evolve into a great "mezzala".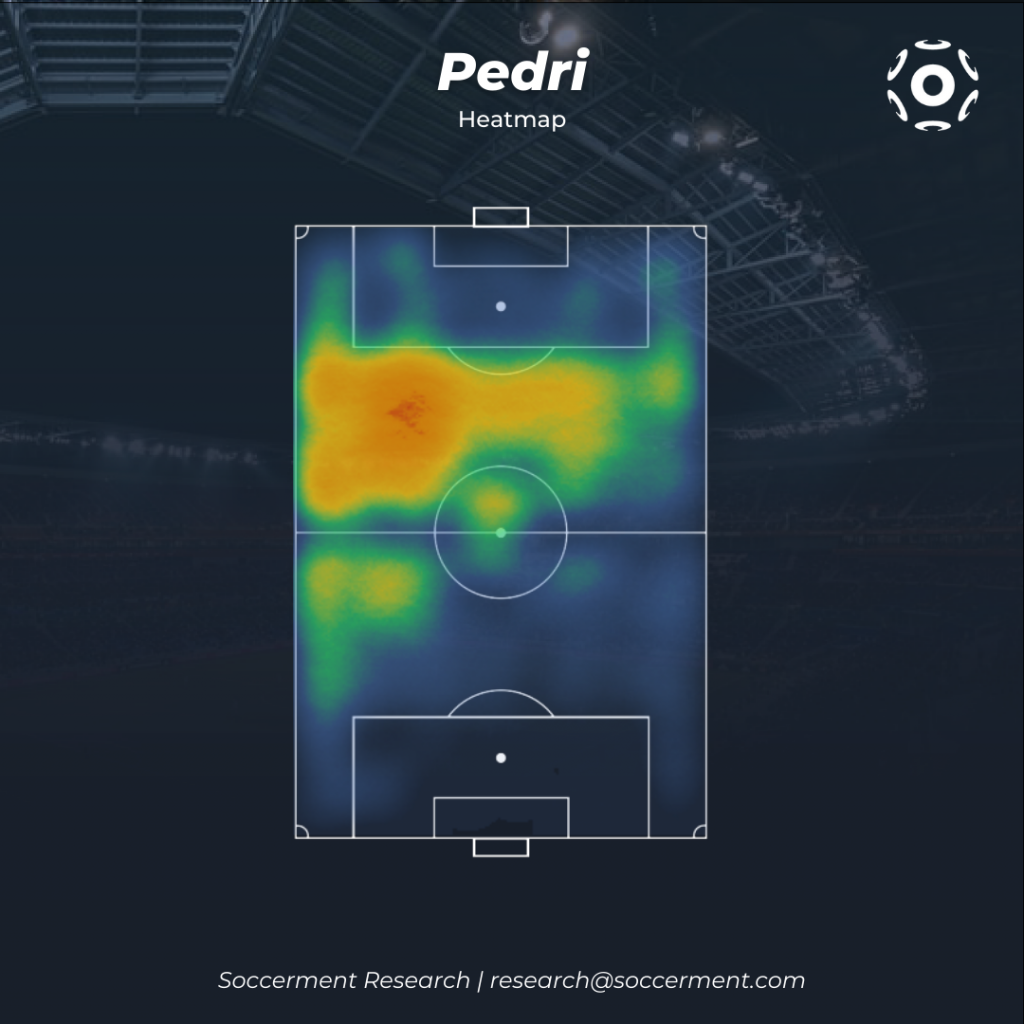 ---
Potential and outlook
Still a long way to go for "the new Iniesta"
It seems clear to us that Pedri still has a lot more to give. Our model ranks him fifth among U-19 players for expected performance improvement in the next twelve months (+22%).
We are particularly excited by the fact that his performances have not suffered from the great jump he made between a mid-rank second division team to one whose main aim is to win the Champions League.
Moreover, his adaptability and technique have made him a key player for all of his coaches so far, which is giving him the opportunity to play and learn faster than his peers.
Many people, even former coach Pepe Mel, compare Pedri to Andres Iniesta. Although there is some resemblance in their physical attributes and playing style, in our view Pedri still has much to do if he is to justify this kind of comparison.
End-of-cycle troubles at Barça: both a threat and an opportunity
Many eighteen-year-old players who join top clubs usually have to wait a while for the chance to play with some continuity. This has not been the case for Pedri: after having been the player with the most minutes played for Las Palmas last season, he has not missed a single match for Barcelona so far. This could prove fundamental for his development.
However, the club is facing one of the most difficult moments in its recent history, both on and off the pitch. The current squad's cycle is over and a complete rebuild is already underway. Hard criticism will come and, under such pressure, it won't be easy for the younger players to maintain their focus. In this situation, we worry that Pedri and the other youngsters will not receive enough support and protection, which would harm their development.
SWOT analysis
STRENGTHS

– Dribbling (69.7% success ratio)
– Vision (1.9 chances created P90)

WEAKNESSES

– Shooting (<30% accuracy)
– Defending (<60% tackle success)

OPPORTUNITIES

– Evolving into a mezzala

THREATS

– Tough environment, due to the generational change

---
Renewal option to be activated
Since Pedri made his first appearance for Barcelona, just four months ago, his market value has reportedly doubled (from €15m to €30m). Pedri's contract will expire in 2022, but the club has an option for a two-year extension. At the moment, according to Capology, his gross annual salary is €4m.
Given his already fundamental role in the team, his potential and the attention that Barcelona pay to young talent, we expect Pedri to remain at the Camp Nou for many years to come.
---
This analysis is part of our 'Wonderkids: 2021 Outlook'. Please find the link to download the eBook here. A printed version is available too.
---