Wonderkids: Rayan Aït-Nouri
Rayan Aït-Nouri is one of the most promising left backs in Europe. An impressive start to his career in Ligue 1 sent expectations sky-rocketing, leading to a loan with an option to buy for Wolverhampton Wanderers, orchestrated by the powerful agent Jorge Mendes. Adapting to the Premier League can be tough for a player of his age, and after scoring on debut he struggled in his following games. But his performances have since bounced back and he now seems ready to fight for his place as a starter at Wolves.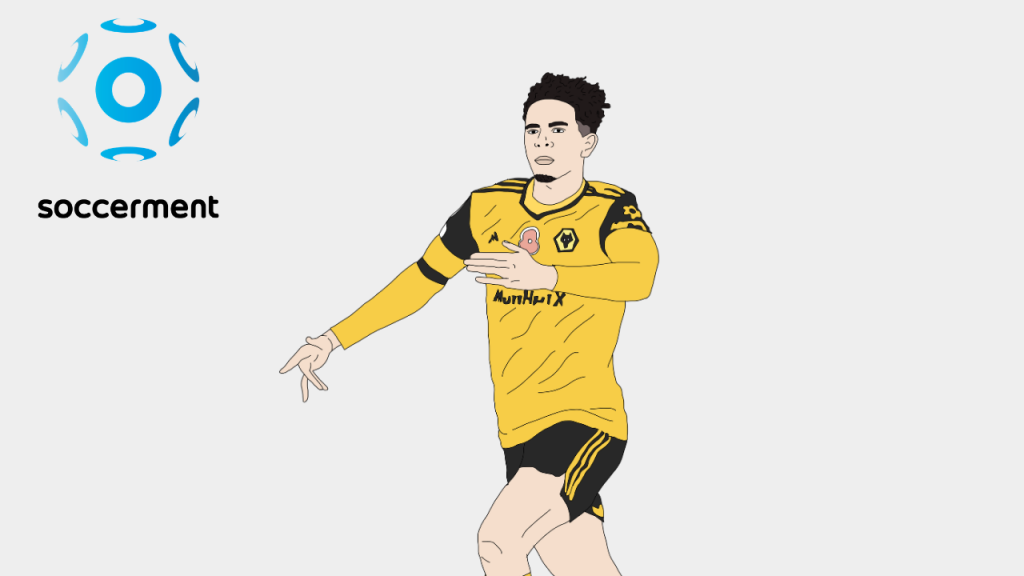 ---
Bio and playing style
On the Eurostar
Rayan Aït-Nouri was born in Montreuil, near Paris, on the 6th of June 2001 to a family of Algerian descent. He played for youth teams in the suburbs of the French capital until he was 13 years old, when he moved to Paris FC.
He was noticed by a scout for Angers, who convinced the club's president to pay €5,000 for him; going against the club's policy (no transfer fees for youth players) to sign him given his exceptional talent. He made his professional debut in August 2018 for Angers.
Wolverhampton signed him on a loan with an option to buy in October 2020.
Modern full-back or wing-back?
Aït-Nouri is 179cm tall and weighs 70kg (BMI 21.8). He is an agile player with good speed.
He possesses excellent ball control and dribbling skills, which have been evident since youth level.
His dribbling numbers are very good, just what is needed for modern attacking full-backs or wing-backs. He attempts 2.81 dribbles P90, succeeding 60% of the time (1.68 P90). He prefers his left foot, with which he is able to complete an impressive 0.9 crosses P90 (triple the average for his role) with outstanding accuracy (31.9%). His passing has been quite consistent so far: his accuracy has been-above average, especially in the opposing half (75.4% vs 65.4% average).
---
---
Defensively, he has pros and cons: Across all seasons his tackle success ratio has been 75%, this comes from a strong 19/20 campaign in Ligue 1 (75.9%), while in the 20/21 season he struggled in his initial games at Wolves but has been steadily improving throughout the season, leading to his current rate of 71.4%. His recoveries have been above-average both in France and England (6.02 vs the 5.16 avg for his role). However, he is slightly below average in other defensive categories such as interceptions, blocks and clearances.
This might come from a lack of focus and defensive awareness, which is quite common for a player his age. We are not worried as his potential for improvement should see him improve his numbers, particularly bearing in mind the process he is going through at Wolverhampton.
Aerially, his stats are comparable to those of an average full back, but again, Nouri has displayed very solid numbers in Ligue 1 (72% aerials won) and poor ones in the EPL (25% aerials won).
| Stats per 90 minutes | 2019/20 | 2020/21 |
| --- | --- | --- |
| Successful dribbles | 1.33 | 1.88 |
| Dribble success ratio | 52.8% | 60.0% |
| Tackle success ratio | 75.9% | 71.4% |
| Recoveries | 6.93 | 5.15 |
| Interceptions | 1.26 | 1.13 |
| Clearances | 1.75 | 0.88 |
| Aerial success ratio | 72.0% | 25.0% |
| Passing accuracy in opp. half | 70.2% | 79.1% |
| Long pass accuracy | 36.6% | 26.3% |
| Percentage of forward passes | 42.9% | 32.2% |
---
Adapting to the Premier League
Aït-Nouri started his professional career as a left back at Angers, playing in a 4-1-4-1 formation. His move to Wolves in the 2020/21 season has seen him play as a left-back or a wing-back. Wolves tend to maintain a low block, seeking to hit teams on the counter thanks to the pace and skill of players such as Neto, Traore or Podence.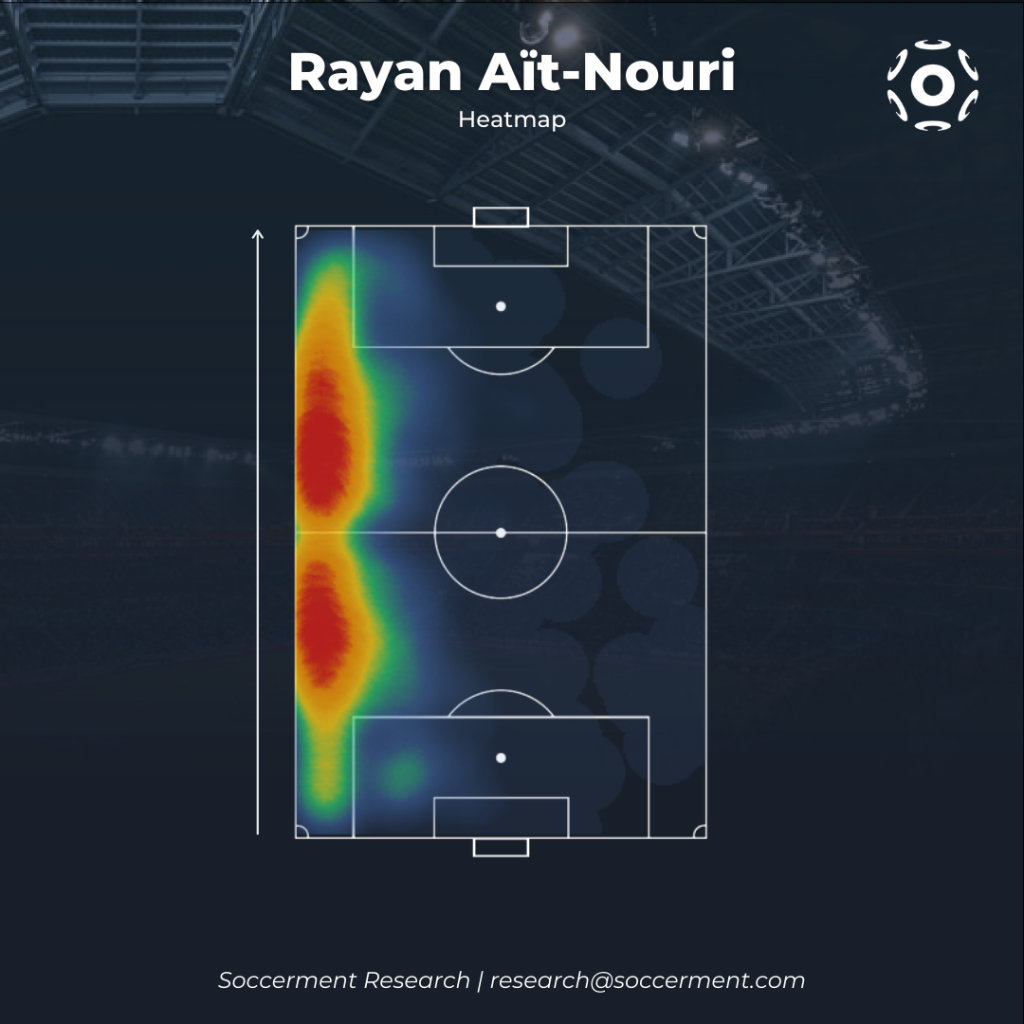 ---
Coach Nuno Espirito Santo is known for putting his faith in youngsters and Aït-Nouri is proving no exception. The young Frenchman has been challenged to quickly improve his defensive frailties in the most competitive league in world football, and that seems to be exactly what is happening.
At Angers, Aït-Nouri was asked to try long balls more often than at Wolves (5.18 vs 2.38 P90). In particular, his accuracy in 2020/21 has been poor (26.3% vs. the 40.4% average for the role). This seems in line with Nouri's characteristics; he prefers to play quick one twos or initiate one-on-one situations against defenders to give himself space to cross. Wolves' system has led him to be more accurate and conservative with his passes, as seen by his percentage of forward passes, which dropped from 42.9% of total passes in 2019/20 to 32.2% in 2020/21.
When playing as a wing-back, he can push further up the pitch and become an additional threat from crosses coming from the opposite flank, as seen on his debut for Wolves. Only time will tell if this was a fluke or a glimpse of what's to come.
He faces competition in his position, although he is a different type of wingback than Marcal and Jonny (currently injured).
---
Potential and outlook
Valuable experience
In our view, Aït-Nouri has all the characteristics to become a strong full back or wing back. His mixture of technique, crossing and speed give him the kind of profile that is sought out in modern football. His defensive frailties are rapidly diminishing, leaving us with the impression that with age and maturity he can become a complete full back.
According to our model, Aït-Nouri's Soccerment Performance Rating should increase by roughly 2% in the next 12 months. His expected growth rate is limited, mainly due to the competition that the French left-back will have for playing time.
Aït-Nouri arrived in October, with the 2020/21 EPL season already begun. He has had to adapt quickly to the Premier League and to his new side, playing many games in a slightly different role to the one he had at Angers. Nuno Santo has mainly deployed him as a wing back but has also made him feature as a left back in a 4-2-3-1 in more recent games. The team has a good mixture of young talents and experienced players in which Aït-Nouri faces quite a lot of competition in his position, and even more so when Jonny returns to full fitness. But his absence has given Aït-Nouri the chance to play some very important minutes for his development. He now has the challenge to consolidate his place in the side and become a regular starter.
SWOT analysis
STRENGTHS

– Crossing (31% accuracy)
– Dribbling (1.7 successful dribbles P90)

WEAKNESSES

– Long ball accuracy (34%)


OPPORTUNITIES

– Playing consistently as a wing-back


THREATS

– Internal competition
– The uncertainty of his loan arrangement

Will the option be triggered?
Aït-Nouri was signed by Wolves on loan in October 2020. The loan includes an option to buy, at a reported fee of €22m. His initial promise was high, but with the uncertainty caused by the pandemic it is yet to be seen if the clause in his contract will be activated or if the two clubs will renegotiate.
A future beyond Wolves is definitely possible given the player's talent and the negotiating power of his agent, Jorge Mendes), especially if he keeps improving. He is also yet to feature for a senior national team and he will have to choose between Algeria and France, having represented the latter at youth level. If Wolves were to sign him he will probably look to improve the salary he was receiving from Angers (just over €270,000 annually, according to Capology).
---
This analysis is part of our 'Wonderkids: 2021 Outlook". Please find the link to download the eBook here. A printed version is available too.
---