A skillful winger with an eye for goal, Rodrygo has just under 100 professional appearances and a debut with the Seleçao on his CV. These are, of course, outstanding accomplishments for a youngster who is yet to turn 20 years old, but they still fall somewhat short of the most optimistic forecasts for him: in Brazil he has been expected to become a world-class player since he was a kid. Meeting Real Madrid's high standards and regularly making the starting XI is an arduous task for any player; in our view, it will require more consistent output from Rodrygo, for which avoiding injuries is a pre-requisite.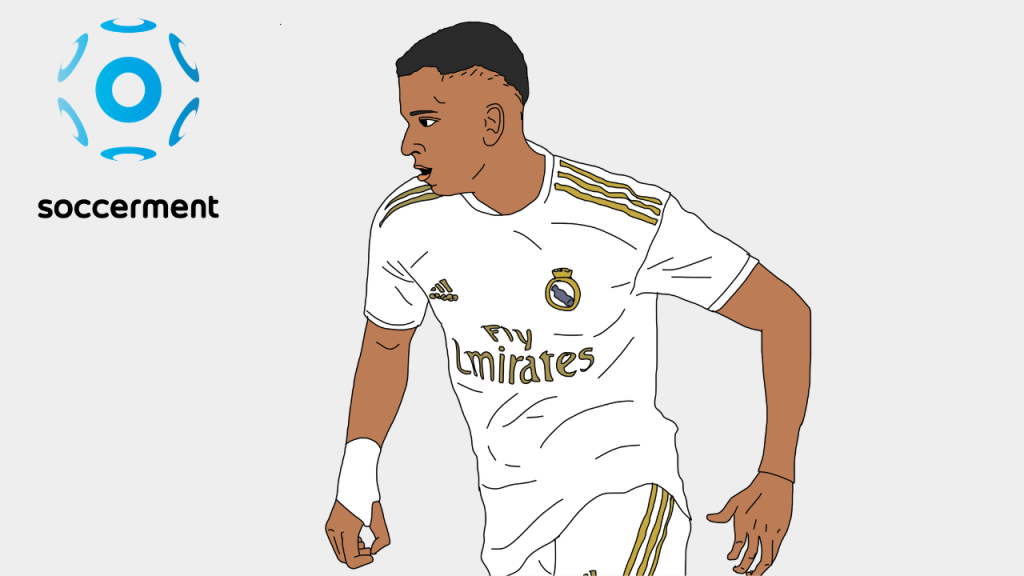 ---
Bio and playing style
El 'Cuarto Rayo'
Rodrygo Silva de Goes was born in Osasco, São Paulo, on January 9, 2001. He debuted for Santos in November 2017, playing 49 matches in the following two seasons. In Brazil, and especially among Santos supporters, he is known as the "Cuarto Rayo", as he is considered the fourth potentially world-class player to emerge from their youth system (after Pelè, Robinho and Neymar Junior).
Real Madrid paid €45 million for Rodrygo in the summer of 2018 and he made the move the following season. He is the second youngest player to score a hat-trick in a Champions League match, at the age of 18 years and 301 days.
Top-quality technique
Rodrygo's performance stats display quite a wide range across different competitions and seasons, which makes analysis more difficult.
One thing is for sure, however: we are dealing with a very skillful winger. Rodrygo's better-than-average technique is reflected in many of his performance stats:
His passing accuracy in both halves of the pitch is much better than average for the role (86% overall passing accuracy, vs the wingers' average of 77%).
He attempts more crosses than the average winger (2.8 per 90 mins vs the 2.2 average), and shows better crossing accuracy (22% vs the 20% average).
He completes 2.4 dribbles per match, vs the 1.6 average for the role.
He creates more chances (1.7 P90 vs 1.4 average) and ends up with more assists than the average winger (his 0.25 assists and 0.15 Expect Assists P90 are in line with the average for the role).
In the chart below, we look at the development of Rodrygo's key stats over the last two seasons.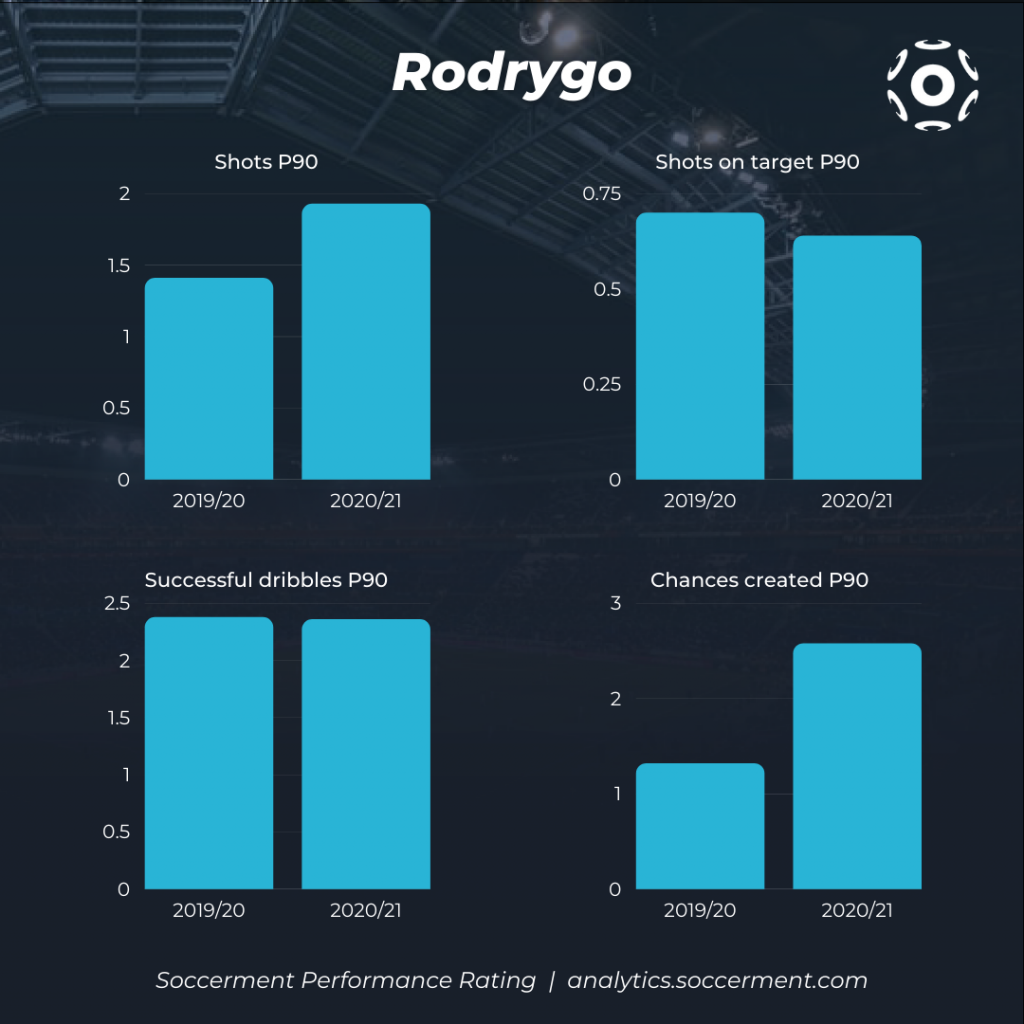 ---
The biggest improvement is in the number of chances created, which has doubled from last season's 1.3 P90 to 2.6 P90.
Just like almost all Brazilian wingers, Rodrygo loves to dribble. While his output of successful dribbles has remained unchanged, at 2.4 per 90 minutes, what has improved significantly is Rodrygo's efficiency, rising from 49.1% in 2019/20 to 64.7% in 2020/21; Rodrygo is losing far fewer balls when attempting take-ons.
---
---
At the time of writing, Rodrygo has scored 8 goals and provided 9 assists in 43 matches. However, it is interesting to note that five goals and five assists have come from just 591 minutes in the Champions League. His UCL numbers do not look sustainable though, as Rodrygo has outperformed both his Expected Goals and Expected Assists.
| Key stat (per 90 minutes) | SLL | UCL | Total |
| --- | --- | --- | --- |
| Shots | 1.56 | 1.82 | 1.64 |
| Expected Goals | 0.23 | 0.26 | 0.24 |
| Goals | 0.13 | 0.76 | 0.31 |
| Chances created | 1.69 | 1.34 | 1.58 |
| Expected Assists | 0.25 | 0.38 | 0.29 |
| Assists | 0.25 | 0.61 | 0.35 |
Source: Soccerment Analytics, Opta
---
Zidane sees him on the right
Rodrygo can play either as a left or right winger, the former being his original position at Santos and the latter looking like Zidane's favourite place for him. He has also made a few appearances as a false nine or a second striker.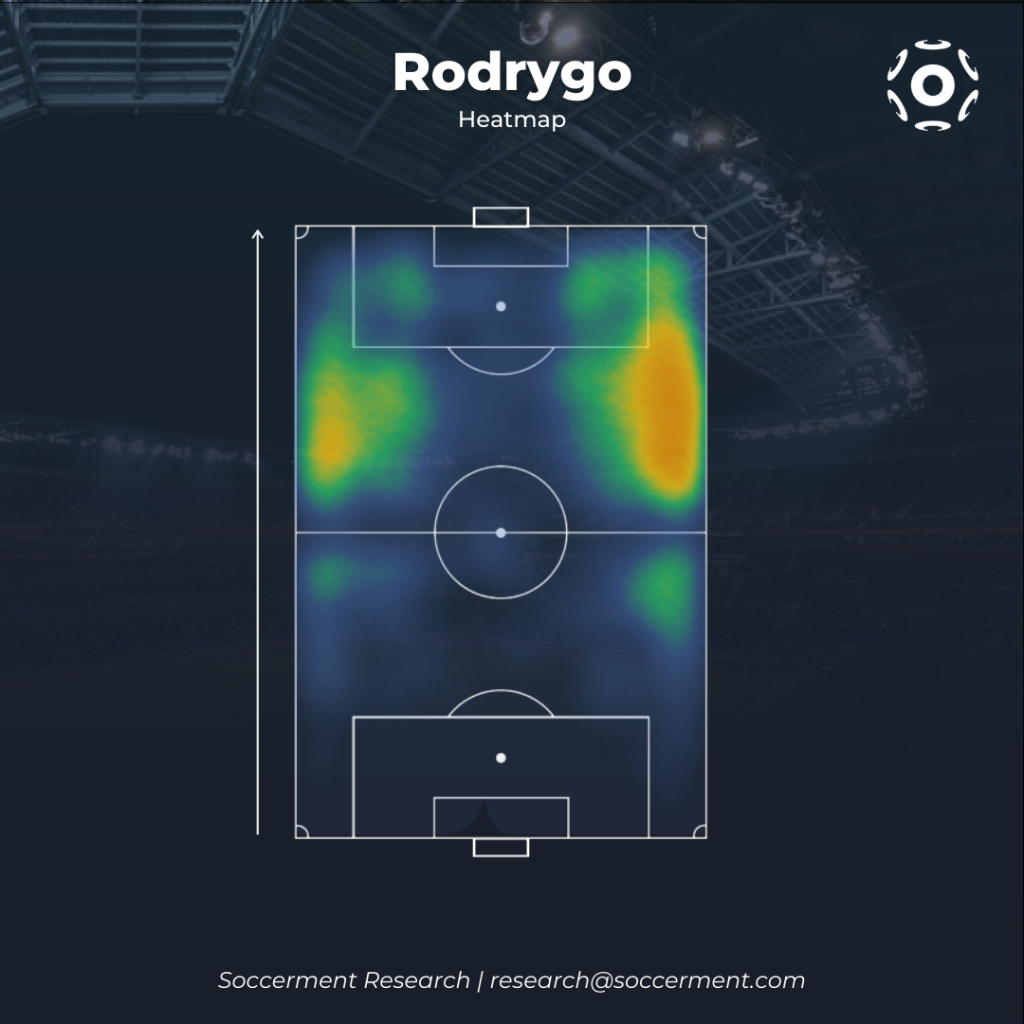 ---
His characteristics are well suited for Los Blancos' 4-3-3, as he is excellent at both starting wide and dribbling past his opponent, and at cutting inside to receive the ball in the box. Most of his goals come from attacking the right side of the box at the back post, finishing from a cross from the opposite side. A good example is the goal scored in this season's UCL group stages against Inter Milan.
---
Potential and outlook
In search of consistency and playing time
Being regarded as destined for success since the very beginning of his career will surely have put a lot of pressure on Rodrygo. And transferring to Real Madrid at the age of 19 will have done nothing to ease it. However, he responded to the move with no fear, showing his class and personality. As we have seen, his performances are already good, although they are not yet outstanding.
However, Rodrygo's lack of consistent playing time is a concern: he has never been in Real Madrid's starting eleven for more than two games in a row. This is not good for young players, who need consistent playing time to fully develop their qualities and gain experience. Moreover, Rodrygo is currently undergoing treatment on his second hamstring injury, which will likely leave him sidelined for the next two months.
Considering that we are talking about a player who is not yet twenty years old, there is plenty of time for him to get better and better. But upon his return from injury he will need many more minutes if he is to fulfil his potential.
Surrounded by champions
Playing with other champion players is a necessary condition for becoming a champion oneself. Rodrygo is fortunate that players like Karim Benzema or Sergio Ramos are his teammates.
Truth be told, Real Madrid are facing many difficulties in the post-Cristiano Ronaldo era, but the team is still full of great players and is in contention for both the Liga and the Champions League. Rodrygo seems to be gaining Zinedine Zidane's trust, and the manager will likely give him more responsibility once he comes back from injury.
SWOT analysis
STRENGTHS

– Dribbling (2.4 successful dribbles P90)
– Chances creation (0.3 xA P90)

WEAKNESSES

– Lack of consistency


OPPORTUNITIES

– Increasing playing time

THREATS

– Injury prone

---
Madrid think he is set to become a champion himself
Real Madrid does not like giving away its young talents, especially when they are already important players in the first team. President Florentino Perez, in particular, seems to appreciate Rodrygo a lot. Nevertheless, the huge transfer fee paid for the young Brazilian still has to be justified in the form of constant contributions to the team.
Rodrygo's contract expires in June 2025 (according to Capology, his annual gross salary exceeds €8m), and we cannot imagine another club even trying to sign him. Unless there is a significant drop in Rodrygo's performances, we are not going to see him away from the Santiago Bernabéu anytime soon.
---
This analysis is part of our 'Wonderkids: 2021 Outlook'. Please find the link to download the eBook here. A printed version is available too.
---