Wonderkids: Ryan Gravenberch
Technically gifted and physically strong, Ryan Gravenberch is reaping the benefits of developing in the perfect environment, AFC Ajax, and being the client of one of the most powerful agents in the game, Mino Raiola. Thanks to this perfect recipe, here at Soccerment we believe that the Dutch midfielder, now 18, could reach "elite player" status before his 23rd birthday. However, we do think that Gravenberch will have to leave his comfort zone sooner rather than later, something that could prove instrumental in building his character.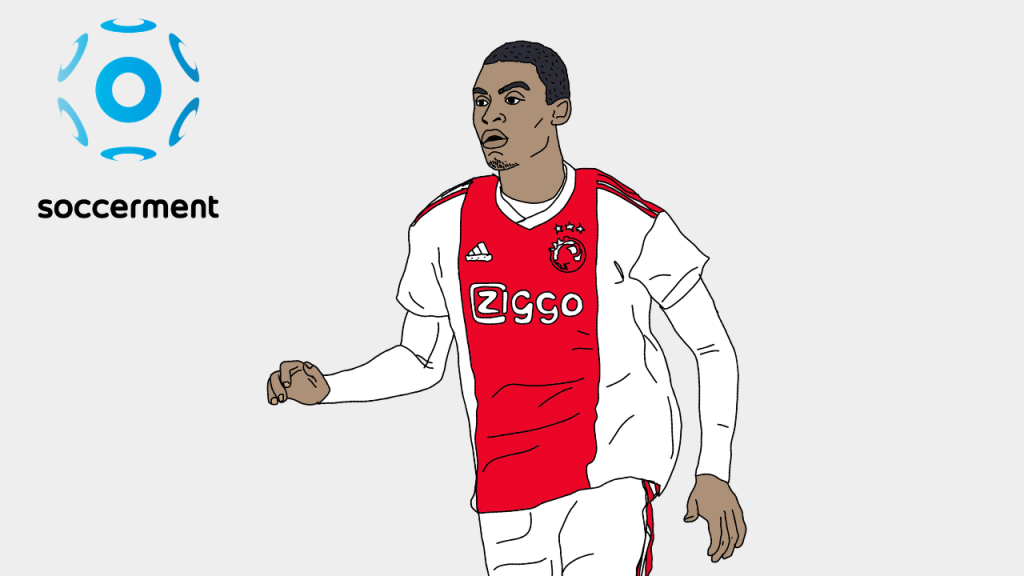 ---
Bio and playing style
Born and bred in Amsterdam
Ryan Giro Gravenberch was born in Amsterdam, the Netherlands, in May 2002. Like his older brother Danzell, Ryan spent his entire childhood playing for the famed youth academy of AFC Ajax, which he joined at the age of 8. It took him just eight years to make his debut for Ajax's senior team, on 23rd September 2018, aged 16 – the youngest ever debutant for the Dutch heavyweights. Since then, he has played more than 30 games (22 in the Eredivisie at the time of writing), scoring a total of 6 goals.
A natural standout
Naturally gifted with a long-limbed, slender physique and above-average technique, Gravenberch stands out from the crowd when receiving the ball in the middle of the pitch. This makes it easy for him to distinguish himself and for scouts to spot him.
Gravenberch does not only catch the eye aesthetically though, he also shows a practical approach to the game that is recognised and appreciated both by coaches and stats-based performance rating systems. Despite being only 18 years old, Gravenberch has already imposed himself as a starter for Ajax and as one of the best midfielders in the Eredivisie: he has the fifth-best Soccerment Performance Rating this season among Eredivise midfielders who have played at least 500 minutes.
---
---
Most of Gravenberch's key stats are above-average for the central midfielders in our database: he displays higher-than-average passing accuracy in both halves of the pitch (91.4% vs 89.2% in his own half and 83.5% vs 73.6% in the opposition half); he creates more chances (1.45 per 90 minutes vs. the 1.05 average); he shoots more often (1.71 per 90 minutes vs. the 1.15 average); and with greater higher accuracy than his peers (38.5% on target vs. the 29.5% average).
However, the skill in which Gravenberch really excels when compared to CMs in Europe is dribbling: he attempts 3.7 dribbles per 90 minutes and successfully completes 70% of them (1.4 attempts and a 65% success rate are CMs' average stats).
One side of the game where he could definitely improve, however, is his defending: he only recovers 4.9 balls per 90 minutes (vs. the average of 6.0) and his tackling proficiency is below average too (52% tackle success rate vs. the average of 63%).
He reminds us of Paul Pogba
The first top player that Gravenberch reminds us of is without doubt Paul Pogba. Our algorithms agree, finding 82% similarity between the key stats of the two players (click on the image below for a link to the comparison). Gravenberch and Pogba share very similar body types, positions on the pitch, and even an agent in the form of Mino Raiola.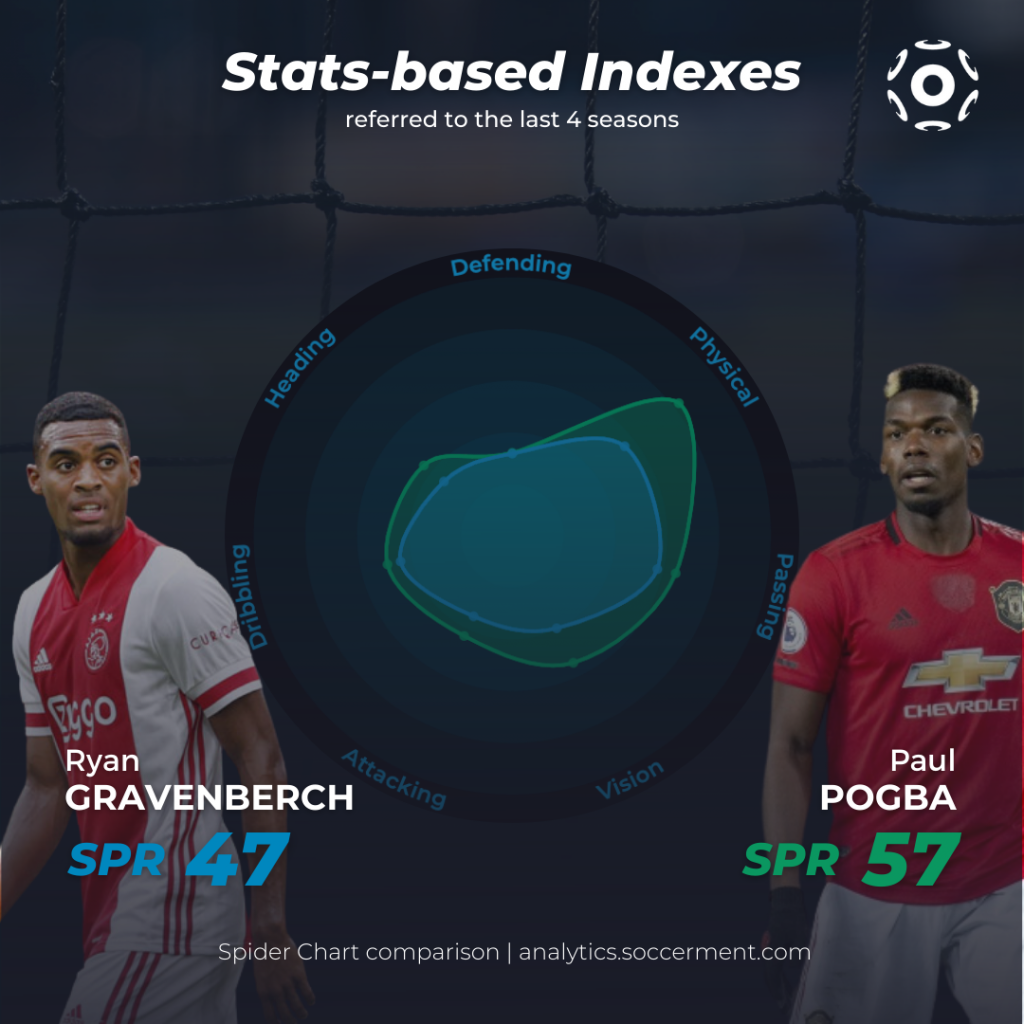 ---
Tactically versatile
Ajax, coached by Erik ten Hag, normally play with a 4-3-3 formation, which sometimes becomes a 4-2-3-1. In the 4-3-3, Gravenberch finds his place as a left-sided mezzala, although it is not uncommon to see him switching position and moving to a '6' role. When Ajax play with a 4-2-3-1, Gravenberch plays on the left of the double pivot.
Right-footed, when receiving the ball towards the left Gravenberch tends to head towards the centre of the pitch, something he normally does with his head up to scan for passing options. Gravenberch's composure and control allow him to offer a valid build-up solution from the back, when he drops deep, starting the so-called "Salida Lavolpiana" (picking up the ball directly from the goalkeeper, with the centre-backs spread quite wide).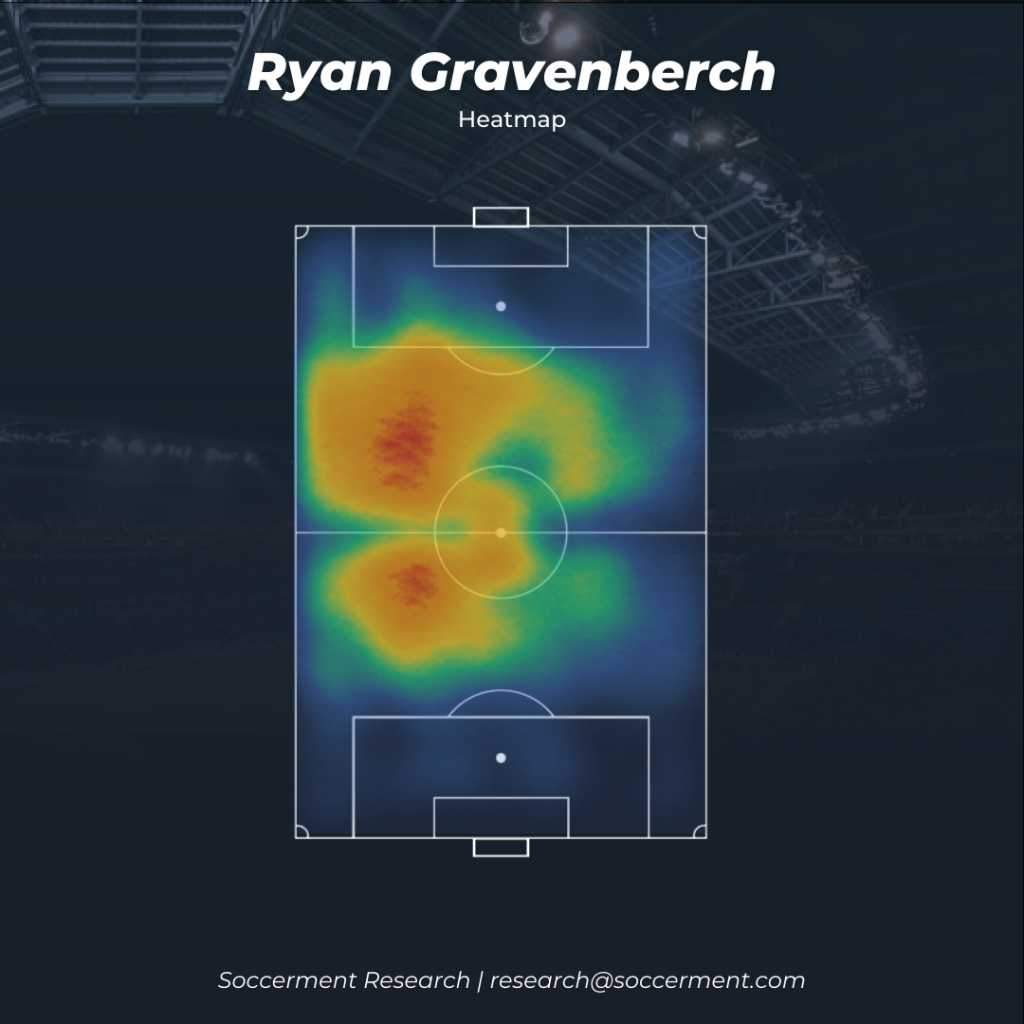 ---
---
Potential and outlook
Potential to be an 'Elite Player' in less than five years
Already well known internationally, Gravenberch is yet to demonstrate his full potential, in our view. This seems to be confirmed by the improvement he has made this season compared to the previous one (see the charts below).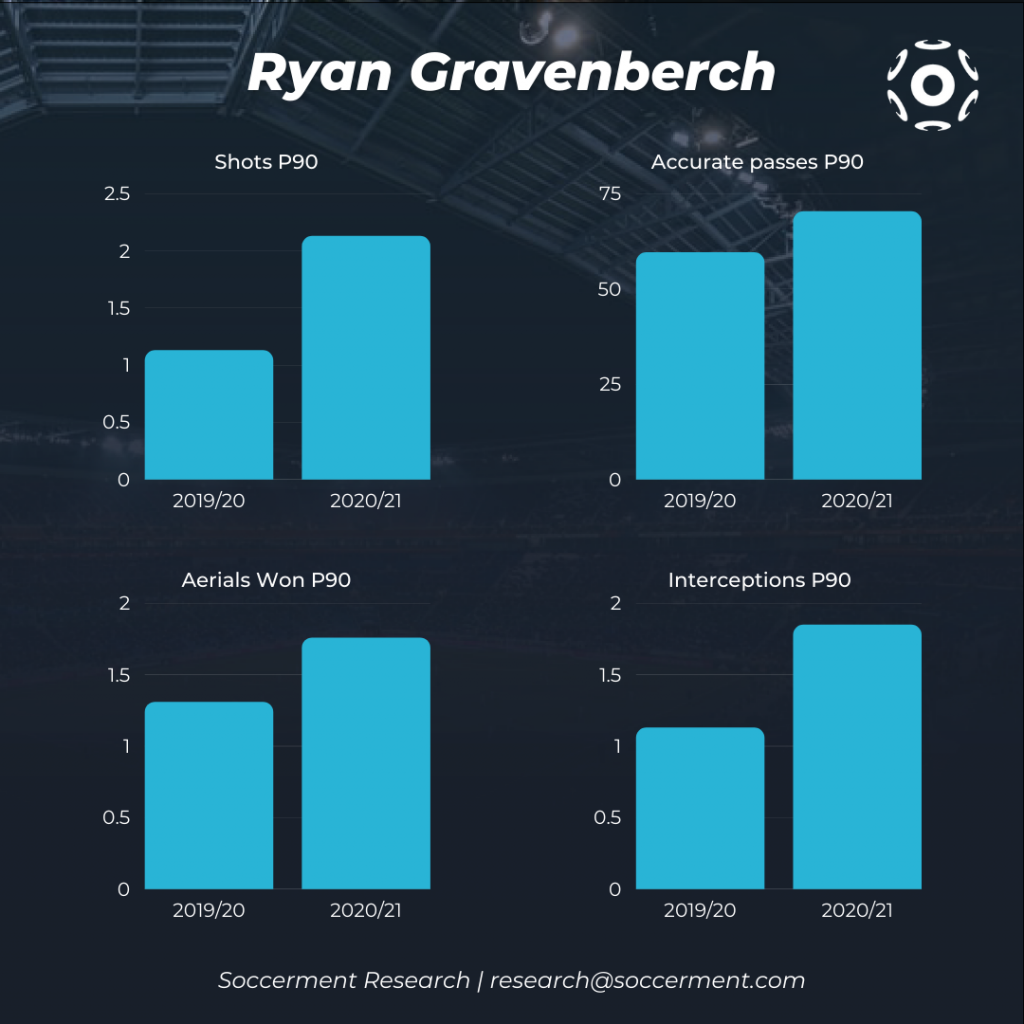 Gravenberch is now showing an all-season SPR of 47 (SPR: 'Soccerment Performance Rating') and a 2020/21 SPR of 48, which makes him one of the main performance outliers related to age this season.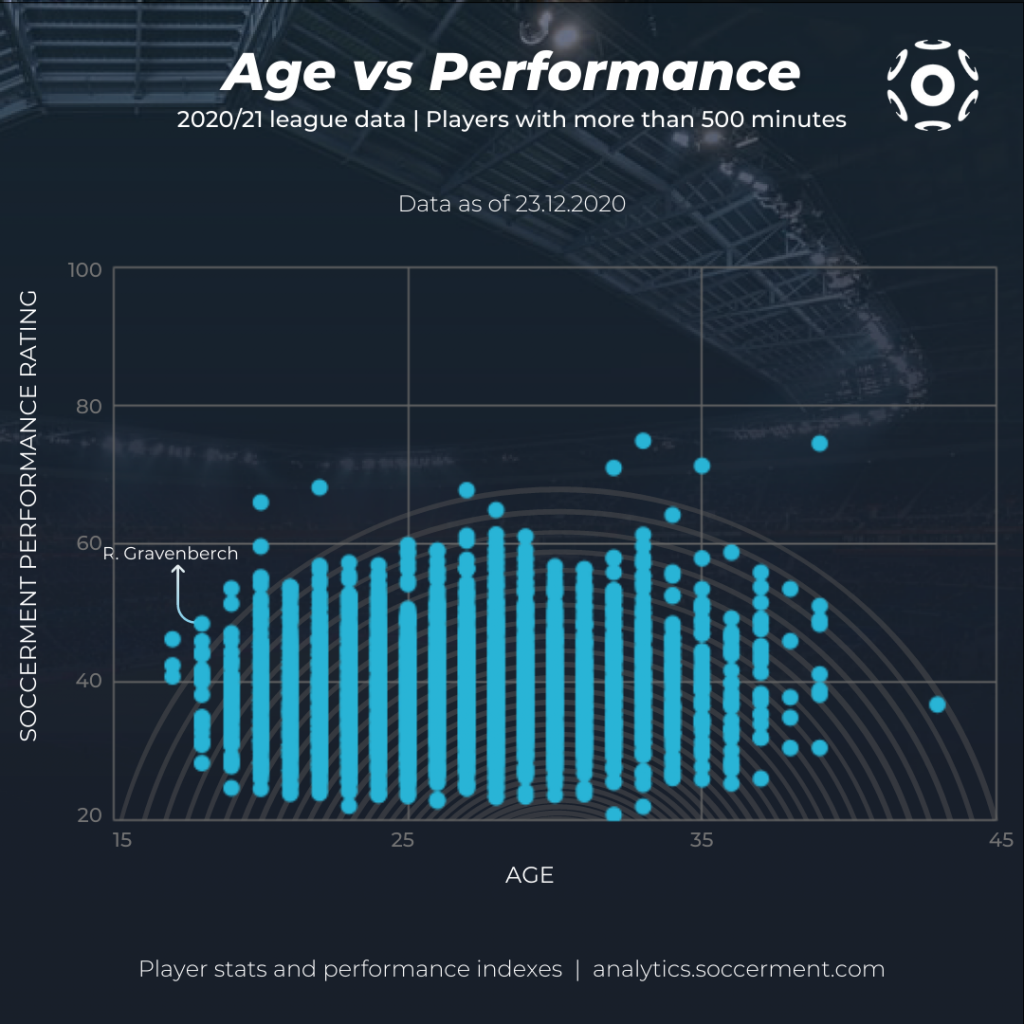 On average, the SPR of players aged 18 or younger grows by 23.9% in their next two seasons. According to our calculations then, Gravenberch's Soccerment Performance Rating could well reach "Elite Player" level (an SPR above 60) well before he turns 23.
At the moment, our algorithms identify 40 Elite Players. Sign up to view the full list. At the moment, there is no player in the list younger than 24 (Kylian Mbappé belongs to the four-player list of "world-class players" – see list).
His comfort zone at Ajax, now a plus, could well become a minus in a couple of years
At the moment, Ajax undoubtedly provides the best conditions for Gravenberch to grow: the player knows the club inside out and vice versa, the club knows everything about Gravenberch and what he needs to perform well.
Furthermore, Ajax are expected to win their domestic league this season (they are currently 1st in the Eredivisie), while also being competitive in the Europa League, which seems the perfect context for Gravenberch to make the Netherlands' squad for the European Championships in June this year, even though he is yet to make his debut for the senior national team.
We believe, however, that in the long term the home comforts Gravenberch enjoys at Ajax might become more of an issue. In a couple of years, to foster his development, Gravenberch find it necessary to leave his comfort zone. His current contract expires on 30 June 2023.
SWOT Analysis
STRENGHTS

– Dribbling (70% success rate)
– Passing (87% accuracy)
– Vision (0.3 assists P90)
WEAKNESSES

– Defending (<5 recoveries P90)
– Leadership

OPPORTUNITIES

– Europa League's final stages

THREATS

– Remaining stuck in his comfort zone

A future target for any UCL contender
Technically gifted, physically strong, in an ideal environment to develop further, and in the hands of a powerful agent – that sounds like the perfect recipe for a future top player.
AFC Ajax are well aware that they have a gem on their hands and are likely to hold on tight to Gravenberch's quality for a couple of years, when they will be able to command a higher price for him.
Europe's top clubs are impatient though, and might decide to make Ajax an irresistible offer this summer, accelerating Gravenberch's departure from Amsterdam. The state of the pandemic and how it affects the transfer market will be a big factor here.
---
This analysis is part of our handbook 'Wonderkids: 2021 Outlook'. Click here to buy the eBook. The same link also has instructions on how to order a printed copy of our report.
---
---