For the first time in eighteen years, La Liga started without Lionel Messi, who left FCB and joined PSG, owing to the Blaugrana's financial issues. Meanwhile, Real Madrid have so far lost two defensive pillars (Sergio Ramos and Varane). However, their transfer window could obviously go from underwhelming to brilliant if they were to sign Kylian Mbappé. Atletico Madrid seem well placed to confirm themselves as Spanish champions: they overall strengthened the squad (Cunha and De Paul) and started the new season with two victories in two games. However, we highlight that the Colchoneros haven't been able to win two leagues in a row in the past seventy years.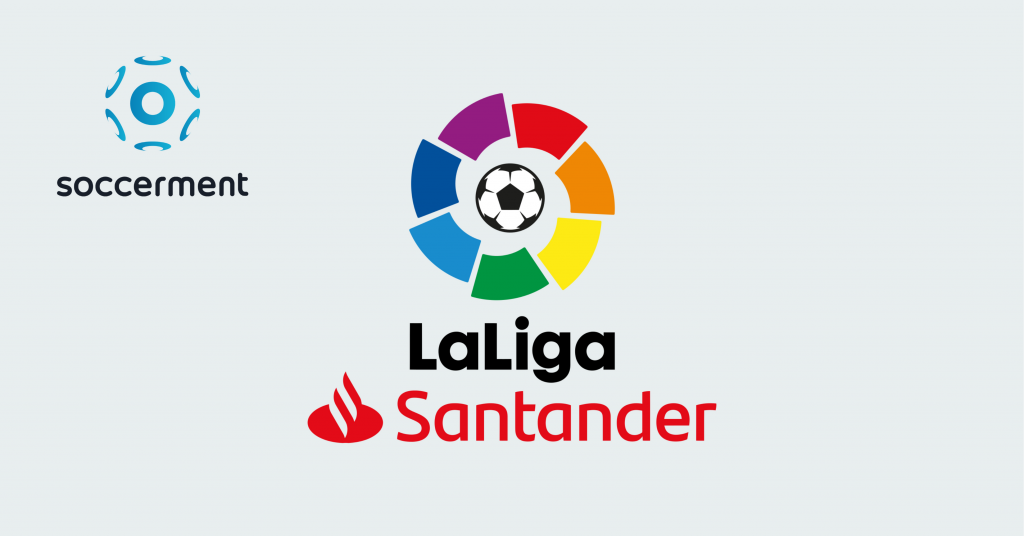 ---
La Liga: Life without the GOATs
Who's better, Pelé or Maradona? Messi or Cristiano Ronaldo? And who's the ultimate G.O.A.T.?
Until three years ago, for nine years, La Liga fans could enjoy both Messi and Cristiano Ronaldo, who created epic battles, both indirectly and during legendary El Clasico matches, like the one on 7th October 2012: at the Camp Nou, FC Barcelona and Real Madrid drew 2-2, with one brace each for the two GOATs. Here the highlights.
Lionel Messi and Cristiano Ronaldo combine 811 La Liga matches, in which they scored 783 goals and 313 assists, for a total direct goal contribution (goals + assists) of 1.47 per 90 minutes each.
| | Messi | Cristiano Ronaldo |
| --- | --- | --- |
| Seasons | 17 | 9 |
| Appearances | 520 | 291 |
| Minutes played | 42142 | 25022 |
| Goals | 474 | 309 |
| Goals P90 | 1.01 | 1.11 |
| Assists | 217 | 96 |
| Assists P90 | 0.46 | 0.35 |
| Titles won | 10 | 2 |
Statistics relate to La Liga alone
---
What will happen to La Liga, now that both GOATs have departed? Will the Spanish top flight retain its appeal?
2020/21 recap
The hunt for the title
Atlético Madrid won their 11th title on the last match-day, totaling 86 points. They registered the highest outperformance for xPoints in the 2020/21 La Liga, as they were just 5th in the xPonts table (65.3). Luis Suarez decisively contributed to his team's offensive outperformance (67 goals, 56.1 xG) by scoring 21 goals compared to 15.6 xG. Even Marcos Llorente, who occupied virtually all positions on the field during the season (excluding center back), produced an exceptional 12 goals from 5.2 xG and 10 assists from 5.1 xA. In addition, Jan Oblak's outstanding season (0.38 goals prevented per xG on target, highest value in Europe in the last season) is the main explanation for Atletico's low amount of goals conceded (25, in front of 36.5 xGA).
Real Madrid, coached by Zinedine Zidane, registered an even better outperformance for xGA by conceding just 28 of their 40.2 xGA: Thibaut Courtois showed an impressive amount of goals prevented per xG on target (0.21). These achievements resulted in a 16.1 points outperformance (84 points and 67.9 xPoints).
After a difficult start, Barcelona gained the top of the table on the 32nd match-day. Nevertheless, they obtained only 8 points in the last six matches, ranking third at the end of the championship. However, they achieved the first position for xPoints (77.2).
Sevilla, which outperformed their xPoints (77 points vs 65.8 xPoints), closely followed the three frontrunners for almost the entire season: they gained their UCL spot without any serious trouble, distancing Real Sociedad by 15 points.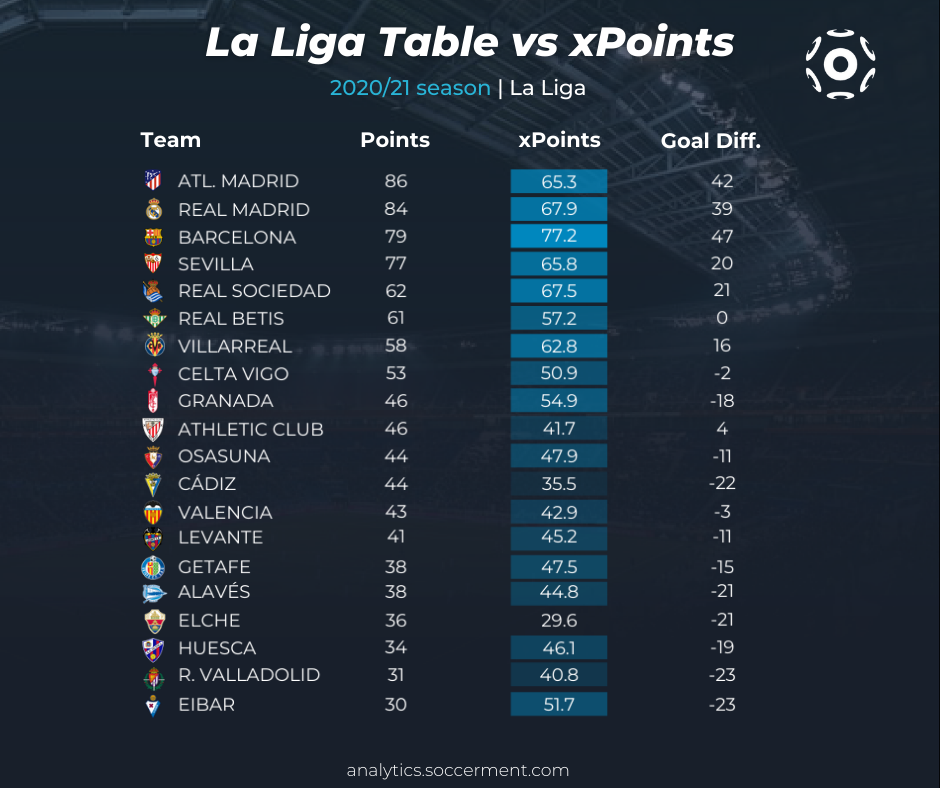 ---
Battle for the European spots
Real Sociedad, third in the xPoints table (67.5), was driven by the good performances of Alexander Isak. The Swedish 21-year-old forward scored 17 goals (15.3 xG) and registered a very high xOVA, equal to 0.30 per 90 minutes.
Real Betis centered a UEL spot that they risked missing because of 6 consecutive draws between the 29th and the 34th match-days.
Villarreal, which could count on the striker Gerard Moreno (23 goals and 18.8 xG), qualified for the 2021/22 UCL thanks to their triumph in Uefa Europa League.
Celta Vigo did not obtain any European spots, but Iago Aspas emerged as an outperformer of both xG (14 goals, 11.7 xG) and xA (13 assists, 8.3 xA). On the other hand, the goalkeepers Blanco (-0.25 goals prevented per xG on target) and Villar (-0.01) contributed to the team's underperformance of xGA (57 goals conceded and 51.3 xGA).
Mid-table and relegation scrap
The incredible season of Cillesen (0.24 goals prevented per xG on target, which resulted in a 4.9 gap between xGA and GA) was not enough for Valencia to avoid the worst league position of the last 33 seasons (13th with 43 points).
Càdiz, which ranked 19th for xPoints (35.5), achieved an 8.5 positive gap between points and xPoints, reaching the 12th league position.
Both Athletic Bilbao and Getafe, the worst attack of the 2020/21 Liga (28 goals and 35.4 xG), showed significant underperformance (8.9 and 9.5 negative gaps for xPoints, respectively).
At the bottom of the table, the xPoints ranking uncovers intriguing results. Elche avoided relegation by two points, but they obtained a significant outperformance, as they ranked in the last position for xPoints (29.6). This result was possible because their top scorers (Boyé, Fidel, Josan) all outperformed their (low) values of xG, and the goalkeeper Edgar Badia prevented 0.11 goals per xG on target.
In addition, Huesca, Real Valladolid and Eibar, the relegated teams, all underperformed their xPoints (-12.1, -9.8 and -21.7 xPoints gap, respectively).
In particular, Eibar (9th for xPoints) showed the worst underperformances in the 2020/21 La Liga both for xG (29 goals and 44.5 xG) and xGA (52 goals against and 44.2 xGA). Kike Garcia's good season (12 goals and 10.1 xG) was not enough to offset his teammates' lack of finishing abilities and Dmitrovic's unsatisfactory figures (-0.12 goals prevented per xG on target).
Players' advanced metrics
Of the players with more than 900 minutes played, Lionel Messi was first for xG P90 (0.72). Gerard Moreno and Alexander Isak completed the podium with 0.61 and 0.58 xG P90, respectively.
Messi ranked first also for non-penalty xG P90, with a value of 0.61 npxG P90. Youssef En-Nesyri, who did not shoot any penalty, conquered the second position (0.56 npxG P90), while Isak confirmed himself third with 0.55 npxG P90.
Unsurprisingly, Messi also shows the highest number of xA P90 (0.37), followed by Adnan Januzaj (0.37) and Jony (0.26).
As a result, our newly-developed metric xOVA P90 (Expected Offensive Value Added) highlights the once-again phenomenal season of La Pulga.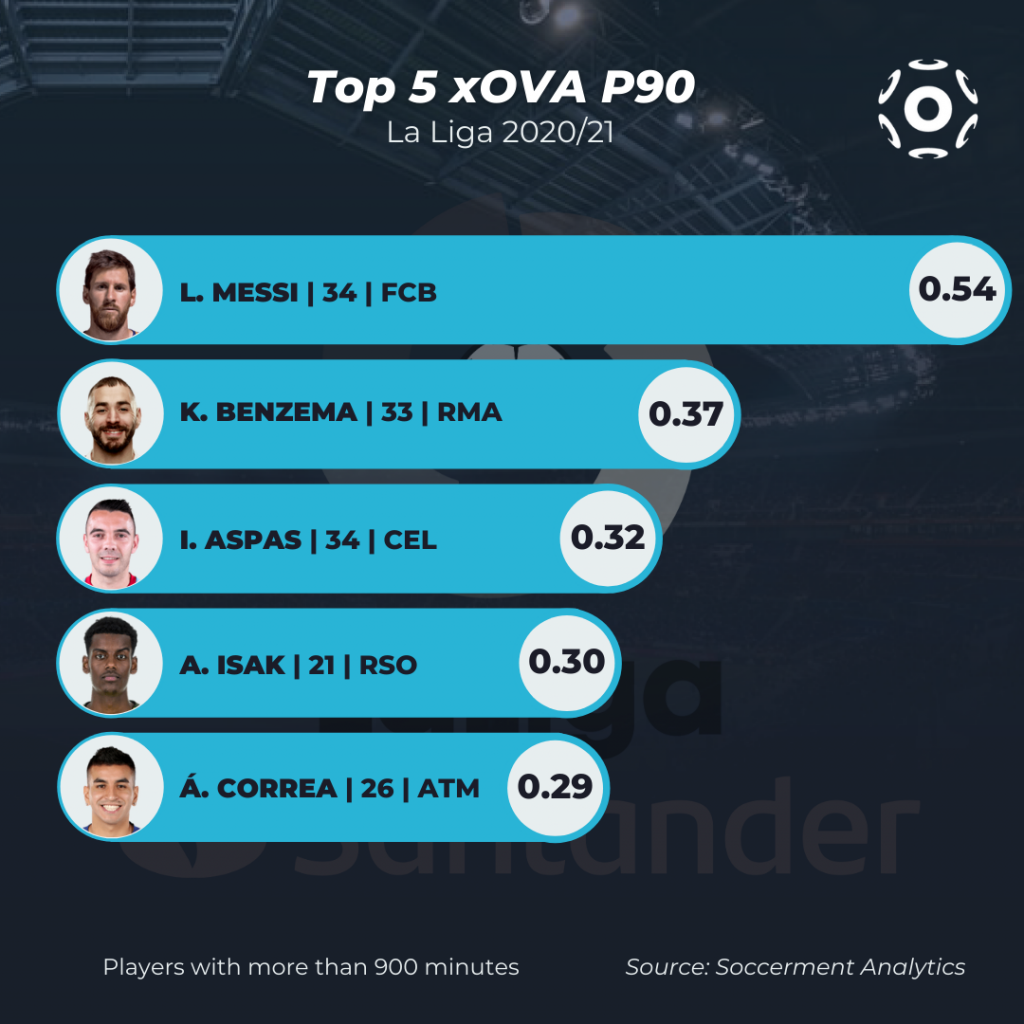 ---
All our advanced metrics for La Liga 2020/21 are downloadable by clicking the link to a Google Sheet here. We filtered out the players with less than 900 minutes played and we sorted them by xOVA P90 (xOVA: Expected Offensive Value Added).
Summer transfer window
This transfer window will close on August 31st but there is still room for significant signings (Mbappé?). Obviously, Messi's goodbye is an epochal change that could potentially disrupt La Liga's balance.
Atletico Madrid
The Colchoneros are trying to strengthen their roster to confirm the title. They signed the offensive midfielder Rodrigo De Paul from Udinese for €40m, first for successful dribbles in 2020/21 Serie A (122) and second for chances created (82). Further, Atletico Madrid completed the transfer of the versatile forward Matheus Cunha (second for successful dribbles in 20/21 Bundesliga, 82) for €30m from Hertha BSC. In addition, they finalised the free transfer of the 20-year-old forward Marcos Paulo for Fluminense and the loan of Lecomte from Monaco (who however showed a poor value of goals prevented per xG on target in the last Ligue 1, equal to -0.30).
Real Madrid: There is still a lot at stake
Not a very lively transfer window for Los Blancos so far. They lost their experienced couple of center backs formed by Raphael Varane (SPR:58, €40m to Manchester United) and Sergio Ramos (SPR:60, free transfer to PSG), replaced by the Austrian player David Alaba (SPR:58, free transfer from Bayern). In addition, Arsenal completed the permanent transfer of the trequartista Martin Ødegaard for €35m. On the other hand, this unexciting situation could change soon, as Florentino Pérez is trying to persuade Kylian Mbappé to leave PSG. The 22-year-old forward wants to join Los Merengues, and his contract expires on June 2022 (he rejected a renewal offer). PSG already rejected a 160 million euros tender, but negotiations are not over yet: 180 million euros (the amount paid by Les Parisiens to Monaco in 2017) could be enough to close the deal.
FC Barcelona: Revolución!
Revolution for the Blaugrana. The six-times Ballon D'Or Leo Messi left as a free agent to PSG. This transfer ends an era started in 2004 (when La Pulga joined Barcelona A), during which the club won four Uefa Champions Leagues and ten times La Liga. Memphis Depay (free transfer from Lyon) and El Kun Aguero (free transfer from Manchester City) will complete Barcelona's offensive unit, which could already count on Griezmann, Dembélé, Fati, Coutinho and Braithwaite. In addition, the club gave up the left-back Junior Firpo (€15m to Leeds), the center back Todibo (€8.5m to Nice), the midfielder Aleñá (€5m to Getafe) and the right winger Trincão (loan to Wolves). On the other hand, they signed the 22-year-old right-back Emerson Royal (€9m from Betis) and saw the return of the 20-year-old center back Eric Garcia (free transfer from Manchester City).
Sevilla: Increasing experience
Los Rojiblancos aim to set up a squad able to compete with the top teams and to get as far as possible along their UCL path. Undoubtedly, the most important transaction of their market window is the swap deal that brought the wonderkid Bryan Gil to Tottenham in exchange for Lamela and €16m. In addition, they signed the physically imposing (191 cm and 86 kg) Rafa Mir (13 goals in the last Premier League, €16m from Wolves) and the right back Gonzalo Montiel (€11m from River Plate). Further, the left-back Ludwig Augustinsson (€5.5m from Werder Brema) and the goalkeeper Marko Dmitrovic (free transfer from Eibar) joined the team.
Villarreal: rejuvenating the squad
The Yellow Submarine wants to confirm its UCL spot in the next season. They invested in three young players who had an amazing 2020/21 season: the left winger Arnaut Danjuma (€23.5m from Bournemouth, 15 goals and 7 assists in the last Championship), Boulaye Dia (€12m from Reims, 14 goals and 12.31 xG in the last season at Reims) and the center back Juan Foyth (€15m from Tottenham), who already played with Villarreal in the 2020/21 La Liga.
Other significant transfers
Real Betis, after the departures of Emerson Royal and the center back Aissa Mandi (free transfer to Villarreal), is now trying to strengthen their defense with the signings of the center back Pezzella (€3.5m from Fiorentina), the left-back Miranda (who already spent the last season with Betis, free transfer from Barcelona), the right-back Sabaly (free transfer from Bordeaux) and the goalkeeper Rui Silva (free transfer from Granada, -0.02 goals prevented per xG on target). Granada's new goalkeeper will be Luis Maximiano (€4.5m from Sporting CP). In addition, El Graná completed the transfers for the forward Carlos Bacca (5 goals in the last La Liga, free transfer from Villarreal), the young midfielder Monchu (free transfer from Barcelona) and the center back Luis Abram (free transfer from Vélez). The dynamic left-back Javi Galan (4.2 dribble attempts per match, €4m from Huesca) and the creative left-winger Franco Cervi (0.18 assists per match, €4m from Benfica) joined Celta de Vigo. Cadiz confirmed Jeremias Ledesma between the posts (€2m from Rosario) and relias on the left-back Santiago Arzamendia (€2.1m from Cerro Porteno). Osasuna aims to retain their top players: they redeemed Ante Budimir (€8m from Mallorca, 0.27 xOVA P90 in the last season) and renewed the loan for Manu Sanchez (from Atletico Madrid). The right winger Takefusa Kubo joined Mallorca on loan (from Real Madrid).
La Liga 2021/22 Preview
The hunt for the title
Atlético Madrid: looking for the 12th title
Los Colchoneros had an excellent start to the season as they won the first two matches. In addition, Angel Correa is, at the moment, the top scorer of La Liga (3 goals, on a par with Vinicius Jr). They strengthened their roster with the arrival of the offensive midfielder De Paul: with an xOVA P90 equal to 0.25, he was the heart of Udinese, and will most likely bring a sizable contribution to Atletico's midfield. Further, Cunha (signed from Herta Berlin) brings additional offensive creativity: he registered 0.24 xOVA per 90 minutes in Bundesliga last season. Finally, they can count on Oblak (the goalkeeper with the highest number of goals prevented per xG on target in the last four seasons, 0.29) and on 20/21 La Liga's best defence (25 goals conceded). If they will be able to combine defensive stability with offensive qualities, they have a fair chance of confirming the title.
Real Madrid: market rumors and defensive troubles
Los Blancos achieved 4 points in the first two matches of the 21/22 La Liga, scoring 7 goals and conceding 4. The couple of center backs formed by Nacho and Militao, at the moment, does not seem to be as reliable as Varane-Sergio Ramos (even if the latter played only 15 matches in the last season): if they want to challenge Atlético Madrid, they at least need to replicate the defensive performance of the 20/21 season, when they experienced 3.1 shots on target against per match (average 3.8). On the bright side, Bale could be the extra gun of their season: in the last season, with Tottenham, he scored 11 goals in front of only 6.0 xG and recorded an impressive 0.35 xOVA P90 (5th highest value in the 20/21 Premier League). The Welsh international seems fully recovered, as he was a starter of the first two matches of La Liga and scored one goal. Furthermore, the signing of Mbappé would disrupt La Liga's balance: this world-class player (SPR:70) is one of the most lethal forwards on the market. His ability in attacking the space (0.64 through balls received P90 in the last season) and his finishing skills (27 goals out of 21.6 xG in the 20/21 Ligue 1) allow him to register an extremely high xOVA P90 (0.41).
Barcelona: no Messi, no title?
The team coached by Koeman achieved 4 points in the first two matches, with 5 goals scored and 3 goals conceded. We will see whether Aguero and Depay will be able to offset the loss of Lionel Messi. La Pulga is the player with the highest SPR in our dataset (84) and was the top scorer (30 goals) and the player with the highest number of chances created (77) in the last La Liga. El Kun comes from a difficult season, with only 12 matches played and 4 goals scored. However, he is a consistent outperformer of his xG (115% scoring performance with respect to xG) and his xA (131%); in addition, he recorded a 0.29 xOVA P90 in the last four seasons. Furthermore, Depay was first in the 20/21 Ligue 1 for assists (12) and chances created (94).
For the Blaugrana, it will be necessary to confirm themselves as the best attack of the championship, given that they showed broadly on-average defensive stats in the last season and that ter Stegen reached an extremely negative result concerning goals prevented per xG on target (-0.09). In this scenario, Koeman relies on Eric Garcia to improve these figures.
Battle for European spots
Sevilla: the target is a UCL spot
In a revolutionized La Liga, Sevilla is a potential loose cannon. They did not lose any of their starters on the transfer market and the sale of Bryan Gil allowed them to enrich their roster. Erik Lamela had a great start, with two goals in the first match: with an average of 0.36 through balls per match, he can become a crucial asset for Sevilla's offensive production. The physically imposing forward (191 cm and 86 kg) Rafa Mir (0.13 xOVA P90 in the last season) will try to steal the place of En-Nesyri, who has been a crucial player for Sevilla in the 20/21 season (18 goals in front of 15.2 xG, 0.24 xOVA P90).
Real Sociedad: high expectations and harsh competition
The team coached by Imanol Alguacil ranked 3rd in the 20/21 La Liga for xPoints (67.5) and they changed very little on the transfer market. Their ambitious target could be the 4th UCL spot, but they will probably face the harsh competition of Sevilla and Villarreal, which both reinforced their roster. They could probably obtain a better league position by changing goalkeeper: Remiro showed negative values of goals prevented per xG on target both in the last season (-0.04) and in the last four (-0.07).
Villarreal: a UEL spot seems feasible
The start of the Yellow Submarine is following a countertrend with respect to the last season, in which they were the 4th team for offensive production: Villarreal achieved two 0-0 in the first two match-days. Thanks to the prize of the UEL win, they could invest in some prospects. In the 21/22 season, two modern forwards like Gerard Moreno and Boulaye Dia (a decisive player for Reims with 14 goals and 12.31 xG in the 20/21 season) will form their attack. In addition, they hope that the dynamic winger Danjuma (2.25 successful dribbles P90) will add creativity in the last third.
Real Betis and Athletic Bilbao: dreaming Europe
These two teams achieved a very similar amount of xPoints in the last season (57.2 for Betis, 54.9 for Athletic Bilbao), and they did not change too much on the transfer market: will they undermine their more competitive rivals?
Relegation scrap
Elche was last in the 20/21 La Liga for xPoints: the experience of Dario Benedetto (0.15 non-penalty xG per shot) could help to improve their below-average offensive figures (2.3 shots on target per match in 20/21). Maybe they could have avoided the loan of Kiko Casilla, given that Edgar Badia was one of the best goalkeepers in the last championship.
Cadiz was in the second-last position for xPoints (35.5): the confirmation of the outperformer goalkeeper Ledesma is a fundamental step to avoid relegation.
Granada (17th for xPoints in 20/21, 41.7) need to improve their build-up stats; so, they rely on the newcomer Monchu. In addition, Bacca (who showed a high 0.20 xOVA P90 in the last four seasons) could help them reach the middle of the pack.
Newly promoted teams
Espanyol was the first team of Segunda Division for offensive production (71 goals) and the best defense (28 goals against, on a par with Mallorca). They retained the symbols of last season de Tomas (23 goals), Puado (12 goals, 8 assists), and Embarba (9 goals, 14 assists) and signed Dimata (€2.2m from Anderlecht).
Mallorca had an encouraging start to the season, with 4 points in two matches. It will be interesting to see if the 20-year-old winger Takefusa Kubo (2.5 successful dribbles P90) will finally emerge.
Rayo Vallecano won the play-off of Segunda Division after ranking 6th in the regular season. They lost the first two matches of the 21/22 La Liga against Sevilla and Real Sociedad: it is early to say if they have actual chances of avoiding relegation.
Talent watch
There is still plenty of talent in La Liga. Many young players are ready to emerge, thanks to the propensity of the Spanish teams to value promising footballers. Of this list, 6 out of 10 played more than 900 minutes last season (Dest, Pedri, Vencedor, Rodrygo, Lee, Barrenetxea). In addition, Fati and Garcia are likely to play a relevant role in Barcelona's season.
---
The table above includes three of our 25 top wonderkids: Ansu Fati, Pedri and Rodrygo.
Fati played only 7 matches and scored 4 goals last season because of a meniscus injury (he will probably be available in October). The Spaniard already shows above-average vision (0.18 through balls P90 and 1.7 chances created P90) and a very high value of goals P90 (0.64). In addition, he is a consistent outperformer of his xG (0.37 P90) and a constant threat for opponents' defenses, registering a 0.29 xOVA P90.
Pedri is an extraordinarily young and versatile midfielder and a regular starter of Barcelona and the Spanish national team (73 matches played in less than 12 months). In the last season, he played both as a trequartista and as a mezzala. This player shows above-average offensive skills both for vision (0.32 through balls per match) and dribbling abilities (69.6% success ratio). On the other hand, if he aims to be an elite mezzala, he needs to improve his (at best) on-average defensive skills (61.1% tackle success ratio).
Among these ten players (and considering only those who played at least 600 minutes), Pedri reported the highest xOVA P90 in the 20/21 season (0.16).
Rodrygo is a skillful winger and a good creator (1.6 chances created P90). In the last season, he incredibly outperformed his xA (6 assists in front of 1.7 xA), showing his exceptional technique. This attitude resulted in 0.52 assists P90 and a 0.14 xOVA P90.
Wonderkids 2021 Outlook | EN (eBook)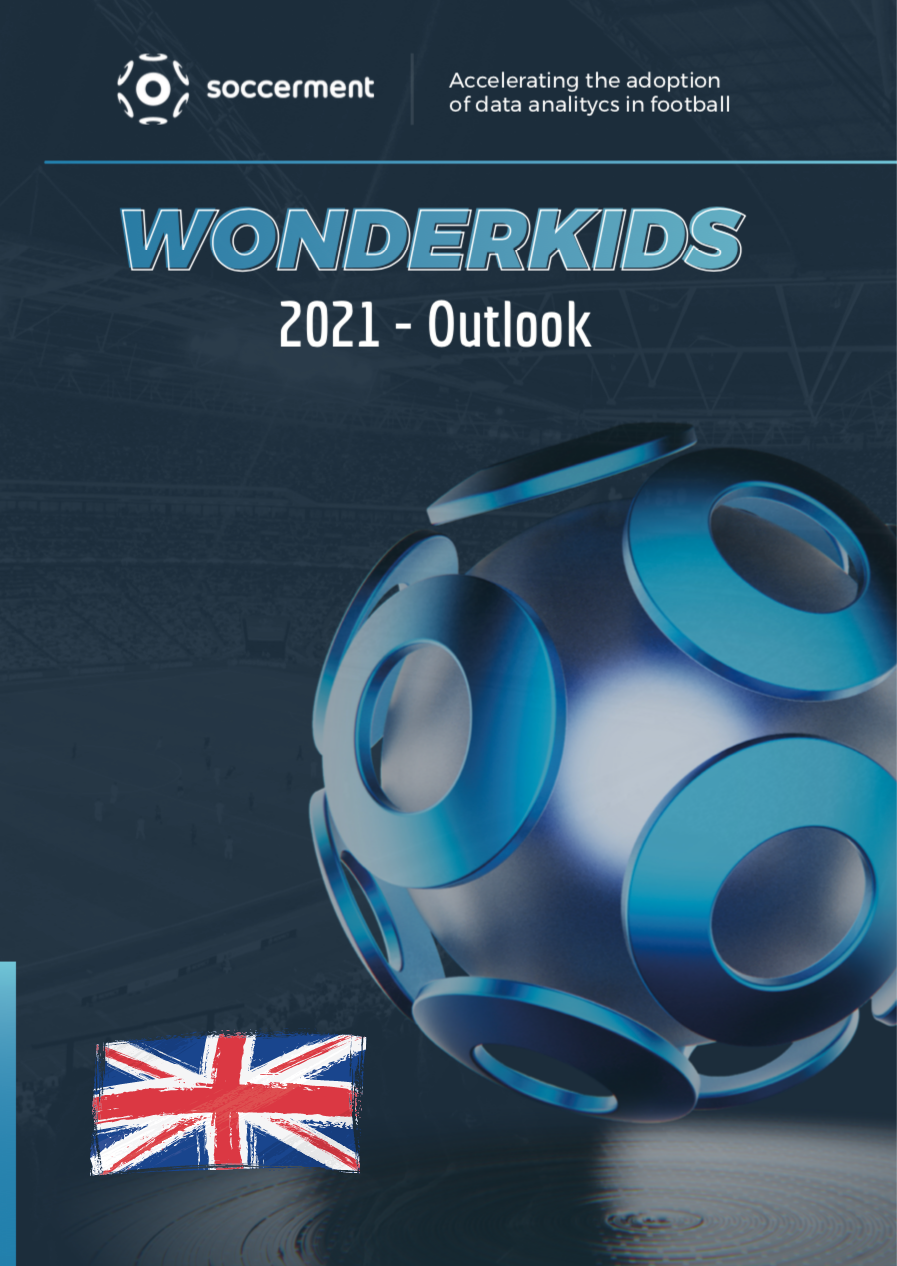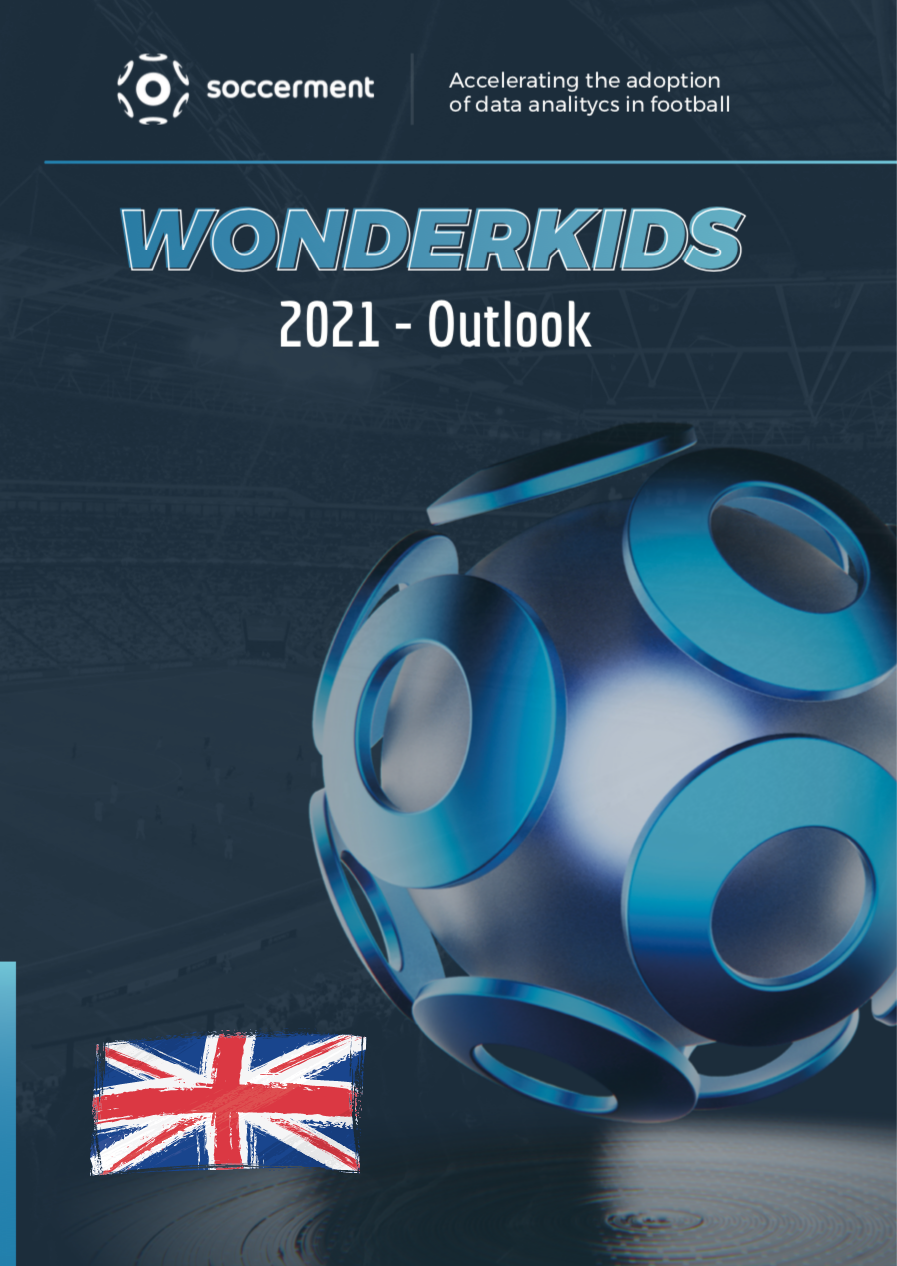 Maximum purchase amount of 1 is allowed
Description
Customer Reviews (1)
Full ranking of the 50 top wonderkids, born in 2001 or later;
Extensive explanation of the quantitative methodology used to derive the ranking:

Performance indexes;
Performance curves;
Assessment of the internal and external factors that influence player development;
12-month Expected Performance (xSPR);

Detailed player analyses for the top 25 wonderkids:

Biographical details;
Playing style;
SWOT analysis;
Potential and outlook;
Scatter charts and ternary plots;

124 pages, high-quality colour printed.
1 Reviews for Wonderkids 2021 Outlook | EN (eBook)
Insightful! - Friday, March 5, 2021

Anonymous

Very good overview of the top young footballers in European football
Submitting Your Review, Please Wait
Your Review Has Been Submitted Successfully
Add a review for Wonderkids 2021 Outlook | EN (eBook)
You must include a title, rating, and message in your review.
Your Review Title
Your Rating
Your Review
---
For any comment, request or query, please write us to research@soccerment.com.
---