The coronavirus pandemic is biting into team budgets in Italy, incentivising some top players like Romelu Lukaku, Achraf Hakimi and Gianluigi Donnarumma to leave the Italian Serie A. This outflow should favour Juventus and Atalanta, who currently seem to be in pole position for the Scudetto. In our view, the downsized Italian top tier is ripe to be "disrupted" by a data-driven outfit, but no club seems ready to grab this low-hanging fruit. Surely it's time for some change?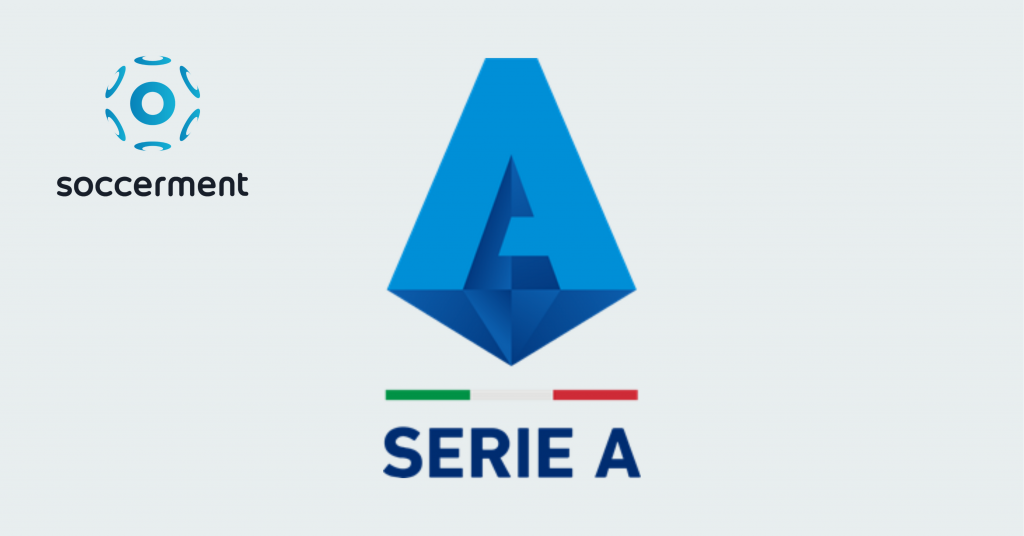 ---
Inspecting the books
A downsized Serie A would be perfect for a "Moneyball" approach…
The effects of the coronavirus pandemic are clear in the Italian clubs' financial statements. Teams across the board are having to tighten their belts and, as a result, the league has lost some big names in the still-open transfer window: Lukaku and Hakimi left Inter Milan to join Chelsea and PSG, respectively; Donnarumma left AC Milan to join PSG; and Rodrigo De Paul left Udinese for Atletico Madrid. Moreover, rumours still abound of potential bids for Lautaro Martinez, Dusan Vlahovic and Cristiano Ronaldo (although the latter has denied them).
In this context, those clubs with financially-solid owners (like Juventus) and/or that have previously been particularly prudent with their budgeting (like Atalanta) can impose themselves (or re-impose, in Juve's case).
…but the clubs do not seem ready for it, yet
In our view, data-driven outfits would have a substantial competitive advantage in this environment. Unfortunately, Italian clubs haven't really embraced data yet, and no Serie A club seems ready to exploit the new, down-powered environment by instituting a more objective and rational decision-making process to make up for budget shortfalls. We are confident, however, that in the not-too-distant future things will change. Well, they have to. As we stated in this post, clubs that aren't planning to jump on the analytics bandwagon run the risk of being left behind.
2020/21 Recap
The hunt for the title
Inter Milan (SPR: 53), coached by Antonio Conte, brought the Scudetto back to Milan to end Juventus' run of 9 consecutive titles. They claimed top spot quite comfortably, managing a 12-point gap with Milan and establishing themselves as the best defense (35 Goals Against) and the second-best attack (89 goals) in the league.
According to our Expected Points (xPoints) model, Juventus, Atalanta and Inter should have been very close (77.8, 76.9 and 76.7 xPoints, respectively). But instead, Inter Milan achieved 91 points, registering a 14.3 xPoint outperformance. This remarkable outcome is due to both offensive (80.0 xG) and defensive outperformance (42.6 xGA): goalkeeper Samir Handanovic contributed to the latter with 0.06 goals prevented per xG on target, and an above-average close-range saves ratio of 66.7%.
For more information regarding our advanced metrics, please refer to the following post: 'Soccerment's Advanced Metrics'.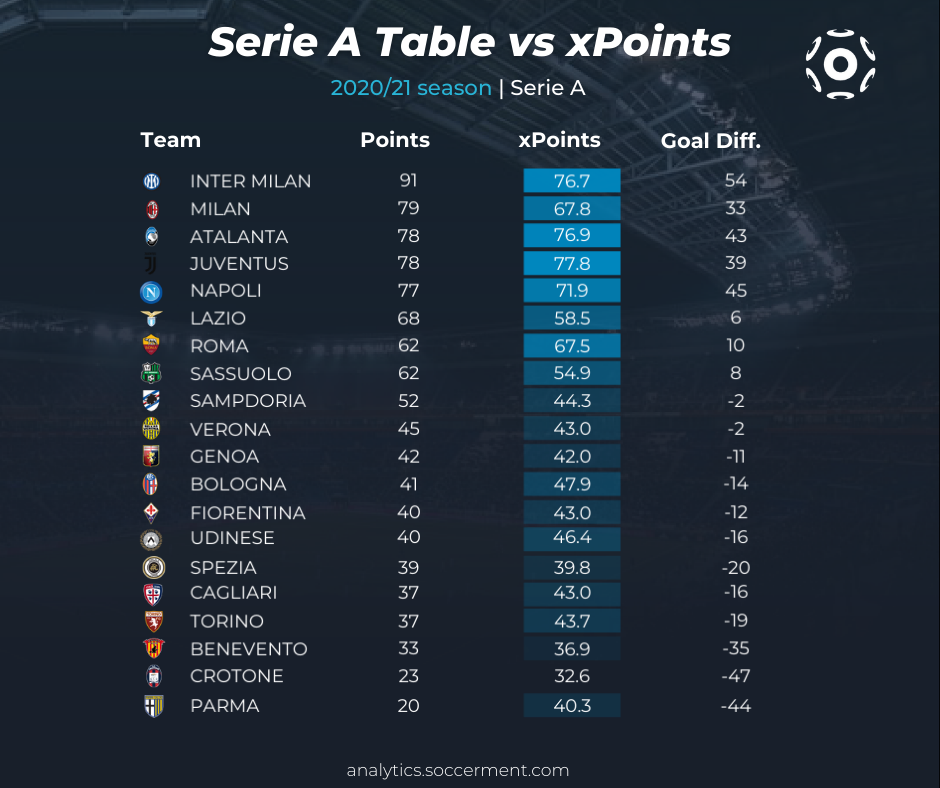 ---
Battle for the European spots
Last season, the fight for the Champions League's spots was incredibly tight, with Milan and Juventus scraping into the top four on the final matchday.
AC Milan (SPR:52) had a great start to the season, but injuries to talisman Zlatan Ibrahimovic's weighed heavily on their performances in the title run-in. They recorded an impressive outperformance (79 points vs 67.8 xPoints), much of which was thanks to Donnarumma (41 GA vs 49.3 xGA): he prevented 0.09 goals per xG on target, achieving a noteworthy 65.7% close-range saves success ratio. Donnarumma finished a remarkable season by winning Euro 2020 with Italy and being named the tournament's best player, before signing with PSG as a free agent.
Gian Piero Gasperini's Atalanta (SPR: 54) consolidated their role as credible contenders for top spot. Their season was characterized by an incredible offensive production (the league's best attack with 90 goals) and the highest SPR in Serie A (on a par with Napoli at 54). It is interesting to analyze La Dea's performance: they outperformed xG (81.1 xG) but registered a significant negative gap for xGA (47 GA, 38.8 xGA). These results are consistent with Luis Muriel's and Pierluigi Gollini's figures: the former scored 22 goals from 16.1 xG, the latter reported a significantly negative value for goals prevented per xG on target (-0.11), as well as a modest long-range saves ratio (70.6%, against an average of 83.1%).
Juventus (SPR: 53) had some problems adapting to manager Andrea Pirlo's philosophy. Nevertheless, they did win two titles (the Coppa Italia and the Supercoppa) and achieved the highest xPoints (77.8).
Napoli (SPR: 54) lost their UCL spot on the last matchday of last season. They frequently had to overcome the absence of newcomer Victor Osimhen, who experienced many physical problems. Nonetheless, they achieved the best offensive outperformance in goals vs. xG (+12.4), primarily due to their wingers' and offensive midfielders' finishing abilities: Piotr Zielinski (8 goals, 5.4 xG), Matteo Politano (9 goals, 6.0 xG), Hirving Lozano (11 goals, 9.2 xG) and Lorenzo Insigne (19 goals, 17.4 xG) all outperformed their xG.
Lazio (SPR: 51), with an outperformance 9.5 xPoints, finished ahead of great rivals Roma (SPR: 51), who recorded the worst xG underperformance (-6.5) in the league and a negative defensive result (58 GA vs 50.1 xGA), which together translated into a 5.5 xPoints underperformance. The Giallorossi probably suffered from Edin Dzeko's finishing problems (7 goals from 13.3 xG) and their goalkeepers' mediocre season (both Antonio Mirante and Pau Lopez had negative values for goals prevented per xG on target).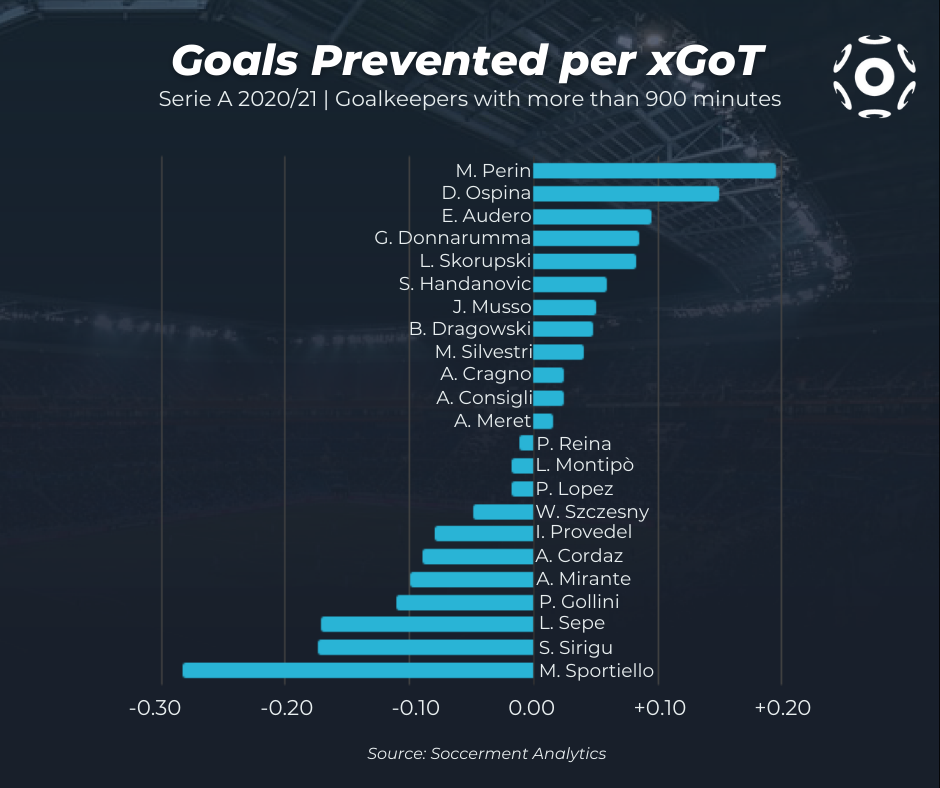 ---
Relegation scrap
Spezia (SPR: 45), under coach Vincenzo Italiano, avoided relegation by 6 points. They should be proud of their season, especially given their low salary budget (€18m) and young roster (25.6 years average age). However, we note that according to our xPoints model, they ranked 18th with 39.8 points.
Cagliari (SPR:47) were one of the negative surprises of last season: their supporters expected more from a team with experienced players such as Diego Godin, Joao Pedro, Alessi Cragno, Radja Nainggolan and Giovanni Simeone. They reported an underperformance of 6.0 xPoints.
Torino (SPR: 47) experienced a similar situation (43.7 xPoints and 37 points): Salvatore Sirigu's negative stats for goals prevented per xG on target (-0.17) go some way to explaining the gap between goals conceded (69) and xGA (63.3).
Filippo Inzaghi's Benevento (SPR:45) fought until the very end, but their poor offensive output(40 goals, the second-worst attack in Serie A) condemned them to relegation.
Simy's incredible season (20 goals and 17.9 xG) was not enough for Crotone (SPR: 45): their poor performance in terms of GA (92 against 76.1 xGA) strongly contributed to a 9.6 xPoint underperformance that was a crucial part of the team's relegation.
Parma's (SPR: 46) underperformance was extremely eye-catching: they only managed 20 points from 40.3 xPoints. The comparison between GA and xGA is particularly striking (83 GA, 63.9 xGA). From this we can see that goalkeeper Luigi Sepe did not have his best season, recording a significant, negative value for goals prevented versus xG on target (-0.17) and a strongly below-average saves success ratio (58.9%).
Players' advanced metrics
Of the players with more than 900 minutes played, Luis Muriel had the highest value for xG P90 at 0.95. Ibrahimovic and Cristiano Ronaldo (at 0.92 and 0.89 xG P90, respectively) were just behind the Colombian international.
The players completing the podium do not change if we narrow our analysis to non-penalty xG: Muriel comes first with 0.81 npxG P90, Ronaldo is second with 0.70 npxG P90, and Ibrahimovic comes in third with 0.65 npxG P90.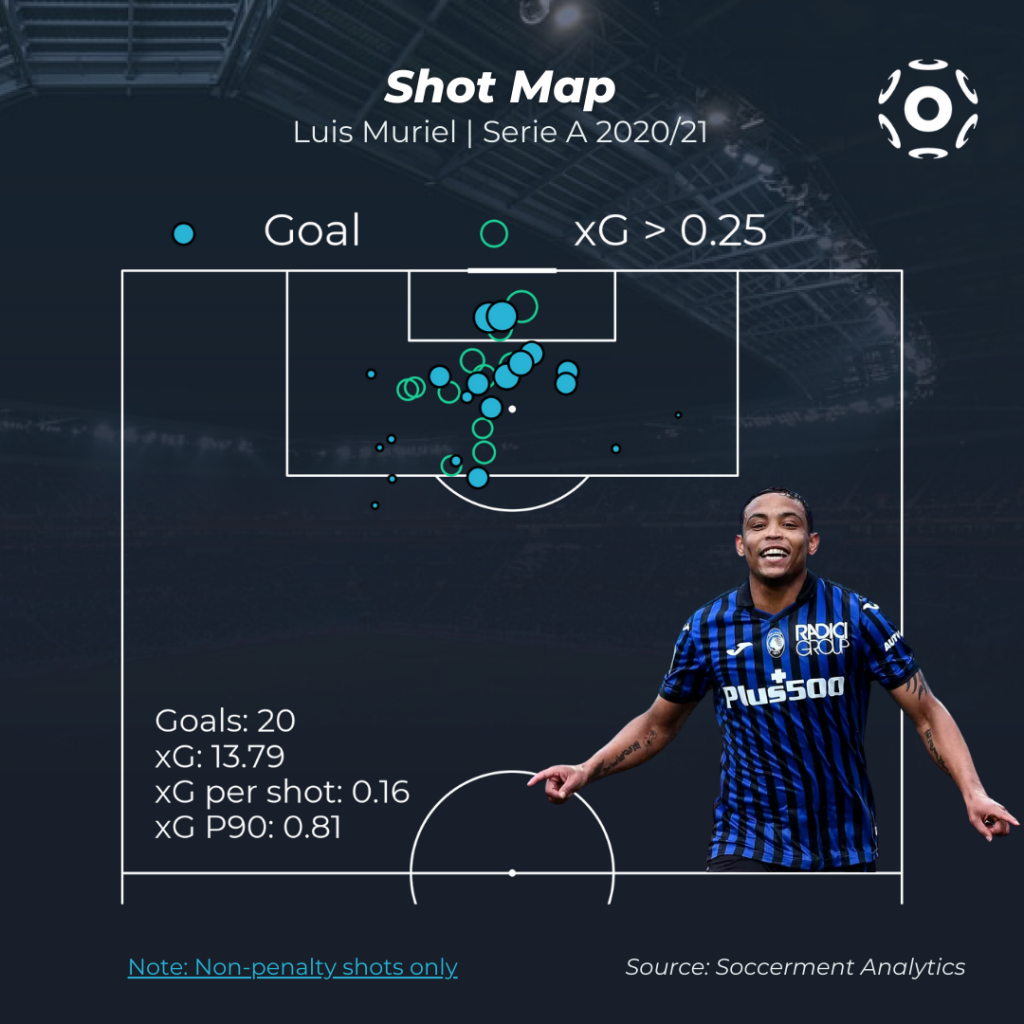 ---
Atalanta also dominate the Expected Assists (xA) P90 ranking: Josip Ilicic and Ruslan Malinovskyi registered 0.46 and 0.37 xA P90 respectively (Alexis Sánchez ranked third with 0.31 xA P90).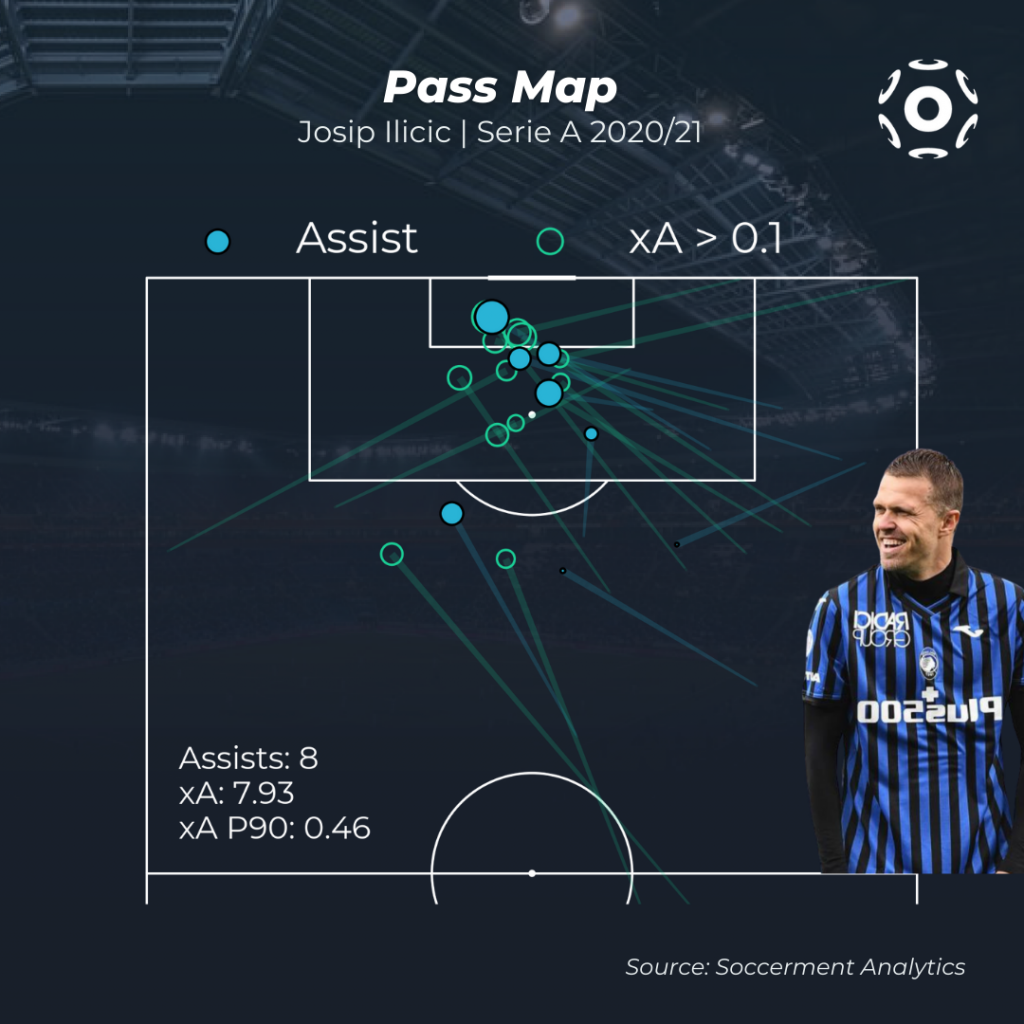 ---
As we can see from the graph, our newly-developed metric Expected Offensive Value Added (xOVA) P90 again highlights Luis Muriel's incredible season. Our advanced metrics, including xOVA and goals prevented, are described in this introductory post.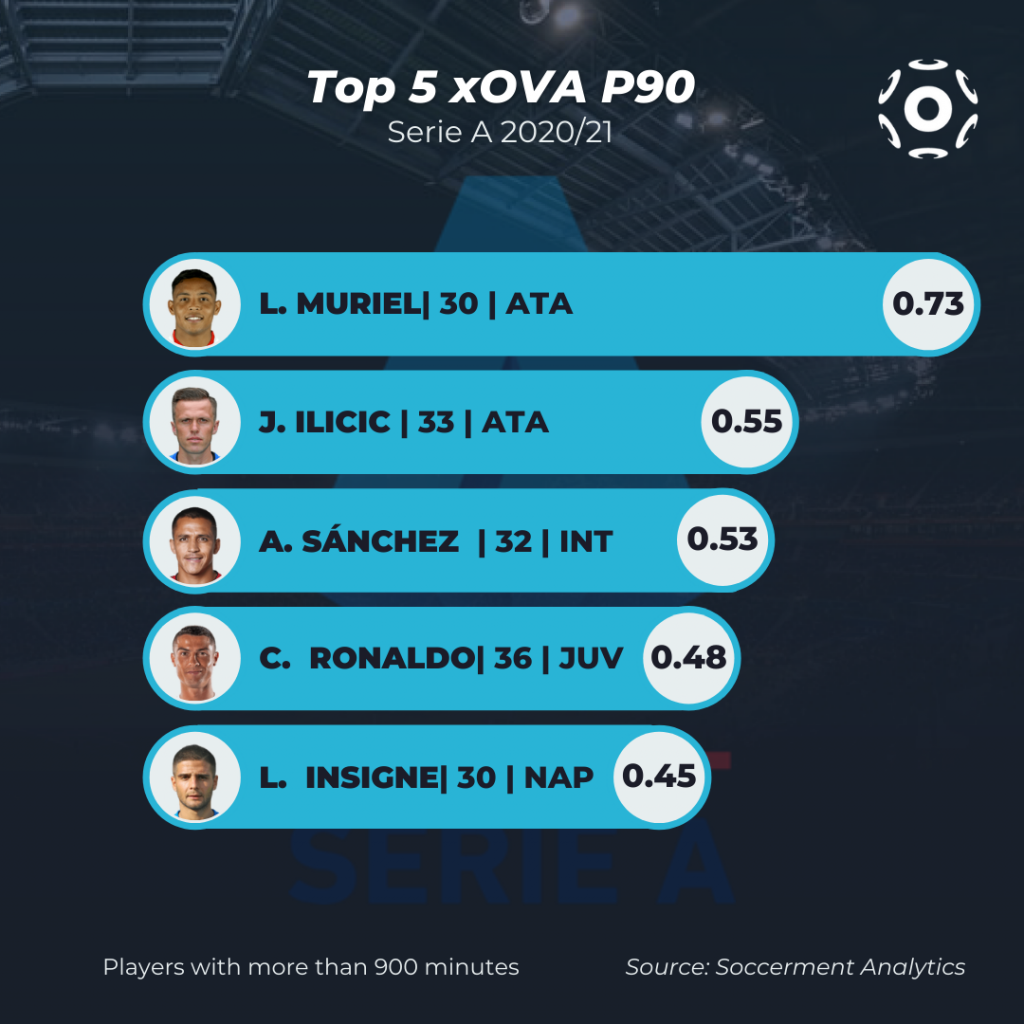 ---
All our advanced metrics for the Serie A are downloadable by clicking the link to a Google Sheet here. We filtered out the players with less than 900 minutes played and we sorted them by xOVA P90 (xOVA: Expected Offensive Value Added).
Serie A's 2021 summer transfer window
Troubled finances make for a poor transfer window
We have analysed the financial statements of 14 of the clubs in this year's Serie A. We excluded from our analysis those clubs that weren't part of Italy's top tier in the past two seasons. We also had to exclude Genoa and Sampdoria because their 2020 financial statements were not yet available at the time of the analysis. We note that 12 of the 14 clubs we analysed have a fiscal year end on 30th June and so their financial statements are not fully affected by the pandemic (which impacted about two-thirds of the 2019/20 season). We also note that the peculiar 2019/20 season was extended beyond 30th June 2020 and so some of the revenues and costs related to that season were not taken into account in the 2019/20 financial statements.
As one would expect, Serie A was heavily hit by the coronavirus pandemic. According to our calculations, with respect to the previous fiscal year clubs' operating revenues decreased by 17% and matchday revenues decreased by 33% (although we should note that the clubs with a fiscal year-end in December reported a combined 84% drop).
Although the combined operating profit (revenues minus costs, excluding player trading and non-cash components) was positive by €53.4m in 2019, it turned red at -€177m in 2020.
According to their latest financial statements, the combined net financial debt of the clubs we analysed amounted to almost €1.2bn (around €5bn total debt, according to La Repubblica), 1.4 times their shareholders' equity, a ratio that signals financial stress and sheds light on the dynamics seen in the current transfer window and why so many top players have left Italy's top flight.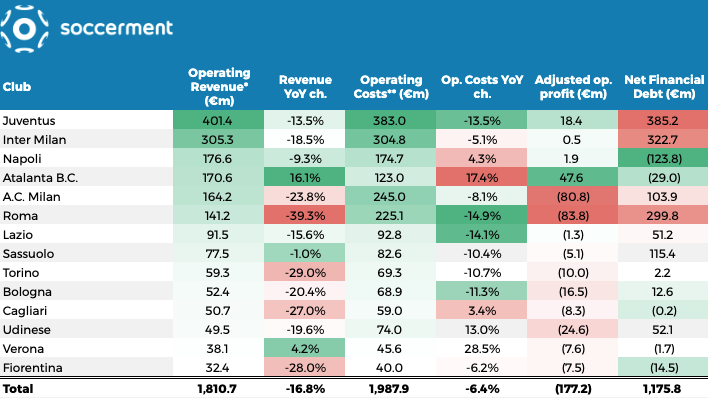 ---
For all the numbers we analysed, you can find a link to a shared Google Sheet here.
Many top players are leaving Serie A
Inter Milan: The Nerazzurri's joy at winning the Scudetto did not last long. Coach Antonio Conte, Hakimi (to PSG for €60m) and Lukaku (to Chelsea for €115m) all left, principally due to the financial difficulties currently afflicting the club. In addition, the club got rid of a few players on high salaries who were not part of its plans for the season (Nainggolan and Joao Mario). To fill the gaps left by its stars, Inter Milan signed Denzel Dumfries (€12.5m from PSV) and Edin Dzeko (free transfer from Roma). Furthermore, Hakan Calhanoglu (free transfer from Milan) joined the club as a replacement for Christian Eriksen.
AC Milan: The Rossoneri have had to face up to two significant departures this summer: Donnarumma (PSG, highest SPR among under-23 goalkeepers at 57) and Calhanoglu (Inter Milan) left the team as free agents. On the other hand, the club has been actively recruiting new players. First, they completed the permanent transfers of Tomori (€29.2m from Chelsea, 5th in 2020/21 Serie A for defending SPR, at 72) and Sandro Tonali (€6.9m from Brescia; last season, he showed a disappointing 1.3% underperformance in Expected Passes completed), while they also renewed Brahim Diaz's loan from Real Madrid (0.22 assists P90 in the last season). In addition, they signed goalkeeper Mike Maignan (€25m, 2nd best goalkeeper in the 2020/21 Ligue 1 for SPR, 64), the left-back Fode Ballo-Touré (€6.5m from Monaco) and the experienced forward Olivier Giroud (€1m from Chelsea) as Ibrahimovic's understudy.
Atalanta: Big changes at La Dea. Juan Musso (€20m from Udinese, 0.05 goals prevented per xG on target last season) replaces Gollini (loaned to Tottenham). Meanwhile, Merih Demiral (loan from Juventus with option to buy for €28m) takes Cristian Romero's place (loaned to Tottenham with an option to buy for €50+5m; he had the top Soccerment defending index in the 2020/21 Serie A at 83). In addition, they signed the promising 21 year-old Matteo Lovato (2.4 interceptions P90, average 1.5) and cashed in the incomes for the permanent transfers of Musa Barrow (€14.5m to Bologna), Ibanez (€9m to Roma) and Andreas Cornelius (€8.4m).
Juventus: So far, Manuel Locatelli has been the most important transfer for the Bianconeri. The Italian international will improve the quality of his new team's midfield (2.1% xPass overperformance last season) now that he has joined from Sassuolo for €35m (bonuses included). Also, the club completed the permanent transfer of Weston McKennie (€20.5m from Schalke 04) and definitively lost Romero (€16m to Atalanta, subsequently sold to Tottenham) and Demiral. In addition, the club completed the signing of 19-year-old striker Kaio Jorge from Santos.
Napoli: The team coached by Luciano Spalletti confirmed the transfer of Matteo Politano (€19m from Inter, 0.30 xOVA P90 last season) and lost Elseid Hysaj (free transfer to Lazio). Overall, their squad has remained very stable.
Roma: Owner Dan Friedkin wants to deliver a competitive squad to new coach José Mourinho. Eldor Shomurodov (€7m from Genoa; 8 goals and 5.9 xG last season) and the physically imposing forward Tammy Abraham (€40+5m from Chelsea; 190cm and 80kg) will replace Edin Dzeko. In addition, Rui Patricio (€11.5m from Wolves, 0.04 goals prevented per xG on target in the last season) will be the successor to Pau Lopez (loaned to Marseille, -0.02 goals prevented per xG on target). The club has also signed left-back Matías Viña (€13m from Palmeiras) and completed the permanent transfer of Roger Ibañez and the American right-back Bryan Reynolds (€6.75m from FC Dallas). Cengiz Ünder will try to express his talent at Marseille (on loan) after an unsatisfactory loan speel at Leicester (only 9 appearances).
Other significant transfers
Lazio reinforced their left wing with the return of Felipe Anderson (3.35 successful dribbles per match), who left West Ham for €3m. Sassuolo completed the permanent transfer of versatile trequartista Hamed Traorè (€16m from Empoli, 61.5% dribble success ratio) but lost two center-backs, Marlon (€12m), who followed coach Roberto De Zerbi to Shakhtar, and Giangiacomo Magnani (€4m to Verona). Bologna finalized the signing of Marko Arnautovic (€3m from SH Port), who will be supported by Musa Barrow (permanent transfer from Atalanta, 8 assists vs 4.29 xA in the last season). There was a significant cashout for Udinese: De Paul (first for successful dribbles in 2020/21 Serie A, 122, and second for chances created, 82) and Musso (who will be replaced by Marco Silvestri from Verona), the two stars of the team, left for Atletico Madrid (€35m) and Atalanta, respectively. Nicolas Gonzalez, a fast left winger who played for Stuttgart last season, is the highest-profile signing for Fiorentina (€23.5m). Cagliari completed the permanent transfer of midfielder Razvan Marin for €10m from Ajax. The experienced goalkeeper and EURO 2020 champion Sirigu went from Torino to Genoa on a free transfer.
2021/22 Serie A Preview
The hunt for the title
Juventus: Back to the top?
In our view, Juventus are the frontrunner for the title. They came first for xPoints last season and have not lost any of their starters in the transfer market. In addition, they strengthened their midfield with the signing of Manuel Locatelli, who led the Soccerment Passing Index (81) and was third for completed passes P90 (72.5) in Serie A last season. He also ranked fourth for tackles won (47), demonstrating his defensive value. Locatelli will add quality to a squad that already registered good build-up stats (57% average ball possession and 88.3% pass accuracy, the highest value in the 2020/21 Serie A).
However, Cristiano Ronaldo's rumoured departure is a major threat to Juventus' title hopes. CR7 recorded the highest SPR (71) and was the top scorer in the last Serie A (29 goals). In addition, he achieved an impressive 0.48 xOVA P90. By recalculating Juventus' xPoints, replacing Ronaldo's xG per match with Álvaro Morata's average (a proxy for Ronaldo's replacement in the case of departure), we can estimate that CR7 added between 4.0 and 4.8 xPoints to the team, a potentially decisive difference in the race for this season's title.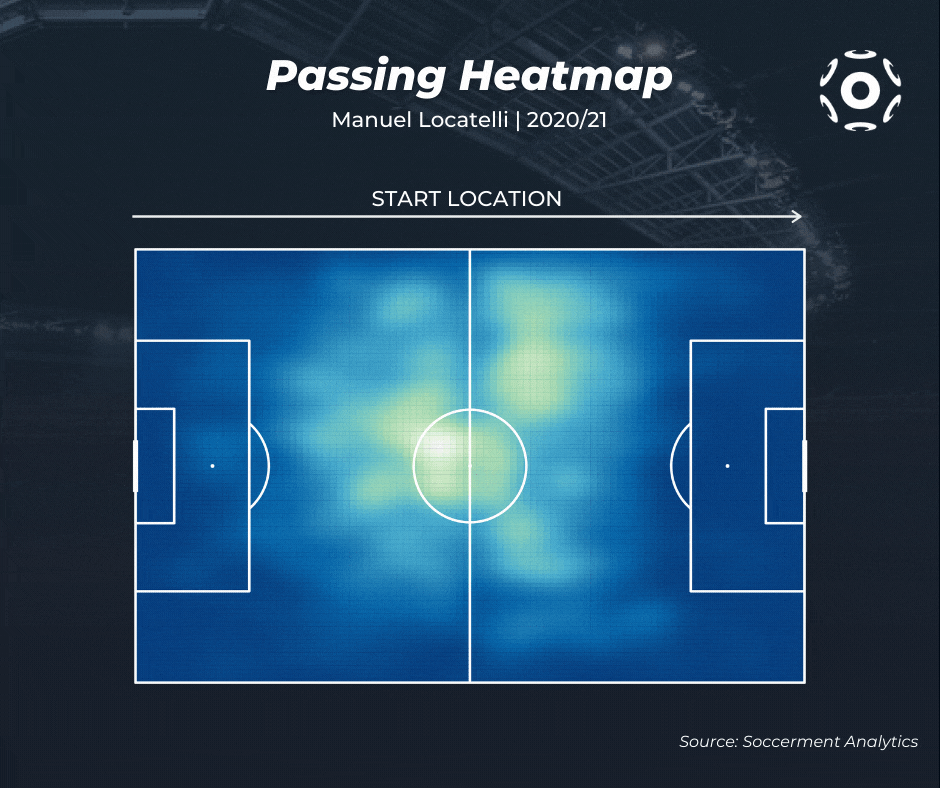 ---
Atalanta: finally their year?
According to our xPoints model, Atalanta was the second-best team in the Italian league last season. They have carried out a clever transfer window, capitalizing on Romero's growth and replacing him with a reliable center back in Demiral.
Romero was first for interceptions in the previous Serie A (96). But he was sometimes too aggressive, committing 70 fouls in the 2020/21 season (the 4th most in Serie A).
The change between the posts from Gollini (and Sportiello) to Musso could be highly beneficial for Atalanta. Due to the team's highly offensive style, Atalanta conceded the most goals (47) in the top five last season. In this context, a skilled goalkeeper is crucial. The newcomer Musso outperformed Gollini last year for goals prevented per xG on target (0.05 for Musso, -0.11 for Gollini in the last season), as well as other relevant metrics.
In absolute terms, Gollini and Sportiello prevented, respectively, -2.5 and -4.6 goals, meaning they saved fewer shots on goal than the average goalkeeper, based on the shot location and location within the goal mouth of the shots they faced. Musso, maintaining the value of goals prevented per xG on target achieved last season, would have been able to prevent 2.0 goals (playing for Atalanta). In other words, with Musso, Atalanta would have prevented 9.1 more goals, which may well have been crucial in the hunt for the title. We estimate that, with Musso, Atalanta would have conceded approximately 38 goals, on a par with Juventus, the second-best defense in the 2020/21 Serie A. Overall, Atalanta seems the most credible competitor for Juventus, assuming they are able to retain striker Duvan Zapata, or to replace him well should he leave.
Inter Milan: A Scudetto that looks difficult to defend
Inter Milan, the defending champions, are hoping to assemble a squad that is at least capable of reaching a UCL spot. Denzel Dumfries may be an adequate replacement for Hakimi, even if they have different characteristics. Hakimi shows better stats for dribbling (1.9 successful dribbles P90 vs Dumfries' 1.2) and assists (0.18 xA P90 and 0.24 assists P90 for Hakimi, 0.17 xA P90 and 0.21 assists P90 for Dumfries), while Dumfries is more physical (189 cm and 80 kg vs 181 cm and 73 kg) and is better in the air (70.9% vs 41.9% aerial success ratio).
It will be much more difficult for Dzeko to replace Lukaku. Both players are target men (Dzeko 193cm, Lukaku 190cm) who also like to combine with their teammates (0.12 assists P90 for Dzeko, 0.14 for Lukaku), but Dzeko is a consistent underperformer of his xG (72.8% scoring performance with respect to his xG) and Lukaku formed a prolific duo with Lautaro (0.27 xG and 0.31 goals exchanged between them P90). In addition, Dzeko is 35 years old, while Lukaku is 28. Simone Inzaghi will need another forward if he wants to complete his attack.
---
The battle for European spots
AC Milan: Facing higher expectations
AC Milan will try to replicate their satisfying 2020/21 season. The departure of Donnarumma is a bitter blow for the Rossoneri, but our data suggests that Maignan will be a fitting replacement. The Frenchman showed a higher number of goals prevented per xG on target than Donnarumma in both last season (0.24 vs 0.09) and the previous four seasons (0.07 vs 0.06). In addition, the two goalkeepers have very similar save ratios. Offensively, Giroud will use his physicality (192cm and 93 kg) to link up with Ibrahimovic and the wingers.
Napoli: Spalletti targeting UCL spots
Napoli lost their UCL spot on the last day of last season, and will try to recover it next season. Luciano Spalletti inherited a squad with above-average performance in each phase of the game (especially for offensive production, as they ranked 3rd for goals and 2nd for chances created in the last Serie A). He will hope to have Osimhen available for more matches than last season: with 0.54 xG P90, this young forward has significant room for improvement.
AS Roma: Sensible transfers plus Mourinho = UCL?
Roma are a potential surprise package: they will try to offset last season's underperformance with the help of Rui Patricio and Abraham (0.48 xG P90, higher than Dzeko and Borja Mayoral). The former showed a lower number for goals prevented per xG on target (-0.01) than Pau Lopez (0.01) and Mirante (0.03) over the average of the last four seasons, but in the last one this tendency seemed to reverse (0.04 for Rui Patricio, -0.02 Pau Lopez and -0.10 Mirante).
Lazio: Adapting to "Sarriball" could prove hard
Finally, we will see whether Lazio (7th in 2020/21 for xPoints) will be able to adapt to manager Maurizio Sarri's philosophy: at the moment, they appear to be a credible competitor for a UEL spot.
Fighting for survival
Spezia need to strengthen their roster: last season, they obtained 18th place for xPoints (39.8 xPoints). Nevertheless, they show average defensive stats and appear to be a relatively effective team (4th in the league for goal conversion rate, 13.4%). It would probably be wise to invest in a new goalkeeper, as both Ivan Provedel (57.9% saves success ratio and -0.08 goals prevented per xG on target) and Jeroen Zoet (60.0% saves success ratio and -0.16 goals prevented per xG on target) show below-average figures.
Genoa (16th last season for xPoints, 42.0) lacked creativity in the final third (9.0 shots per match vs. 12.5 average), but showed a remarkable goal conversion rate (3rd highest value, 13.45%). In this sense, the loss of a good finisher like Shomurodov (8 goals vs 5.9 xG) could be a problem for them.
Udinese ranked 10th for xPoints last season (46.4 xPoints), but the departure of two crucial players like De Paul and Musso will be difficult to overcome. They hope that Lazar Samardzic (from Leipzig) and Silvestri will be able to replace them.
Similarly, Verona (43.0 xP last season) will need to adapt to their new goalkeeper, Lorenzo Montipò (-0.02 goals prevented per xG on target last season). It will not be easy for him to replicate Silvestri's performances, as the latter managed 0.04 goals prevented per xG on target. This is particularly relevant because Verona showed average defensive stats but alarmingly negative figures for build-up (155 passes in their own half, 203 average) and attack (3.2 shots on target per match, average 4.4) last season.
Newly promoted teams
After coming first in Serie B, Empoli will try to establish themselves in Serie A. The finishing abilities of Patrick Cutrone (who shows a remarkably high non-penalty xG per shot of 0.15) could help them to achieve this goal.
Salernitana had some problems registering for the 2021/22 Serie A, and now need reinforcements. In the last Serie B they showed incredibly below-average build-up (38% average ball possession and 79 successful passes in their own half per match, average 203) and offensive stats (3.4 shots on target per match, average 4.4). If they want to avoid relegation they need high-quality midfielders; otherwise, the likely signing of Simy will not be enough.
Venezia will rely on newcomers Busio (€6m from Sporting Kansas City), Okereke (loan from Club Bruges) and Caldara (loan from Milan) to reach at least 17th place.
---
For any comment, request or query, please write us to research@soccerment.com.
---