2021/22 Bundesliga preview
In 2020/21, Bayern Munich managed an unprecedented 9th Bundesliga title in a row and are the clear favourites for this season too. Their continuous reinforcement at the detriment of the competitors (Upamecano and Nagelsmann the most recent) has allowed them to keep dominating the domestic scene. Competition for the European spots is fierce as always, with a multitude of clubs in contention for Champions League football. The relegation battle seems ready for some surprises, similarly to what happened in the past few years.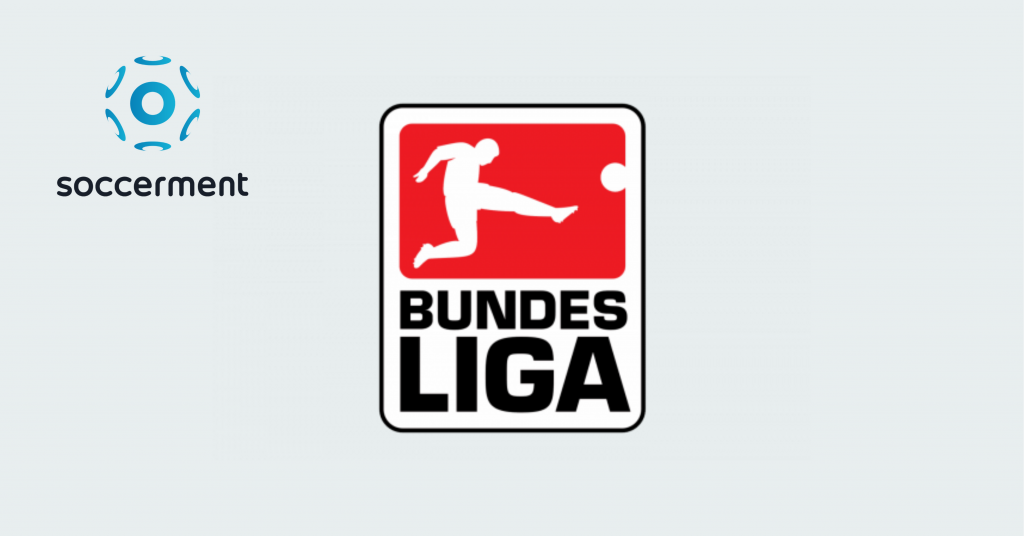 ---
2020/21 review
Challenge for the title
Once again, Bayern Munich (SPR: 56) comfortably clinched the title thanks to 78 points in 34 games (2.3 ppg). Despite having only the 5th defense in the league with 44 goals conceded, they were by far the best team by goal difference (+55) thanks to an outrageous 99 goals scored (in front of 78.6 xG), almost 3 P90. However, the underlying numbers concerning their performance actually saw them rank 2nd by xPoints (67.6), more than 4 points off Leipzig. The icing on the cake came in the form of a record-breaking season by Robert Lewandowski (2020/21 SPR: 79) who broke the all-time record for goals scored in a single Bundesliga season (41 goals in front of 31.8 xG), beating Bayern-legend G.Müller. The Polish striker was responsible on his own for half of Bayern's stunning outperformance of xG (+20.4).
RB Leipzig (SPR: 52) were the only credible contenders (other than Bayern) for the title for the majority of the season, but they failed to stay close to Bayern towards the end of the season, eventually finishing 13 points shy of the Bavarians. Their underlying performance (72.1 xPoints) suggest they could have and should have been much closer to the Bavarians. With 32 goals conceded, they were the best defense of the league, courtesy of Orban and Upamecano (92 defending index, the highest in the league). However, with the latter signed by Bayern Munich and Konaté headed to Liverpool it is yet to be seen if they can achieve the same feat, also considering the unsatisfactory performance of Gulacsi (-0.14 goals prevented per xG on target last season).
European spots battle
Borussia Dortmund (SPR: 53) lived an eventful campaign: they experienced a slow start in the Bundesliga (7th on matchday 18), but won their last 7 league matches in a row to claim 3rd spot with 64 points, 1 behind Leipzig. Wonderkid Erling Haaland (2020/21 SPR: 67) was the star of the team thanks to 28 goals in his first full season in the Bundesliga. Dortmund continued their incredible tradition of developing young talent with players such as Wonderkids Bellingham, Reyna and Moukoko gaining considerable experience and spotlight.
Wolfsburg (SPR: 52) clinched the last Champions league spot by the neck, following a season-long fight which saw them beat Eintracht Frankfurt for the last spot. The 2nd best defensive record of the league was a testament to their defensive mindset despite a slight outperformance in terms of xGA. Centre backs Brooks (75 defending index) and Lacroix proved very solid, with the latter obtaining a defending index of 85 (3rd highest in the league) despite having turned 21 only in April. Wolfsburg's outperformance also in terms of xG (+10.2) led them to be one of the most significative xPoints outperformers (+9.5).
Eintracht Frankfurt (SPR: 49) must be utterly disappointed after missing qualification by just 1 point after an extremely convincing campaign. However, 7 points in their last 6 games proved fatal. Fueled by the goalscoring instincts of A. Silva (2020/21 SPR: 67) and the continuous threat posed by Kostic on the left flank, their partnership was the most successful of the 2020/21 season accross Europe in terms of xGs produced as a pair. Eintracht managed to significantly outperform their xG (+10.1) thus leading to a significative outperformance of xPoints (+7.5).
Bayer Leverkusen (SPR: 50) finished the season with 52 points (50.4 xPoints). Despite failing to qualify for the UCL, Leverkusen can look on the bright side for the future thanks to their array of young talent which includes the likes of Diaby, Tapsoba (89 defending index which is the 2nd highest in the league and 1st for passes completed with 2803), Schick and above all Wonderkid Florian Wirtz, who has even been called up to the German Senior team at only 17 years old.
Union Berlin (SPR: 47) was undoubtly one of the revelations of the season clinching European qualification on the last matchday. German international Kruse proved a fundamental part of the squad thanks to his superior technical skills and understanding of the game. The underlying numbers suggest that this wasn't a fluke considering they even underperformed their xPoints tally of 53.7 (4th best in the league).
Borussia Mönchengladbach (SPR: 50) suffered a disappointing domestic campaign which saw them fail to qualify for Europe after last season's qualification to the UCL (where they reached the round of 16).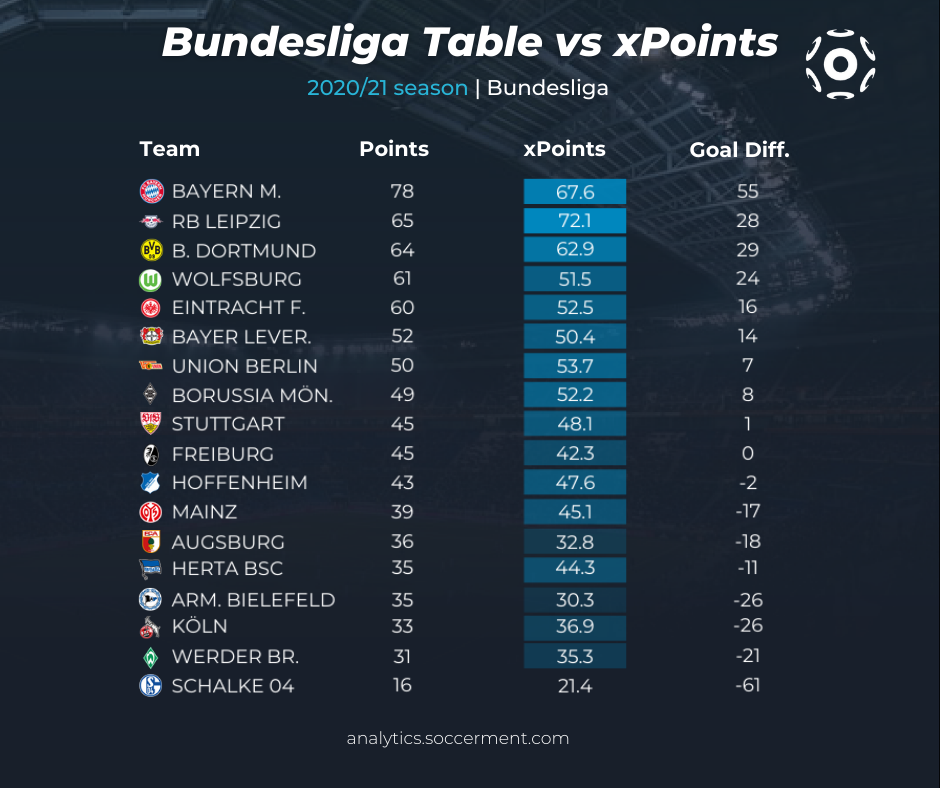 ---
Mid-table mayhem
Among the centre of the pack only Stuttgart (SPR: 49) and Freiburg (SPR: 47) had relatively calm and satisfying seasons. Stuttgart were propelled by target-man Kalajdzic to 45 points (in front of 48.1 xPoints), while Freiburg's key player was Grifo who was one of the best creators in the league thanks to 10 league assists (in front of 5.63 xA) as well as his club's top goalscorer with 9 goals.
All other teams have gone through rough periods: Hoffenheim experienced their worst season since 2015/16 and need to thank heroics from Hidden Gem Andrej Kramaric who was one of the best performers in the league (2020/21 SPR: 66) for their eventual 11th place (43 points in front of 47.6 xPoints).
After a shaky start of the season (they were last on matchday 15), Mainz (SPR: 44) turned their fortunes around in the second part of the season where they managed a streak of positive results: 21 points in their last 10 games (42 in front of 45.1 xPoints for the season). They will be looking to bring this run of form and performances into next season.
Augsburg (SPR: 45) have had a poor season when looking at their underlying numbers: the 32.8 xPoints they managed are the 3rd worst in the league, as are the 57.9 xGA they faced. Goalkeeper Gikiewicz played a role in their defensive performance preventing 0.07 goals pxG on target.
Hertha Berlin (SPR: 46) were the main underperformers of xPoints (-9.3), mainly for an underperformance in terms of xGA (-6.1).
Relegation scrap
Arminia Bielefeld (SPR: 46) fought hard as a unit to avoid relegation, which they eventually managed thanks to a sturdy defense. However with only 26 goals scored (2nd worst in the league, in front of 32.8 xG) they will need to take a step up to repeat themselves next season considering that they were the 17th team in the league with regards to xP (30.3). Fabian Klos distinguished himself as the most aerially dominant player in the league with 222 aerial duels won (almost 100 more than 2nd placed Hummels). Their outperformance in terms of xGA can be partially justified by their goalkeeper Ortega, who prevented 0.10 goals pxG on target.
Werder Bremen (SPR: 46) got relegated on the last matchday after collecting only 1 point in their last 9 games, a free fall which helped A. Bielefeld avoid relegation and allowed Köln to reach the playouts.
Köln (SPR: 45) was in serious jeopardy of relegation until the last matchday, when they leapfrogged Werder Bremen. The team underperformed both in terms of xG (-4.7) and xGA (-7.0), thus underperforming xPoints by 3.9.
Schalke were, simply put, the worst team in the league by some margin. Their performances were in line with this: they accumulated the lowest amount of xG (30.9), the highest amount of xGA (72.1) and by far the lowest amount of xPoints (21.4). Their underperformance on both sides of the pitch only made matters worse. In fact, Schalke accumulated the least points across Europe's top 5 leagues, 16.
Player's advanced metrics
Of the players with more than 900 minutes played, Robert Lewandowski was first in the 20/21 Bundesliga for xG P90 (1.12). Erling Haaland and André Silva completed the podium with 0.80 and 0.79 xG P90, respectively.
Lewandowski (0.88) and Haaland (0.69) occupied the first two positions also for non-penalty xG P90, while Jean-Philippe Mateta conquered third position with 0.64 npxG.
The podium completely changes for xA P90. The three best players in this specialty were Thomas Müller (0.35), Filip Kostic (0.33) and Joshua Kimmich (0.30). Finally, our newly-developed xOVA P90 crowned, once again, Robert Lewandowski (tightly followed by Gnabry).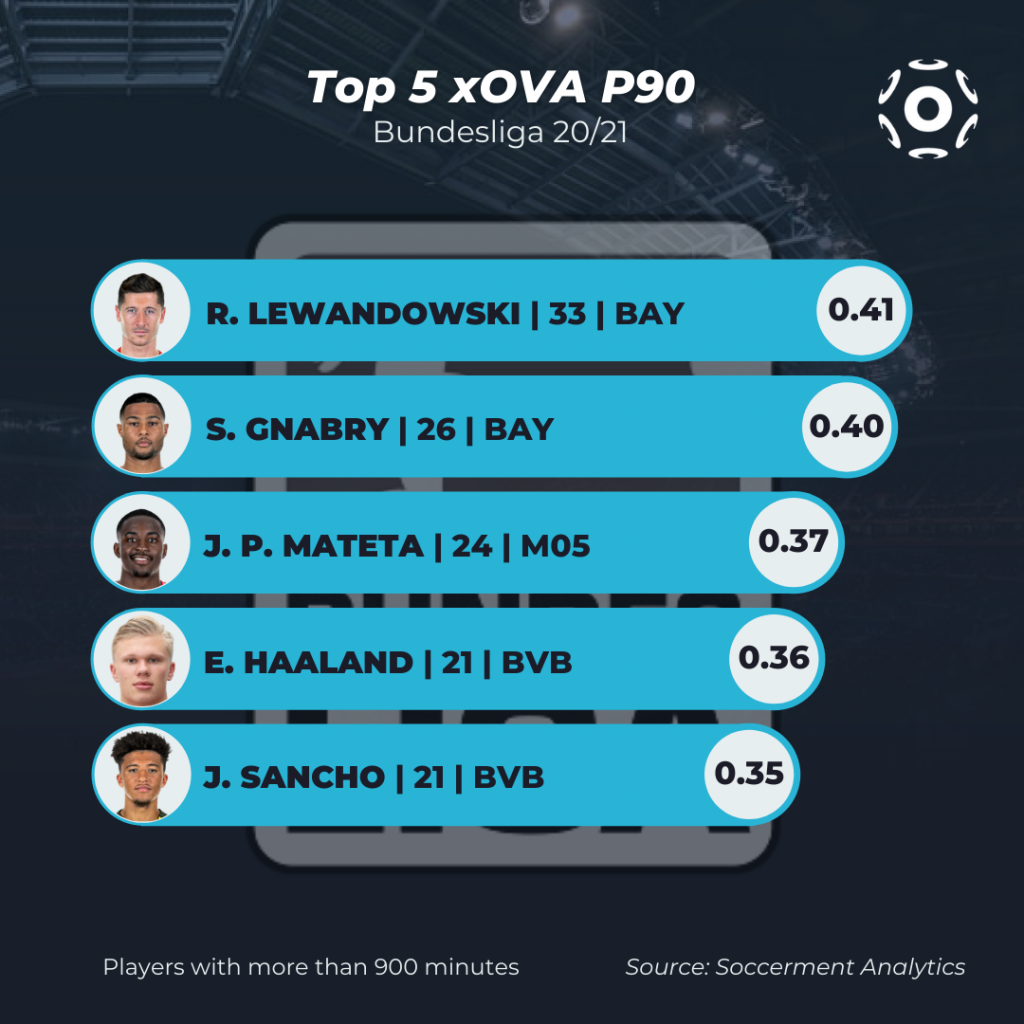 ---
All our advanced metrics for the 2020/21 Bundesliga are downloadable by clicking the link to a Google Sheet here. We filtered out the players with less than 900 minutes played and we sorted them by xOVA P90 (xOVA: Expected Offensive Value Added)
The summer transfer market
Bayern Munich: Big changes in Die Roten's defense: David Alaba (free transfer to Real Madrid) and Jerome Boateng (free agent) left the team. They will be replaced by the 22-year-old Upamecano (SPR: 58, 5th among under-23 players), a physically imposing centre back (186cm and 90kg) who shows superior defending skills (71.5% tackle success ratio) and can be considered among the world's best prospects in his position.
In addition, they signed the left-back Omar Richards (free transfer from Reading), while Javi Martinez (free transfer to Qatar SC) and Alexander Nübel (loan to Monaco) left.
RB Leipzig: It was an intriguing transfer window for the Bullen. The sale of two valuable players like Upamecano and Konaté (even if physical problems limited the latter in his last two seasons) allowed them to enrich their roster. They signed André Silva (€23m from Eintracht), the two young centre backs Gvardiol (€18.8m from Dinamo Zagreb, 19 years old) and Simakan (€15m from Strasbourg, 21 years old) and the 19-year-old forward Brobbey (free transfer from Ajax). In addition, they redeemed the full-backs Angeliño (€18m from Manchester City) and Henrichs (€15m). Finally, the two offensive midfielders Wolf (21 years old) and Samardzic (19 years old), left for Borussia Mönchengladbach and Udinese, respectively.
Borussia Dortmund: Painful transfer window for the team coached by Marco Rose. They lost Jadon Sancho (8 goals and 11 assists last season, €85m to Manchester United) and Leonardo Balerdi permanently left (€11m to Marseille). On the other hand, they signed a modern forward such as Donyell Malen (0.28 assists P90 in the last season in front of 0.15 xA P90; 4th under-23 for SPR, 59) for 30 million euros from PSV and the goalkeeper Kobel (0.05 goals prevented per xG on target) for 15 million euros from Stuttgart.
Wolfsburg: The Wolves conducted a lively transfer market window. They signed three forwards: Waldschmidt (€12m from Benfica, 0.41 xOVA P90 in the last season), Lucas Nmecha (€8m from Manchester City, 14 goals last season with Anderlecht) and Philipp (€7.5m from Dinamo Mosca, already with Wolfsburg last season, 6 goals in front of 3.4 xG). Furthermore, the center back Bornauw (€13.5m from Köln, 24 appearances in the 20/21 Bundesliga) and the young (18-year-old) midfielder Vranckx (€8m from Mechelen, 0.14 assists P90) joined the team.
Eintracht Frankfurt: With the departure of André Silva, Rafael Borré (free transfer from River Plate) will be Eintracht's striker. They also enriched their squad with the arrivals of the offensive midfielder Lindstrom (€7m from Brondby), the left-back Lenz (free transfer from Union Berlin) and the left-winger Hauge (loan from AC Milan).
Bayer Leverkusen: The departures of Leon Bailey (€32m to Aston Villa; 4th in 20/21 Bundesliga for successful dribbles, 74), Wendell (€4m to Porto) and Jedvaj (€4m to Lokomotiv Mosca) paved the way for the signings of many young promises. They signed the wonderkid Kossounou (€23m from Club Brugge; 80.0% tackle success ratio, 20 years old), the left-back Bakker (€7m from PSG; 21 years old) and the centre back Hincapié (€6.35m from Talleres). In addition, the midfielder Andrich arrived from Union Berlin for €6.5m and the second stiker Amine Adli (2.2 chances created P90) joined Bayer from Toulouse for €15m.
Other relevant transfers
Significant cashout for Hertha BSC: Matheus Cunha (€30m; 2nd for successful dribbles in 20/21 Bundesliga, 82) and Jhon Cordoba (€20m) went to Atlético Madrid and Krasnodar, respectively. Belfodil, Jovetic, Kevin-Prince Boateng and Ekkelenkamp (from Ajax) will replace them. In addition, also the midfielder Serdar (€8m from Schalke 04) and the right-winger Richter (€7.1m from Augsburg) joined the team. The promising left-back Luca Netz (18 years old) left Hertha BSC and signed for Borussia Mönchengladbach (€4m).
Taiwo Awoniyi, after 21 appearances and 5 goals in the 20/21 Bundesliga, completed his permanent transfer to Union Berlin for €6.5m (from Liverpool).
After losing Kobel, Stuttgart also sacrificed Nicolas Gonzalez (€23.5m to Fiorentina). The new goalkeeper of the team will be Florian Müller (€5m from Mainz; 0.11 goals prevented per xG on target last season).
The central midfielder Baptiste Santamaria (-5.2% underperformance with respect to xPass accuracy last season) went from Freiburg to Rennes for €14m. He will be replaced by midfield engine Eggestein (€5m from Wolfsburg; -4.7% xPass underperformance). The left winger Ismail Jakobs flew to Monaco for €6.5m (from Köln).
Bundesliga 2021/22 Preview
Bayern Munich: towards the tenth consecutive title
As usual, Bayern Munich is the frontrunner for the title. They signed Julian Nagelsmann for €25m, a record amount for a coach. At Leipzig, he used to have high ball possession (60% on average) and a solid defense (32 GA in the 20/21 Bundes), on top of intense pressing. Last season, he usually deployed a 3-4-1-2 line-up, but in the first two matches with Bayern, he adopted their usual 4-2-3-1.
In addition, they weakened their rivals with the signing of Upamecano, who combines a strong tackle success ratio (71.5%) with an attitude of building from the back (5th for Passing index in the 20/21 Bundesliga, 66; 4th for total passes). Plausibly, Bayern's supporters won't miss Alaba.
RB Leipzig and Borussia Dortmund: the competitors
RB Leipzig substituted Nagelsmann with American coach Jesse Marsch, who embraces aggressive and vertical football. Last season, Sabitzer (potential target for Bayern) was the top scorer of the team with 8 goals. Furthermore, they underperformed their xG (60 goals vs 65.1 xG). In this scenario, the arrival of André Silva, who experienced an incredible season with Eintracht by scoring 28 goals and recorded 0.34 xOVA P90, could offset the absence of an offensive focal point. The 19-year-old Brobbey (3 goals in 190 minutes played in the last Eredivisie) is one to watch. The biggest doubts come from their defense, last season's specialty. The two promising youngsters Gvardiol and Simakan (2.4 tackles P90) will have the difficult task to replace centre backs Konaté and Upamecano.
Borussia Dortmund chose Marco Rose, who arrived eighth in the 20/21 Bundesliga with Borussia Mönchengladbach, but reached the round of 16 in the UCL. The loss of Sancho is a hard blow: the English winger was 3rd for successful dribbles (77) and 5th for chances created (67) in the 20/21 Bundesliga. Additionally, he incredibly outperformed his xA (11 assists vs 6.9 xA). On the other hand, with his outstanding 0.68 goals P90 and 0.47 xOVA, Malen could become Borussia's extra gun.
European spots battle
Wolfsburg, Bayer Leverkusen and Borussia Mönchengladbach will probably fight for a UCL spot.
Van Bommel, after being sacked by PSV, will try to confirm Wolfsburg as the 4th side of the Bundesliga. This team showed above-average defensive figures (3.0 shots on target against per match, average 4.9) and broadly on-average offensive stats. Their second striker Waldschmidt deserves particular attention: he scored 0.43 goals P90 and showed a 0.41 xOVA P90 last season with Benfica. On the other hand, he significantly underperformed xA (0.12 assists P90 vs 0.28 xA P90).
The new coach of Bayer Leverkusen, Seoane, inherits a team that shows important build-up qualities (60% average ball possession) and significant margins for improvement in defense, thanks to the signings of Kossounou and Bakker. However, the loss of an xG and xA outperformer (9 goals and 7 assist against 6.0 xG and 5.7 xA last season) like Bailey will probably worsen their offensive production.
The aim of the newcomer Hütter is to bring Borussia Mönchengladbach back to Europe. The injury of the complete forward Marcus Thuram puts a dent in their hopes, though. In fact, with his physicality (192cm and 88kg), dribbling skills (65.5% success ratio) and high xOVA P90 (0.30), he is a pivotal player of the team.
Eintracht Frankfurt and Union Berlin will probably compete for UEL spots. Eintracht's new coach is Glasner, who usually adopts a defensive approach and will likely keep using the 3-5-2 formation used at Wolfsburg (also Eintracht used the same formation but with a more offensive approach). Their start to the season has been quite troublesome, with just one point in two matches. They suffered against BVB, but they were unlucky not to get 3 points against Augsburg (1.29 vs 0.17 xG).
After being one of the main positive surprises of the last season (4th for xPoints), Union Berlin did not change much on the transfer market: their dream is to earn a spot in European competitions (they qualified for the 21/22 Conference League).
Mid-table
Regardless of the two significant transfers of Nicolas Gonzalez and Kobel, Stuttgart should be able to reach the middle of the pack without serious troubles. They signed a reliable goalkeeper (Florian Müller) and can rely on their striker Sasa Kalajdzic (200cm and 90kg; 16 goals and 5 assists in front of 10.1 xG and 3.1 xA last season) and the centre back Mavropanos (3.6 interceptions P90, 70.1% tackle success ratio).
Freiburg did not change much on the transfer market: they should try to improve their below-average defensive stats (5.2 shots on target against per match, average 4.5) if they want to confirm the 10th place.
Hoffenheim can count on the couple Kramaric-Beobou: last season, they achieved 0.34 goals P90 and 0.22 xG P90 (10th highest value in the top 5 European leagues in the 20/21 season) within the couple.
Relegation scrap
Mainz (11th place in the 20/21 Bundesliga for xPoints) need to improve their unsatisfactory build-up (138 passes own half per match, average 210 last season) and offensive stats (39 goals vs 49.2 xG). They won their opening game against RB Leipzig but they were defeated by Bochum in their second.
Augsburg experienced a difficult start to the season, even though they earned one point against Eintracht on the second matchday. The permanence of the goalkeeper Gikiewicz could be crucial for the achievement of their target.
The departures of Cunha and Cordoba are likely to be a burden for Hertha BSC, as they reported important values of xOVA (0.24 for Cunha, 0.16 for Cordoba). As a result, they lost the first two matches in the league (the first against Köln, a direct competitor), however, they were the best team according to xG in both games.
Arminia Bielefeld ranked second-last for xPoints last season; their lack of finishing abilities (2.7 shots on target per match vs an average of 4.5 last season) is a substantial issue. They count on the 22-year-old newcomer Bryan Lasme (9 goals in 20/21 Ligue 2 with Sochaux) to improve their poor scoring performance.
A similar argument stands for Köln, which won the relegation playoffs against Holstein Kiel at the end of last season. Furthermore, the performances of goalkeeper Timo Horn (-0.10 goals prevented per xG on target in the 20/21 season) were rather alarming. On the other hand, they signed Mark Uth: he experienced a difficult season with Schalke (3 goals and a low 0.07 xOVA P90), but they hope he will return to his old standards (0.32 goals P90 and 0.19 xOVA P90 in the last four seasons).
Newly promoted teams
Bochum won the 2.Bundesliga on the last matchday, at the end of intense competition with Greuther Fürth and Holstein Kiel. They emerged as a balanced team (third-best attack and second-best defense of the 2.Bundesliga), but they did not retain Zulj, last season's team top scorer (15 goals, on a par with Zoller, and 13 assists). In the first two matches, they obtained an important win against Mainz (with an incredible goal of Holtmann) and a narrow defeat (1-0) against Wolfsburg.
Greuther Fürth obtained direct promotion on the last matchday. Their offensive vocation (second-best attack in the 20/21 2.Bundesliga and first for shots, 492, and chances created, 371) helped the dynamic forward Branimir Hrgota (3.9 dribble attempts P90 and 0.17 assists P90) score 16 goals. They are still getting accustomed to the Bundesliga, achieving one point in two matches, suffering against Stuttgart and convincing against A. Bielefeld.
Talent watch
The Bundesliga is full of talents. All the players from the following list all played more than 900 minutes last season. In addition, the table includes 5 of our 50 top wonderkids: Wirtz, Kossounou, Reyna, Katterbach, Coulibaly.
---
Alphonso Davies is an exceptionally dynamic left-back with incredible dribbling skills (5.3 dribble attempts P90 and 64.9% dribble success ratio), who already accumulated 55 appearances in 3 seasons in the Bundesliga. In addition, he exhibited remarkable passing stats: he registered 88.7% passing accuracy and outperformed his xPass by 3.1%.
Florian Wirtz is a talented offensive midfielder who excels in dribbling (4.0 dribble attempts P90 and 69.3% dribble success ratio) and vision (0.19 assists P90 in front of 0.13 xA P90 last season). Among the players on the list, he is the one who registered the highest xOVA in the 20/21 Bundesliga (0.16).
Odilon Kossounou spent the last two seasons at Club Brugge. He is a slender center back (188cm and 72kg) with an incredibly above-average tackle success ratio (80.0%). He has excellent timing and is also confident with the ball at his feet.
Marco Rose has the challenging task of exploiting the talent of Giovanni Reyna. He is a very creative attacking midfielder who outperformed his xA last season (0.22 assists P90 in front of 0.16 xA P90). In the 20/21 Bundesliga, he showed an xOVA equal to 0.15.
---
For any comment, request or query, please write us to research@soccerment.com.
---