2021/22 Premier League Preview
Premier League's Game 1 didn't disappoint and seems the perfect appetiser for an exciting season. We are expecting an engaging hunt for the title, with Manchester City, Chelsea and Liverpool as the frontrunners, while Manchester United could fill the fourth UCL spot. Tottenham, Leicester and Arsenal will likely be involved in the fight for European spots, but we would expect some surprise to materialise this season too (we would go with Brighton). At the bottom of the table, the situation seems to be incredibly intricate, with the newly promoted teams likely battling with Crystal Palace, Newcastle, Burnley and Southampton.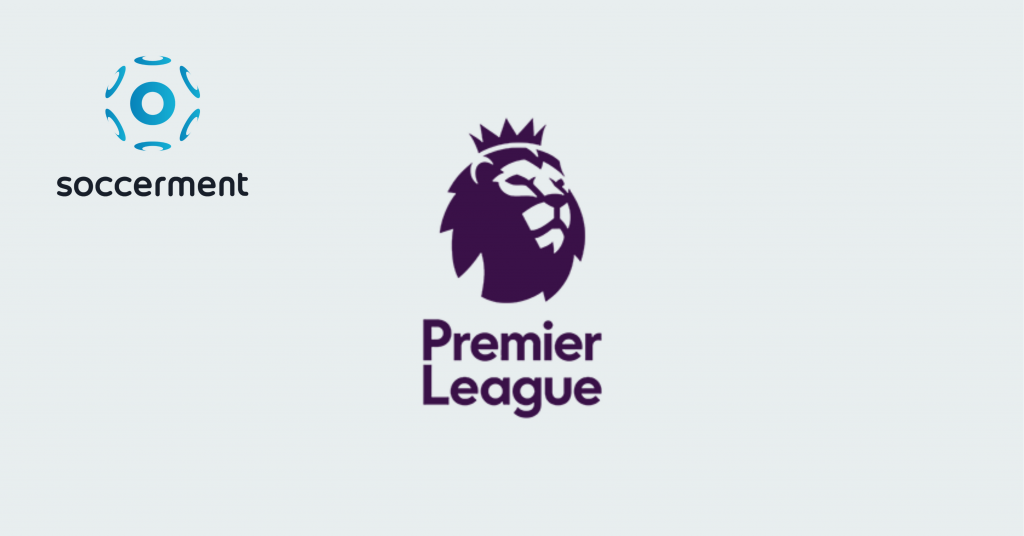 ---
2020/21 Recap
The hunt for the title
Capitalising on Liverpool's problems, after a difficult start to the season Manchester City managed to put in a streak of 15 consecutive wins, which allowed the club to distance themselves from the rest of the pack and convincingly win the league with 86 points, 12 clear of Manchester United. Our Expected Points model confirmed the outcome of the 2020/21 Premier League: Manchester City were first with 80.8 xPoints, thus outperforming xP by 5.2 points.
Manchester United's strong start in the first half of the season gave Solskjaer's side a boost in morale and a lead against the likes of Chelsea and Liverpool, however it wasn't enough to truly challenge for the title. Manchester United (54 SPR) ranked 4th for xPoints, outperforming xP by 10.1 points, partly explained by their extremely encouraging offensive results (73 goals and 65.7 xG). The partnership between front players has been very proficient in the cases of Cavani, Rashford and B. Fernandes.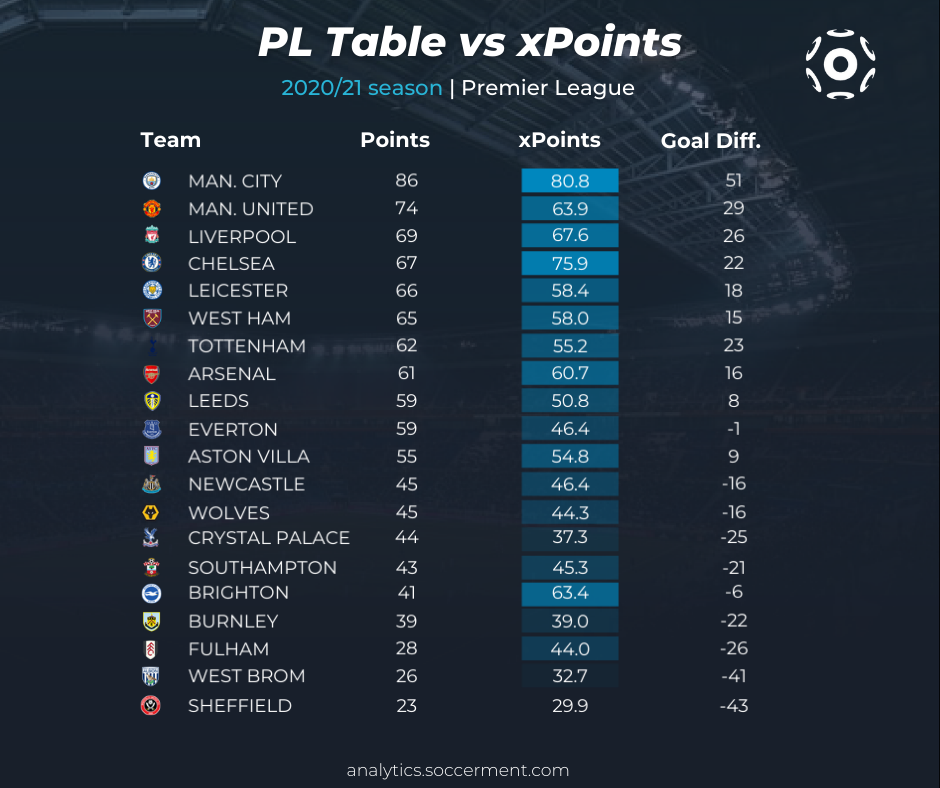 ---
Battle for European spots
The struggles which Liverpool (55 SPR) and Chelsea (55 SPR) have gone through have made the battle for Champions League football a lot more uncertain than what could have been predicted, especially considering the exceptional seasons of Leicester (51 SPR) and West Ham (65 points in front of 58.0 xP, 49 SPR).
With regards to Liverpool, we note that Alisson achieved above-average results in all relevant metrics (72.4% saves success ratio, 65.5% close-range saves ratio, 92.9% long-range saves ratio and 0.15 goals prevented per xG on target). These stats contributed to a gap of 8.4 between xGA and goals conceded.
Among the top teams, Chelsea was the only underperformer of xPoints (67 points in front of 75.9 xP). Werner did not exhibit his finishing skills (6 goals vs 12.7 xG), strongly contributing to a 9.3 gap between xG and goals.
Leicester's outperformance of xG (68 goals, 59.8 xG) translated into an xP outperformance of 7.6 (58.4 xPoints), despite Vardy's underperformance of xG (15 goals vs 19.2 xG).
Tottenham (51 SPR) parted ways with Mourinho before the Carabao cup final despite a strong start of the season for Spurs. They were the first team in terms of xG outperformance (10.0): the credit for this outstanding result goes mostly to Kane and Son, who respectively scored 23 goals in front of 20.2 xG and 17 goals in front of 10.8 xG.
Arsenal (51 SPR) had one of the worst Premier League seasons in recent history, staying on the right part of the table for the majority of the season. The season's finale however showed some promise, thanks to a string of positive results which saw them end with 61 points.
Bielsa's Leeds delivered on their return to the Premier league playing entertaining and high-intensity football achieving a surprising 9th place finish totalling 59 points (52 SPR). Leeds United registered the largest outperformance in terms of xGA (8.8): this can be explained by the outstanding season of the sweeper-keeper Meslier (87.2% distribution accuracy with 37% of passes going forward), who was the best goalkeeper for SPR (61) in the 2020/21 EPL season. He prevented 0.09 goals per xG on target, with high saves success ratios (72.8% total), both for close-range (64.2%) and long-range shots (92.6%).
Everton had a very positive start of the season but couldn't manage to keep the pace with the frontrunners finishing 10th with 59 points (50 SPR). They were the first team in terms of xPoints outperformance (+12.6), mainly due to a significant difference between xGA and goals against (7.0).
Aston Villa's start to the season, which put players such as Grealish and Watkins under the spotlight, seemed to put the Villains in contention for European football (52 SPR), however Grealish's injury proved a major blow for their European ambitions.
Mid table & relegation scrap
Crystal Palace calmly avoided relegation (46 SPR), however they were the 3rd worst team in terms of xP (37.3).
Despite finishing 16th, Brighton had an extremely convincing season performance-wise (50 SPR). Brighton actually ranked 5th in the Premier League for xP (63.4) marginally behind Man U. Such underperformance is unlikely to repeat itself, therefore Brighton candidates itself as the biggest surprise of next season.
Southampton (49 SPR) had a strong start to the season but struggled as the season went on managing only 14 points in their last 21 games (4W, 2D, 15L). It is interesting to notice that Southampton had the worst underperformance in terms of xGA (-11.8). This outcome was partly due to McCarthy's mediocre season, in which he recorded a poor 62.2% saves success ratio.
A very poor start with a sizeable underperformance of xP have meant that Sheffield (45 SPR) have been straight away in jeopardy of relegation. The inability to finish chances has proven fatal (21 goals in front of 34.3 xG).
West Bromwich struggled to achieve a string of results too, with Bilic receiving the sack with the arrival of 2021, Sam Allardyce who took his place didn't manage to save them (45 SPR).
Fulham (49 SPR) have the biggest remorse out of the relegated teams, during the year they have shown to be capable of playing an organized possession-based football where forwards also have the freedom to try one-on-ones (they were the 1st team for completed dribbles).
Players' advanced metrics
Among the players with more than 900 minutes, Mohamed Salah registered the highest amount of Expected Goals per 90 minutes (0.59), with Vardy and Kane completing the podium, with 0.58 and 0.56 xG P90 respectively.
Another Liverpool forward came on top on non-penalty xG per 90 minutes: Diogo Jota, with 0.56 (Gareth Bale 2nd with 0.55 and Dominic Calvert-Lewin 3rd with 0.52).
On Expected Assists per 90 minutes, Kevin De Bruyne (Man City) and Jack Grealish (A. Villa) registered the top amounts (0.31), but Bruno Fernandes (Man Utd) and Raphinha (Leeds) came close (0.30).
Finally, when it comes to our newly-developed metric xOVA (Expected Offensive Value Added), Kevin De Bruyne registered by far the highest number on a per-90-minute basis last season.
All our advanced metrics are downloadable by clicking on the Google Sheet here. We filter out the players with less than 900 minutes played and we sort them by xOVA P90 (xOVA: Expected Offensive Value Added). For more information regarding our advanced metrics, have a look at this post.
2021/22 Summer transfer window
With still over two weeks left in the current transfer window, a lot of the main deals have been finalized. However, in a market which is rapidly evolving towards more prudent and reasoned transfer fees along with more attention towards the wage budget, lots of clubs are looking for low-cost transfer opportunities with a consequential increase in the number of players on loan and free agents.
However, the economic superiority of the Premier League has allowed several clubs to better cope with the crisis and as a result, many of the top clubs have the opportunity to strengthen their team by spending large amounts of money on the market.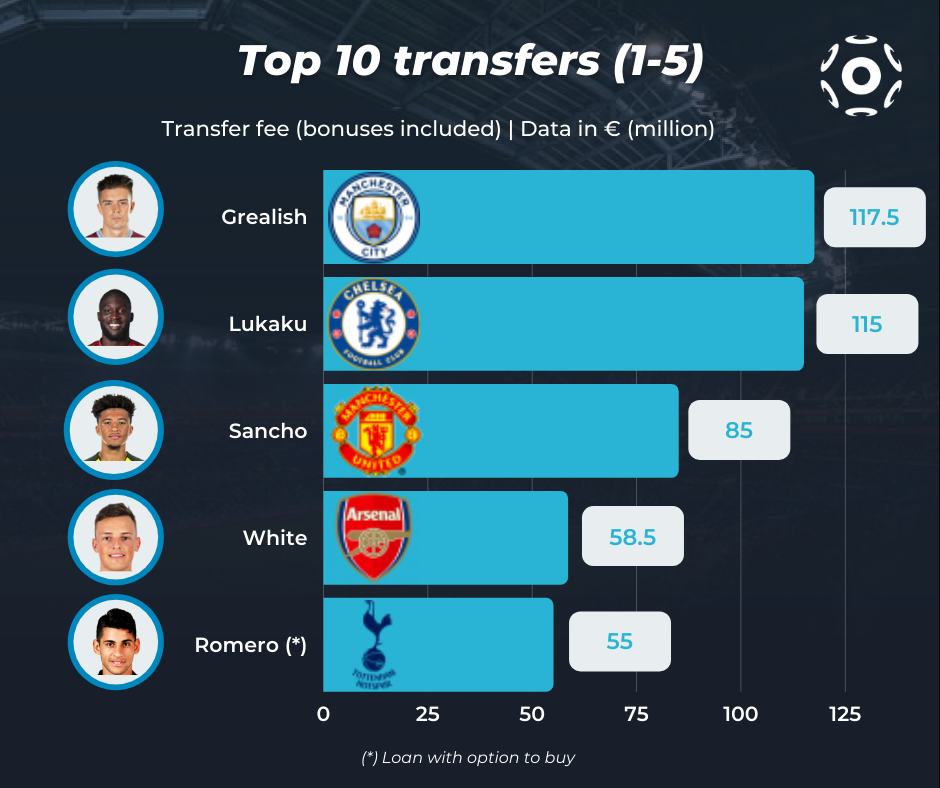 ---
Manchester City: The Cityzens are among the main actors on the market and have already broken the PL transfer record thanks to the €117.5m transfer of Jack Grealish, one of the best creators in the league. Further, there is still the possibility of yet another blockbuster signing, Tottenham's Harry Kane.
Manchester United: The Red Devils signed Jadon Sancho for €85m, following a transfer saga which started in 2020. With the likes of Rashford, Martial, Greenwood, Cavani and Diallo all still at the club, it is highly unlikely there will be further in-bound activity for forwards.
Liverpool: The unexpected injury crisis which hit Liverpool defenders last season forced the Reds to bolster its defensive ranks, with the signing of Konaté from RB Leipzig (€40m).
Chelsea: With the transfer ban now behind and a UCL trophy in the cabinet, Chelsea have the resources to play a big role in the transfer market, as proven with the blockbuster deal for Romelu Lukaku finalised for €115m. The Belgian could be utilized as a focal point next to two creators such as Mount (2.3 chances created P90) and Havertz (141% outperformance of xA), were they to look for combination play, or also in pair with Werner to run in behind opposition defenses.
Leicester City: For the second year in a row, Leicester missed qualification to the Champions League on the last matchday, after being in the top 4 for the majority of the season. This was surely a hard blow for the Foxes, but looking on the bright side, the squad has proven it can compete among the league's elite. Leicester has been making smart acquisitions in recent years and the signings of Patson Daka (€30m, 27 goals in 28 matches last season with RB Salzburg), the defensive midfielder Soumaré (€20m from Lille, 67.4% tackle success ratio, average 62.4%) and the left back Bertrand (free transfer from Southampton) seem to confirm this trend.
Tottenham: Tottenham's transfer window is heavily reliant on the potential deal for Harry Kane, considering that the transfer fee is set to be north of €150m, the squad could be potentially revolutionized in a similar way to what happened following the departure of Gareth Bale to Real Madrid. In the case of Kane's departure, Tottenham would also give up his incredible chemistry with Son (0.42 goals P90 exchanged between them in 20/21). An important addition to the team has been made in the form of Cristian Romero who has become the club's second most expensive signing in history for a fee of €50m + €5m in bonuses. Also the swap deal for Bryan Gil has been finalized (€25m + Erik Lamela) as well as the arrival on loan, with an option to buy, of Gollini (-0.20 goals prevented per xG on target in the last season). After numerous years, the club has parted ways with Alderweireld: he will be playing in Qatar. Foyth has left for Villarreal.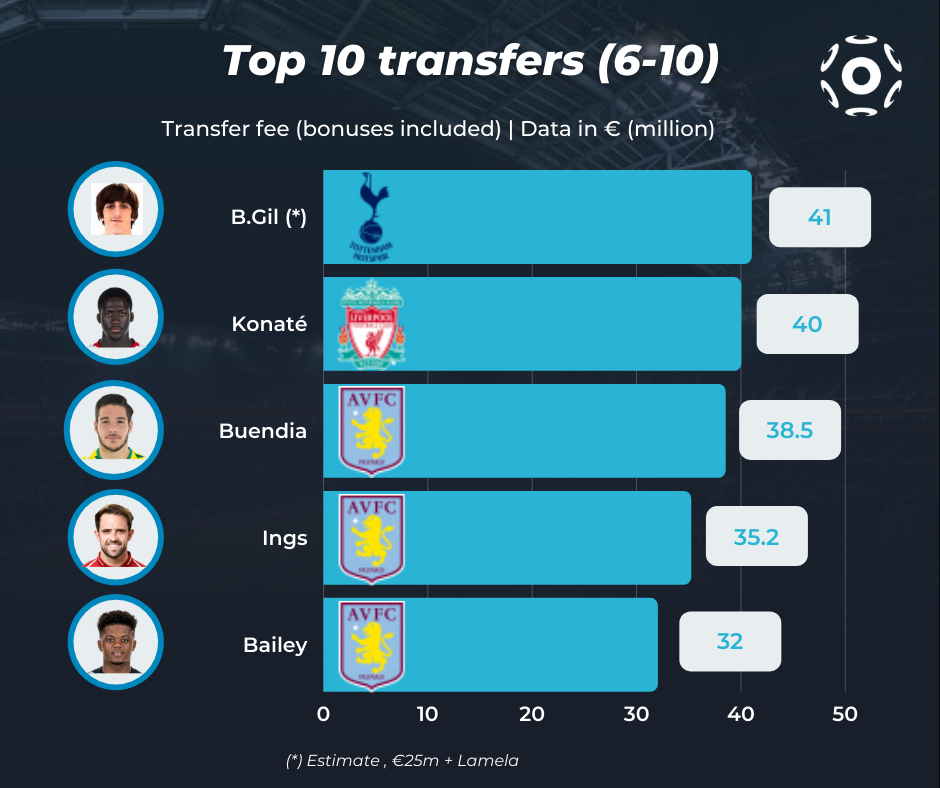 ---
Arsenal: For the first time in more than 20 years, Arsenal failed to qualify for European football. The acquisition of Ben White adds a quality centre back to the defence, but has come at the cost of almost €60m (€58.5 to be precise). The signing of the defensive midfielder Lokonga (52.6 accurate passes P90) for €12.5m looks like a very smart move. However, in our view the Gunners lack some creativity in the number 10 spot, despite the promising Emile Smith-Rowe (0.21 assists P90). We would welcome the permanent singing of one between Martin Ødegaard and Houssem Aouar.
Aston Villa: The departure of Jack Grealish for €117.5m has given the Villains the chance to invest in the transfer market. The signings of Buendia and Bailey secure two hot prospects on the wings who will bolster their attack in combination with Danny Ings.
Other significant transfers
Some of the most relevant transfers outside of the top 6, include the signings of the Guehi, Olise and Gallagher (on loan from Chelsea) by Crystal Palace and Mwepu by Brighton. Wolverhampton has made Wonderkid Ait-Nouri's (a dynamic left back who attempts 3.1 dribbles P90) loan permanent as well as bringing in Trincao from Barcelona on loan. Burnley have acquired Wonderkid Nathan Collins (193 cm) from Stoke City. Southampton replaced Ings with A. Armstrong who was last season's top goalscorer in the Championship with Blackburn. Norwich have completed the signings of the Hidden Gem Pierre Lees-Melou (a complete midfielder who shows a 202% performance vs xG outside the box), the wingers Rashica (2.4 successful dribbles P90) and Tzolis, Gilmour on loan from Chelsea and Joshua Sargent from Werder Bremen.
---
Hidden Gems (eBook | Eng)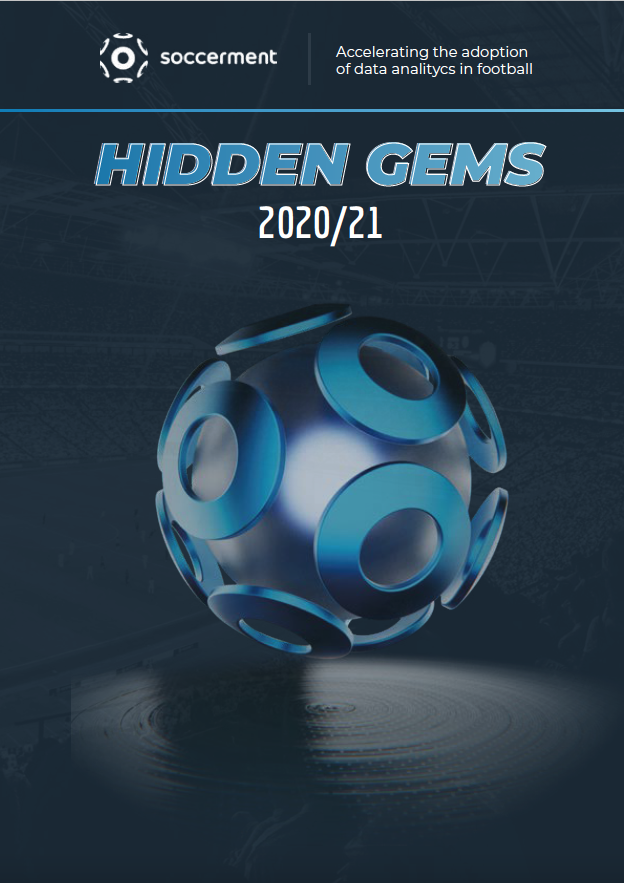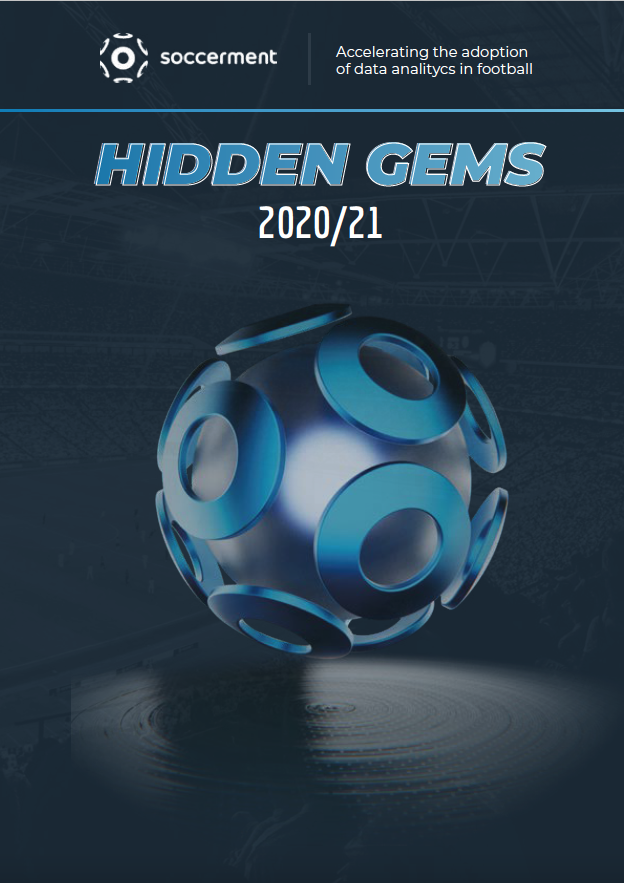 Maximum purchase amount of 1 is allowed
Description
Customer Reviews (0)
The football market is still characterised by high levels of inefficiency, offering plenty of opportunities for arbitrage (trading the same asset in different markets to take advantage of differences in price). In this context, data analytics can offer market actors a significant competitive edge.
Using our proprietary performance indicators, plus player salaries, to build an "undervaluation model" we have been able to uncover fourteen "hidden gems" among players aged 25-30.
There are no reviews yet, submit yours in the box provided.
Submitting Your Review, Please Wait
Your Review Has Been Submitted Successfully
Add a review for Hidden Gems (eBook | Eng)
You must include a title, rating, and message in your review.
Your Review Title
Your Rating
Your Review
---
2021/22 Premier League preview
The 2021/22 season starts with much less uncertainties compared to last year and should follow more regular schedules, with a slow but steady return of fans to stadiums. In the 2020/21 season there was no home advantage as more than 50% of points were made by away teams. The negative economic cycle has severely affected many clubs' plans and budgets but the economic power of the league still allows the clubs to make important investments on star players. The price tags of the deals regarding Romelu Lukaku, Jadon Sancho, Jack Grealish and Ben White are a testament to this.
The hunt for the title
Considering the blockbuster signing of Grealish (and the possible deal for Kane), Manchester City are, in our view, the number one favourites to clinch another title.
However, after winning the Champions League final against EPL champions Manchester City, Chelsea will definitely look to improve on last season's 4th place finish. Chelsea was already a very competitive team, but they have become rock solid ever since the arrival of Thomas Tuchel as coach. The addition of Romelu Lukaku enables them to adopt different playing styles and adds an Elite striker with excellent finishing and unparalleled physicality to a Champions league winning side.
Liverpool have lost Wijnaldum, but should have put their injury issues behind them and with the possibility of reinforcing the team further on the transfer market, they will be looking to contend for the title.
The battle for European spots
Manchester United signed Jadon Sancho from BVB and held on to their key players. Despite the acquisition of such a talent, the team was one of the main outperformers in last season, so to contend for something more than UCL spots, the Red Devils will have to make significant improvements, considering that the race for the title looks to be fiercer given the considerable reinforcements completed by the other competitors.
Leicester have made targeted signings and will look to improve on two consecutive 5th place finishes with a balanced and increasingly deep squad. Tottenham's future is obviously heavily dependent on Harry Kane; the amount of money involved is so big that it could be almost impossible to turn down. However, in our view, with the right transfers, the club can make way to a new project in similar fashion to when Gareth Bale left the club and put the premises for the side which reached the Champions League final under Pochettino.
Arsenal failed to qualify for European competitions for the first time since the 1995/96 season. With the club still in a rebuilding phase, smart transfers are needed to become more competitive and may still not be enough to qualify.
High-league finish with European hopes
West Ham was one of the main surprises of the last PL, but the failure to confirm Jesse Lingard and difficulties in completing new signings, Moyes will need heroics from his men to confirm a place in Europe.
Aston Villa have been serious contenders for European football until Jack Grealish suffered a meaningful injury. With his departure, Villa have signed exciting talent and will be a team to watch.
A very strong return to the Premier League has left high hopes for Leeds' current season, where they will look to confirm themselves thanks to the guidance of "El Loco" Bielsa.
Despite finishing just 16th, Brighton was the biggest underperformer by far of last season's EPL (they were 5th for xPoints) and should look to sustain if not improve last season's performances in order to affirm themselves as the biggest surprise of the 2021/22 season.
Fighting for survival
Crystal Palace and Wolverhampton should look to develop their players and young talent while avoiding relegation with some margin. Even if Wolverhampton has managed European football in the past, it is highly unlikely that they can repeat the same feat this season.
With the notable exception of Brighton, the majority of the teams who avoided relegation such as Newcastle, Burnley and Southampton will need reinforcements to avoid a tight battle for relegation.
Newcastle have turned their fortunes around thanks to the contribution coming from Joe Willock, who they are trying to sign permanently from Arsenal, but further reinforcements are required.
Southampton have sold Ings to Villa and will need to reinforce themselves given the worrying season's finale where they made only 14 points in 21 games. The signing of Broja on loan and A. Armstrong will reinforce their attack.
Burnley have acquired Wonderkid Nathan Collins who will look to extend Burnley's tradition of high-level centre backs. However, in our view the team is missing some creativity in the final third.
---
View Cart
Product successfully added to your cart.
Successfully Added to your Shopping Cart
---
Newly promoted teams
Norwich quickly returned to the Prem after a dominant season in the Championship. The sale of Buendia means losing a key player, but the sum received has been reinvested in numerous signings.
Watford will need some reinforcements, a strong start and cohesion in order to avoid relegation.
Brentford finally made it into the Premier League after a long chase. The data-driven organisation will now have the chance to make player signings (Onyeka, Ajer and Wissa have already been signed) with the revenues coming from the Premier League. Avoiding relegation in their first season could give them the sufficient economic power to steadily solidify their place in the league. This new adventure started off on the right foot, with a historical 2-0 home win against Arsenal. Could The Bees aspire to something more than the relegation battle?
---
For any comment, request or query, please write us to research@soccerment.com.
---